Eye doctor explains his history of iPhone use in treating patients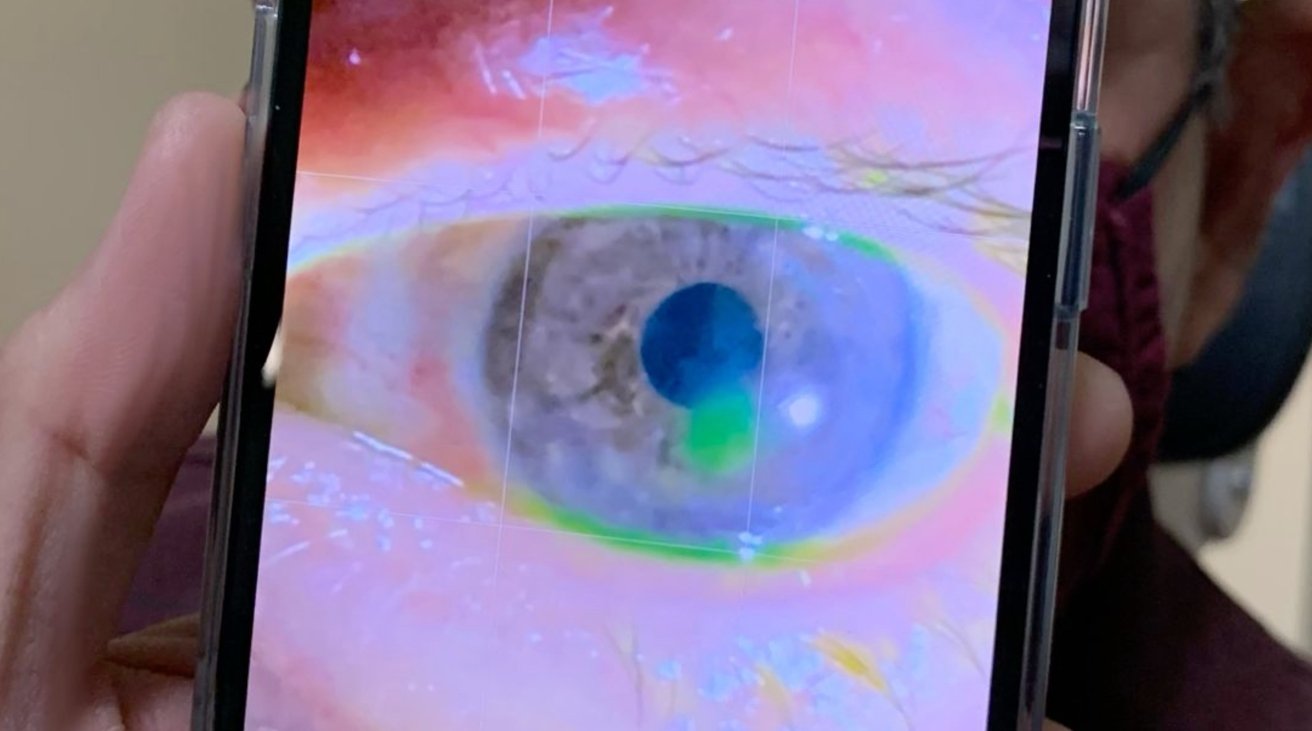 An ophthalmologist in San Diego has gone into more detail about his use of the iPhone 13 Pro Max to photograph a patient's eyes, explaining the reasons behind using the iPhone camera after using a DSLR, and that he's used iPhones for quite a while already.
On September 30, a Linkedin post by Dr. Tommy Korn, an ophthalmologist and digital health innovations specialist at Sharp Healthcare, went viral due to his use of the iPhone 13 Pro Max's macro photography feature to take images of his patient's eyes. After receiving attention for the post, where he says he was "impressed" with the camera and that it could "innovate patient eye care and telemedicine," Dr. Korn elaborated on his background in using cameras in his work.
According to Dr. Korn, the use of the iPhone is not really for the diagnosis of a patient, more for keeping track of a patient's condition over a period of time. "There is some confusion on if the camera is going to replace exams or larger cameras," he said to PetaPixel.
"Let's say you have an eye condition or eye problem and you have to see a doctor and you see them six months later and you ask hey, how does it look compared to last time?' " offers the doctor. "Do you think the doctor remembers? They can't remember. They look at notes and verbal descriptions."
This is why doctors make copious notes and take photographs, he explains. While some commentary has encouraged him to continue using a higher-quality standalone camera, he still insists the iPhone camera is fine for the task that he's doing.
"I'm using it for documentation," Dr. Korn states. "I have just enough information to know if it's serious or not."
Minimal friction
The doctor has been using cameras for documentary purposes for quite a while, and at one point did use a full-size camera instead of a smartphone. However, using a Nikon D800 with a 105mm f/2.8 macro lens produced "lots of friction points" in needing to transfer the images from the camera to his computer and into records.
Over time, Dr. Korn realized that there were easier ways to do the same task, starting with the iPhone 6 Plus. At the time of launch, he started to use an iPhone modified with an adapter with a slit lamp eye camera.
With the iPhone 13 Pro, he believes the camera quality has improved enough that he doesn't require any adapters nor the $15,000 lamp to take the images he needs.
"This is a pro camera that comes with a computer attached to it," he reasons. "So, that being said, I use this camera to document patient photos and attach them to my records with a few taps."
Along with being faster and easier to perform, he adds there's the benefit of using AirDrop to provide the same images to the patient's iPhone, so they can show the photographs to other doctors.
Dr. Korn also praised the potential for patients to be diagnosed from home, with the possibility of conducting a video call and asking them to show him their eye using their iPhone's camera. "I can then bring in the people who really need to be seen in person, and those who are not an urgent case can still get care conveniently at home."