How to use CleanMyMac X to make sure you can trust your Mac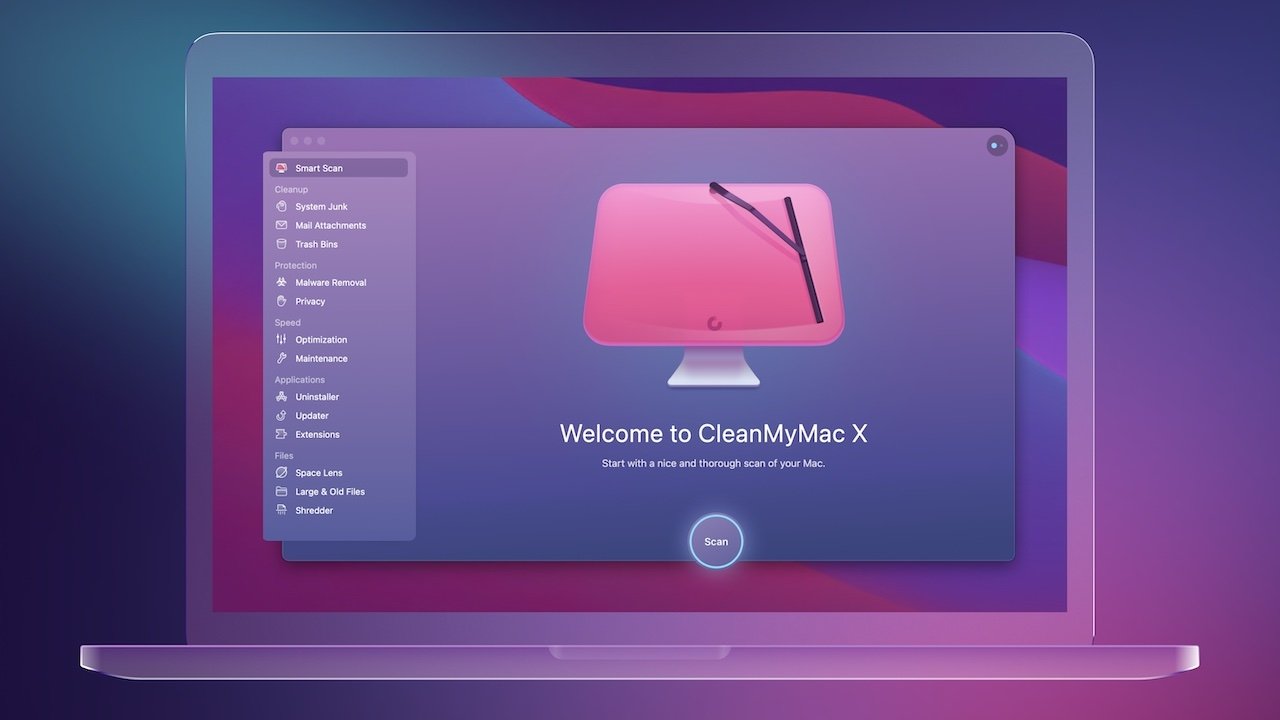 AppleInsider is supported by its audience and may earn commission as an Amazon Associate and affiliate partner on qualifying purchases. These affiliate partnerships do not influence our editorial content.
The Mac is a crucial tool for work, education, and life. CleanMyMax X can keep it in tip-top shape.
Whether you're working remotely or back at the office, your Mac is a critical piece of kit. Because of its importance, you're going to want to make sure that you can trust it to perform its job. That's where CleanMyMac X comes in.
CleanMyMac X is an all-in-one toolkit for Mac users that can help them keep their Macs speedy, organized, and free of malware and other unwanted apps. It's the perfect resource to help ensure your Mac is stable and reliable — especially critical in uncertain times.
While there are other Mac cleaning apps, CleanMyMac X stands out with its design and its wealth of features.
For example, CleanMyMac X packs 49 tools that can help you find and get rid of invisible computer "junk" that could be slowing down your system. Regular tune-ups using CleanMyMac X can help keep your Mac running at its top speed.
Storage problems are also no issue with CleanMyMac X, which can help users organize their disk space, show large hidden folders, and free up tons of space so that your Mac never runs into storage issues. Tightening up your Mac's drive is a great idea before macOS Monterey is released, too.
For users concerned about security and privacy, CleanMyMac X also has tools that can detect and fight Mac-specific adware, spyware, or malware. It's an Apple-notarized software, so you can rest assured that it's safe to use.
How to use CleanMyMac X
The bread-and-butter feature of CleanMyMac X is the Smart Scan, which performs a series of tasks that can clean up, protect, and optimize your Mac.
When you first start up CleanMyMac X, you'll land on the Smart Scan page. Hit the scan button and the app will analyze your system and identify ways it can improve it. That includes removing unnecessary junk, detecting and removing potential threats, and increasing system performance.
The scan itself only takes a few minutes to run. Once it identifies areas of improvement, you can let it do its thing and optimize your Mac.
But while the Smart Scan is the mainstay of CleanMyMac X, it isn't the only tool that the app has.
Cleanup
Under the Cleanup tab of the sidebar, you'll find separate menus for CleanMyMac's storage optimization tools. Rather than competing a full scan, you can individually scan for specific items like system junk, photo junk, and mail attachments.
There are additional settings here, as well. For example, under System Junk, you can grant CleanMyMac X Full Disk Access, which allows the app to find and nix even more unwanted files.
As a convenience measure, you can also instruct CleanMyMac X to automatically empty all of the trash bins on your Mac at once. That includes not just the standard Trash Bin, but also the trash bins in the Mail app and the photo library.
Protection
Under the Protection tab in the sidebar, you'll find CleanMyMac's tools focused specifically on security and privacy.
In Malware Removal, you can run a scan specifically meant to identify Mac threats and vulnerabilities. As with more focused anti-malware apps, CleanMyMac X can remove these threats to protect your Mac.
The Privacy tool allows you to quickly remove browsing history without needing to manually wipe the cache on your web browsers. It can get rid of browsing history, autofill items, and other traces of your online or offline activities.
Speed
CleanMyMac X can also speed up your Mac by optimizing performance and cleaning up bits that could bog down the system. You'll find two options here: optimization and maintenance.
Optimization can increase the Mac's output by allowing users to control app and system behavior. It allows users to manage their app launch agents, giving granular control over what apps run at startup. Users can also see login items to get a more detailed view of what's running on their system.
The Maintenance tool is like a tuneup for your Mac. It can free up RAM and purgeable space, run maintenance scripts, and flush DNS caches, among other tasks. This can not only speed up your Mac's day-to-day activities, but also identify and fix application errors and improve Spotlight search speed.
Applications & Files
The Applications and Files tabs of CleanMyMac X lets you exercise deep control of the items on your system, whether they're apps, files, or media.
For example, users can easily find which apps have pending software updates in the Updates tab. If an app is giving you trouble when you try to uninstall, you can cleanly and properly remove it from your Mac using the Uninstaller tool. The Extensions tool allows you to stay in control of various widgets, plugins, and other system extensions.
In the Files section of the sidebar, you'll find a few tools that make it easier to find and delete cumbersome files on your Mac. The Space Lens, in particularly, is a great way to visualize what's taking up space on your Mac's drive. Large & Old Files identifies big files that you haven't touched in a while.
A particularly cool tool is the Shredder. Like its physical namesake, it can dispose of specific files and data securely. You can also delete files in use by running apps, allowing for quick deletion without any Finder errors.
How to buy CleanMyMac X
CleanMyMac X is an award-winning piece of software, having been honored with a Red Dot Award and a UX Design Award in 2021. Despite its prestige, it's an affordable and robust tool.
Customers can purchase CleanMyMac X for $90, or by subscribing for $40 a year. Users who own an older version of CleanMyMac can upgrade at a 50% discount
Between now and Oct. 31, you can also get 5% off CleanMyMac X by using this link.
If you're running on Apple Silicon, CleanMyMac X features native support for the M1 chip. That means you're going to get the smoothest speed and performance across pretty much any Mac that Apple makes.