Kokoon NightBuds review: Sleep-tracking headphones built for side-sleepers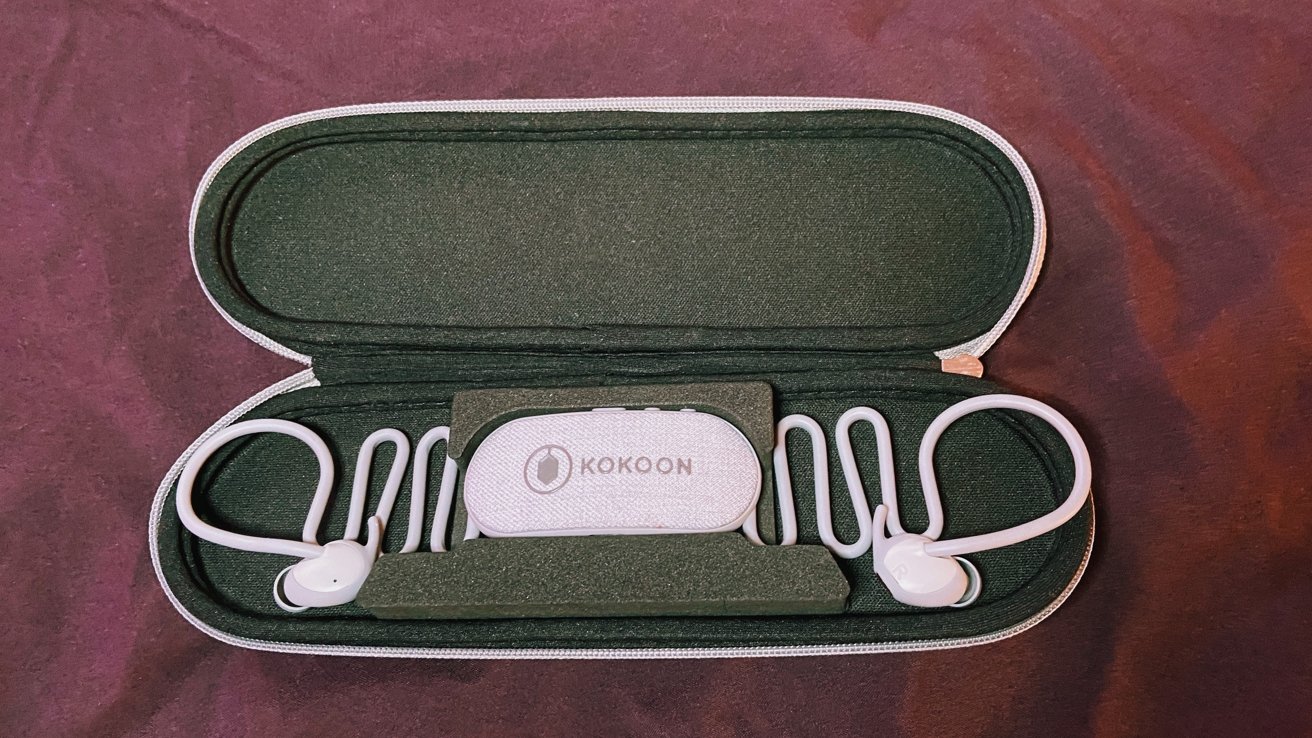 AppleInsider is supported by its audience and may earn commission as an Amazon Associate and affiliate partner on qualifying purchases. These affiliate partnerships do not influence our editorial content.
If you've been trying to find the perfect pair of in-ear sleep headphones, Kokoon's new NightBuds combine a low profile and an in-ear optical heart rate sensor for comfortable sleeping and sleep tracking.
Kokoon has released a second pair of sleep-tracking headphones— an in-ear model called the Kokoon NightBuds. Designed to help you get a better night's rest, NightBuds work by blocking distractions and guiding you through helpful exercises via your iPhone that could ease you into sleep.
First Impressions
The NightBuds were well packaged when we received them and included four additional ear tip sizes. Kokoon even provides a nice carrying case.
The design is pretty similar to many wireless sport earbuds, with a wire connecting the two earbuds. While this design seems somewhat antiquated in the era of AirPods, it does mean that you're less likely to lose a single earbud in your bed or your pajamas.
Kokoon does take a lot of time to warn you about over-stretching the wires, though, so we have some concerns about longevity.
Sound Quality
You're probably wondering if they're a mind-blowing listening experience. As expected, the answer is no. Not really.
If you're used to listening to music on your AirPods Pro or AirPods Max, then it's going to be a step down in sound quality for sure.
The sound quality is pretty decent, probably a bit above average for earphones. Podcasts sound great, while music sounds relatively evenly balanced, if not slightly flat in some aspects.
Obviously, they don't provide a ton of bass, but we don't think it matters all that much. After all, you're using these to help you go to sleep, not to experience your favorite music in full, lossless Dolby Atmos.
Instead, you're probably using them to block out the noise of your snoring partner or your partying neighbors. And on that front, they worked surprisingly well.
We're pretty used to working with our AirPods Pro, which helps to mute ambient typing, tapping, and traffic noises. So we were surprised by how well the ambient noisescapes helped block out the same noise without any actual active noise cancelation.
What's really important, however, is...
Comfort
The NightBuds use a pretty standard in-canal earbud format, with an extra silicon wing that helps to keep everything in place. It comes with five additional sizes: the medium tip, medium wing (called medium-medium) is preinstalled on the NightBuds, but you also have an extra small-small, small-small, small-medium, and large-large options.
We'd had been dreading changing the ear tips because prior experience has shown that it would probably be a frustrating endeavor at best. However, it was effortless to change the tips to our surprise and delight, and it only took a few seconds.
As a bonus, even at reasonably high listening volumes, the NightBuds produced no sound bleed that others could hear.
But you're probably wondering how comfortable they are for sleeping, which is precisely the question you should be asking of earbuds that brazenly call themselves NightBuds.
Again, we were astonished at how comfortable they were. (Reviewers note: I'm a side-sleeper, which means if I were to wear something like my AirPods Pro, I'd wind up with an earache in a relatively short amount of time, provided that they wouldn't just get knocked loose immediately.)
However, the NightBuds are very thin at only 5.4 millimeters thick, which means they shouldn't stick out far enough from your ear canal to make contact with your pillow.
As far as staying power goes, this will be highly dependent on whether or not you're a still sleeper. They would likely remain in place for someone who doesn't toss and turn all night, so your mileage will vary.
The Kokoon App
This isn't our first experience with the Kokoon App, either, as we'd previously worn the Kokoon Relax sleep headphones. However, the app remains essentially the same. It's still legible and friendly enough for even non-tech-savvy folks.
One of the biggest reasons you might want to snag Kokoon is the plethora of audio available to listen to while falling asleep. In the "My Audio" tab, you'll be able to choose from dozens of different audio tracks to sleep to.
Guided relaxation exercises that can help you learn how to get to sleep faster or relax after a stressful day
Natural soundscapes, including rainstorms, campfires, ocean waves, rivers and streams, and calm outdoor spaces like meadows
Two different binaural beats for those who find rhythmic tones soothing
Podcasts, including an ASMR ship forecast program
Noise generators for pink, white, and brown noise
Calming music that features pianos, singing bowls, soothing synths, and bamboo flutes
If you're the type of person who sleeps better when it rains, we highly suggest that you check out the audio tracks "rainfall" and "beach waves." If you need a fan to sleep with, we recommend our personal favorite — the brown noise generator.
Additionally, Kokoon has curated sleep playlists available on Apple Music, Spotify, and YouTube Music, should you want even more audio.
Sleep Tracking
According to Kokoon, NightBuds utilize an in-ear optical heart rate sensor to track your sleep, which is located on the right earpiece. It monitors your heart rate and heart rate variability when sleeping.
The sleep tracking worked as advertised, letting us know how much sleep we got and what we might do to improve our sleep quality. The more you use it, the more detailed the feedback will be.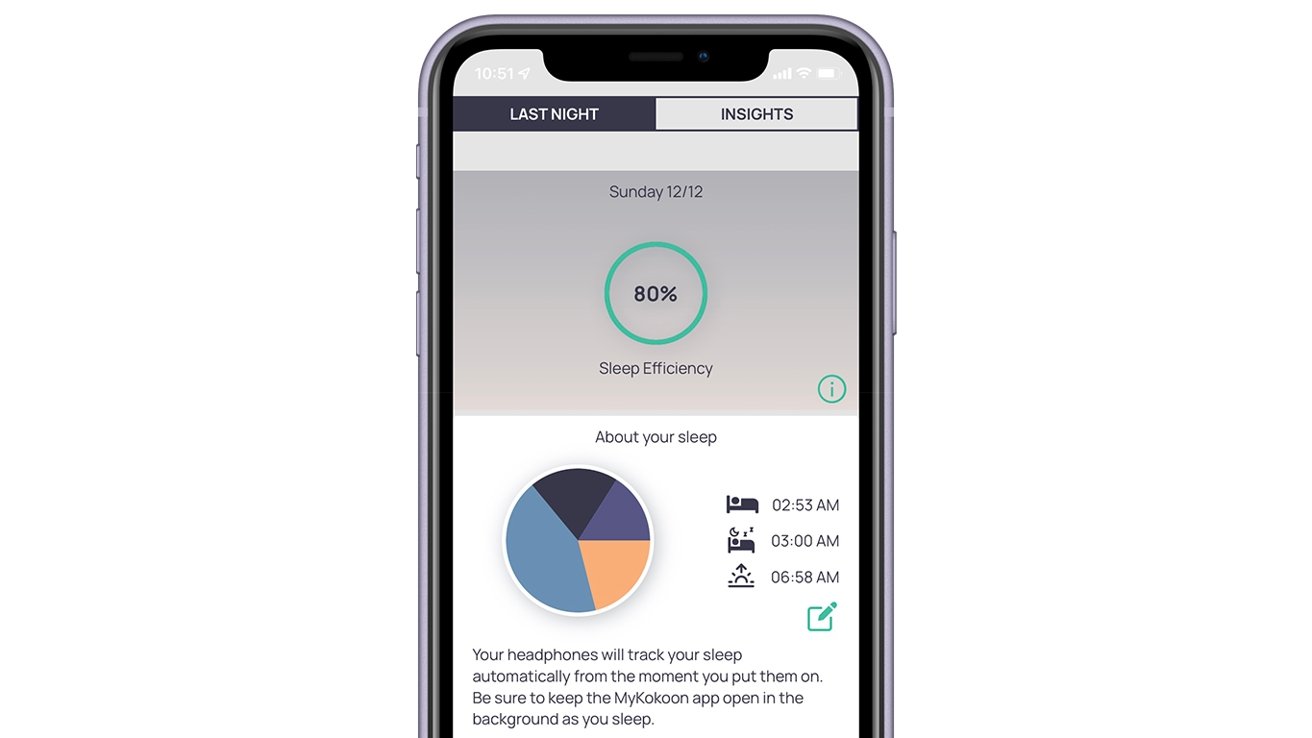 We found ourselves prone to taking the headphones halfway through the night, so we'd often only get a partial reading, but it still gave us insight.
Battery Life
The battery life was decent, coming in at about 12 hours before we needed to recharge it. However, this does mean that you'll need to charge it daily if you plan on sleeping with it, so we suggest keeping a charger on your nightstand.
One issue to be aware of
As we'd mentioned, we would often take off the headphones in a half-asleep state halfway through the night. Unfortunately, this created a bit of a problem. You see, if you take off the headphones and you use your iPhone as an alarm, you're not going to be able to hear it.
We're aware that this is hardly a problem exclusive to NightBuds, but rather an issue related to wearing headphones while sleeping.
And, on top of that, this likely wouldn't be an issue for everyone — either you've already got an external alarm clock, or you use your Apple Watch for an alarm, or perhaps you won't take the headphones off halfway through the night.
However, we did, and we slept through our alarm, so the issue is still worth mentioning.
Overall
We were surprised by how much we liked the NightBuds. The soundscapes are still fantastic, and the comfort level far surpassed what we had anticipated.
If you're the kind of person who likes to listen to ambient noise while in bed or while you snooze on a plane or train, they're a solid choice.
They offer some significant advantages to truly wireless earbuds like Apple's AirPods, in that you're not going to errantly swallow one while you're asleep and that they don't seem to travel as far if you do dislodge them.
Thin profile means less — or no — pressure on your ear when side-sleeping
Wide range of included ear tips makes it more likely to find a perfect fit
App offers plenty of soundscapes with additional curated playlists elsewhere
Provides sleep insight with sleep tracking features
Travel case keeps everything together for ease of use
Cord may not work well for those who move a lot
$200 price tag can be steep for those who've never slept with headphones in before
Rating:
4 out of 5
Where to buy
You can pick up your own pair of Kokoon NightBuds from Kokoon's website. In addition, Kokoon is offering a launch special where you can purchase a single pair for $199.99 or a couples pair for $359.99, which is $50 and $100 off, respectively.