Solos Argon review: an all-in-one wearable that falls short in key places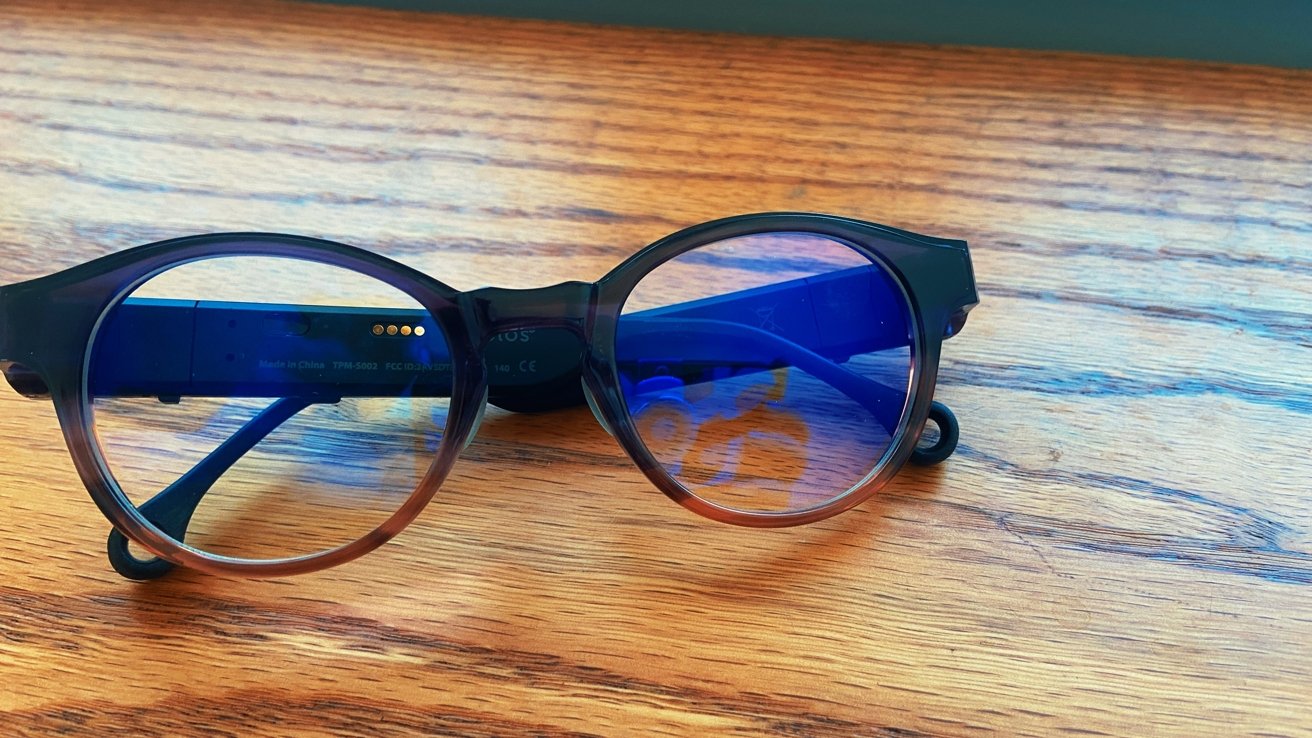 Solo AirGo 2 Argon Smartglasses
AppleInsider may earn an affiliate commission on purchases made through links on our site.
Solos Argon audio glasses are designed to replace several of your favorite wearables, including fitness trackers, blue-blocking glasses, and headphones — so we wanted to see how they stacked up to our favorite gear.
Working from home can be a lot to deal with. Odds are, you're routinely taking phone calls, staring at screens, and attempting to take care of yourself throughout the day.
Solos' Argon audio glasses are blue-blocking glasses that feature built-in fitness tracking, speakers, and microphones, touting themselves as an all-in-one work-from-home solution.
Who would use audio sunglasses
Before we begin our review, we'd like to acknowledge that there are individuals who may not be able to parse when one would use such a product. Audio eyewear may sound strange to some, but it's a game-changer for others.
For example — if you're a parent to a young child, sitting around your home with earphones in may prevent you from hearing your child getting into something they shouldn't.
Perhaps you have something that prevents you from inserting a pair of earbuds into your ears, such as certain piercings or hearing aids.
Or maybe you like to listen to music while riding your bike. If you wear audio eyewear, your ears are left open to hear potential danger, but you can still enjoy your favorite podcasts or audiobooks.
Personally, we love audio eyewear because it doesn't force us to close off our ears to enjoy music. And when done correctly, a good pair of audio glasses blend seamlessly into your daily life.
Design
Solos are, hands down, some of the best-looking audio glasses available. We received the AirGo 2 Argo 4 in Stardust Brown, an attractive tortoise-shell style frame.
Of course, if you get tired of your frames, the modular technology allows you to swap to a new frame in the future. We thought this was a fun feature and wished other companies took a cue from Solos in this regard.
And perhaps most importantly, these are the most comfortable audio glasses we've tried to date. There are no sharp edges that dig into the tops of our ears, and the discrete nose pads mean that they stay comfortably in place while we work.
Audio quality and performance
If the Bose Frames are the benchmark that we hold all other audio glasses against, the Solos fall somewhat short. By default, the audio is decent, but nothing exceptional.
You can fuss around with the audio levels a bit through the Solos app, which can help with some of the perceived imbalance. However, after tuning the levels to our liking, we would say that the AirGo 2 provides a better-than-average audio experience.
It's still not as good as most middle-to-high quality earbuds, and certainly not as good as something like Bose Frames, but still respectable in their own right.
However, this also assumes that you'll want to listen to your music through the app, rather than just asking Siri to play you a song directly from Apple Music.
Where it falls short, however, is sound bleed. We'd written at length about how Bose Frames allow you to listen to audio in close proximity to another person without disturbing them.
You won't find that to be the case with the AirGo 2. The sound bleed is very noticeable, even from a short distance away.
This makes them less attractive for use in the office, on public transportation, or in a coffee shop while you work. They remain a perfectly good option for those who don't work in particularly close proximity to another person or for someone who wants to wear them while biking, hiking, or jogging.
When using the Solos to make phone calls, we were highly impressed. While the person on the other end of the call knew we were using a Bluetooth device to speak to them, they noted that the audio was clear and had no issues with echoes or feedback.
We could get ten hours of use out of our Solos before needing to recharge, which is notably more than many of its direct competitors.
Fitness tracking
In addition to being audio glasses, Solos also function as a fitness tracker. They track your steps and movement throughout the day and offer charts for steps taken, calories burned, and distance traveled.
When checking it against our Apple Watch, we found this reasonably accurate for longer sessions. However, it seemed to fall short for an average day where your daily steps may come from many small sessions rather than a few larger ones.
Some features are interesting, though. For example, a fitness training section of the app guides you through a few different workouts geared primarily toward running. Unfortunately, because it's currently winter where we are, we couldn't test most of the running features.
However, the core training workout is designed to help you strengthen your core muscles in a small space workout. This workout involves jogging in place, pushups, planks, sit-ups, lunges, squats, and hops. You can even add or remove exercises to customize your workouts.
There's some utility here, of course. If you don't already own an Apple Watch, it's an okay tracker. However, it doesn't perform better than a dedicated fitness tracker, like an Apple Watch or Fitbit.
Even with the included fitness programs, it still doesn't feel like a tracker we'd want to use every day — especially not through intense workouts.
For example, the Core Training workout suggests that we do pushups while wearing the glasses. Upon trying to do a few pushups, it didn't take long for the glasses to fall off and onto the floor.
This became a repeated problem when it came to planking and sit-ups. Even if you were to band your glasses onto your face, we're not entirely sure how well they'd stay, resulting in less-than-accurate results.
Surprisingly difficult to turn off
Perhaps this is because we own Bose Frames, but we found the Solos surprisingly challenging to turn off. Bose Frames automatically turn off once placed upside down, making it easy to restore normal function to your phone with minimal effort.
The Solos, however, weren't nearly as easy. A few times, we'd set the Solos down only to later hear our iPhone ringtone being played through them — if we heard the ringtone at all. It also seemed that it was very easy for the Solos to automatically begin playing songs from Apple Music upon being bumped or jostled.
We'd like to see an easy-off feature in future device iterations.
Overall
While we adore the design of the Solos, and we think that there's undoubtedly a place in the market for them, we're not entirely sold on them. At $300, they cost more than our favorite audio glasses, the Bose Frame Sopranos, and seriously underperform in the audio department.
We also weren't particularly wowed by the fitness tracker features, as Apple Watch owners, either. However, we're excited to see what Solos can bring to the market with future iterations on what we feel is a good idea.
Elegant design
Swappable frames
Eight hours of battery life
Fantastic call quality
Free, built-in workout programs
Expensive compared to direct competitors
Tracking features are better suited to runners rather than the average person
Sound bleed can be significant
Rating: 3 out of 5
Where to buy
Those who wish to buy their own Solo AirGo 2 Argon Smartglasses can head to Solos' site and pick up a pair for $300. Solos also makes a less expensive version of the AirGo 2, dubbed the Neons, for $200.