Interview with Shortcuts maven Matthew Cassinelli on the AppleInsider Podcast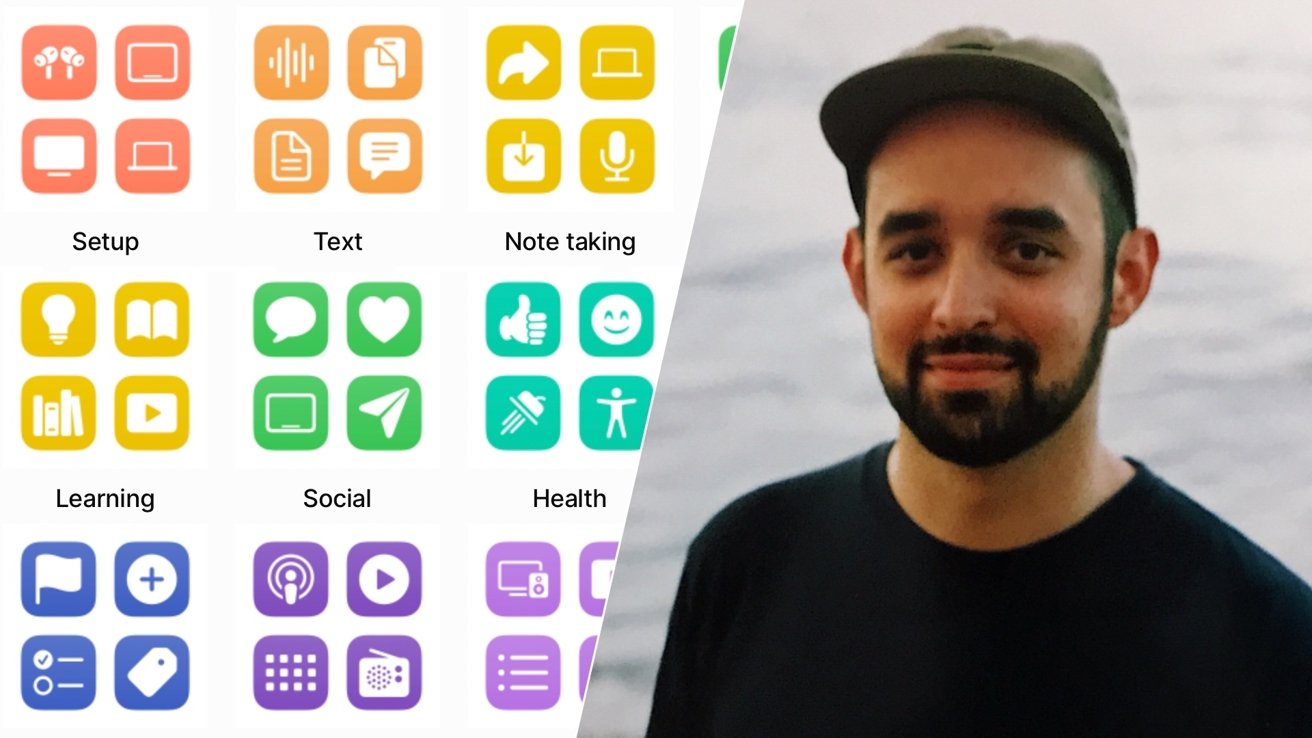 AppleInsider is supported by its audience and may earn commission as an Amazon Associate and affiliate partner on qualifying purchases. These affiliate partnerships do not influence our editorial content.
On this special episode of the AppleInsider podcast, Matthew Cassinelli returns to discuss the updates to Shortcuts that arrived in iOS 15.4, a feature wishlist for WWDC, and his new library of 500 free Shortcuts available to download.
Apple continues to improve its automation app, Shortcuts, with new actions and bug fixes on iOS and macOS. Incorporating those improvements, Apple alum Matthew Cassinelli has released a new library of 500 Shortcuts free to download.
Visiting his website, users can browse Shortcuts by categories such as productivity and lifestyle or filter by level of complexity. New actions included with iOS 15.4 for Reminders and AirPlay can be found throughout the catalog. Users can also turn off notifications for Automation Shortcuts that run in the background.
We discuss our iPadOS feature wishlist for WWDC 2022, where Shortcuts can improve macOS, and Shortcut widgets on iPhone.
Sponsored by:
Jamf: Unlock the power of Apple Device Management and Jamf today with a free 14-day trial. To get started, go to: jamf.it/appleinsider to learn more.
Interview transcript with Matthew Cassinelli
Welcome to a special episode of the AppleInsider podcast. This is your host Stephen Robles. And today I have a returning guest. I think it might be safe to say he's now a regular on the show. Matthew Cassinelli, thanks for joining me again.
Thank you for having me. It's a pleasure to be here and to be a regular now.
I think it's actually your third time and I'm just gonna say it. We'll say this is the biannual Shortcuts check in featuring Matthew Cassinelli, how about that?
That makes sense. Like there's usually like this second half of the year update that kind of drops occasionally.
Yeah, and Apple always sneaks in some Shortcuts steps here and there. So I think it's you and Federico Viticci. You guys are like the kings of Shortcuts. If you guys formed a gang today, I think that should be your name, the Shortcuts kings, and get tattoos and everything.
But you know, you guys, you're out there doing it. And we're going to talk about it more in-depth, but you literally just launched, it'll be last week as our listeners hear this episode, a new library of what 600 Shortcuts that you've made available to people?
Yeah, it's a lot. Goodness. It's a lot. It's taken a long time. But its basically I've been doing this for so long now that I have honestly many more Shortcuts than that as well.
This is what like 10%, 600 Shortcuts?
No, it's like a third, I'd say. No, that's probably a quarter actually.
Okay. Okay, so maybe 2,400 total Shortcuts.
I wasn't trying to brag, I'm just doing the math.
You push that iCloud syncing to its limit. I know.
Oh, that is definitely the case. So, that's been part of what has taken so long for this to get out. So I'm super excited. I basically released the majority of my main folders across productivity Shortcuts and just lifestyle like kind of personal stuff. And that has been very exciting, because I've been using almost all of these for a very long time. And I've developed all these different methods that I'm going to be sharing soon about how I've been using them. And it's, it's super exciting.
That's very cool. We'll dive into some details about the library in a moment because I'm excited for it. But real quick, because it's been a little while since we checked in. Did you get any of the studio things either a Mac Studio or a Studio Display recently?
I have not. I went into the am one Mac mini generation. And now I have an LG monitor that I use for gaming at the same time. So the studio just kind of lined up just outside of what I need right now. Especially to be honest, I'm using Shortcuts.
So I don't necessarily need the highest quality display right now, although I'm pretty sure I'll eat my words once I get it. But just at the time, I need that other HDMI input. And then I think I'm going to get a double Visa monitor and have them side by side.
VESA or VESA you can do either way. Tomato, tomahto. No, you know, I was actually looking into those too. Because I'm almost into my new home we're constructing. And I have my home office/studio I'll be doing and I was like, do I want to mount stuff to a wall so it's like movable or do I put it on the desk? Do you have it mounted on the desk with Visa? Or do you want to do it on the wall?
Mine is on the desk because I have a standing desk too.
I move it around all the time. I use my Mac as a TV, especially because I have the iPad Pro. And that works really well with universal control, by the way, reverse from the iPad to the Mac. It's like you can play YouTube video fullscreen on your Mac, work on your iPad, and then like use the iPad trackpad to control and the playback up on the Mac too which was cool.
That is very cool. So yeah, also universal control came out since you've been on the show. Have you been using that pretty regularly? Is that part of your workflow?
Oh, yeah, definitely. I feel like it was built exactly for me when it came out. I feel like it's a weird feature where either people just get it right away. And maybe it's not get it but just like they love it or they're just like, why would you ever use that. And so it's, it's kind of odd. I feel like it's one of those things that you kind of need to see in practice to really understand.
But even just using shortcuts like that is part of one of my strategies, to be honest, is I can run my Shortcuts on the iPad from the home screen. And I mean, also just from opening the app, but with focus modes and things like that you can bring up all the right Shortcuts at the right time at right when you're working on your Mac over on your iPad and stuff like that.
Is there any kind of drag and drop with Shortcuts that actually works across iPad and Mac with universal control? Or is it just kind of putting the mouse over there to run something and bringing it back to the Mac?
It's usually more moving the mouse over although I haven't tried the drag and drop recently. I'm trying to remember because it's one of those things like might have broken and or doesn't work anymore, but you can drag items onto a Shortcut or you were able to at one point and drop it and run it . There's so many ways to run Shortcuts. I think there's over 40 ways you can trigger a Shortcut.
Right? So given your number of Shortcuts, I know previously, before Shortcuts came to the Mac, you were really using your iPad, mainly because there were no Shortcuts on the Mac before. So that was like your main device.
Then once Shortcuts came to macOS last time, we want to show you know, you started moving more to that. Now, it's been probably six months since then, where are you working more often? Either iPad or Mac? And where are you running your Shortcuts more often,
Honestly, a lot more on the Mac, purely for the workflow benefits. And because I think I'm having memory issues on the iPad, because of the sync in the background. I've been filing plenty of feedback to try to get that fixed. But that part has been changing for me.
On the Mac, one of the major workflow benefits that I realized is if you assign keyboard Shortcuts to a Shortcut, and run it multiple times, it can do them simultaneously, it can execute all the actions rather than stacking as the Shortcut just runs in the interface or something like that.
And so that has been honestly one of the key benefits to making my Shortcuts catalog is that I can log all of my Shortcuts that I scrape out the data and things like that simultaneously, and do like hundreds in 20 minutes now. Instead of what would take me a couple of hours before I've seen massive, massive workflow gains from using the Mac. And it's not even necessarily about iPad versus Mac, but just what they built it for right now.
Yeah. So I'm actually live testing universal control with Shortcuts at the moment, and I have yet to find something that I can drag over. I tried files, I tried images, so you can actually drag Shortcut steps from the Mac to an iPad with universal control if you have Shortcuts open on both screens?
I feel like we did this on the last episode, we started discovering things you can do with Shortcuts.
That's part of the wonder of this app also.
Yeah, absolutely. Yeah, cuz um, basically, I hit the plus button created a new Shortcut on my Mac, and did the same on my iPad Mini using it in universal control. And I am get podcasts from library I'm using that action. And I can literally drag that Shortcuts action from my Mac over to my iPad.
And when I let it go, it drops up there. And it copies it, it doesn't actually remove it from my Mac Shortcut. It actually copied it over. That makes sense. So and it is two different Shortcuts. You know, it's not the same Shortcut syncing already.
It's two different ones. So so you can drag actions, apparently, but I did not seem to be able to drag files or photos or anything outside of the Shortcuts app over to the iPad and universal control, just BT dubs.
Did you try in the upper area? I think what's hard is so it worked for they redesigned it. And at the top, there was like a play area where you would press start. And it would kind of like be a hover container where you could drop it.
To be fair, I wonder how many people ever even used it. So like, it could be a thing that they deprioritize because there has been a lot to do for the Mac? And I'm pretty sure that is one of the reasons it's a multi year effort to bring it to the Mac.
Yeah. And I'm trying to drag it all over in the Shortcuts window on the iPad. And I do not seem to be able to drop it anywhere. Like I just tried to drop an image file, like from finder on my Mac over and like it shows it on my iPad, like I see the image dot png on my iPad screen, but I can't like drop it.
It just disappears, like floats away. So anyway, that's Universal control. But all right, so let's talk about your library. So you just launched it like literally as we record probably minutes ago, which was a huge, huge undertaking, and you have a bunch of Shortcuts available for free, where anybody can go to your website, matthewcassinelli.com, that link will be in the show notes. And you can just download Shortcuts for free.
And then you have some ones behind your membership program as well. Talk to me about what you put for free, which put behind member paywall, and how people can find the stuff that they might find interesting.
In general, I did split it where I wanted to make enough Shortcuts available for free that anybody could get started with most of like the basic apps that are available from Apple and also the actions that they provide there. So I just don't want to keep that away from people if it's not that hard for me to make. And I think everybody would benefit from that.
So that's been a huge goal with my membership program is to make more free Shortcuts because I think that's super important. And I just want everybody to learn Shortcuts because it's so cool. Like it is a shame that I can make all of these Shortcuts and can't share them better with everybody because I want to teach everybody.
And I think in Shortcuts now and I want other people that learn how to do that because when you come across a problem in your workflow, you can immediately make a Shortcut, solve it and then move on right and then use that again and like what I'm doing is share it with other people too which is, I think the coolest part about Shortcuts is just the ability to share them. These are apps that you can just give to people.
At least what I've run into is, you know, some Shortcuts don't run on both iPad and Mac at all because of certain steps. And some you have to kind of tailor to which device. So in this huge library of free Shortcuts, you know, I'm looking right now,
I love how you have it broken out, you can actually do like simple, medium or advanced Shortcuts, so you can kind of choose by difficulty. How did you decide what device to optimize for? Or did you really try to make these as universal as possible, so you could run it on iPad or Mac.
Almost everyone should be universal. I'm trying to get to the point where I'd tell you whether it works with Siri, HomePod, Apple TV, all those other features, too. It's, again, just that the scale of this it's complex and testing all of it, I've had to reset my Apple watch, like four separate times. Yeah, I'm trying to sync over like 600 Shortcuts or something like that at once.
Oh, forget that man, I have like 20 Shortcuts and that thing freezes all the time.
Totally just some of the gist of how I've designed some of the Shortcuts to is I'm kind of subscribing to two separate philosophies at the same time with this catalog is both one thing well, and all in one Shortcuts because I essentially couldn't decide.
And because I figured out how to automate Shortcuts itself, I can take a whole folder of Shortcuts and bundle them into one Shortcut that does all of those things. So essentially, if you just want the one step, you can get that.
Plus, if you want to get just the thing that does everything related to podcasts, you can just get that one Shortcut. I'm going to actually release the tool that I use, it's like a compiler, and I'm going to give that to members also. So they can make their own, which is fun.
But basically, yeah, it's like, you should be able to trigger these with Siri. And it just works. And you don't have to speak through seven menus or something like that. But also, when you're just using it on your Mac, and you trigger with the keyboard Shortcut, you can arrow through and just do the thing.
And you don't need to like go find the Shortcut, because it's a single thing. And so I have hundreds of widgets on my iPad for focus modes. I have them on my watch. I have some that I are designed just for using with the home pod while I'm watching stuff on Apple TV. It's super fun.
And I just got to keep showing people because that's one of the biggest things is, it's hard to understand what you can even do with it. And now I'm dropping probably way too many too. So hopefully the bundles can be a little simplified version that you can just kind of grasp of what Shortcuts can do. And just by looking at my groups and stuff like that.
Alright, so let's say I've not done Shortcuts before. I'm on your website right now, matthewcassinelli.com, I go to your Shortcuts catalog, where do you hope total beginners to Shortcuts go to find Shortcuts that will be most useful to them.
So I now have like, just in the main section of the page, these folder groups that you can see for that lifestyle and productivity groups. Essentially, each of those icons is a group of folders also. So they're underneath, there's probably 100 or so Shortcuts for each.
When you're looking at those Shortcuts, you can see the individual folders as well. And so basically pick something that relates to you, in theory, I did try to cover like anything any regular person would do with Shortcuts. So there's stuff with your calendar, or the reminders app or smart home things. And you should be able to find something that you can get started with plus that like you were saying before the simple average or complex categories, you can go in and just see like basic Shortcuts, so you can just get functionality or see how they work.
And then the average ones, you maybe you can start looking at the scripting actions and seeing how I'm using those to differentiate between different devices. And then if you want to just get overwhelmed, go into the complex category and see some of the fancy ones. It's all stuff that I wasn't a programmer before I learned Shortcuts. And I've obviously been doing this for a very long time.
But also I think it's very possible for people to learn how to use this tool and make their own. And so that's my goal is you can look at that complex category and see fancier Shortcuts and start to work towards that yourself.
Now when you share a Shortcut, like if anyone shares a Shortcut, you get that iCloud link. I assume that's what you're using for all these individual Shortcuts on your website. Aren't they still tied to the Shortcuts in your device basically? Like if you delete one off your device, would it break the link on your website?
No, there's a feature in the Shortcuts app where if you open that link, it's essentially tied to your account, but it's not actually your device. So if you're the creator of that Shortcut, you can open your own iCloud link and then stop sharing it directly like from Apple servers instead of being tied to your device, so each time you create an iCloud link, it makes a copy of the Shortcut at that moment.
Okay, so if you could delete all your Shortcuts, and it wouldn't affect any of the links on your site.
Yeah. Which I might do for some of these, to be honest, but I'm not sure. Like, I really do use almost all of them just like the only reason I wouldn't be using some of these is because the app is going too slow for me to use it enough, not because I don't find them useful.
Or it's just, I had to have done this for so long that there's things they may do a couple of months, every couple of months. And it's still very useful to have that Shortcut, but I don't use it regularly.
So since you've been on iOS 15.4 came out. Do you recall? Or do you know what kind of the new actions have been that were added recently that you've started to incorporate in some of these Shortcuts?
I do not have all of them on the top of my head. But I'm looking at the release notes that Apple actually provided for the first time for Shortcuts. I'm so grateful for this. And I feel like a lot of people have been asking for this because we just want to know what's new. And there was like, a bunch of small features that I didn't even notice when it came out.
Right? Previously, it was kind of like a "Where's Waldo?" Like, what's new in Shortcuts? What actions are available? Like you never heard it from Apple directly. I remember like, even like the Set wallpaper action, which came out maybe two years ago, they didn't really mention it. Somebody just kind of found it.
Like, bro. I mean, I think we usually like all race to find the features with the new betas. I'm not gonna lie. It's totally funny. It's like, I'm like, dang, he got it. No, I'm just kidding. Yeah. But it's like, I don't want to go tweet it.
As I use, I tried to give credit to the people who discovered the features especially and then I assume they're gonna put the release notes out at the main release. So I do actually wish they did stuff with the betas too but aside from the actions, which I'll get to in a second. The main thing that was is the ability to turn off the notifications which is very nice.
Let's cut down on a ton of notifications I was getting through the day, because I had Shortcuts that changed my Apple watch face different times of the day. And just different things that run all those notifications are super annoying. I even have one where when I open the Photos app, it turns rotation lock off.
So I can rotate my phone and actually see photos. And then when I exit the photos app, it turns rotation lock back on. But I would literally get a notification for both of those. So every time I opened my photos app, I'd have two notifications sitting in my notifications drawer. And now I can turn all that off. And it's amazing. I also do it for whenever I take a picture, I got this from photographer Austin Mann.
Whenever I open the camera app, it turns on a focus mode for filming or you know, taking picture, you can name it, whatever. And it basically turns off all notifications. And so nothing distracts you from taking the picture or the video as you have the camera app open. And so those were two things that I would open photos and camera every day multiple times. And all those notifications would just sit there. And so now, no more. So that's been great.
Nice. I like that I'm definitely going to use this. I think the major thing with this release is that to some degree, this is the first time that automations are realistically useful for most people. And because if you use them more than a small amount, it would start to bug you and you'd want to turn it off.
And so right I think I pretty much stopped experimenting with app specific automations for that exact reason. Because I just like every time I open this app, I'm gonna get like four notifications, and it's not worth it. So I think it was a very good move for them to give the control to people like this because we know what we want. When right when you're using this experience.
And I think I was getting like yeah, like you said, like 230 Shortcuts notifications a day, or something like sunrise, sunset, like a couple hours, I have my background on my phone essentially changed throughout the day. So that it's like early morning, it's like a soft color. And then it gets brighter throughout the day, and it turns on light mode. And then in the afternoon, it's like a sunny photo. And then there's dusk and evening to and stuff like that.
Oh, wow. Okay, but that would have been a lot of notifications before.
Exactly. That at least wasn't that bad, because it just happened when I wasn't using the device. But I think that's why the stuff. There's app specific, like when you open or close an app, that stuff is very great now so to be honest, I've been working on this catalog also, since this release came out.
And so I'm gonna go do that, like this afternoon because I'm excited to start adding these kinds of Shortcuts into my collection. And also, I'm going to add index of all of the automations because I think that's something that's just confusing is how do you use these automations? So sneak peek at the next version of my catalog.
Very good. So do you remember any specific actions that you have found useful recently?
Totally. So they're actually some really, really nice ones. The Reminders app got updated with tags support, so that was a huge thing with iOS 15. A lot of people wished it was part of Shortcuts then and I definitely switched to reminders over last summer, and then was like, oh, I can't use this because it doesn't work with Shortcut, or I was assuming it would come in the beta, or something like that.
I'm actually back on about half reminders, because of the tag stuff. And it's great. It's been really nice.
You use that as your main, like task management app?
No task management, you're gonna get me started on this. It's not project management is one thing. I love things to death. But I also have way too many Shortcuts to like put into an app like that. And so I think I really, one of the things that I did struggle with was just like managing how to process all of this workload.
And I've been using notes and reminders to just create simple lists, and then remind myself about them later, before it becomes a task. And I think that's been a huge thing. And it's also all tied in together through Shortcuts, now where I can import stuff, from reminders into things and into my air table database when I need to as well.
Interesting. I use things that's been my main to-do app for a while, but I'm just now looking at some of these actions. You can even edit reminders in a Shortcut action, which is pretty wild.
Yeah, you can like update new URLs are markup and is complete and stuff like that. It's kind of a weird name for the action. Because you can do more, it's like set a reminder, the terminology, you have to get pretty specific. But all of that stuff is is really good.
Like you can, yeah, I have shortcuts where you can basically choose from a list and assign it to be reminded about when you talk to somebody like that messages feature that they have tied in or just like doing basic flagged work tasks and stuff like that with all the because the big thing is they added smart lists and reminders.
So you can insert these tags and then view them and the Shortcuts, you can also pull in the tags and get all of the links out of your reminders or something like that. So I have Shortcuts in there for look, I can put links to each one of these categories that we're about to talk to in the show notes for you with that where you can use these things. Yeah, that's how I do it.
So the other good thing that they added was get current webpage from Safari on the Mac, they updated it to be able to retrieve the details, some of the details that have been sort of missing from the Mac that are available through the iOS actions.
This is probably the most confusing area specifically about iPad versus Mac Shortcuts, because there's only Safari actions that can get details out of Safari web pages on the iPad, and on the Mac, they just don't work. I do think they're built on different technologies. And so I like I would be very surprised if we didn't get these fixed soon or like in upcoming releases, but at least for the way they brought it over from Automator right now, there was always a Get Current webpage from Safari action.
And so now that has parameters where once you use it, you can tap on it and get out the selection and things like that. So those have been some pretty common requests, because people for like Link blogging and things like that, you will find a good article, select the text, and then automatically format it in Markdown onto your site, say if you were the creator of markdown, perhaps.
If you were John Gruber, is that what you're saying?
That's exactly how he did it. And I'm pretty sure they built this because he's been complaining that it hasn't worked. There's even a couple others like translate texts and stuff is all using Apple's own translation stuff. And when power user features that you can rearrange Shortcuts around the repeat actions, so like, if you have a Shortcut that you want to work with a big list of things, you can design it to work just one item.
And then you can drag in a repeat with each action, and then move, you can essentially pull all of the actions into the repeat loop, just by dragging it around, instead of doing it one by one, which was like a limitation that they didn't have from the iPad app. So this is just like, in case anybody out there was struggling with this. They fixed it, which is very good.
Yeah, that is good. I tried making one the other day actually and realized like, oh, this is I don't want to drag all 10 steps one by one.
I have some 300 steps Shortcuts that I'm not even joking that like I just made a version instead of it working once it now works with all 700 of my Shortcuts at once, and then puts that all on my website in 20 minutes. It's like I literally couldn't have done this without Shortcuts.
So the other one I do want to mention, because this is probably most low key way to launch this is set playback destination now has speaker groups. So you can add HomePods together and just play downstairs or just play in like the main rooms that you use using Shortcuts.
And that's not possible at all without keeping them in these groups permanently. And so it's amazing, and I feel like how am I the only person excited about I feel like it's so cool. It's like what HomePod should have been from the beginning and they just drop it in like the release notes of iOS 15.4 for Shortcuts only.
So I'm looking at the playback destination step right now. And how do you do a group, then?
You just use it multiple times and add the current speaker. So at the set, it used to just be set playback destination. And now you can do add to playback destinations and remove from.
And so you can like you can be playing music throughout your house and then remove all of the speakers except for your office. And when you get in there using an NFC tag or something like that.
Gotcha. Okay, so you do multiple set playback destination steps, and then the part at the beginning instead of set, you can change it to add or remove. And you can do multiple speakers.
So I wasn't sure about this is where the one thing well thing kind of gets too wild is I made five groups of folders for every room in my house, all with single actions to add, remove, group and do the handoff feature as well.
And then I have that in the Shortcuts, which is in a stack of 10 folders. So I can just swipe through and use it. I feel like it makes sense. I feel like I'm a crazy person. You're laughing like I'm a crazy person.
It's just amazing to me, just the number of Shortcuts and then steps within a Shortcut that you just have all over the place.
Yeah, that's just like this is when you have too much time on your hands to do make Shortcuts.
Well this is what you do. Also, you know, you don't have to feel bad, you're helping other people. I mean, you just made hundreds of these available for free, which is a huge deal.
So I do have a folder that it does that same thing using single Shortcuts. And then also the bundle that is just one that does all of those separate functions for all of the different speakers. So like that's part of what's fun about this is you can just compile them up into each other, and then run it all hopefully, if you do want that you can get it through there.
That's very cool. Well, again, link to Matthew's website, check out all those free Shortcuts which is amazing. And then also he has a membership program for paid ones. Two of the things I wanted to hit. One is automation APRIL, which is something that MacStories is doing and that you are a part of as a judge. And then I want to maybe get your take on WWDC, some things you're hoping for. But this automation, APRIL is awesome.
They're doing the shortcuts contest. And next door is done that where you can submit up to two Shortcuts that you have made personally like original Shortcuts, and then you guys are going to like judge him and choose a winner and everything. Tell me what you're doing as a judge there.
Yeah, basically, Federico invited, like a group of people who have been making Shortcuts and generally like, evaluate them. So like, we just like to use them and know what works well, for other people, I think is a big thing. So they essentially built a whole portal for their, like, club MacStories website that they've been designing lately.
And we can sign in and look at all the different Shortcuts and kind of give ratings for how it fits into these five different categories, everyday stuff for music, for productivity type things, and you can submit your Shortcut in order to basically be judged by all of us and to be the best and win some awesome prizes that Federico has like the analog pocket.
Yes, the Stream Deck XL, you can also win.
Yeah, totally. So you can get loaded up with Shortcuts on that as well.
Now, I know that it's anonymous to you guys who are judging it. So I don't feel bad saying this, but I did submit a couple of Shortcuts, I'm not gonna lie, I got two in there. So I'm excited to see my win. But you can actually submit a Shortcut through April 20th or when this show airs, as most of you will be listening to it, you still got a couple of days where you could submit a Shortcut.
And Matthew might be the one judging it. But you'll definitely be judged by somebody from the team. I know Jason Snell is on there, Viticci and you. So submit a Shortcut, so maybe you could win. That's pretty fun.
That's fun. It's definitely cool. So I'll have to see. Are you trying to sway a judge here?
No, No, not at all. You know, I'm really curious. I don't know if the guys that MacStories are going to do this. But I'm really curious what people submit? You know, we know, obviously, all the Shortcuts examples that you have, and Viticci has. But you know, here's how many submissions there are. And just like people are creative, you know.
Basically all the different apps in the App Store, there's probably going to be as many Shortcuts that exist one day soon, maybe most just from you and Viticci, I don't know. But of all the Shortcuts out there I'm curious what people use it for in their personal lives, you know, everyone's work is different. And everyone's play and leisure time is different. And I'm sure they have Shortcuts specifically for them that are unique, you know.
Same. I'm honestly looking forward to judging more of these, I guess, but just being able to explore them and kind of show other people, the ones that can kind of work for them as well, just because I think that's one of the biggest parts that I'm excited about for this contest.
And looking forward to going forward is just learning from other people more about what kind of Shortcuts they want and would actually use to because that's part of it is to be honest, like I do know that some of these Shortcuts some people just won't bother because it's not useful for them.
That's why I'm trying to have a breadth of like, I mean, I don't remember if I mentioned this, but I literally like worked on the gallery in Shortcuts when it was at workflow. And so a lot of those examples are the kinds that I made. And then I'm now have on my website as well.
This is my Shortcuts gallery now. And it's just like, This is what I probably would have been doing for the last five years if I stayed at Apple also. So, that's kind of the goal. It's not supposed to be like, you're gonna download 600 Shortcuts, but you can also get all of the functionality from those bundled things, too.
So I'm really not trying to pitch that I'm just psyched on it because that's one of the things is, this is exciting for me. And because it does make it easier to use some of my Shortcuts as well.
That's awesome. All right. Well, finally, WWDC is announced June 6, Keynote is going to happen. We're gonna hear all about updates and such last WWDC Shortcuts on macOS was the big deal for the Mac, amongst other updates. But that was kind of the big news. What are you hoping Apple announces this year? Whether it's for Mac for iPad doesn't have to be Shortcuts related, but Shortcuts stuff, too? What are you hoping to see this year?
Yeah, I mean, last year, I didn't even expect the Mac app. I definitely saw it coming at some point, just because it would make sense. Like I thought it was going to take longer. But if they were going to do it, like I didn't actually know either, just to be clear, but I think I was like, oh, sweet.
So I think seeing the Mac app get deeper with automations would be cool, because you can run Shortcuts, actually better than you can on iPad from other apps, but it's not built into Shortcuts as well. So just being able to trigger them on a schedule and things like that, I can see how you can really like mess stuff up with automations. If they just constantly ran on a Mac in the background, and you didn't also they were not notified about it.
Introducing this slowly over time has always kind of been the way they've done it just so that even developers also can now make actions this year. And then next year, we'll have a bunch of Shortcuts apps ready to go versus trying to launch it all at scale. And then it just like nobody sees nobody stopped at it.
Automations would be huge on the Mac though. Even simple things. Yes, scheduling, like for a certain time. But on opening an app, like every time I open Audio Hijack, maybe set my podcast focus mode, and you can you know, change the lighting, for the video podcasts, you know, those kinds of automations, which you can do, like I have my stream deck right here.
And I have buttons where I can tap it, and it runs a Shortcut and all that. But it'd be nice to just not even have to think about it just whenever I open this app. I know I'm using this app just for podcasting. Do all these things on my Mac at the same time.
Yep, exactly. I think one of the things is a lot of the automations are built iOS specific features. So like traveling around, or I mean, there's some like connectivity things, but I do think there was a lot of opportunity with the iPhone for them to have automations in a unique way. Whereas on the Mac, it's probably more straightforward.
But also I think needs to be done well. And and like you said with just like the apps that you already have on your device, I think like a big thing they should add this year is more actions for Mac apps, because I think that's part of it is you kind of already have to know how to use Shortcuts to be able to get a ton out of the Mac currently, especially the scripting stuff. And, so just last week, they launched new Shortcuts for the iWork apps, like you can create a just to be clear pages keynote and numbers because iWork is not actually a thing anymore.
Do they not call it that anymore because like every headline was iWork suite has been updated. And is it just like yeah, that's legacy terminology now.
I mean, they literally oh, I guess it still is.
No, it's there, apple.com/iWork It lives on.
I think I bought iWork at one point.
Oh yeah, I still got a CD. I think it was iLife at the time, I still have an iLife CD with like iDVD and iWeb and all that.
I got upsold into mobile me and never used it. Although it's like it was cool. It was just iCloud syncing.
Did you have a dot Mac account back in the day?
I don't think so. I was actually decently for being somebody who's like a complete Apple nerd. I had a Mac after like my senior year of high school, and then an iPhone5. So I wasn't actually super early to all of that. But I did have a true Android experience with the I'm trying to remember is the G1 I think.
That was like the first one.
Yeah. And so I think that helped me both appreciate what you could do with Android and also appreciate getting an iPhone.
Well, yeah, I don't think there's a lot of Android apologists that listen to this podcast.
That's fair. There's AppleInsider.
Yeah, but I will say I use Android phones up until the iPhone 4 because the iPhone 4 was my first iPhone. So I used the HTC Hero on Sprint. And then my wife had the HTC EVO with wiMax, which was like the bootleg 4g Plus Network. So I had a slightly more recent Android experience. But anyway.
I do think one other thing I'd like to see for Shortcuts at WWDC would be NFC automations from Apple Watch.
Because that would be cool. And that seems like such low hanging fruit. I mean, I guess they're technically aren't Apple Watch, what like you can set stuff on the Apple Watch, you're using automations. But there's not automations that run on the watch stand alone. So I don't know if that would be necessary. But that would be so cool.
Why not for me, like I have an NFC tag in my car, that if I scan it with my phone, it resumes playing my podcast and Pocket Casts. And sometimes I just don't want to take my phone out of my pocket. And I can, you know, open the Pocket Cast app on my watch and press play, it'd be awesome. If I could just tap my watch on the NFC tag, and it just runs.
So it's I think it's in the center near the camera of the phone. And so if you just miss, it's like that you feel so dumb, like, oh, let me it's a pain on my phone against the thing. I think that's a is a huge thing with Shortcuts is that there are a lot of opportunities to make plenty of mistakes, and then you kind of just get disappointed or like don't get what you expected out of it.
And so I think that's making automations more accessible so that you just literally don't have to do anything at all, and it just works for you is great. And just you can trigger them easily as well is like that's the huge benefit. So that is like and I've tried to like make these available. So you can just get Shortcuts to and use them. And so that's the big step now is making them automated. So you can just trigger them all.
Absolutely. Anything outside Shortcuts that maybe you'd like to see for oh, I don't know, iPadOS and macOS.
I mean, I feel like that was a leading question. Maybe window management on the iPad. Is that what your asking?
No, no, no, not even window management. I've said multiple times on this show what I want from iPadOS. But I'm just curious if there's anything that you were looking for maybe pain points, I know you report on a lot of bugs that happen in Shortcuts, because it's not like that. But actual feature additions. Is there anything that you're hoping for?
I think being able to run Shortcuts from other apps would be the big one. I think I've seen Greg Pierce from Drafts requesting this because he has all this stuff that you can do on the Mac, especially just using URL schemes. And you can technically do that, or it's not even just URL schemes.
Because on the Mac, you can trigger Apple script, which then triggers the Shortcut in the background, which is a huge thing. But on the iPad and stuff like that. It just opens the app and does it. So I think that's pretty much nobody does that because you shouldn't it's not a very good. It's like what workflow was built on. But it's still just not the Shortcuts is supposed to just happen seamlessly not physically show you what's going on. So having other apps to be able to trigger Shortcuts through like you trigger the Shortcut through another app, not it just running stuff on your device to be clear.
Right. Anything else? I mean, you think iPadOS is just good?
I'm not sure. I mean, I want more home screens which is wild. I use all of them.
Wait a minute, you've hit the maximum number of home screens?
Oh, yeah, there's only 15.
30 groups, the Shortcuts so I couldn't make a home screen forever. I think that's a huge thing that I also because I've been trying to work on this. I haven't shown people how I'm using this stuff. And I think it seems like iPad widgets are just like nobody cares. And I don't understand why.
Maybe because we got Shortcuts for Mac. And I do think Shortcuts for almost every person who I know that likes iPad is important to that experience. And so getting it on the Mac just kind of makes the iPad less specialized for automation, because that was like I had to do it there. Otherwise, I couldn't do it at all. And so I think that's sort of this transition that is I think now benefited from Universal control in focus modes, because you can have the iPad nearby, or be your primary device and then use Shortcuts and all the widgets in different apps according to your current context and just what you need, and then switch them out.
I think a huge thing with home screens is that everybody just searches for their stuff. And they have like one home screen which is totally fair, I basically just have one home screen for like different times of day or different things that I'm doing, and then it changes and then my Shortcuts are sitting right there too. And so that's that's a huge way that I actually use all of these is because I can bring them forward to me when I need them and hide them when I don't and so it's I think that's super underrated.
It just needs to get better also, like there's a lot of widgets and part of that what ends up happening at that point is you just do all your stuff from the home screen and then you're just like done and you're sitting there and so it's a weird experience a little bit with Shortcuts once you get to a certain point where you're just like oh, I'm done. What some stuff that took me hours and hours is like finished and then you actually have more free time but you're like trained to just do more ever and things like that.
And yet, I will say, getting a widget like to create a smart stack getting a widget on a widget that I have on my iPhone home screen. I have a two by two widget. So a square. And it's already a smart stack. And I have been trying to get
Open the stack and then you can add it from there.
Oh my goodness Matthew, why did you do it. Now, I've been trying to do this for weeks, Matthew. Listen. Okay, so it just worked. Thank you very much. You're, you're wonderful. But I have been trying for weeks.
Yeah, to hit the plus icon from the home screen, which is the way you're supposed to add a widget to your home screen. And to try and drag it on top of a smart stack, it just flings the smart stack to another home screen. It's just impossible.
You have to be very quick. I have like meta strategies about how to use the home screen adding. Like there's a bug with Shortcuts to where if you add it without setting the folder, it becomes corrupted, and then you can't use it. And so you have to add it again.
And so trust me, I've spent many, many hours figuring out the home screen things specifically, like that's another thing I'm excited to share too, because it is just like, if you don't nobody else should go through the pain that we've gone through to figure this stuff out.
But they should get the benefit of actually using these things because it is cool. And it's just not super accessible. To be fair, it takes a long time. And so I think it's just not when there's other things going on in the world. It's not the most important thing at all.
But when you have time, and you're just like messing around on your iPad or something like that, open the widgets, you do have to drag them on to each other to get started and do it super fast, and then it won't ruin anything. But it's totally like I have those super large widgets. And if I move one, it'll like move everything from the other side over and I'm like, why did you go that way? It just doesn't.
Another quick tip, I guess is hide the home screen. So you're not using? And then you can drag from the App Library quickly, and also not mess up those home screens. But just, don't do more than 15. Because if you run out of home screens, they explode when you overfill them.
They might have fixed this. You couldn't rearrange them before. And so if you messed up the first page, it would mess up all like 12 pages.
But what do you mean they exploded. What happened?
It's basically like if you perhaps fill all of your home screens with hundreds of Shortcuts widgets, and then there's too many to place anymore. And it goes off the end of no more home screens it will like break apart and ruin a lot of it.
But there's not like some explosion animation, right?
No, no, not like in a good way. I've run into so many bugs that I bet nobody at Apple has ever even experienced because it's just like, I have 200 widgets of Shortcuts. So 200 instances.
Okay, so 15 is the max home screens.
I can hear how crazy I am.
No, no, no listen you are a ranger. You're a Viking of Shortcuts. You're going to the ends of the earth.
Coming back with the long beard.
And 15 pages of Shortcut widgets. That's how you're coming back. What is the maximum widget stack number then? Because the 15 max home screen?
Oh, there's 10 per stack.
10 per stack. Okay, okay.
Yeah, I mean, I'll be honest, I have some issues from it, but I have 200 of them. And it generally works fine. Because widgets don't do anything. That's part of it.
So you have 200 widgets stacks?
Because they're 10 per stack. So, I fill them all up.
Okay, how do you keep track of them though? How do you know? Okay, I want to run this Shortcut right now. Do you just intuitively know where you store them all?
I mean, that's a huge part is like so I'm looking at like my planning home screen that has my calendar stack and my planning stack. And then I can rotate through to see like the fantastical or the calendar widget. And then the three like folders have Shortcuts that I have for calendar app fantastical itself, calendar sets, and then I have date and time tools.
So you can like format today at Tuesday, April 12 at 1:25pm or 2022-4-12. Like, all for just like working with and then I have like the things stack with then ways to jump in each of the categories or add things quick. Thinking about things is silly. But no, not in like open. Yeah.
So it's all I basically take each function that I have and try to make Shortcuts for all of the different ways I could use it. And then that's why I compiled them into like a multi tool for that app. But I also have just those single things that I can tap once from the home screen and get the data right away and move on.
This is amazing. You've blown my mind again. Every time you're on the show, I learn something new. So thank you Matthew for joining us. Everyone should check out matthewcassinelli.com There'll be a link in show notes to the entire Shortcuts library that you can now access on his website bunch of free Shortcuts, you could just go there and download and try yourself. Is there anywhere else you'd like to point people Matthew?
I'm going to be doing more on YouTube again, now that this is out and so basically just trying to show what I just talked about, which is I've been I think that's why it's it makes a lot more sense then you can just see me using it in real time and things like I do live streams too there. Yeah, I love the AppleInsider crew. Last time you had me on just the members are a great group. So definitely appreciate the support.
Wonderful. There'll be links to all of that and Matthew YouTube channel in the show notes. Thank you again, Matthew, for coming on.
Yeah, it's my pleasure. Thank you for having me.
Contact our hosts
Submit anonymous tips on Signal: +1 863-703-0668
Support the show
Support the show on Patreon or Apple Podcasts to get ad-free episodes every week, access to our private Discord channel, and early release of the show! We would also appreciate a 5-star rating and review in Apple Podcasts
Links from the show
More AppleInsider podcasts
Tune in to our HomeKit Insider podcast covering the latest news, products, apps and everything HomeKit related. Subscribe in Apple Podcasts, Overcast, or just search for HomeKit Insider wherever you get your podcasts.
Subscribe to AppleInsider on:
Keep up with everything Apple in the weekly AppleInsider Podcast — and get a fast news update from AppleInsider Daily. Just say, "Hey, Siri," to your HomePod mini and ask for these podcasts, and our latest HomeKit Insider episode too.

If you want an ad-free main AppleInsider Podcast experience, you can support the AppleInsider podcast by subscribing for $5 per month through Apple's Podcasts app, or via Patreon if you prefer any other podcast player.