Apple's 15-inch MacBook Air: Rumors, and what we know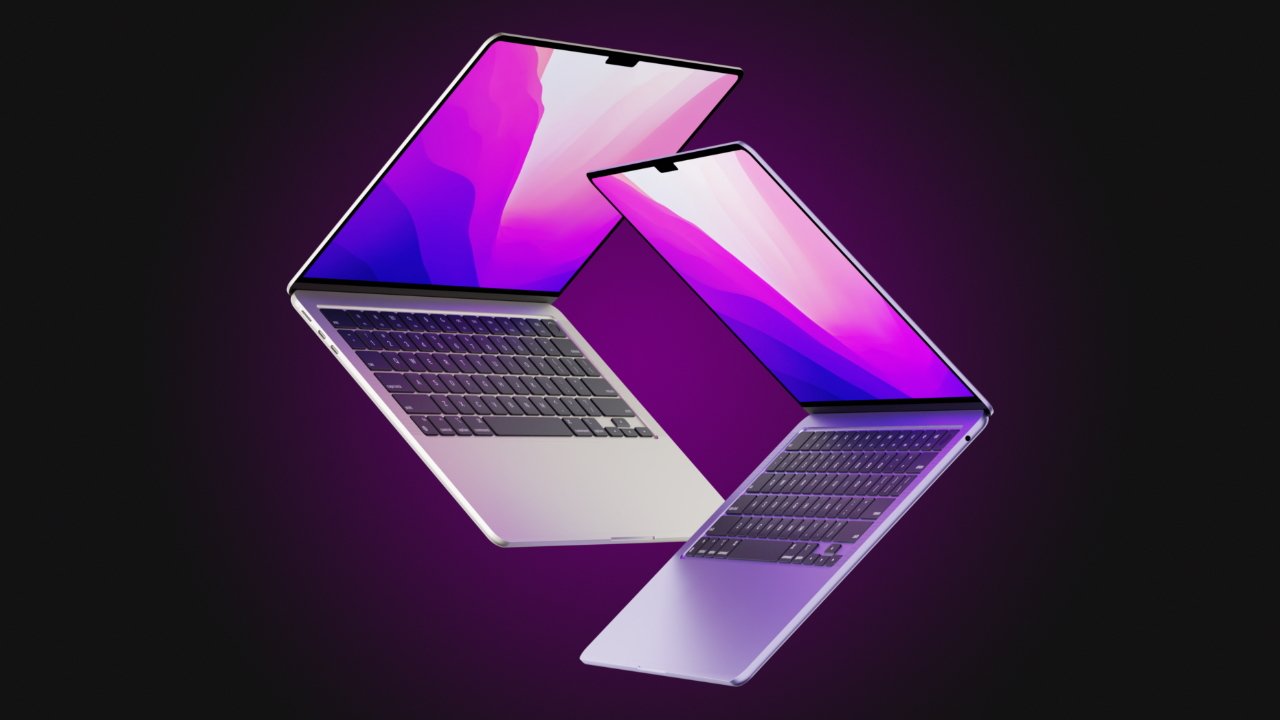 AppleInsider is supported by its audience and may earn commission as an Amazon Associate and affiliate partner on qualifying purchases. These affiliate partnerships do not influence our editorial content.
The M2 MacBook Air doesn't hit shelves until July, but rumors about a new MacBook Air with a 15-inch display, have already begun. Here's everything rumored, and what it will probably look like.
Apple hasn't offered two sizes of the MacBook Air since the 11-inch model was discontinued in 2015. That is set to change in 2023, but Apple is expected to announce a larger 15-inch model instead of reintroducing a smaller one.
Rumors about a 15-inch MacBook Air began in earnest at the start of 2022. Earlier rumors hinted at a 15-inch model, but they were less certain in January 2021.
March 2022
On March 23, 2022, display supply chain analyst Ross Young seemed adamant about a larger MacBook Air. He suggested that the yet-to-be-announced M2 MacBook Air could get a slight size bump, which it did, and a 15-inch model could also be announced. However, Apple only announced the 13-inch model during WWDC.
Just two days later, Ming-Chi Kuo disagreed with Young, stating the 15-inch MacBook wouldn't arrive until 2023 at the earliest. He also said it might not be referred to as a MacBook Air, but would be a different model entirely.
Kuo also mentioned that the larger MacBook would use the same 30W power adapter, though we now know the MacBook Air can also be configured with a dual USB-C 35W adapter.
Not to be out leaked, Ross Young came back on March 25 with another MacBook Air prediction. He stated that the 15-inch MacBook Air would sport a 15.2-inch display and that the upcoming 13-inch model would be increased from 13.3 inches to 13.6 inches.
So far, half of that statement is true since the M2 MacBook Air does indeed have a 13.6-inch display. Ross Young has been highly accurate regarding display leaks from the supply chain.
Young also stated that the MacBook Air would not get mini-LED or ProMotion. Both display technologies have been reserved for Apple's "Pro" devices, and that hasn't changed.
June 2022
After WWDC in June, leaks began again for the 15-inch MacBook Air. First, Bloomberg's Mark Gurman said that a "wider" version of the MacBook Air would sport a 15-inch display and M2 processor. It would arrive sometime in 2023 or 2024.
This rumor was followed up a few days later by Ming-Chi Kuo with more detail on the laptop. He still didn't refer to it as a MacBook Air but said the 15-inch laptop would have an M2 or M2 Pro processor and launch by the end of 2023 or later.
Little details about the new MacBook Air have emerged, and no leaker has taken a stab at color offerings or further configuration details. Rumors surrounding the M2 MacBook Air before it was announced suggested a full range of colors similar to the 24-inch iMac was coming, but instead, Apple stuck to four basic colors.
Late 2023 release
The purple MacBook Air shown in our renders is a guess based on Apple's previous releases. Typically, when Apple does a mid-cycle product refresh, it tends to release a new colorway.
The 15-inch MacBook Air isn't expected until sometime in 2023 or 2024, so Apple has likely not made pricing and configuration decisions. What's more confusing is the existence of the 13-inch MacBook Pro with M2 and how it fits in with yet another mid-range laptop.