How to use the hidden social features in Apple Music to help discovery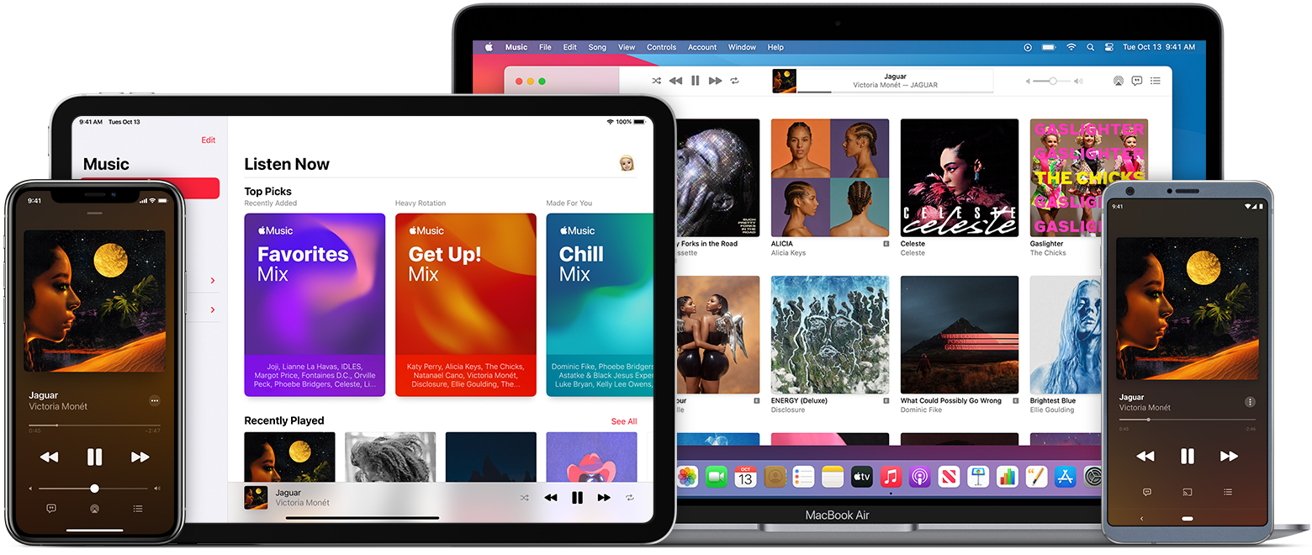 After Ping and Connect flopped, Apple has been adding social features to Apple Music — and the results are greatly improved ways to discover new music. Here's how to use the new features.
In 2017, the introduction of iOS 11 saw Apple toss out the idea of Connect and instead welcome in a more user-focused social sharing network.
"A lot of the way we discover music is to ask one of our friends: 'What have you been listening to lately?'" said Craig Federighi, the senior vice president of Software Engineering at Apple, during the WWDC 2017 keynote.
Through the additions of user profiles and more to showcase not only your music tastes, but also who you are, following other users to see and discover what music they are listening to, and sharing/finding new playlists created by other users, Apple has truly been implementing significant social elements into Apple Music.
The app feels more lively in the sense that you no longer have to ask what others are listening to, but you can now visit their profile and see for yourself. What your friends listen to will have an impact on what shows up in your weekly music suggestions and the "Listen Now" tab.
Engaging with other users by following them or listening to their playlists will also help you discover new music more easily, and will help Apple Music recommend songs around those new genres you found from it too. Your "Friends Mix" playlist and the "Friends Are Listening To" section are prime examples of how engaging with others will help you discover new music.
Apple may have hit some dead ends before while trying to bring music and social features together, but now they seem to be on the right track with their mission to do so. These new social features may take a minute to find, but once you do, they help make discovering and sharing music more lively, engaging, and nearly effortless for you to enjoy.
Profiles
When starting with Apple Music, you can either set up your profile right away or later on. User profiles allow users to showcase the music they are currently listening to, the people they follow (or who follow them), and the playlist(s) that the user has chosen to showcase.
Users can create a username, choose the name they want to be displayed, and a profile picture that will create a translucent background surrounding it. All components will be showcased for web search results and for other Apple Music users to see.
Bringing profiles to Apple Music makes the streaming service feel more like a community other than independent and restricted off libraries that cannot interact with one another. The application allows you to showcase yourself through your profile picture that blends seamlessly into the translucent background behind it, and also reveal your current and past music tastes through current music being listened to and playlists you decide to share.
When creating a new playlist, it will automatically be added to your profile until unselected in profile edit mode. A user can switch on or off if they want their music-listening activity (what music they are listening to) to be shared, and decide if anyone can see their profile or only people they allow to.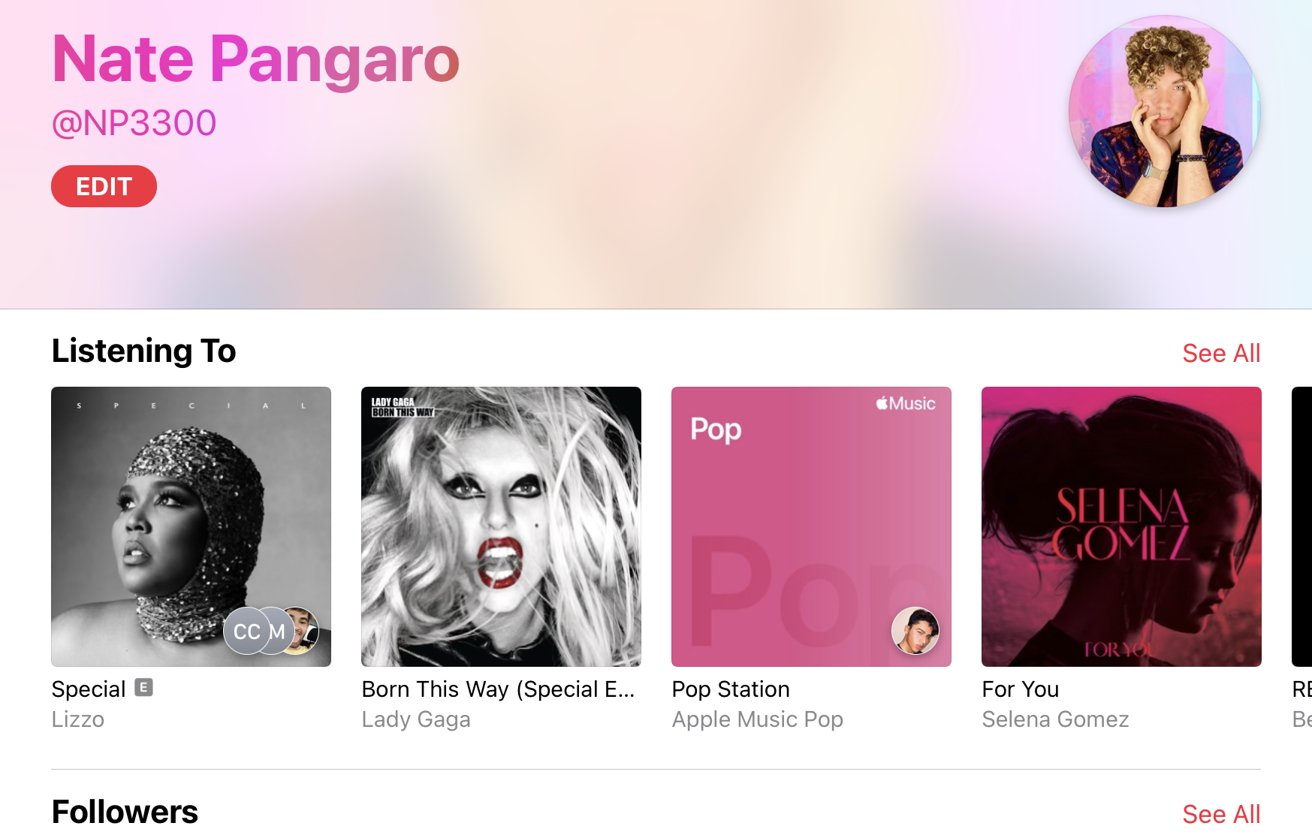 Profiles can be searched for in the search tab when selecting "Apple Music" and typing them in the search field. Once typing it in, under the search field, select "Profiles" to only be shown accounts with the name you entered.
Other users' profiles can also be found when swiping to the bottom of your profile and selecting "Follow More Friends". If allowed, Apple Music will pull people's profiles via their phone number or Facebook credentials that they have shared with the application.
When looking at the list, Apple Music will share what genre of music they mostly listen to and if their profile is public or private. Tapping anywhere on their name will send the user a follow or follow request.
Following people gives each user a choice of either following people with similar tastes of music or going a new route to discover music through people who listen differently. Through the sections positioned in the "Listen Now" tab dedicated to the people you follow, it has you make the decision of if you want to expand the genres you listen to or keep it closed-circle with similar music you're already comfortable with. The decision is your's, and how you lead - Apple Music will follow.
Profiles - your's or others - can be shared via a connecting web link or sending them to other Apple devices via AirDrop. Other users' profiles can be blocked as well.
Following Others
While following other profiles is not mandatory, it does have its perks to expand the Apple Music experience and help the user potentially discover new music to listen to.
Under the "Listen Now" tab, when scrolling down and seeing the "Made for You" category, there will be a playlist curated by Apple Music called: Friends Mix. This playlist is updated every Thursday and is curated by the songs your friends have listened to the most during the past week.
More input will be put into recommendations of songs you should listen in the form of this new playlist type. The new addition can bring discovery and conversation amongst friends about what music they are listening to currently due to the playlist indicating which song is connected to which friend.
Friends Mix puts a spin on traditional playlists and gives a first glance into playlists having multiple contributors to them. The more friends you add will equal to a more diverse playlist created every Thursday.
When selecting an album or playlist to listen to, if you scroll to the bottom, Apple Music will tell you which of your friends that you follow are also listening to that album or playlist as well. This can also be for playlists you create.
Following other users is not a mandatory action that must be done to use Apple Music, but doing so can benefit the user by helping them discover new music and giving a sense of community by seeing what others are listening to at the current moment.
Sharing Playlists
When iOS 8.4 was released back in 2015, it allowed users to have further customization of their playlists rather than just adding songs and giving them a title. Users were now able to add a customizable cover photo to their playlists and add a description to them as well.
With the tools of customization, they truly make creating a playlist more fun and intuitive with selecting how you would like to showcase the playlist through any cover art - which is showcased prominently on the top of the list - and the description you add to it.
Before, all users could do was add a title and music to a new playlist, but by adding these new customization elements to their list, it helps seeking users understand the type playlist you are trying to curate and the context behind it. It brings creative freedom back to the hands of the creator.
In addition to seeing other users' playlists, users can share their playlists via messaging apps, social media, and/or AirDrop as well. Any songs that are added to a playlist that may not be accessible to other users (for example: physical CD exclusives) will be blurred out and unable to tap upon.
When sharing a playlist or having someone add your's to their library, any changes made to the cover art, title, and/or description afterward will not show up automatically. You will have to delete the playlist from your device and re-add it to get those changes.
While searching for a playlist surrounding a certain topic or artist, any public playlist will come up in the search result no matter if you are friends with the user or not. If a playlist is public, anyone can listen to it or add it to their library.
Being able to search for a an artist, genre, and/or emotional-style group of music and get results containing playlists curated by other users and not only by Apple Music truly adds to that feeling of community and openness within the app. It helps connect and engage users together by effortlessly introducing them to one another and the library they created. It also opens up the number of choices that the user gets to find a playlist that closely fits their musical and emotion needs in the moment.
There always seems to be a feeling of more emotion put into a playlist created by a user than a member of the Apple Music team.
Playlists are a great way to curate music surrounding a certain genre, tone, mood, and/or artist, and with the addition of being able to find new playlists natively in the Music app, it offers new ways of discovering new music and new artists to check out.
SharePlay
Music is enjoyable to listen to when alone, but it is also enjoyable when with others and listening together. No matter if the people listening together are near or far, Apple has integrated features into Apple Music and the Music app to allow users to listen, control, and share songs with one another effortlessly and intuitively.
When the COVID-19 pandemic began in early 2020, many people began talking over FaceTime and other video conferencing platforms to interact with one another. Apple introduced SharePlay in iOS 15 at WWDC 2021 which allowed users to share multiple forms of content when FaceTiming with one another.
"I can image being able to call them, and see them, but also look into their eyes and see how they are really doing," said Scott Forstall, former senior vice president of iOS Software at Apple, during his introduction of FaceTime on the iPhone 4.
This same premises can be seen in the connection between SharePlay and Apple Music and being able to listen and share music in real time with no delay. Any song can be shared via a messaging app, but being able to listen to a song or album together - and getting to see the genuine reaction and feeling from it from the other user - that is what makes SharePlay and Apple Music so special.
Everyone wants to feel as close as they can be when far away from someone they love and care about, and music has a way to bring people together whenever possible. The addition of SharePlay on top of music-listening brings those hopes to reality. It makes the difficulties of being apart a rock to jump over rather than a hurdle.
If everyone on the FaceTime call is an Apple Music subscriber, they can all listen to music within the app while conversing over FaceTime. The caller that wants to share the music can select which song they want everyone to listen to, and then the app will ask if the user wants to start the music for everyone or just themselves. When streaming the music, the app will tell you how many people are actively listening to the song via the MiniPlayer at the bottom of the screen.
SharePlay allows users to still connect via music and enjoy it together when far apart. If one or more callers on the FaceTime call are not Apple Music subscribers, then the feature will not work.
Replay
Spotify for years now has had a feature called: Spotify Wrapped, where the streaming service would compile different information and statics about a user's listening habits and what genre they gravitated more to, what artists they listened to the most, and other information that was interesting to know. In 2019, Apple brought the same feature to Apple Music.
Though the rollout was quiet, Apple released their version of Spotify Wrapped called Apple Music Replay, which allowed users to see their top songs of the year, what albums they listened to the most, and their top artists.
While the feature was released in 2019, it surprisingly allowed users to see their Replay playlists dating back to 2015 (when Apple Music first launched), or whenever they started using the streaming service. Users can view their Replay playlist of their most listened to songs anytime in the Music app under the "Listen Now" tab, but to see their most listened to artists and albums, they have to go online.
Replay is a great way for users to see what their listening habits have been for the last year and previous years. Users can share their playlists with other users just as if they were sharing any other type of playlist.
Replay playlists are updated every Friday.
When Apple introduced more of a focus on social features to Apple Music in iOS 11, it was accompanied with warm welcomes from users of the streaming service. The platform of posting pictures and videos that Ping and Connect brought is gone, and now, Apple is utilizing its core user's experience to bring the social aspect of Apple Music to life.
No longer does the app feel like an independent library, but now it feels as if it is part of a bigger community of users who are sharing music together.
For a long time, it seemed that Apple was lost in their search to bring music and social features together, but now, it seems as if they found what they were looking for, and if it is not yet complete - they are surely on the right track to achieve it.
Apple Music starts at $4.99 for their Voice Plan, $9.99 for their Individual Plan ($5.99 for students - with the addition of Apple TV included), and $14.99 for the Family Plan - which allows up to six accounts to be active under one subscription.