Das Keyboard MacTigr Review: Mac minimalism in mechanical keyboard form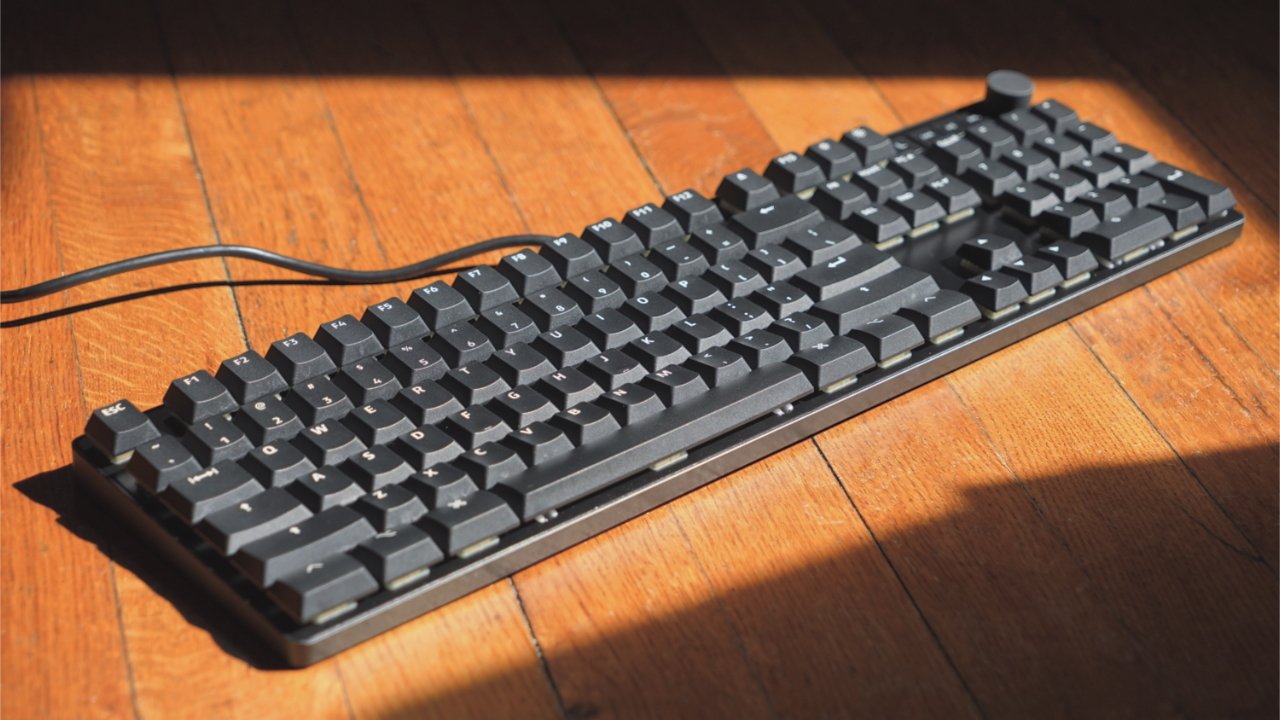 AppleInsider may earn an affiliate commission on purchases made through links on our site.
The Das Keyboard MacTigr is a full-sized mechanical keyboard for Mac with a minimalist design and no flashy features.
The MacTigr keyboard is perhaps one of the more difficult keyboards we've had to review. It has an excellent build quality and will satisfy even the staunchest of mechanical keyboard holdouts.
However, certain design choices and a lofty price tag might drive potential buyers to other models or companies. The mechanical keyboard scene has exploded in recent years, with options varying from ones made from cheap materials to this Porsche of mechanical keyboards.
Opinions aside, this is an objectively excellent keyboard. But, determining who it is for may be difficult.
Das Keyboard MacTigr design
The Das Keyboard MacTigr is classified as a low-profile mechanical keyboard with Cherry MX linear switches, PBT keycaps, and a volume knob. There is a set of media control keys and a dedicated sleep button located above the number keys.
The bottom of the case is aluminum with a steel top plate. It uses a hard-wired USB-C cable to connect to a Mac and has a two-port USB-C hub.
We're fans of the Cherry MX switches included in the keyboard. Anyone who has used a mechanical keyboard with red switches will recognize the characteristic quiet-yet-clackity sound.
The black keys on black case design embodies a classic look and feel. Unlike other popular keyboards, including many made by Das Keyboard, there are no RGB lights or backlighting of any kind.
It measures just 1.06 inches tall and weighs 2.43 pounds. So this slim keyboard remains substantial and feels sturdy.
Using the Das Keyboard MacTigr
Typing on the Das Keyboard is comfortable and easy to adapt to when switching from other US-layout keyboards. The key actuation doesn't require much force or travel, so fatigue isn't an issue during long typing sessions.
We've been using the MacTigr keyboard since mid-July for work. For better or worse, there's not much to comment on using it. It is a keyboard that slips into the background, and we don't spend much time thinking about it.
However, at the same time, we're not particularly impressed that a $220 keyboard has been in use without any real notice. No feature stands out, and the design makes it disappear into our workstation.
For some, this is a big win for MacTigr and would award top points just for being a comfortable and reliable keyboard. For others, this would likely be a breaking point, especially since mechanical keyboards are best known for their flair and customization.
The hard-wired cable isn't ideal. While it is plenty long enough to reach our Thunderbolt hub under the desk, it also represents a single failure point. If that cable breaks, the keyboard is useless.
The two-port USB-C hub is a nice-to-have, especially for trackpad users. Attaching a short USB-C to Lightning cable to our Magic Trackpad keeps things tidy and within reach. The other port could be used to charge a set of AirPods or power some other accessory, so it is a welcome addition.
The dedicated sleep button and media keys placed next to the volume knob are just okay at best. The keys require a deliberate press and make a satisfying click, but full-sized keyboard keys would have been just as useful.
The volume knob is just a knob, so it can't be pressed to mute audio, which feels like a miss.
Should you buy the Das Keyboard MacTigr?
The MacTigr is great for anyone looking to upgrade their desk setup with a cleanly designed keyboard sturdy enough to double as a home defense weapon. It is a good option for those with a little money to spend looking to upgrade from Apple's extended Magic Keyboard.
Those familiar with mechanical keyboards, like RGB lighting, or who enjoy ostentatious designs will want to look elsewhere. For all intents and purposes, this keyboard is boring, which may be a problem for some potential customers.
There's a lot to like about the Das Keyboard MacTigr. It is a custom-built low-profile mechanical keyboard for Mac and could easily pass as an evolution of Apple's Magic Keyboard.
However, there may be more versatile options without hard-wired cables, with Bluetooth, RGB, and programmable keys well under this one's price. It all comes down to taste and design preferences because customers don't have to worry about reliability.
MacTigr keyboard pros
Quality design in a slim package
Comfortable to type on for hours
Clicky but not loud keys
Good location for the volume knob
MacTigr keyboard cons
Hard-wired cable
Not even an option for RGB
Premium price compared to competing products
Forgettable, doesn't stand out (which can be good or bad)
Rating: 3 out of 5
As stated in the review, this is a divisive keyboard, and customers' reactions will depend primarily on their needs. For those looking for a minimalistic mechanical keyboard coming from something like Apple's extended Magic Keyboard, this could easily be a 4.5 out of 5.
Those looking at customization, RGB, and other elements found in competing keyboards won't find it here. There are plenty of other options at similar or lower price points that offer that kind of feature set, so these customers would see it as 2.5 out of 5.
Overall, this keyboard is a great product that achieves what it sets out to achieve — offer reliable, comfortable typing in a solid design. We average the score out to an even 3 out of 5.
Where to buy the Das Keyboard MacTigr