Apple Watch Ultra is impressive, but can't replace my dive watch just yet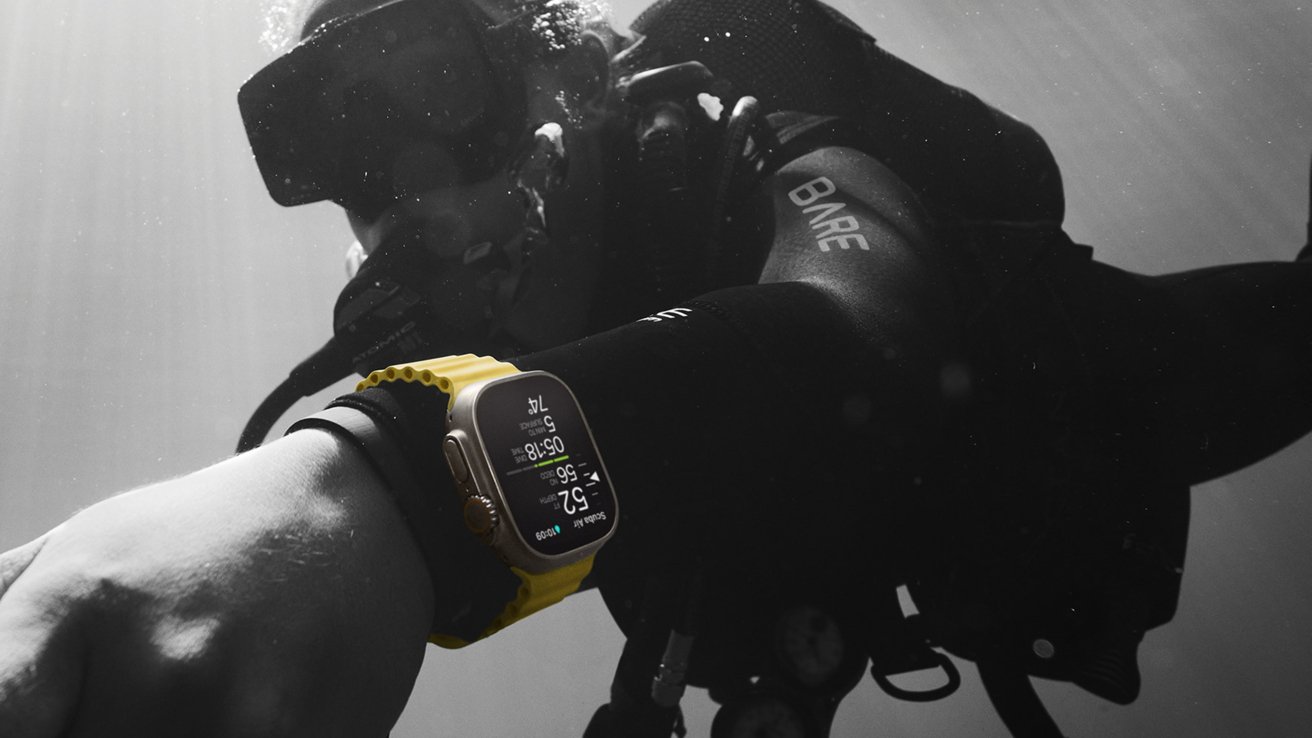 Apple Watch Ultra is able to double as a dive computer, and while it is undeniably impressive, it won't — and can't — replace my dedicated dive computer just yet.
The newly-introduced Apple Watch Ultra is packed full of impressive specs. It can operate at extreme temperatures, is made of lightweight yet durable titanium, and has the longest lasting battery life of any Apple Watch by far.
One of the more niche aspects is the Apple Watch Ultra's ability to operate as a dive computer. I'm excited to test this out for myself — but it's already clear that I'll stick with my dedicated dive computer for a while longer.
A more-than-capable dive watch
The Apple Watch Ultra has several features for divers — hardware and software. When buying Apple Watch Ultra, you can choose the Ocean band made out of a flexible rubber that can fit over your wetsuit.
It has double the water resistance of the standard Apple Watch Series 8, WR100. This means it is water resistant to 100m, equivalent to roughly 10 atmospheres or 330 feet. Apple says it should only be used for diving to 40m, though.
This is still plenty for your typical recreational diving. A standard PADI certification limits divers to only 18 meters. An Advanced Open Water certification ups this max to 30. You'll only hit this limit if you're a PADI Master Diver with the Deep Diver specialty certification which will cap you at 40m of depth.
I was down just over 100 feet on my deepest dives, bumping up against that 40M limit. I'd feel very comfortable with Apple Watch Ultra on my wrist and the vast majority of rec divers would too — so that's not the problem.
Delivering more diving necessities
But what is the problem, is that the Apple Watch Ultra is limited in its diving abilities. The most it can boast is the depth gauge app that automatically kicks in as you get into the ocean and will display your current depth as you swim, snorkel, or dive.
Apple just isn't a diving company so for the Apple Watch Ultra, it partnered with a massive name in the industry to bolster its abilities. That company is Huish Outdoors, parent company behind Oceanic, Zeagle, Suunto, and others.
I currently use a Zeagle BCD and I've used my fair share of Suunto dive watches and computers. To see the Oceanic+ app for Apple Watch, I was excited.
The Oceanic+ app takes all the smarts of a dedicated dive watch and puts it into the Apple Watch Ultra. Everything you need for a safe and successful dive is here, such as your depth, dive time, and no decompression limit.
It relies on the Buhlmann decompression algorithm to monitor your dive parameters. As you ascend during your dive, it will automatically track your ascension rate and will alert you if you're going too fast.
If the app detects you've been on a long enough dive or have gone deep enough to require a decompression stop, the app will alert you when you hit 15 feet and counts you down.
You don't use the touch screen but the Digital Crown to move between different screens when diving, which is possible even if wearing gloves.
I love that once you emerge from the water and the watch syncs to the accompanying iPhone app you can track all of your dives. The Oceanic+ iPhone app can show your dive's entry and exit points — captured by Apple Watch Ultra — and a summary including duration, depth, and water temperature.
Where Apple Watch Ultra falls short
There's another big way that the Apple Watch falls short. It can't integrate with an air gauge.
For some — both SCUBA divers and free divers — this won't be a deal-breaker but it is a notable differentiating factor between the Apple Watch and other dive computers.
Most good dive watches can connect to a transmitter that screws into to the top of your air tank. It then sends a real-time reading of the remaining air PSI to your wrist.
The issue with Apple Watch Ultra is that it has no way of connecting to a transmitter. Bluetooth is used for countless accessories but isn't feasible for underwater use because it can't reliably travel through water.
Aqualung, Suunto, Mares, and Scubapro all use RF, while Garmin developed its own Subwave sonar system that is even more reliable. Neither of those options will work with the existing Apple Watch Ultra.
Most divers monitor their air pressure via a tank-connected gauge that clips to the side of the BCD. It works but requires you to be mindful and constantly monitor your remaining air pressure.
When the air is integrated into your dive computer, you can easily see visual alerts or be tapped on your wrist when it starts dropping to lower thresholds. It's both safer and more convenient.
It reminds me a lot of when I started using my Dexcom sensor with my Apple Watch. It used to connect to a dedicated receiver that I had to carry around but wouldn't always check.
Once I had my near real-time glucose levels on my watch, it made a massive difference. I kept a much closer eye on it, prevented more highs and lows, and benefited from the convenience.
An exciting beginning
Here's the uplifting part, though. The Apple Watch Ultra and the Oceanic+ app are only the beginning for divers.
This initial Oceanic+ app may be the first diving app, but won't be the last. Its only advantage is getting to work on the app prior to the Apple Watch Ultra release. Additional third-party developers will be able to try their hand at creating capable diving apps.
By integrating the dive computer into Apple Watch Ultra, it makes dive computers more affordable and approachable to a vastly larger audience than existed today. Dive computers are expensive and confusing and the Apple Watch Ultra solves this issue.
If more people get access to a dive computer, they'll have safer, more enjoyable dives — even without air integration, and that can only be a good thing.