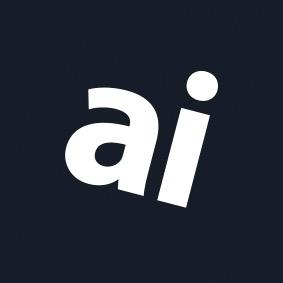 Why you can trust AppleInsider
OWC Envoy Pro mini review: Enough speed in a small package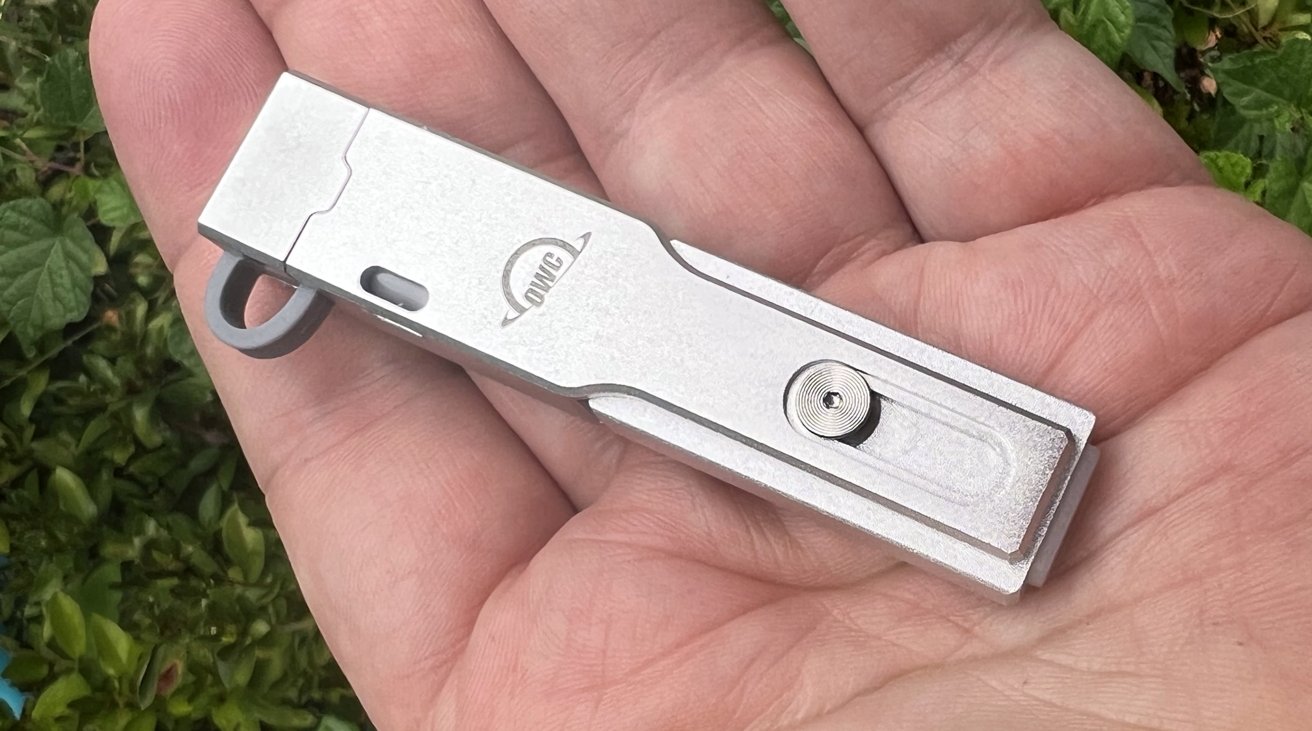 OWC Envoy Pro mini
4.0 / 5
---
The OWC Envoy Pro mini thumb drive's latest version embraces the aluminum-clad USB-C future, providing a nice balance of performance and size for tech professionals on the go.
External storage for the Mac and iPad Pro can take a few forms, including the thumb drive and the full-blown external SSD in an enclosure. While the former is typically smaller, the latter generally offers more in terms of capacity and speed.
Launched in May 2022, the OWC Envoy Pro mini is clearly a double-ended flash drive. But, because of design and engineering choices, it approaches the performance of a larger external SSD.
New Enclosure, New Capabilities
OWC is known for creating external storage devices, and this is not its first rodeo with thumb drives, let alone the Envoy Pro mini itself. Rather than being a brand new product, it's actually a refresh of a product that OWC has already sold for a few years.
The previous iteration of the Envoy Pro mini was a simpler affair — it was just a fast USB-A flash drive in an aluminum box. For the 2022 update, OWC decided to make quite a few changes.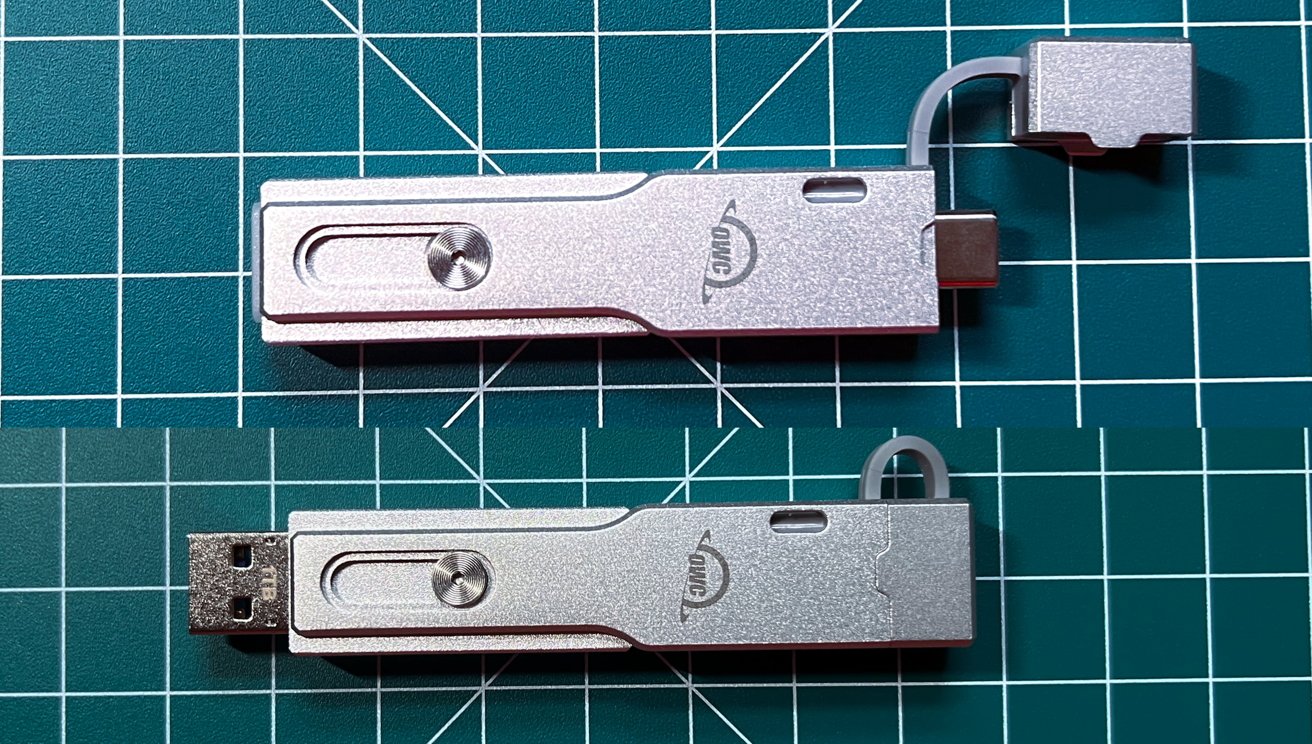 For a start, this is a drive made with an aluminum housing, giving it a premium feel, as well as helping with heat dissipation. It's also compact at 3.1 inches long, 0.7 inches wide, and 0.4 inches tall, and reasonably lightweight at 0.9 ounces.
The design has changed radically over its predecessor by offering two different connections in one device. One end has a tethered cap hiding a USB-C connection, while another section can pull out and twist to show the native 10 gigabit per second USB 3.2 type A connector, pivoting on a visible screw inside a slot.
This second section has a textured pattern on the sides for grip, which will help both with twisting and generally carrying around the drive itself. On one side, a lanyard can be connected — and one is included.
Extensive Compatibility
The use of two USB connectors means it can offer a lot of connectivity options to users. While the USB 3.2 Gen 2 Type-C could be used with USB-C and Thunderbolt devices, the USB 3.2 Gen 2 Type-A allows it to work with older hardware that hasn't switched over to the newer connections.
On the typical spacing provided on the MacBook Pro, you can fit it, and a standard-width Thunderbolt cable, adjacent. It's a tight fit, but it works. For the most part, we recommend not doing what you see above, if you can avoid it, as removal can dislodge that other cable fairly easily.
According to OWC, the drive covering everything from newer and older Macs, PCs, servers, notebooks, and other hardware introduced over the last 15 years.
That support includes Macs running Mac OS X 10.6 Snow Leopard and later, as well as Windows PCs running Windows 7, and systems running Linux, Chrome OS, and iPadOS. On the latter, you can connect it to a USB-C iPad Pro running iPadOS 13 or later.
It's also possible to set the drive to be bootable, making it a great carry-around option for booting into your own private and portable desktop.
High-speed, small size
The previous model prided itself on offering high-speed reads and writes for what looked like a typical thumb drive. For the 2022 model, OWC's gone down the same road.
Inside the Envoy Pro mini are the same flash memory and components you'd expect in a normal larger external SSD, which should make it a lot better for working from as a proper secondary drive instead of a less expensive thumb drive that uses slower media.
OWC offers the Envoy Pro mini in three capacities, starting at 250GB and rising to 500GB, then 1TB. Our review unit is the 1TB model.
As for speeds of the drive itself, OWC proclaimed that it could manage up to 946MBs of sequential read-write "real-world speed." OWC discloses this was achieved with the 250GB drive connected using Thunderbolt to a mid-2017 13-inch MacBook Pro.
OWC also supplies its own benchmark screenshots using a 16-inch MacBook Pro from 2019, with Blackmagicdesign's Disk Speed Test used for USB 3.2 Gen 1 and USB 3.2 Gen 1 connections. OWC's own results are a lot below the claimed maximum speed, with it managing 421.5MB/s writes and 410.7MB/s reads under Gen 1, 587.5MB/s and 541.8MB/s under Gen 2.
AppleInsider's own testing concurs with OWC, seeing 597.0MB/s writes and 542.0MB/s reads with just about any file size, sustained, over a five-minute run. The tests were about the same when performed both plugged in directly to a 2020 Intel NUC running Windows 10, a 2021 16-inch MacBook Pro, a 2016 15-inch MacBook Pro, or to a CalDigit TS4 Thunderbolt dock plugged into either Mac.
This isn't close to the phenomenally speedy NVMe-based external drives, but it's still more than good enough as a project drive for most video editing and other similar creative fields.
Small and Mighty
The OWC Envoy Pro mini was more than just a thumb drive in its previous incarnations. In its new form, the drive continues its legacy of providing high transfer speeds, if not necessarily reaching the stratospheric NVMe speeds — and that's fine.
It also brings in new tricks, increasing connectivity to cover USB-C iPad Pro models while still maintaining support for older systems that use USB-A. It also does so in a premium package that offers a striking appearance that is a step above your typical tiny portable drive.
You could use it for file transfers between desktops, certainly, but the OWC Envoy Pro mini can play in the same field as proper external SSDs, too. We don't think that there's a good price to performance radio on the smaller size, and, arguably, you can build your own drive with NVMe storage and an enclosure — but it depends on what you place a premium on.
OWC has the Envoy Express enclosure for $79. This, plus about $100 for a 1TB NVMe SSD will give Thunderbolt 3 speeds up to the speed of the drive, or about 2.8 gigabytes per second, whichever is hit first for about the same price as the OWC Envoy Pro mini.
But, what you get with that is a non-removable cable, and a notably larger package. This combination is not something you'd want to connect to your keychain or toss in your pocket, casually.
Enclosures like the Anker PowerExpand are available for around $30, and you'll get about the same speeds as the Envoy Pro mini given the USB 3.1 generation 2 enclosure with a detachable cable. But again, that's still larger, and not what you'd call a keychain drive.
No product is perfect, there are always compromises. For drives, pick two: small size, high capacity, or low price. The two that OWC has picked here are size and capacity. If you prefer that mix, you'll like the Envoy Pro mini — at least at the 1TB price point.
OWC Envoy Pro mini pros
Striking premium appearance
Excellent transfer speeds for a thumb drive-size
High level of connectivity with USB-A and USB-C
OWC Envoy Pro mini cons
Premium cost
Not quite premium speed
Rating: 4 out of 5
Where to buy the OWC Envoy Pro mini
The OWC Envoy Pro mini is available from OWC directly or Amazon, starting at $79 for 250GB, rising to $109 for 500GB, and $179 for 1TB.