How to enable Taptic Chimes on your Apple Watch in watchOS 9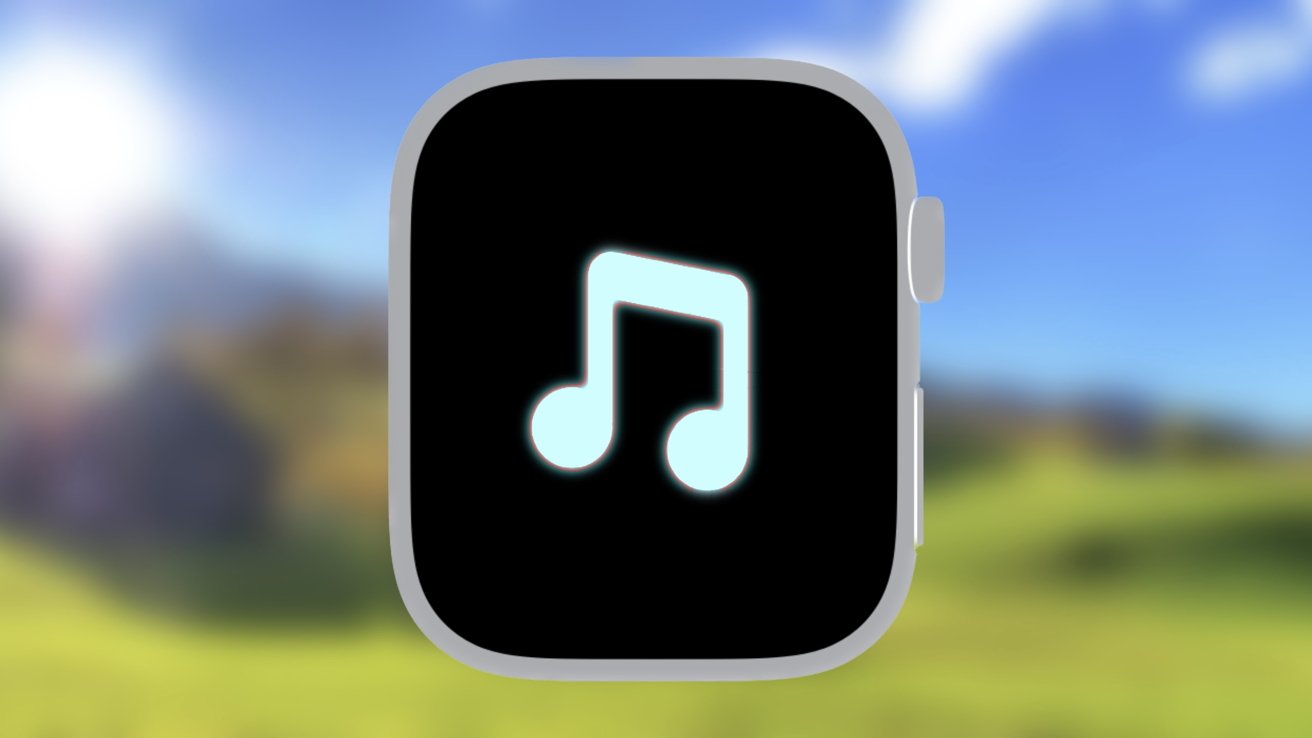 AppleInsider may earn an affiliate commission on purchases made through links on our site.
Taptic Chimes allow you to know when a new hour has started with sound and haptic motions on your Apple Watch. Here is how to enable and customize the feature.
"When enabled, on the hour, you will feel a silent taptic on your wrist," said Kevin Lynch, vice president of Technology at Apple, during WWDC 2019. "And if sound is on, you'll hear an audible chime."
Here is how to enable Taptic Chimes and customize them within watchOS 9.
How to enable Taptic Chimes
Introduced in watchOS 6, Taptic Chimes allow your watch to make noise and tap your wrist when a set time has arrived. While you would think the option would be in the Sounds or Clock settings, it is not.
Here is how to enable the feature on your Apple Watch.
Go into the Watch app on your iPhone
Tap on Accessibility
Scroll down until you see Chimes and then tap on it
Toggle the switch ON to enable Taptic Chimes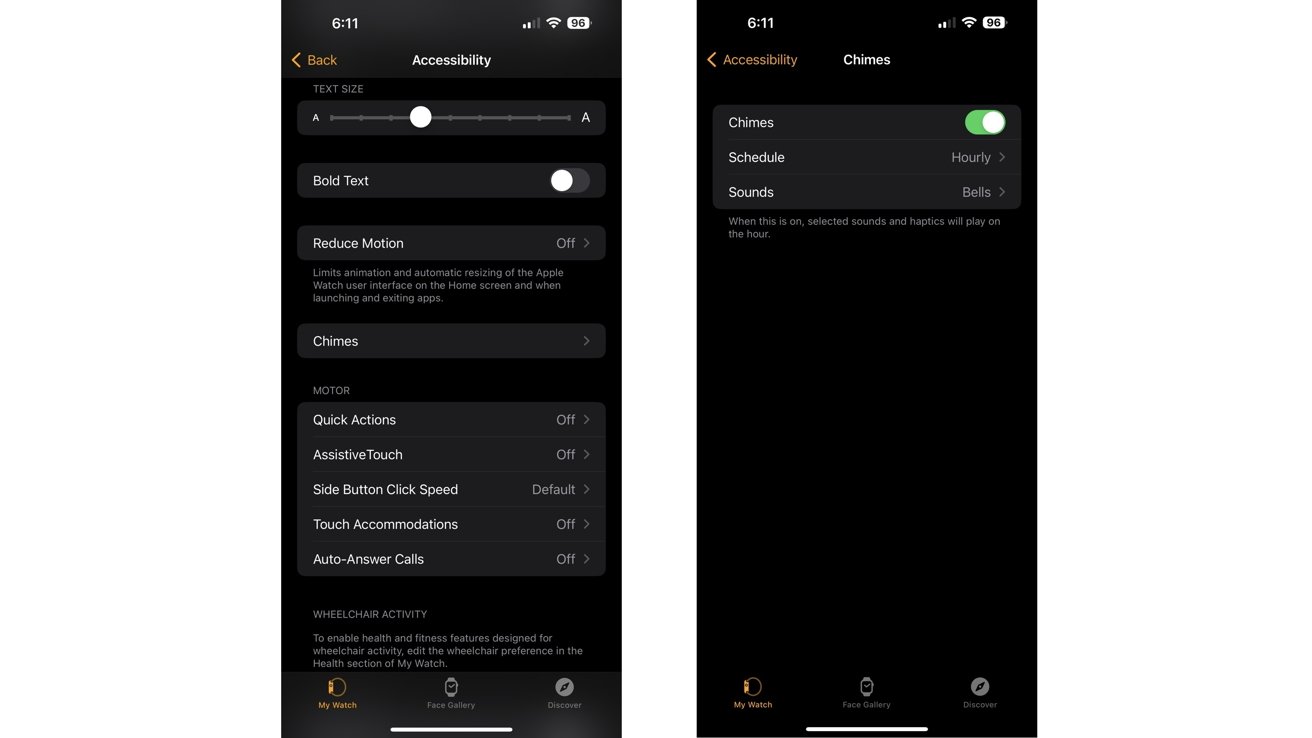 You can disable Taptic Chimes at any time by repeating the steps and toggling the switch off.
How to customize Taptic Chimes
There are two ways to customize Taptic Chimes currently, and those ways are through sound and when you want to be alerted.
In the Taptic Chimes settings that you visited to turn on the feature, you will see two options under the toggle - Schedule and Sounds. Tap on either-or to customize each setting.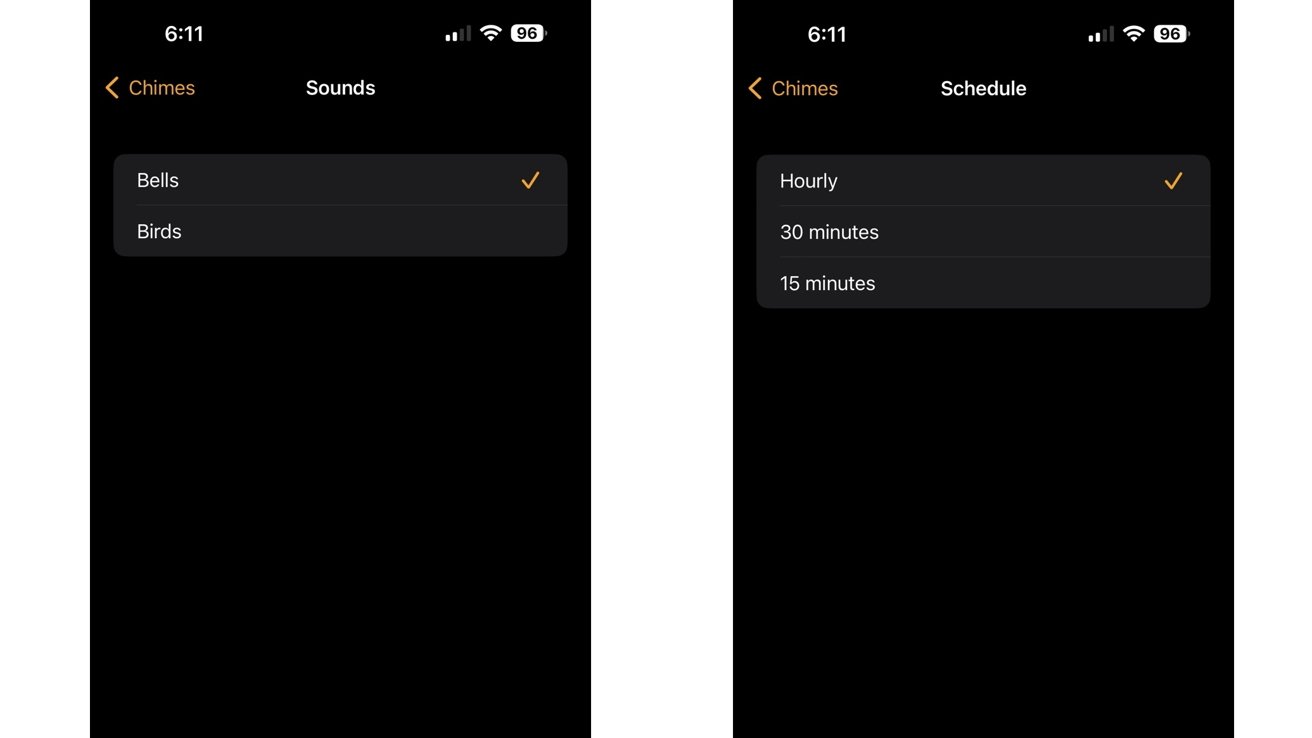 For the Schedule, you have the option to be alerted every hour, every 30 minutes, or every 15 minutes. This can be changed at any time.
For Sounds, you can choose between bells being rung or birds chirping. This can also be switched back-and-forth between at any time as well.
You will receive haptic feedback when the chime goes off.
Keep track of time
Taptic Chimes are a neat way to be able to calmly and gently know when an hour, 30 minutes, or 15 minutes have passed. No longer do you have to keep looking at your watch to know if it is a new hour, but you can wait for the sound or feeling to happen to know.
Turning your watch on Silent Mode will disable the sound but will still keep haptic feedback enabled.
Taptic Chimes are available on all Apple Watch models running watchOS 6 or later.