SUV crashes through Apple Store, kills one, injures many more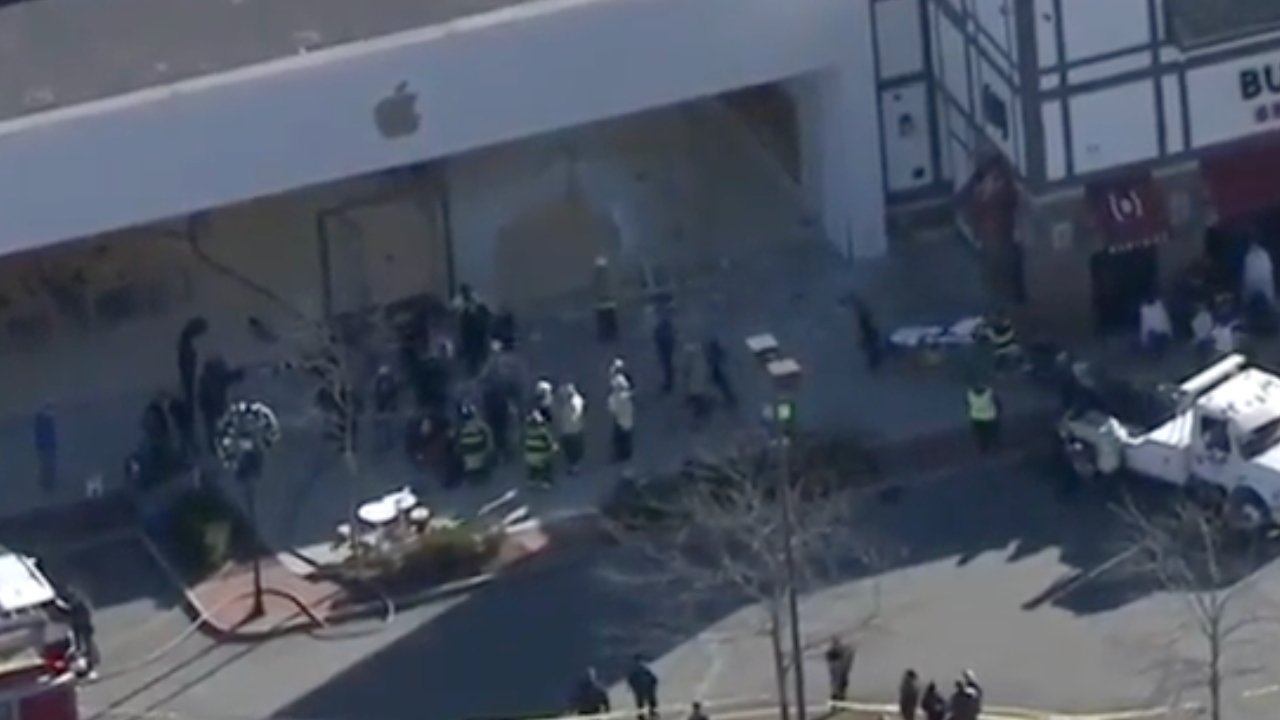 One person has died and four are in critical condition after an SUV deliberately smashed through the glass of Apple Derby Street in Hingham, Massachusetts, on Monday morning.
Apple Derby Street has been closed following a black Toyota 4Runner SUV being driven through the storefront glass at around 11am local time. The 4,000 square-foot Apple Store is located toward the rear of a shopping plaza, with a car park in front of it.
A Fire Marshall at the scene described the crash as probably "intentional." In a statement, Plymouth County District Attorney Tim Cruz said that there was an "active criminal investigation."
"Right now, family members are being notified or in the process of being notified," DA Cruz continued. "This morning was an unthinkable morning, and people are trying to process what happened."
"This investigation is active and ongoing," he said, "and we are very limited as to what we can say at this point."
Separately, the driver of the SUV has reportedly been detained and is now being questioned by police.
According to local news WCVB-TV, the SUV smashed a whole through the glass before being stuck in the store.
"It was like a big explosion," a witness told the station, "it was so loud."
One person has died, while two have been taken to Boston hospital in critical condition. A total of 14 people have been hospitalized, including some taken to the nearby South Shore Hospital.
The Patriot Ledger says that by 11:49 am local time, South Shore Hospital was rejecting additional trauma patients. Police at the Apple Store called for a tow truck to remove the SUV, which was against the store's back wall.
Another witness told the publication said that the driver of the SUV appeared to be injured and bloodied, but conscious and alert, following the crash. The driver was pulled from the car by first responders.
My wife is at Derby Street in Hingham, a Black 4Runner drove full speed into the Apple store. She said there are alot of injuries - my wife used a spare jacket as a tourniquet.

— Opinionated Zappe (@OpinionatedZach) November 21, 2022
Reportedly, the SUV trapped a number of people inside the Apple Store. A total of 14 ambulances and 7 fire engines were in attendance.
Apple Stores have previously been targeted by thieves trying to crash through windows.
Apple Derby Street remains closed, and as of noon Monday local time, the stores on either side of it have been shut as well. The Plymouth County Technical Rescue Team has examined the building and reportedly has no concerns about its structural integrity.
Updated: 12:35 with witness statements.
Updated: 12:55 with new injury and fatality details.
Updated: 12:40 with statements from police.