Satechi Thunderbolt 4 Slim Hub review: Portable, speedy, and flexible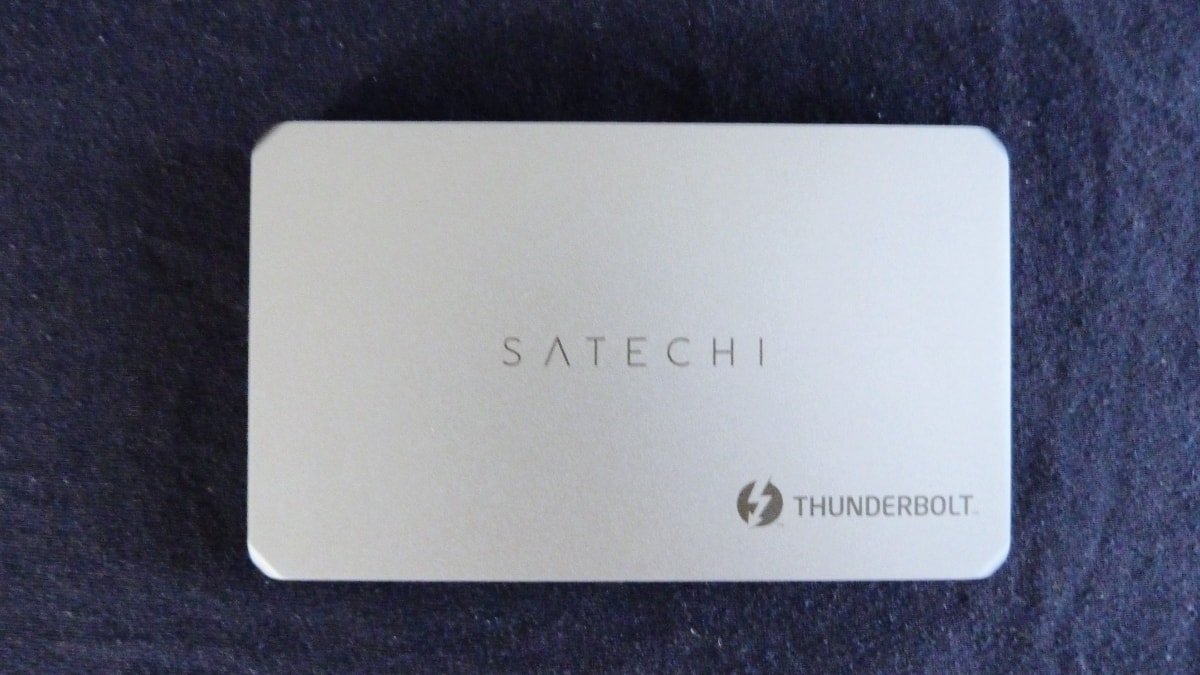 Satechi Thunderbolt 4 Slim Hub
4.5 / 5
---
AppleInsider may earn an affiliate commission on purchases made through links on our site.
Announced at CES 2023, Satechi's Thunderbolt 4 Slim Hub expands a person's work or play space adding legacy ports in a small package.
The CES 2023 Innovation Award Honoree increases the functionality of Macs and PCs with three Thunderbolt 4 downstream ports that support daisy-chaining up to six Thunderbolt devices. A slimmer and more simplified version of its popular Thunderbolt 4 Dock, users can easily transport this new compact hub for their convenience.
Thunderbolt 4 Slim Hub - Specifications
The three Thunderbolt 4 ports support speeds up to 40 Gbps and 15W charging for phones and tablets with backward compatibility with USB 4 and USB-C Gen. 1 and 2. The one USB-A port on the hub supports speeds up to 10 Gbps.
Satechi designed the Slim Hub for PCs with Thunderbolt 4 and Macs with Thunderbolt 3 and 4 running macOS Big Sur 11 and later. It can support two 4K screens at 60Hz, one 8K screen at 30Hz on compatible PCs, or one 6K screen at 60Hz on M1 and M2 Macs.
It won't grant the ability to use multiple displays to M1 Macs that can't. But, it works fine for multiple monitor support on Intel, M1 Max, M1 Pro, and M1 Ultra machines.
The included 100W power supply provides good power efficiency and distribution. More on that in a bit, though.
Thunderbolt 4 Slim Hub - Design
The Satechi Thunderbolt 4 Slim Hub is clad in aluminum, and fits the Apple aesthetic. It's a compact device measuring just under wide inches long, nearly three inches wide, and a half-inch in height.
The Slim Hub will fit neatly into a desk corner to streamline a person's gear setup.
Pricing & Verdict
We couldn't find much to complain about the Slim Hub. It's a well-constructed product that gets the job done and is an excellent choice for people with multiple monitors.
However, it requires a 100W power brick that connects via a DC port. And, that brick is not small.
In practical use, that 100W is enough for everything attached, and to keep a 16-inch MacBook Pro fully charged while under load. It's not a fast charge, but it also isn't the mandatory MagSafe to get that, either.
We'd like this brick to be smaller, using GaN, perhaps. That might increase the price, but we think $199 is already a steal for the amount of Thunderbolt 4 ports that the Slim Hub provides.
We also think the price is fair for a device like this, considering that every port on the hub can handle fast data speeds — even the USB-A port.
Thunderbolt 4 Slim Hub - Pros
Excellent price-to-performance cost
Sturdy design
Low profile
Thunderbolt 4 Slim Hub - Cons
Pretty large DC power brick
Rating: 4.5 out of 5
Satechi's Thunderbolt 4 Slim Hub is available now for for $199.99 and is 20% off with code CES20 until January 12.