Inside Apple Brompton Road: A gorgeous slice of calm in London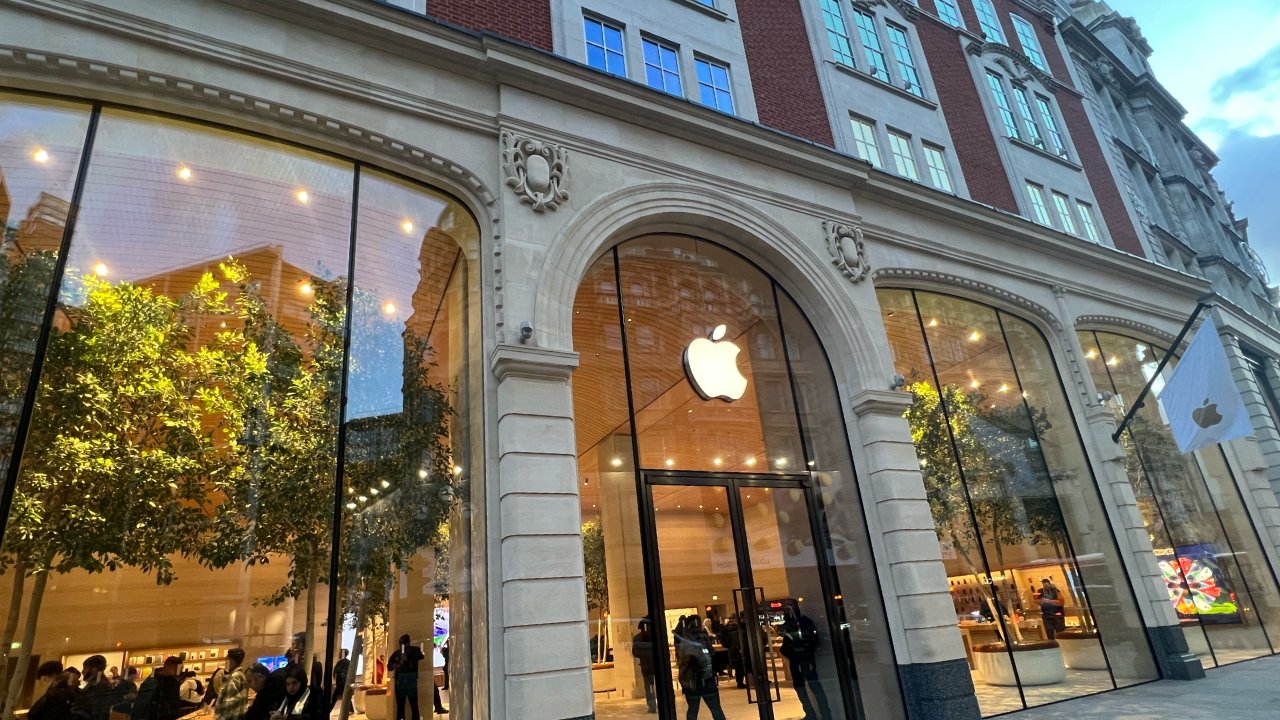 Continuing an occasional series profiling Apple's most interesting stores, AppleInsider goes to Apple Brompton Road in London.
Apple has a justified reputation for creating Apple Stores that are simply gorgeous. But actually it's far from simple, it's a delicate mix of modern retail and an appreciation for history that no other firm even attempts.
With Apple Brompton Road in London, that history extends to a radically new reworking of the store interior — it even includes trees inside — and yet it perfectly fits in with its surroundings.
If you check out any Apple Store online, the photograph is a straightforward front elevation that looks good, but always makes it seem as if the store is on its own.
In the case of Brompton Road, the reality is that the store is tightly fitted in amongst some of London's most expensive retailers. It's by a busy junction, and stands on a typically European narrow street.
Location, location, location
Apple Brompton Road is best reached via London Underground's Piccadilly Line, and the closest station is Knightsbridge. Due to the Tube's long history of lines combining, there are actually four exits to Knightsbridge station and they bring you out at widely different spots.
The furthest is a four-minute walk away from the Apple Store, but that walk takes you right by London's single most famous — and famously most expensive — store, Harrods.
Whereas the closest metro exit is next door to Brompton Road. Come out of this exit, turn right, and you're at the Apple Store.
London's changing fortunes
Despite having Harrods, Brompton Road is not the most famous of London's shopping streets. That honor belongs — or at least used to belong — to Oxford Street, near the iconic BBC Broadcasting House.
But because of the coronavirus and falling numbers of shoppers, Oxford Street is now home to very many American-themed candy companies. The local council is investigating 30 of them for tax avoidance, and there are even reports that they represent "dirty money."
As Oxford Street declines, however, Brompton Road remains a high-class shopping destination. Across the road from Apple there's a Rolex store, for instance, while near by is a Harvey Nichols designer store, and all are close to the Victoria and Albert Museum.
Plus just the other side of the Tube station, there's a Burberry's.
Burberry has been a luxury fashion retailer since 1856, but it's also where ex-head of Apple retail Angela Ahrendts was CEO from 2006 to 2014.
AppleInsider visited Brompton Road on a cold Monday afternoon in mid-January. At around 16:00, Burberry appeared to have two immaculately stylish staff, but no visible customers.
At that same moment, Apple Brompton Road had 15 staff — and about 40 customers.
Later at 18:00 when London's office workers were going home and stores generally stay open until 20:00, Burberry had at least four customers. But the Apple Store was now up to around 60.
Layout and Design
A late Monday afternoon is not any retailer's idea of a rush hour, nor is it any shopper's notion of busy. Yet walking in through the glass doors — closed to keep out the cold but with staff opening them on approach — there is an instant sense of calm peace compared to the noise outside
That was our note before spotting that the store's own architects have described it as a "calm oasis" too.
It's a single, wide, and open space with some supporting columns reaching up to an undulating wooden ceiling. Some UK Apple Stores have ceilings that are double height, where Apple has removed the what British people call the first floor.
Brompton Road's space doesn't seem to be quite as high, but it's noticeably far above head space — and even above tree space.
For the store has 12 trees, or rather a dozen tree pots. Some have two trunks in them, all rising up to provide green foliage overhead.
The pots are also round seating areas, and most of them are in the triple-width storefront. Others extend down into the store in lines that direct your attention toward the very back of the space.
Passing by some 17 tables with Apple devices or Genius Bar help stations, the walking to the rear of the store takes you to the Today at Apple section. It's marked by a screen that is about 20 feet in diameter.
In front of this screen is a scattering of about 40 cubes that all act as wooden stools, and most have a softer leather seat tucked inside too. There's also a giant mirrored ceiling over this area, which means everyone in the store will catch what happens in a training session.
While this Today at Apple section is inset into the back wall, it's all still one space with the rest of the Store.
Unlike many UK Apple Stores, there is only this single area, there's no separate basement for selling accessories. Everything is out on view in this wide and relaxing space.
There is a corner Pickup area for customers collecting online orders, and its wooden desk is backed by a wooden wall that color-matches with the ceiling. The use of wood in the store is much subtler than it sounds, but it's enough to break up what can often be an antiseptic glowing white feel to most UK Apple Stores.
Preserving the location's heritage
Apple's taken over 17-27 Brompton Road, which appears to mean it has replaced more than one previous store. At various times over the past five or six years the storefronts at that address have been no more than boarded up signs for stores such as Ecco, Accessorize, and The Cashmere Shop.
But part of it was more recently owned by clothing stores including Karen Millen — a Boohoo brand — and Swedish retailer, H&M.
The most distinctive part of the store's exterior throughout all of these owners is a central archway marked with two small stone statues in the top corners. Apple has kept the archway, but also transformed it — instead of a very dingy gray, it's now a much lighter, possibly just cleaner, color.
Local records show that fitting out of the store was done from November 2021 to June 2022. Apple Brompton Road opened in July 2022.
It's the sixth Apple Store in London itself, and there are a further eight across the Greater London area. The ones with specific London addresses include some of Apple's other most prestigious stores, including Covent Garden, and Regent Street.
Across the whole of England, Scotland, Wales, and Northern Ireland, Apple runs 38 stores. Some are simple inset storefronts within shopping malls, such as the Touchwood center in Solihull, but most are unique celebrations and preservations of architectural history.