The biggest features missing from Final Cut Pro for iPad at launch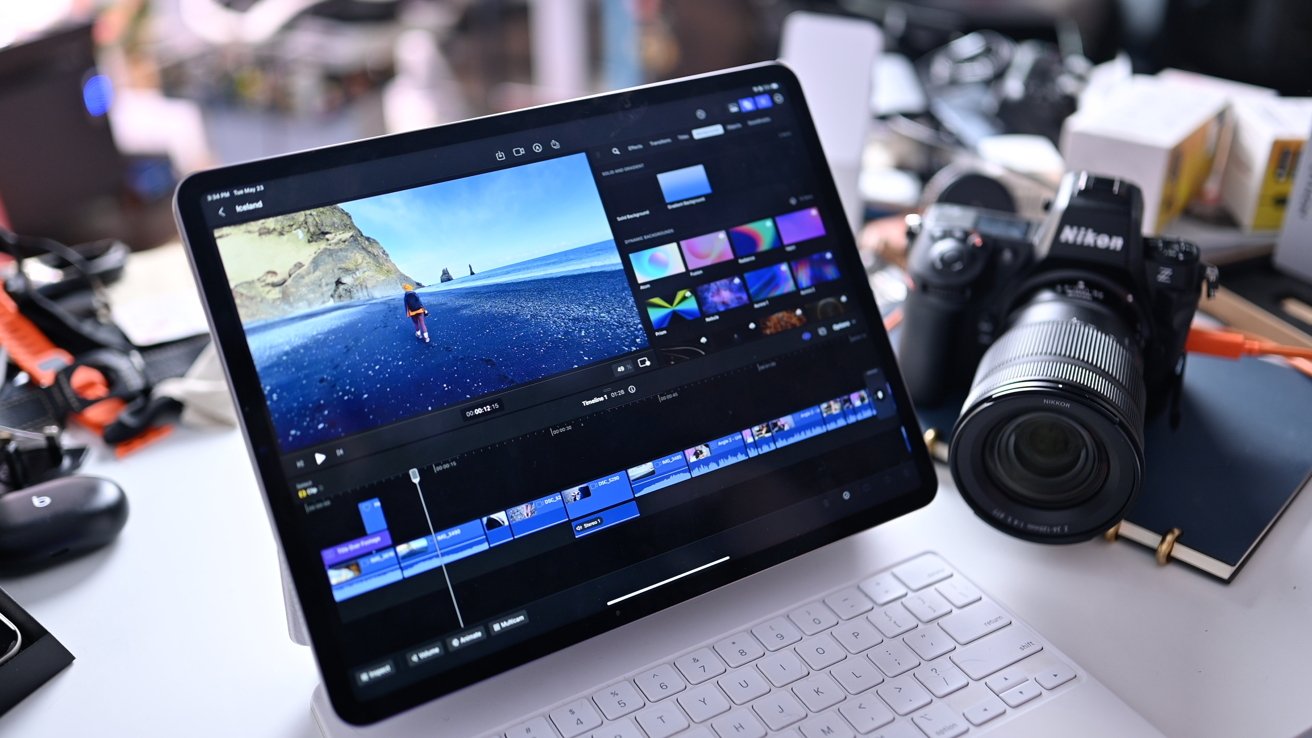 After years of rumors, Apple has delivered and shipped its professional video editing suite on iPad. While the app is incredibly full-featured, there are some big holes for pro workflows.
We've been testing out the intial realease of Final Cut Pro on our M2-equipped 12.9-inch iPad Pro. It's an ideal device for video editing, and we were very impressed with how fluid and natural Final Cut Pro felt.
Apple includes a sample project to try out, though we created our own project based on a recent trip to Iceland. Here's what was missing as we set about editing our production.
Full roundtrip support
Unlike Logic Pro, Final Cut Pro lacks full roundtrip support with Mac. Roundtrip, the ability to move a project seamlessly between multiple platforms, makes it much less tedious when working on a project.
A project can get exported from your iPad and moved to Mac, but it isn't as easy in the opposite direction. If you start a project on your Mac, it can't be easily migrated and opened on iPad.
This poses workflow issues for many editors, and you need to be sure to start your project on iPad rather than the other way around if you plan on working on both devices.
Plugins
There is a rich third-party marketplace for Final Cut Pro users with plenty of professional plugins that can provide various effects, animations, text, and more.
On iPad, this is non-existant. For now, at least.
Apple does say on its Final Cut Pro mini-site that "third-party content" from "leading developers" is coming soon, but there's little detail as to what kinds of content.
Since Apple has prepopulated the app with many of its own titles, transitions, effects, backgrounds, and sounds, it is easy to see third-party plugins living here as well, though we won't see the same in-depth plugins we do on Mac.
Transitions, texts, and effects
As we said, Apple has a lot of pre-installed media for users. For example there are just more than 40 title effects to use. On Mac, Final Cut Pro has far more.
The same goes for effects, transitions, bacgrounds, and objects. All are lacking, compared to its Mac counterpart.
What comes with the iPad version isn't a bad selection, but without the ability to add more — whether from Apple or third parties — it feels limiting.
Other advanced features
Some features exist in the mobile version of Final Cut Pro but to a lesser degree.
On any video clip, you can open the Inspector and add color adjustment. There's a large swath of adjustments you can choose from to adjust saturation, exposure, highlights, and among other things.
For Mac useres though, there is a full color board and much more granular control. We'd be fine doing basic color grading but professional color grading will require a different application.
The same goes for object tracking. There's keyframe animation on iPad, but object tracking is a no-go.
Compatibility with the latest iPads
Apple has packed a lot of pro features into Final Cut Pro for iPad. Features like multi-cam support, color grading, and automatic background removal without a chromakey backdrop.
To pull these off, it needs powerful silicon on the inside. That means only select iPads can run Final Cut Pro.
Final Cut Pro requires an M1 or M2 processor to run, meaning only the latest-generation iPad Air or the 5th and 6th-generation iPad Pro models.
Other latest-generation iPads such as the 6th-gen iPad mini won't support Final Cut Pro.
iPad-exclusive features
Despite lacking some notable features, Apple has bestowed Final Cut Pro for iPad with some tablet-specific features that the full-size version omits.
You can easily use Apple Pencil to hover across the timeline to preview where you tap, a touchscreen-friendly jog wheel slides out from the side to allow easier control, and you can write directly on your video to add handwritten titles.
One of the best iPad-exclusive features is the pro camera mode. You can capture professional-quality footage directly from Final Cut Pro and bring it into your project.
The pro camera includes audio and time monitoring, manual controls for aspects like white balance and exposure, and it can be captured in Apple ProRes when using the latest iPad Pros.
It's clear Apple has big ambitions for Final Cut Pro on iPad and the initial release has a lot of impressive offerings. Hopefully, future updates will fill in some of the remaining gaps.