Apple Silicon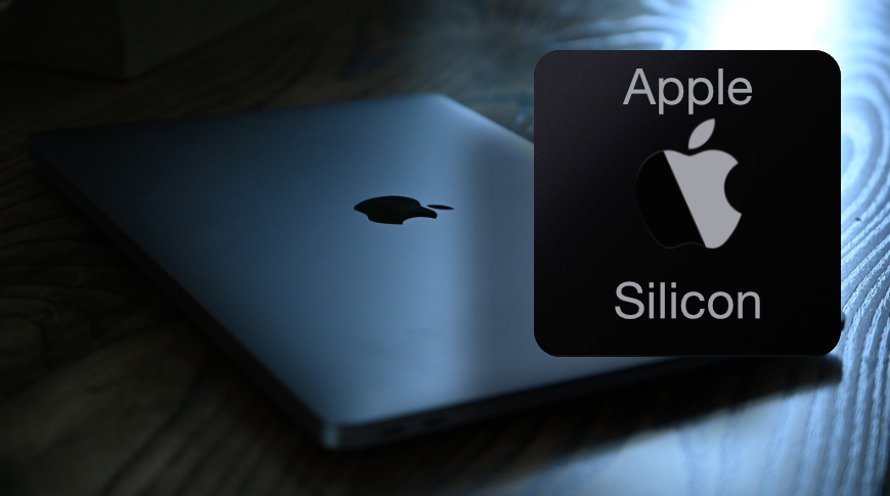 The transition to Apple Silicon has been long coming and developers are finally able to start adapting their apps for ARM-based Macs. A new Mac running Apple Silicon will launch in 2020, with the entire line expected to be transitioned within 2 years. Between virtualization software and live-app translation of Intel-based apps, Apple has developers and consumers covered. The company plans on supporting their Intel Macs for the next few years, but it is clear that custom ARM silicon is the future for Mac.
● Developer Quick Start Program
● Developer Transition Kit
● All Apple apps already run natively
● All iPad and iPhone apps will run natively
● macOS Big Sur works on Intel and ARM
● Thunderbolt is still supported
● Rosetta 2, Universal 2, and Virtualization
● First Mac with custom silicon ships in 2020
● Entire transition will take 2 years
---
Apple Silicon will let the company focus on performance and vertical integration across its platforms. The same annual advancements in speed and efficiency in iPhone and iPad chipsets can now benefit the Mac too.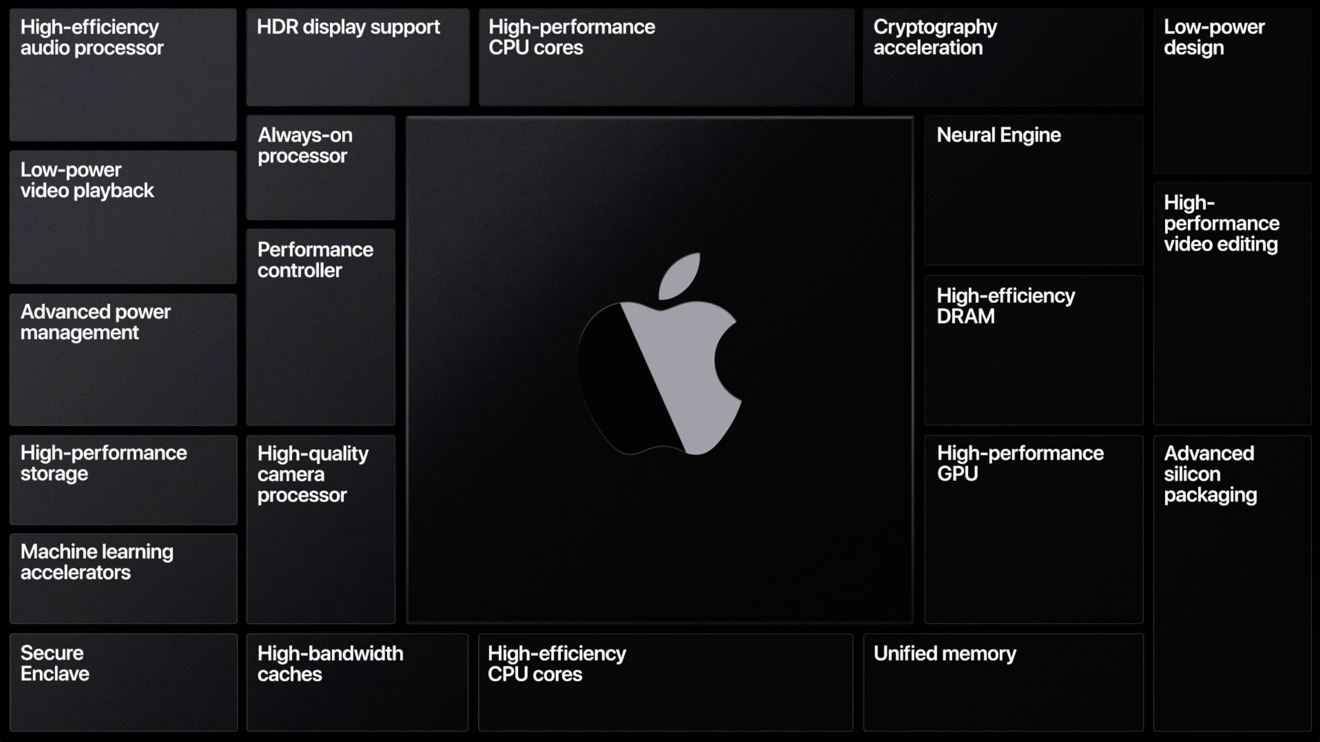 Following more than a decade of chip architecture experience gleaned from the iPhone and iPad, Apple has prepared the way for Apple Silicon on Mac with macOS Big Sur, Mac Catalyst, and several other developer platforms.
Apple Silicon Ecosystem
The first custom processors made by Apple were made out of necessity because Intel did not want to design chips for the iPhone. It was because of this that Apple was able to build its processors for the iPhone and ensure complete vertical integration with the software.
The A-series chips went on to become the most powerful and efficient mobile chipsets available, and Qualcomm and even Intel could not keep up.
iPhone and iPad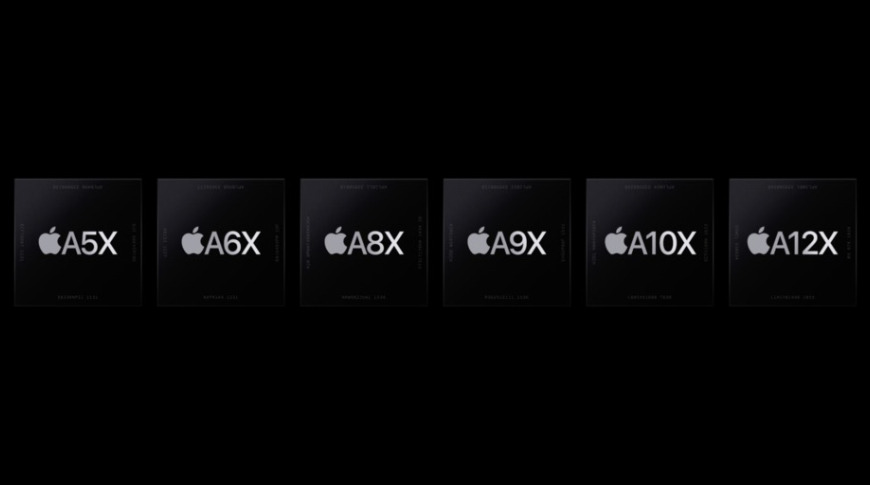 During the 2020 WWDC, Apple boasted about successfully bringing 10 billion chips to devices through the years, and want to bring that expertise to Mac. They feel that they can hit the sweet spot between power consumption and performance by offering chips that can be very powerful while remaining very efficient.
Over the past decade of custom chip building, Apple has been able to increase CPU performance by 100x and GPU performance by 1000x.
Apple also designed new system architectures and technologies to specifically take advantage of their system-on-chip design, like the Neural Engine for machine learning or the Secure Enclave for encryption. Combine those technologies with the existing software implementations like Metal and Swift, and Apple can utilize their custom chipsets far better than with Intel.
Mac-specific SoC
While Apple has made very powerful chipsets for the iPhone and iPad, those will not be used in their new Macs. There will be a specific system-on-a-chip architecture used for Macs and MacBooks when they finally launch.
No specs were offered, but the software shown during the keynote was running on an A12Z Bionic, which is used in the third-generation iPad Pro. The desktop-class processors are expected to be much more powerful when they launch later in 2020.
An Apple developer support document had a compatibility chart which made it seem as if the new Apple SIlicon Macs would not support discrete or external GPUs. Combined with Apple's statement about not underestimating their own GPU it seems probable that third-party GPU support may not be coming to future Macs.
Apple has clarified that the Thunderbolt spec will return with its custom silicon Macs.
"Over a decade ago, Apple partnered with Intel to design and develop Thunderbolt, and today our customers enjoy the speed and flexibility it brings to every Mac," the company said. "We remain committed to the future of Thunderbolt and will support it in Macs with Apple silicon."
Expected Release Dates
Well known Apple analyst Ming-Chi Kuo has reported on multiple occasions that Macs with Apple Silicon will start shipping in late 2020. A report in July gave a little more detail.
The Apple Silicon Transition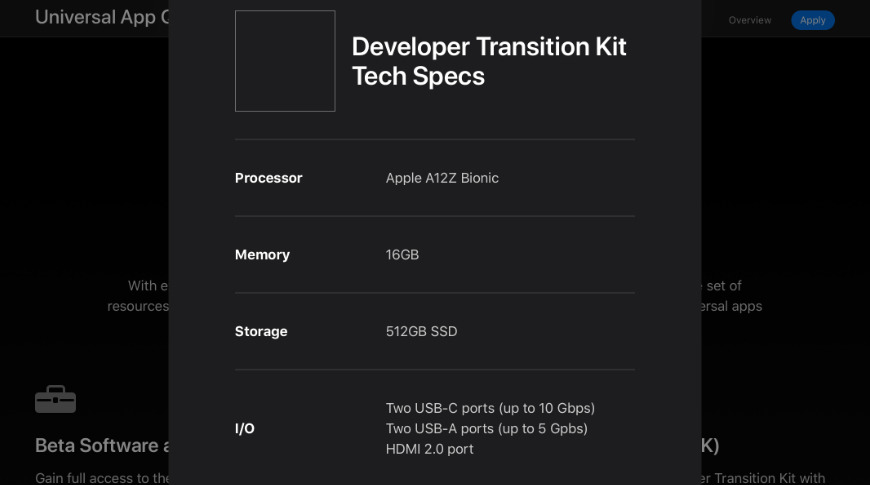 Apple has provided a Developer Transition Kit that can be ordered by developers using the "Universal App Quick Start Program." The DTK is a Mac mini running on an A12Z with 16GB of RAM and 512GB of storage, and must be rented for $500 then later returned to Apple.
With this kit, devs can get started making apps run natively on macOS and Apple Silicon. However, the hardware is not all Apple has included to help with the process.
During WWDC, developers could attend virtual sessions or discuss issues with engineers within the forums and the Apple Developer app. Apple also provided day-one documentation on developing and testing Universal apps.
Any app built for iOS or iPadOS will run natively on the Apple Silicon Mac as well.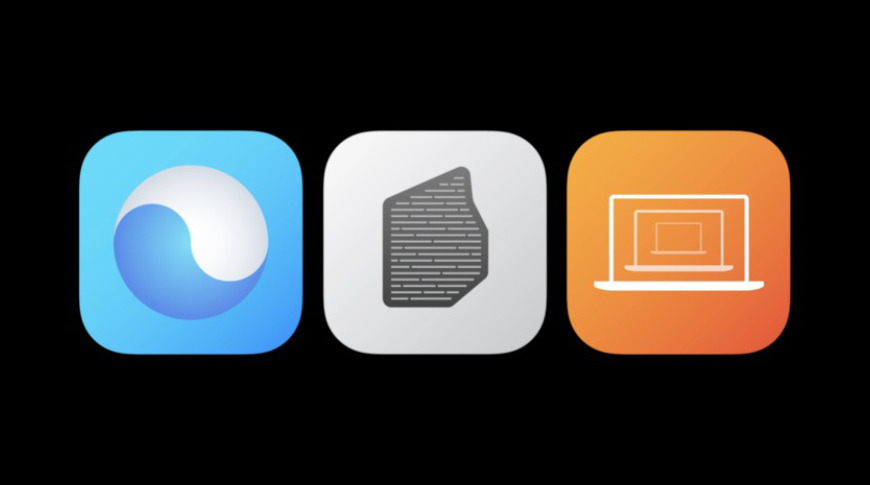 On macOS Big Sur, there are multiple applications built just for the transition. Apple called out three specific ones– Universal 2, Rosetta 2, and Virtualization.
Universal 2
Universal 2 is a universal binary that works on Intel and Apple Silicon-based Macs. With the same binary developers can make apps that work on both platforms.
Third-party developers like Microsoft and Adobe have already begun building apps to work on the new chipset. The WWDC demo showed the new apps running easily even while editing 4K video live.
Rosetta 2
As Rosetta allowed PowerPC apps to run on Intel Macs, Rosetta 2 is fulfilling the same role to allow Intel apps to run on the new architecture.
Instead of a "just in time" (JIT) process that the original Rosetta used, Rosetta 2 does the heavy lifting on installation with the translation of the code, front-loading the processing load. Code in third-party browsers executing Java and similar other technologies are still using JIT technologies for execution.
As demonstrated at WWDC, Rosetta 2 is powerful enough to run some games built for Intel without major issues.
Virtualization
Virtualization software will also run on Apple Silicon Macs, but the extent of what and how is not fully known yet. Apple has demonstrated Linux use through virtualization apps like Parallels desktop.
Users who need Windows on their Mac may be left out of the transition, as Apple made no mention of the platform during the presentation nor BootCamp.
Apple mentioned that other platforms like Docker will also work on Apple Silicon and devs will be able to take full advantage of the software.
Apple Silicon Benchmarked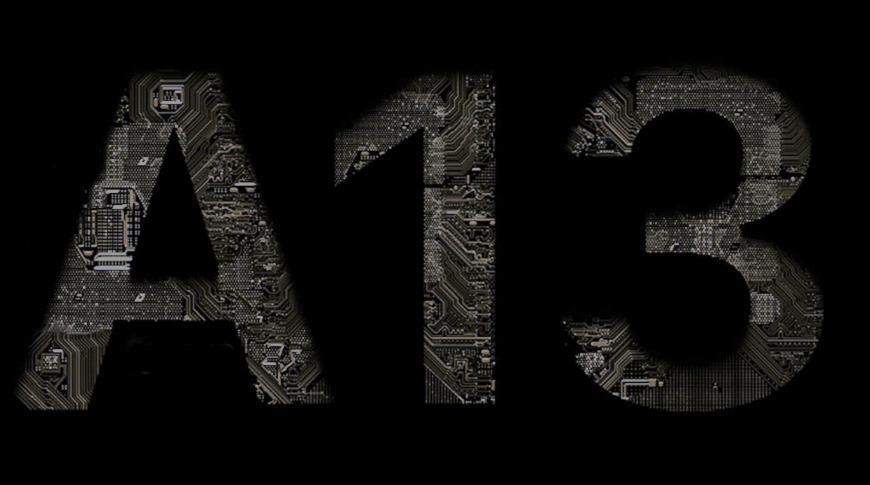 Apple A-series chips have powered iPhone and iPad since the iPhone 4, and the most recent generations have proven to be as powerful as consumer laptops running Intel. While these are designed to be mobile first with battery life as the primary concern, they still pack a punch.
Macs with Apple Silicon will be designed with their specific use case in mind but will likely have active cooling solutions and connected power supplies to allow for more beefy processors.
Benchmarks across different system architectures are not representative of performance for each, but give a good snapshot of how performative a mobile device on ARM can be when compared to the aging Intel chips.
A13 Bionic
The 2.66GHz, 6-core processor scores 1325 single-core and 3382 multi-core in Geekbench 5. The 13-inch MacBook Pro with an 8th-generation Intel Core i5 processor scores similar.
These devices run the A13 Bionic:
A12X Bionic and A12Z Bionic
The iPad specific processors in the A12 series are unique in the fact that they are the same chipset. The A12Z is a re-binned A12X with the extra GPU core active. Because of this they score very similarly.
The single-core score is 1115 and multi-core is 4626 in Geekbench 5. The mid-range 16-inch MacBook Pro with an Intel Core i7 processor scores similar.
When placed within the Apple Developer Transition Kit, it scores single-core 1005 and multi-core 4555.
These devices run the A12Z Bionic:
Apple Developer Transition Kit
A12 Bionic
The 2.5GHz processor scores 1106 single-core and 2687 multi-core in Geekbench 5. An iMac 4K with the Intel Core i5 scores similar.
These devices run the A12 Bionic:
iPhone XR
iPhone XS
iPhone XS Max
A11 Bionic
The first chip with a dedicated Neural Engine, thus dubbed "Bionic," scored 917 single-core and 2350 multi-core on Geekbench 5. The 2020 MacBook Air with the Intel Core i3 scores similar.
These devices run the A11 Bionic:
iPhone 8
iPhone 8 Plus
iPhone X
While these benchmarks are not representative of future Apple Silicon in Macs, the specs and year-over-year gains in the chipsets show Apple is capable of producing powerful ARM chips on demand.