» »
Mac keyboard showdown: Apple versus chiclet versus mechanical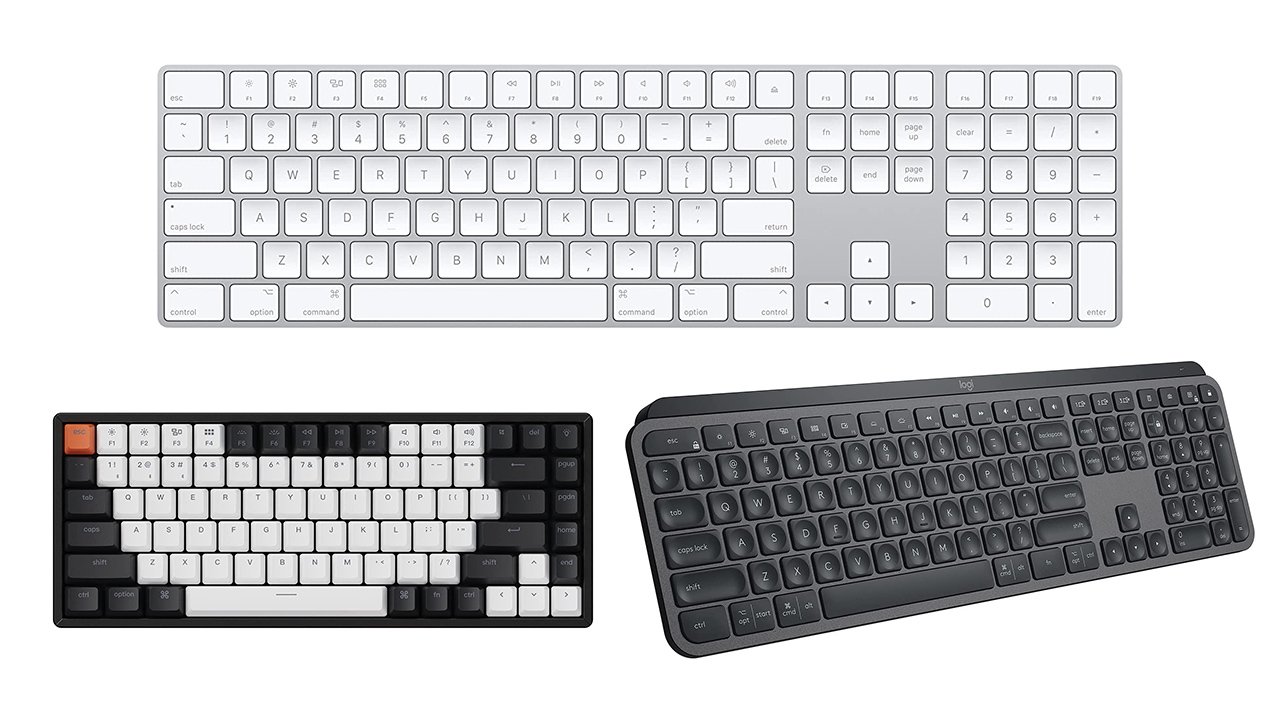 There are many different keyboards on the market for Mac users, and choosing between them can be complicated. To help you out, we've broken down the pros and cons of some of the most popular types.
In general, there are three major keyboard categories that Mac users might want: Apple keyboards, chiclet-style keyboards, and mechanical keyboards. Here are the advantages and disadvantages of each, as well as some popular models to consider.
Apple keyboards
There's a good chance that your Mac model already came with a keyboard. MacBooks, of course, have their own scissor-switch style keyboards, but some desktop Macs also ship with an Apple Magic Keyboard.
Apple keyboard pros
Apple keyboards are lightweight, minimalist devices with a clean and modern aesthetic. While you can find keyboards out there that are just as minimal, it's hard to beat the design synergy of an Apple Magic Keyboard with an Apple Mac.
The typing experience on an Apple keyboard is generally top-notch. It's quiet but tactile. There aren't really any frills here, just a solid typing experience.
More than that, Apple Magic Keyboards are also the only keyboards to come with Touch ID on some models.
And they reliably can invoke command key combinations at startup. You can get this from Apple's wireless keyboards by connecting a Lightning to USB cable.
Apple keyboard cons
Compared to similar chiclet-style keyboards, you're going to be paying a premium for an Apple Magic Keyboard. They're typically much more expensive than comparable models.
Ergonomically, the Apple Magic Keyboard is hit or miss. Some people might like the feel of it for long typing sessions, but others might be better served by going with another type. For gaming, they also don't register as many key presses as a mechanical keyboard.
The aforementioned Touch ID functionality also only works with Apple Silicon Macs. As with other chiclet keyboards, they're also hard to clean.
Models to consider
The Apple Magic Keyboard is pretty much what you think of when you think of an Apple keyboard. It's a no-frills affair for $99 that also comes in a larger format with a number pad.
If you can Touch ID built into your keyboard, expect to pay a premium — they go for around $149. They're only compatible with M1- or M2-equipped devices.
Chiclet keyboards
Apple Magic Keyboards are chiclet-style, but there are also a variety of third-party chiclet keyboards available on the market. Chiclet keyboards are generally characterized by flatter and thinner keys.
Chiclet keyboard pros
Like the Apple Magic Keyboard, chiclet keyboards generally provide a comfortable but quiet typing experience. For offices and work-at-home situations, that means your neighbors won't hate you.
They're also lightweight and travel friendly — both things that also apply to the Apple keyboards we spoke about earlier.
On the other hand, third-party chiclet keyboards can be much less expensive than an Apple Magic Keyboard. If you're on a budget, they can provide a similar feel for a fraction of the price.
Chiclet keyboard cons
Chiclet keyboards are generally hard to clean, especially if you get dust or other debris underneath the keycaps.
Compared to a mechanical keyboard, chiclet keyboards also aren't as durable. While most will hold up for longer periods of time, they just can't compete with the durability of mechanical key switch.
As with Apple's own keyboards, chiclet-style keyboards are also not well-suited for hardcore gaming.
Models to consider
The Logitech MX Keys is a best-in-class chiclet keyboard that many users love for productivity and content creation tasks. It costs $119.99.
For a simpler and cheaper model, the Dell Wired Keyboard provides a lot of value for its $17 price tag.
Mechanical keyboards
Compared to chiclet and Apple keyboards, mechanical keyboards are in a category all their own. Instead of a scissor-switch mechanism, mechanical keyboards use an actual mechanical switch, which offers a set of advantages and disadvantages.
And, if you've used Apple's original pair of ADB keyboards, the original Mac keyboard, or the Apple II keyboard, you've used a mechanical one.
Mechanical keyboard pros
Mechanical keyboards are highly tactile, providing a typing experience more akin to an old-school typewriter than a chiclet keyboard. They also offer a variety of different feels based on what key switch you go with.
Key switches are the mechanisms that register key presses, and there are a variety of different types. The three most common, for example, are red switches, blue switches, and brown switches. Red switches are fast and the quietest of the bunch, but not as tactile as others.
Blue switches provide the most audible and tactile feedback, but are also the loudest. Brown switches can be thought of as a mix of the two.
Mechanical keyboards are also much more durable, with most rated for millions of key presses. If you get dust in them, you can also easily remove the keycap and clean the keyboard. Generally, mechanical keyboards are also the standard for professional gaming.
Mechanical keyboard cons
Compared to pretty much any other modern keyboard on the market, mechanical keyboards are heavy devices. Many of them also don't look as aesthetically minimal as a chiclet or Apple keyboard.
Mechanical keyboards are also noisy. Some people love the clatter of a mechanical key switch, but do note that it might just drive your loved ones or office-mates crazy. They're also really loud for phone or Zoom calls.
Generally, mechanical keyboards are also more expensive than a chiclet keyboard, depending on the brand you get.
Models to consider
When it comes to mechanical keyboards for Mac, Keychron makes some of the best on the market. The Keychron K2 is an affordable entry-point to the world of mechanical keyboards, and provides a lot of bang for your buck.
For something even cheaper, you could consider this Logitech keyboard for $69.99. It's a wired-only keyboard and doesn't feature Mac-specific keycaps, but it'll work with your Apple computer just fine.
Try them out before you buy them
There are three main interfaces between a human and computer. You need someplace to sit, a monitor to view things on your computer, and a keyboard and mouse to control it. All three categories are areas that you should plan to spend good money on, since they're more than worth it in the end.
Because of that, think of a good keyboard for your Mac as a long-term investment. Certain models will last you years and potentially enhance your productivity.
We recommend going to a retail store and try out several types. Although many gaming users or typists prefer mechanical keyboards, you might have a different opinion.
Mechanical keyboards are generally heavy, less aesthetically modern, and loud. If you work in an office with others or have people in your household sensitive to noise, a chiclet keyboard may be the better choice.
It's also crucial that you think about the ergonomics of the keyboard. A keyboard should never be painful to type on, even during extended writing, coding, or gaming sessions. Whether you go for a chiclet or mechanical keyboard, prioritizing comfort and ergonomics over flashy features is a best practice.
You may not be able to tell how comfortable a keyboard is for long typing sessions at the store, but look into what others have to say about its ergonomics.
There are a lot of different keyboard types on the market, but which one will suit you best is largely a matter of personal preference. There's no "best choice" for every user since it all comes down to personal preference.