Topic: AutoCAD
03/21/2018, 02:03 pm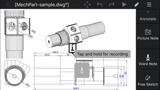 Corel Corporation has introduced its first modern mobile app for iOS: CorelCAD Mobile, which acts as a "standalone CAD experience" to complement the company's desktop CorelCAD 2018 application for Macs and Windows PCs.
10/05/2017, 09:10 am

While High Sierra as a whole is not specifically to blame, the implementation of APFS is causing problems for a number of AutoCAD 2017 and Adobe Acrobat CC users -- with users of the former having a new patch available, and the latter out of luck for now. Additionally, users need to be cautious when manipulating PDFs in both Preview and Adobe Acrobat Reader.
10/15/2010, 01:10 pm
Autodesk has officially introduced AutoCAD 2011 for Mac OS X, bringing its freeform 3D design and drafting tools back to the Mac after an 18 year hiatus.