Topic: Corel
03/12/2019, 09:03 am

Corel on Tuesday released CorelDRAW Graphics Suite 2019 for the Mac, marking the first time the suite has been updated for macOS in years.
12/20/2018, 10:12 am

Parallels, a developer of virtualization software popular with Mac owners, has been acquired by Corel -- best known for software such as CorelDRAW, WordPerfect, and WinZip.
03/21/2018, 02:03 pm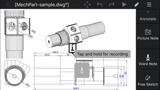 Corel Corporation has introduced its first modern mobile app for iOS: CorelCAD Mobile, which acts as a "standalone CAD experience" to complement the company's desktop CorelCAD 2018 application for Macs and Windows PCs.