Topic: Synology
05/20/2019, 02:05 pm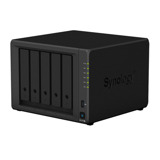 The last few years have seen a decrease in internal storage on the Mac, as SSDs have gained prominence. A way to extend that is with a network attached storage device -- and the Synology DS1019+ is an excellent choice for the office or the home.
12/31/2018, 08:12 am

At AppleInsider, we've reviewed a number of routers and mesh Wi-Fi systems trying to find the best ones after Apple discontinued the Airport and Airport Express. Right now, the Synology RT2600ac is our favorite for a stand-alone router.
07/10/2016, 03:07 am
The DiskStation DS216j NAS is positioned near the bottom of Synology's consumer level network storage product range, but advanced software integration and a configurable design means the system can easily serve up to a small business.