Apple seeds OS X 10.11.2 beta to public testers
By AppleInsider Staff
Thursday, October 29, 2015, 02:19 pm PT (05:19 pm ET)
Two days after Apple seeded the first OS X 10.11.2 beta to developers for testing, the company on Thursday issued a build to consumers taking part in the public beta program.




As with the developer version released earlier this week, today's OS X 10.11.2 public beta comes with the same focus areas including Graphics, Mail, Wi-Fi, Calendar, USB, Notes, Photos and Spotlight. A full list of features has yet to be fleshed out, though the update is expected to boast the usual assortment of bug fixes and performance tweaks.

Apple recently released OS X 10.11.1 to address issues with Office 2016, Mail, VoiceOver and minor bugs affecting certain users. The software update also included more than 150 new emoji characters, bringing it in parity with iOS 9.

Members of the public beta program can download the OS X 10.11.2 El Capitan maintenance update after signing in through the Apple Beta Software Program website.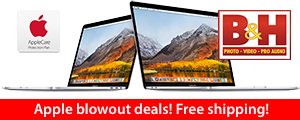 2018 13" Touch Bars
Price
Save
2.3GHz/8GB/256GB (Gray)
$1,649.99+
$150
2.3GHz/8GB/512GB (Silver)
$1,849.00+
$150
2.3GHz/16GB/256GB (Gray)
$1,949.00+
$50
2.7GHz/16GB/512GB
$2,449.00+
$50
2.7GHz/16GB/1TB
$2,849.00+
$50
2018 15" MacBook Pros
Price
Save
2.2GHz/16/256GB/555X
$2,099.00+
$300
2.6GHz/16/512GB/560X
$2,399.00+
$400
2.9GHz/16/1TB/560X
$3,199.00+
$300
2.9GHz/32/2TB/560X (Gray)
$3,999.00+
$700
tr class="model">
2.9GHz/32/4TB/560X (Gray)
$5,999.00+
$700
Click here for dozens more configurations
+ Free shipping within the contiguous U.S.
Lowest Prices Anywhere!

13" MacBook Pros
Price
You Save
3.1GHz/8GB/256GB Gray
$1,679.00
$120.00
3.1GHz/8GB/256GB Silver
$1,704.00*
$95.00
3.1GHz/8GB/512GB Gray
$1,849.00*
$150.00
3.1GHz/16/512GB Gray
$2,099.00
$100.00
15" MacBook Pro
Price
You Save
2.8GHz/16/256/555 Silver
$2,199.00*
$200.00
2.8GHz/16/256/560 Gray
$2,299.00
$200.00
2.9GHz/16/512/560 Gray
$2,599.00
$200.00
2.9GHz/16/1TB/560 Gray
$2,999.00
$200.00
3.1GHz/16/512/560 Gray
$2,799.00
$200.00
3.1GHz/16/2TB/560 Gray
$3,899.00
$300.00

*

price with Promo Code:

APINSIDER

prices.appleinsider.com for more configurations