iPad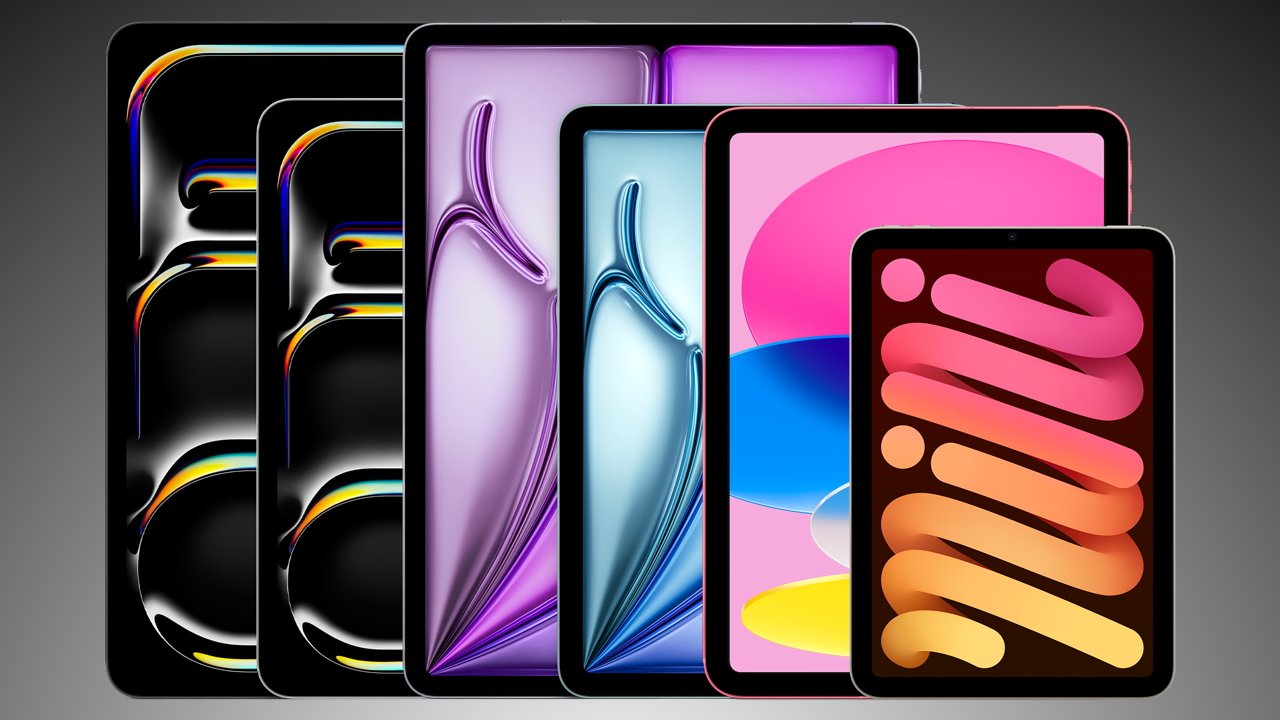 Last updated: 12 hours ago
The iPad is the last of Apple's iconic mobile devices launched during Steve Jobs's tenure. Before the iPad's launch, tablet computers had been bulky and utilitarian PCs that failed commercially. Powered by the App Store, Apple's tablet became an overnight sensation and still dominates today's tablet market.
● First released in 2010
● Defined and refined tablet product category
● Runs custom software called iPadOS
● Keyboards and Apple Pencil greatly enhance productivity potential
● Four different models sold today
Following the iPhone's monumental success, Apple saw an opening for a device sitting between a smartphone and a laptop that was far better at things like browsing, photos, and reading. The result, the iPad, immediately defined the consumer tablet category and still dominates that market today.
The iPad was the last new hardware product category Steve Jobs announced before his passing. In the 2010 iPad launch event, Jobs described the experience of using the iPad as "holding the internet in your hands."
Despite blowback mocking the iPad's name and dismissing it as an oversized iPod touch, both consumers and critics hailed Apple's tablet as another breakthrough. It stormed its way to 15 million sales from April to December of that first year alone.
The iPad is the centerpiece product for what Apple envisioned as "the post-PC era," where cloud-connected mobile devices supplant traditional desktop PCs as our primary computers. While iPad sales began declining several years after the initial meteoric rise, iPad purchases have picked up again as more people work from home and videoconference during the COVID-19 pandemic.
Today, Apple makes premium accessories that can seamlessly transform the iPad from a standalone tablet into a powerful laptop with a physical keyboard and trackpad.
Current iPad models for sale:
12.9-inch iPad Pro
11-inch iPad Pro
iPad Air 4
10.2-inch iPad
iPad mini 5
iPad Features
Apple launched the iPad as an aluminum-and-glass slab, reminiscent of the iPhone, that worked best for content consumption. While the same materials and shape prevail in today's designs, keyboard and stylus accessories can turn it into a full-fledged productivity device.
In a 2018 ad campaign, as Apple pivoted the iPad towards productivity capabilities that rivaled its consumption abilities, the company challenged customers to rethink their definition of a computing device by asking, "What's a computer?"
The iPad runs a tablet-focused fork of iOS called iPadOS. Apple released the latest version, iPadOS 14, in September 2020.
Display and Design
While the iPad's basic design is still a glass and aluminum slab, it has grown thinner and lighter through the years, with shrinking bezels, bigger and better displays, and the home button's removal.
Every iPad today has a Retina Display, which is Apple's marketing term indicating human eyes won't differentiate individual pixels from a standard viewing distance.
Today's iPad lineup offers screen sizes ranging from 7.9 to 12.9 inches:
Apple uses the marketing terms Liquid Retina and Retina to differentiate its current displays.
Used on iPad Pro and iPad Air
264 ppi
All-screen LED
P3 color gamut
True Tone
600 nits max brightness (500 nits in iPad Air)
Fingerprint-resistant oleophobic coating
Fully laminated display
Anti-reflective coating
ProMotion technology (iPad Pro only)
Retina Display on 10.2-inch iPad
264 ppi
LED
500 nits max brightness
Fingerprint-resistant oleophobic coating
Retina Display on iPad mini 5
326 ppi
LED
P3 color gamut
True Tone
500 nits max brightness
Fingerprint-resistant oleophobic coating
Fully laminated display
Anti-reflective coating
True Tone, included on all but the 10.2-inch iPad in today's lineup, uses ambient light sensors to adjust the screen's white balance based on your environment.
ProMotion technology, available only on iPad Pro models, supports up to a 120Hz refresh rate for "fluid scrolling, greater responsiveness, and smoother motion content." It also provides more responsive Apple Pencil input and varies the refresh rate to reduce power consumption.
iPadOS
iPadOS is an operating system branched from iOS that Apple is now developing in parallel. Previously, iPads would only see few, if any, changes year-over-year in software, and this dedicated OS indicates Apple wants to do more for the tablet line.
iPadOS and iOS still share much of the same code base, meaning iPadOS is only distinct in a few key features. These differences should increase and become more varied as Apple updates the two.
With iOS 9, iPad software showed a significant shift from the iPhone with the added ability to have multiple apps on the same screen. Slide Over adds a second floating app that you can bring onscreen by swiping from the edge. Split View, meanwhile, places two apps next to each other, spaced evenly or asymmetrically.
iPad multitasking and productivity was later refined in iOS 11 with better file sharing and drag and drop gestures.
iOS 13 arrived in 2019 with many new features across the ecosystem, and with it, iPadOS. With its improved split-screen, multi-window app states, and external storage support, iPads took a significant leap forward as a laptop replacement.
iPad Apps
The App Store operates as the sole storefront for software on iPads. Apple does not allow users to side-load apps from the web or use other app stores on iPadOS.
Many iPad apps draw from the same codebase as an iPhone counterpart, with the iPad version making better use of the larger display. For their iPad apps, developers often use multiple panels that wouldn't fit on an iPhone's screen.
Apple pre-loads every iPad sold with various first-party apps. Once users finish the on-boarding process on a new iPad, they can go to the App Store and download free and paid apps via their Apple ID.
App updates are free, but developers may lock some features behind paywalls called in-app-purchases or IAP. Some apps choose to charge a subscription fee instead of IAP, unlocking features once a user subscribes.
iPad Smart Covers, Cases, and Folios
Since the first-generation iPad, Apple has made cases, covers, folios, and keyboards to use with its tablet. Today, these accessories are an integral piece of the iPad experience, including keyboards that transform the slate into a computing device that can often replace a laptop.
When the first iPad launched in 2010, Apple sold a relatively thick and heavy case with a cover that folded back as a stand.
The following year, Apple introduced the Smart Cover, an accessory still sold today for the latest models. Apple designed the Smart Cover alongside the iPad 2, with magnets inside the tablet allowing the cover to snap on and off easily. All iPads today have sensors that automatically wake the device when removing an Apple Smart Cover or other accessory.
Apple also made Smart Cases and their modern version, Smart Folios, which protect the iPad's front and back. The Smart Folio differs from the discontinued Smart Case by attaching to the iPad's back via magnets, making it quicker and easier to remove and reattach.
Smart Keyboard and Magic Keyboard
Apple's first iPad keyboard accessory was a Keyboard Dock that launched with the first-generation iPad. It was a Mac-desktop style of keyboard with a 30-pin dock on the back that allowed you to attach the iPad upright. While it provided a familiar physical keyboard for the groundbreaking tablet, it was only useful on a desk and not a lap. Its portrait orientation also stood in contrast to the landscape screens found on desktops and laptops.
For the next several generations, Apple didn't release any dedicated iPad keyboards. At that point, customers who wanted physical typing could only use third-party Bluetooth keyboards.
When the first iPad Pro launched in late 2015, Apple began marketing the tablet as a new computing category that can replace a laptop for some customers. The Apple Smart Keyboard was an integral part of that.
The Smart Keyboard is similar to the Smart Cover, attaching magnetically to the iPad while adding fabric-covered and water-resistant keys for tablet typing.
The Apple Smart Keyboard, sold in three different sizes through the years, supports the following iPads:
12.9-inch iPad Pro (first- and second-generation)
9.7-inch iPad Pro
10.5-inch iPad Pro
iPad Air 3
10.2-inch iPad (seventh- and eight-generation)
The Smart Keyboard was an iPad Pro exclusive until 2019 when Apple launched the iPad Air 3 and seventh-generation iPad, both supporting the keyboard accessory.
In early 2020, Apple launched the Magic Keyboard for iPad Pro, which added Mac-style scissor-switch keys and a glass trackpad that took advantage of iPadOS' new cursor support. The accessory has a stand that magnetically mounts the iPad, making it appear to float above the keys while dynamically tilting at various angles.
The Magic Keyboard supports the following models:
11-inch iPad Pro (first- and second-generation)
12.9-inch iPad Pro (third- and fourth-generation)
iPad Air 4
Apple Pencil
The first-generation iPad Pro also marked the arrival of the Apple Pencil, the company's stylus for drawing and pointing.
For drawing and sketching, the Apple Pencil has low latency, pressure sensitivity, and support for tilting and shading. You can also use it as a pointer for editing text, navigating apps or webpages, or signing documents.
The first-generation Apple Pencil has fully rounded sides. It pairs and charges through the tablet's Lightning port. Charging the Apple Pencil in the Lightning port creates an awkward protrusion and prevents users from charging the iPad and Apple Pencil simultaneously.
The first-generation Apple Pencil is compatible with the following models:
12.9-inch iPad Pro (first- and second-generation)
9.7-inch iPad Pro
10.5-inch iPad Pro
iPad Air 3
9.7-inch iPad (sixth-generation)
10.2-inch iPad (seventh- and eight-generation)
In late 2018, Apple introduced a second-generation Apple Pencil with several key improvements. Rather than being fully rounded, the second-generation model is flat on one edge, making it more ergonomic in hand and preventing it from rolling off surfaces.
The Apple Pencil 2 also supports wireless charging, mounting magnetically to the side of a compatible iPad to draw power. It also adds tap gestures, using sensors on the accessory's side to register finger taps as customizable responses (like switching between tools and toggling the color palette).
The second-generation Apple Pencil supports:
11-inch iPad Pro (first- and second-generation)
12.9-inch iPad Pro (third- and fourth-generation)
iPad Air 4
Apple Silicon
Apple builds its custom processors for the iPhone, iPad, Apple Watch, and Apple TV. Soon even the Mac will use custom Apple Silicon. By developing its chipsets, Apple can customize its software to work directly with the hardware in a way that competitors cannot imitate.
Apple's custom silicon isn't a single processor, but a system-on-a-chip (SoC) that combines multiple technologies into a single wafer.
The iPad Air 4 contains the A14 Bionic chip. It utilizes a 5nm architecture and offers up to double the graphics performance of the previous generation. The chip has a six-core CPU and 11.8 billion transistors, 40% more than the A13.
The 2018 and 2020 iPad Pro lines use an A12X chip. While it's older than the A14 found in the cheaper iPad Air 4, the A12X has eight dedicated GPU cores that should give it an edge in graphically intensive tasks.
The eighth-generation iPad and iPad mini 5 use an A12 Bionic, the chip originally found in the 2018 iPhones. It also lacks the extra graphical cores of the A12X found in the latest iPad Pro.
WiFi and Cellular
Apple sells each model in both WiFi-only and more expensive WiFi-with-cellular data variants. Cellular iPads are sold both unlocked at full price and subsidized through wireless carriers.
Audio
The iPad Pro lineup has a four-speaker array for rich stereo sound in both landscape and portrait orientations.
Other iPads have two-speaker setups, though most have two speakers on the same side (the bottom edge). This means they only support stereo audio in portrait mode.
The iPad Air 4 is the only two-speaker model that puts the speakers on opposite sides, supporting landscape stereo.
Security
The first iPad biometric sensors arrived in 2014, with the arrival of Touch ID in the iPad Air 2 and iPad mini 3. Every new iPad model Apple released after that has used one form of biometric security.
Face ID arrived on the iPad Pro line starting in 2018. In late 2020, the iPad Air gained an all-screen redesign that removed home button-based Touch ID. Perhaps to cut costs compared to Face ID, Apple instead opted for Touch ID in the device's power button.
Ports
The first three iPads used Apple's old 30-pin connectors. Starting with the fourth-generation iPad and iPad mini in late 2012, Apple switched to a Lightning port for charging and syncing.
The next change arrived with the 2018 iPad Pro lineup, which shifted to USB-C for broader accessory compatibility. The 2020 iPad Pro line and iPad Air 4 also use USB-C.
The iPad mini and eighth-generation iPad are the only current models still using Lightning ports.
Photography and Videography
For most people, cameras aren't going to be as important on a large iPad as they are on a pocketable iPhone. iPads typically have cameras that are at least one or two generations behind the latest iPhone cameras.
Compared to other iPads, the iPad Pro line has higher-end sensors that can be useful for recording video or creating other professional content. The 2020 models have two cameras, including one 12-megapixel wide-angle lens and a 10-megapixel ultra-wide-angle lens.
The 2020 iPad Pro lineup also added a LiDAR sensor, which supports enhanced augmented reality (AR) content. LiDAR will likely also be a key sensor in the long-rumored Apple Glass.
iPad Services
The iPad wouldn't be what it is today without the help of software and services. Apple has slowly built an entire ecosystem of software surrounding its ever-popular mobile devices. Through each of these services, paid or not, Apple adds to the base value of every iPad sold.
Siri
Siri is a powerful voice assistant that exists on every Apple device sold. On the iPad, Siri acts as a user-facing assistant with deep app connections and controls, and it also serves as the background intelligence that powers everyday operations.
Contacts, Calendar, Photos, and even the system keyboard all rely on Siri Intelligence to manage information and surface what is most relevant to the user. Siri also acts as the brains behind Shortcuts, which users can activate via the assistant, through widgets, or in-app.
Apple does not directly monetize Siri, but it does use the assistant as a primary selling point for its mobile devices and audio gear like HomePod and AirPods.
iMessage
iMessage is an Apple proprietary technology using end-to-end encryption to send messages via the web. Sending and receiving iMessages is exclusive to Apple products and has been cited as a significant consumer lock-in source.
When communicating via iMessage, a user will see messages as blue bubbles, be able to share complex multi-media files, and be able to use sticker packs and message effects. Apple also enhances iMessage group chats with unique features like message threads and custom group chat images.
Apple Books
Originally called iBooks, Apple Books is the company's combined digital bookstore, ebook-viewing app, and audiobook player. The service initially launched on the first-generation iPad and later came to the iPhone and Mac.
Apple Books serves as a competitor to Amazon Kindle, which also offers an iPadOS app.
Apple Music
The music-streaming service that birthed Apple's push into services debuted in 2015. Apple Music is $9.99 a month and offers student and family plans. The service lives within the Music app on iPhone, iPad, Mac, and on the web.
Users can purchase music from iTunes when it is not available on the service, and it will populate into their Apple Music library. If a user adds a physical CD to their Music app on macOS, the music will be synced across their account as well.
Apple Arcade
Apple Arcade is a monthly subscription service to games that exist across all Apple platforms. A $9.99 per month subscription provides access to the entire game catalog and any new releases or updates.
The service has games from multiple genres and can be played with touch, though most titles support third-party controllers. Apple's push into gaming has made them embrace controllers like the Playstation DualShock 4 and the Xbox Elite controller.
Apple TV+
Apple Studios is a new media branch within Apple that purchases and manages content for the video-streaming service Apple TV+. The subscription costs $4.99 a month and exists on every Apple platform and even several competitor devices.
The Apple TV app is needed for viewing Apple TV+ and is available on iPadOS.
Apple News+
Apple News is a news-aggregation app, and the company offers a premium content tier called Apple News+. The subscription is $9.99 per month and gives customers access to premium articles from newspapers and magazines.
iCloud Storage
The term "iCloud" is a catch-all for Apple's syncing and storage service across devices and apps. The service portion of iCloud is specifically iCloud Storage.
Apple charges the following monthly fees for its storage tiers:
5GB is free
50GB is $0.99
200GB is $2.99
2TB is $9.99
Apple Pay
iPads have partial support for Apple Pay, the company's secure payment service.
Apple Pay on iPad works in apps, on the web, in Safari, and with person-to-person and business chats. iPads don't support the NFC portion of Apple Pay used with in-store terminals.
Apple Card
The Apple Card doesn't seem to be a big earner for Apple but does add to the halo effect of capturing more customers who buy more Apple products. The card works best when used to buy more Apple products from Apple Stores, and even allows customers to make interest free purchases of nearly all Apple devices.
The interest rate can vary from 13.24% to 24.24%, depending on the customer's credit score and other variables. Purchases made with the physical card get 1% cashback, the card in Apple Wallet will net 2% cashback, and when used with specific partners and Apple itself, customers will get 3% cashback. Cashback rewards automatically deposit into the customer's Apple Pay Cash balance.
What's Next for iPad