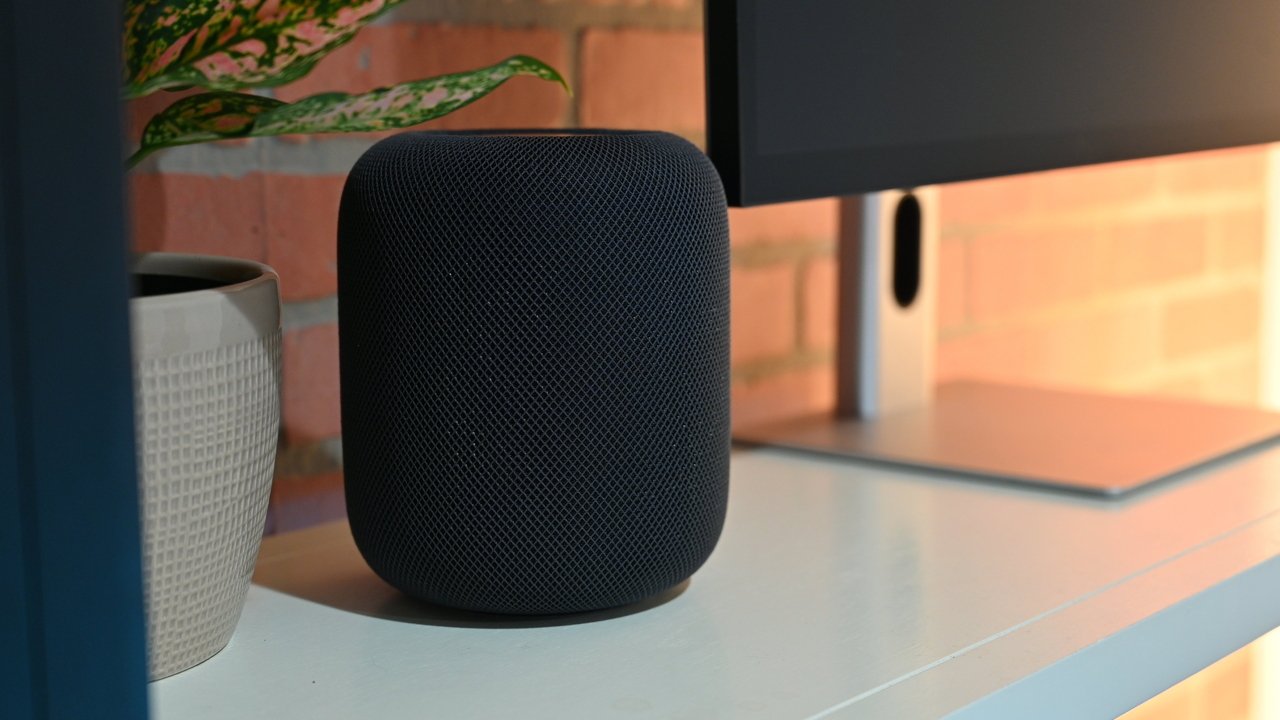 Summary
The Apple HomePod is a network-connected speaker unveiled at WWDC 2017, which offers access to Siri without using an iPhone or iPad. Available with a choice of white and space gray 3D mesh acoustic fabrics to cover the device, Apple is also positioning the HomePod as an audio entertainment accessory, with a focus on high quality music playback, and on using Siri to help find new tracks on Apple Music.
Features
6.8-inch tall speaker weighing 5.5 pounds
Covered with 3D mesh acoustic fabric
Six-microphone array
Seven-tweeter array with individual amplifiers
Apple-designed upward-facing woofer
A8 chip driving bass management software
Advanced echo cancellation system
Voice-based control of Siri
HomeKit support
Shipped February 9 priced at $349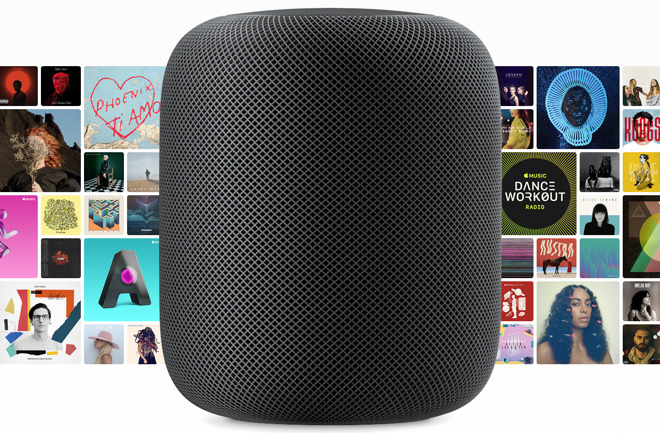 Launched during Apple's Worldwide Developer Conference 2017, the HomePod is the Cupertino company's attempt to take on the intelligent speaker market, competing against the Amazon Echo, Google Home, and other similar devices. At its core, the HomePod can be used to make queries to Siri, with Apple's intelligent virtual assistant providing audio feedback in response.
Apple is also using the HomePod to go after a secondary market: network-connected home speaker systems. With HomePod, Apple intends to beat Sonos and other speaker producers by making an audio device that offers superior music playback, as well as making it as simple as possible for users to play tracks and discover new artists.
Following a brief pre-order period, the HomePod was available in stores from February 9. Online orders of the device also started to arrive on that date.
AppleInsider reviewed the HomePod, giving it a score of 3.5 out of a possible 5.
Appearance & Design
The HomePod differs from its main rivals in using a 3D mesh acoustic fabric that covers most of the outside of the speaker. Two color options will be available when the HomePod goes on sale, with customers able to choose between white and space gray versions of the fabric.
The shape is also fairly unique, consisting of a cylinder with rounded edges at the top and bottom. While other similar devices have been designed as fairly tall speakers, the HomePod is fairly wide when compared to the Amazon Echo, with a diameter that is not far off the height of the speaker, at 5.6 inches.
Measuring 6.8 inches tall and weighing 5.5 pounds, the device has a single cable leading out from the HomePod for power, with no other ports or visible connections viewable externally. On the top is a round display, used to show the Siri waveform when Siri is engaged, as well as providing access to touch controls for changing settings of the HomePod itself.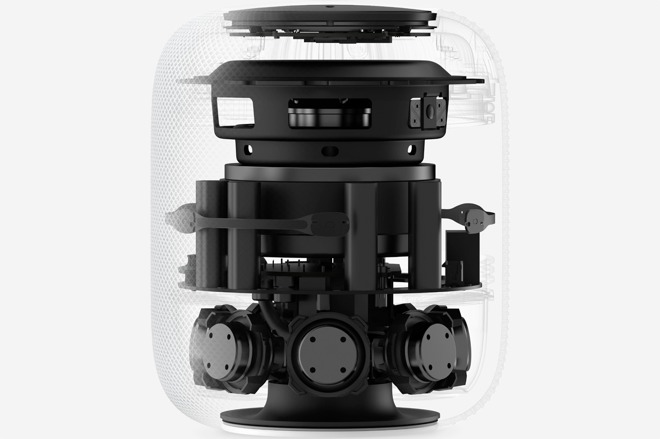 Speakers & Microphones
The HomePod includes a six-microphone array with an advanced echo cancellation system that allows Siri to understand anyone speaking to it in the room, regardless of their position in relation to the HomePod, and even when loud music is being played in the background.
For audio playback, Apple designed an upward-facing woofer that uses real-time software modeling to enhance bass management, allowing it to provide deep and clean bass tones with low distortion. An internal low-frequency calibration microphone is included to assist the bass management system.
Accompanying the woofer is a custom array of seven tweeters, with each equipped with their own amplifier. Apple's speaker array also has beam-forming capabilities, for highly directional audio at a high quality.
This beam-forming capability is enhanced by the HomePod's ability to sense its placement in a room. Using the microphone array, it can detect the size of the room, its location compared to nearby surfaces, and other potential audio obstacles, using the data to optimize its playback to suit its surroundings.
Driving the beamforming, bass management, and multi-channel echo cancellation in the HomePod is Apple's A8 processor, as previously used in the iPhone 6 and 6 Plus, the iPad mini 4, and the fourth-generation Apple TV.
A trial of the HomePod's audio playback capabilities attended by AppleInsider demonstrated the speaker's capabilities were a mark above a Sonos speaker and the Amazon Echo, giving an "impressively wide and pwerfully deep" sound. The HomePod was found to be audibly consistent throughout the test room, compared to the flatter and "more obviously directional" sound offered by the competitors.
The workings of HomePod's adaptive acoustic capabilities may be explained by a patent, surfacing in July 2017, for a "Loudspeaker Equalizer." In brief, the patent explains that data from a speaker's microphone can be fed into a processor and DSP to filter and equalize audio signals, improving the audio based on its surroundings.
Set-up & Connectivity
While it does not have any visible external connections, aside from a power cable, the HomePod still offers a lot of connectivity with other devices. Borrowing the setup process from the AirPods, users can configure the HomePod by holding their iPhone next to the speaker.
Network connectivity over Wi-Fi is offered, with support for 802.11a, b, g, n, and ac standards, with MIMO increasing the amount of available bandwidth. BlueTooth 5.0 connectivity is also touted.
The HomePod will also include support for Apple's new AirPlay 2 protocol, allowing it to connect with other HomePods and compatible speakers throughout the home. Pairing together two HomePods enables the option of stereo music playback.
HomePod will not include support for multi-room audio or stereo playback at launch. Apple advises the features are "coming this year (2018) in a free software update."
While it is not currently possible to connect two HomePods together using AirPlay via normal methods, before the release of AirPlay 2, there is a workaround that uses third-party iOS and macOS apps to connect to each device.
In order to maintain security and privacy of its users, Apple has designed HomePod to only record audio once the "Hey Siri" prompt is recognised locally, before sending data to its own servers. All data headed to Apple's servers is encrypted, and is sent using an anonymous Siri identifier.
An examination of iOS 11 beta code by iHelp BR seems to suggest that an iPhone, iPod touch, or iPad will be needed to set up, with Siri reading aloud a four-digit authentication code. It is thought that the pairing process may also need the last four digits of the HomePod or iOS device's serial number, with the setup process also potentially requiring two-factor authentication and the use of the iCloud Keychain.
By signing in to the HomePod with an Apple ID, it will automatically sync with iCloud and Apple Music, with users then asked to select the gender and accent for Siri, manual or automatic updates through a nearby iOS device, and whether or not to send diagnostic data to Apple on a daily basis. Those with multiple HomePods will also be able to configure their collection across several units at once.
Another code examination by Guilherme Rambo at the start of September indicates the HomePod will use multiple methods for pairing with Apple devices. One alternate method is for an iOS device to listen out for specific tones generated by the HomePod, with the verbal instructions provided by Siri in the event that fails.
The update for iTunes 12.7.3 reveals it includes support for the HomePod, with a new AirPlay menu allowing users to select the speaker and control what plays next on the device within the music app, using their Apple Music subscription.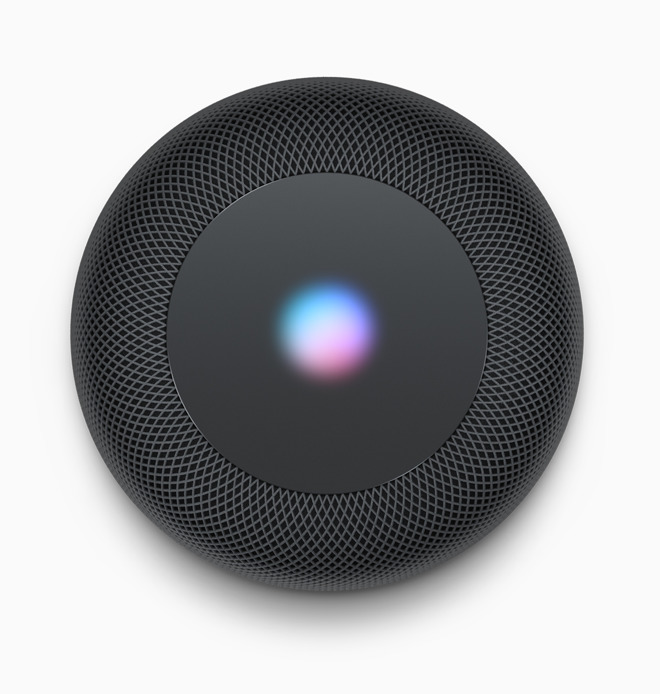 Siri and Music Playback
As to be expected of such a device, users are able to ask Siri questions through the HomePod. When engaged, the Siri waveform appears on the top of the speaker, indicating the digital assistant is awaiting further instruction.
Just as the version usable in iOS, Siri can respond to a range of queries, including queries about upcoming concerts, sporting event queries, and restaurant recommendations, with responses provided audibly. Typical Siri commands are also available to use, including requests to send messages to contacts, setting alarms and timers, and to read out the latest news headlines.
One way Apple is pitching the HomePod is its music playback credentials, centralizing around Siri. Subscribers of Apple Music can ask Siri to play songs from albums and playlists, tell it what the next song to play should be, ask to generate a playlist from a genre they like, and other musical instructions.
The music playback is also not limited to just Apple Music, as reports have confirmed Siri requests for songs included under iTunes Match can also be played through the HomePod.
A later specificaton release reveals the HomePod will support Apple Music, Beats 1, podcasts, purchases, and Match libraries from iTunes, but not third-party services directly. It will still be possible to play such content, but only via AirPlay from a host device.
The HomePod will play back a wide variety of audio formats, a list that is similar to those of other Apple products providing audio playback. The support list includes HE-AAC (V1), AAC from 16Kbps to 320Kbps, protected AAC from the iTunes Store, 16Kbps to 320Kbps MP3 files, MP3 VBR, Apple Lossless, AIFF, WAV, and FLAC.
Notably, while the HomePod does support FLAC, along with Files in iOS, and QuickTime Player in macOS, it is currently not supported in iTunes.
The musical functionality also extends to musical trivia about the currently-played track, such as "When was this recorded?" among other queries. Aside from individual tracks, users can ask Siri to play stations including NPR and Beats 1, and also podcast episodes the user has subscribed to in the Podcasts app.
HomePod firmware released alongside a beta for iOS 11.2 reveals that the HomePod will be handling all music-related questions itself, with no external assistance. For other types of query, such as those involving contacts, messaging, Lists, and Notes, such queries will be handed off to a connected iPhone or iPad for processing, rather than performing the query itself.
HomeKit
The HomePod can connect to a user's existing HomeKit network, allowing users to perform a variety of commands via the speaker's own Siri, instead of using the version of the assistant on their iPhone or iPad, or the Home app. Any verbal Siri command that can be performed on an iOS device can be requested through the HomePod.
Notably, the HomePod can be used as the main hub for a HomeKit installation, allowing homeowners to perform HomeKit actions while away from the house or apartment. Currently, users can set up a third or fourth-generation Apple TV as the HomeKit hub for remote access, so the HomePod now gives an alternative option to acquiring Apple's set-top box.
While it is a HomeKit accessory, appearing within the iOS Home app, it is noted the HomePod is not currently able to be used as part of a custom scene or as an automated trigger. For example, it is not possible to have HomePod automatically stop music playback when the user leaves the house.
Like other Apple hardware, it is still possible a future update could add this functionality sometime after the initial launch period.
Other Specifications
Aside from the above information, few other details about the HomePod's specifications ware known prior to release. Apple's release of firmware for the device in late July has caused developers to delve inside the code to try and find out more information, and the first wave of data is somewhat promising.
A report claims the HomePod will have 1GB of memory for the A8 processor to use, and while this is seemingly likely, a teardown doesn't confirm or deny this, but does reveal the use of 16GB of flash memory. The HomePod's memory may be seen as overkill for the reported functionality, even taking into account a potential expansion of Siri's capabilities, though it does give Apple some breathing room if it adds more functions in the future.
The round display at the top, showing the Siri graphic, will apparently have an unexpectedly low resolution of 272 by 340 pixels, which happens to be the same resolution as the 38mm Apple Watch. As it is likely the display for the HomePod will be physically larger, it is probable that it will have a lower pixel density than the compact screens used in the Apple Watch range.
Pricing, Delay, and Release
Apple's HomePod is available for $349 in the United States, as well as the United Kingdom and Australia. On January 26, Apple confirmed the HomePod will arrive in stores in the U.S, U.K., and Australia starting from February 9.
Pre-orders for the first shipments of the HomePod commenced on January 26, with initial orders placed via the Apple Store app.
Shipments for the speaker were originally said to commence in December, but in November, Apple pushed back the expected shipping period into early 2018.
"We can't wait for people to experience HomePod, Apple's breakthrough wireless speaker for the home, but we need a little more time before it's ready for our customers," a statement from Apple advised about the pushback. "We'll start shipping in the U.S., U.K., and Australia in early 2018."
No reason was given by Apple for the delay.
AppleCare+
At the time of its release, Apple revealed the additional cost of AppleCare+ for its HomePod customers, as well as out-of-warranty repair costs.
Enrollment into AppleCare+ for HomePod costs $39, which extends the warranty to two years, which also grants a longer customer support window. Out-of-warranty repair costs for AppleCare+ customers runs to $39 each, for up to two incidents.
By contrast, an out-of-warranty repair for non-AppleCare+ customers, such as fall damage or submergence, will cost $279.
As part of AppleCare+, HomePod customers will get a replacement HomePod shipped to them in advance of return of the non-functional one. This express replacement service is included, though the original HomePod needs to be returned within 10 days to avoid additional charges, up to and including the cost of the new HomePod unit.
Apple also offers shipment of the HomePod to a service center, like it currently offers for the iPhone, iPad, and Mac, at a cost of $19.99 on top of any associated repair fees.
Videos advising of how to use the HomePod have been published to Apple's YouTube Support channel since its launch, starting with a trio of guides advising how to use Siri to play music, to use the touch controls, and how to adjust the HomePod's settings. A later guide "How to get the most from HomePod" is a longer video covering basic HomePod functions including personal requests, talking to Siri, using it as a speakerphone, and controlling smart home accessories.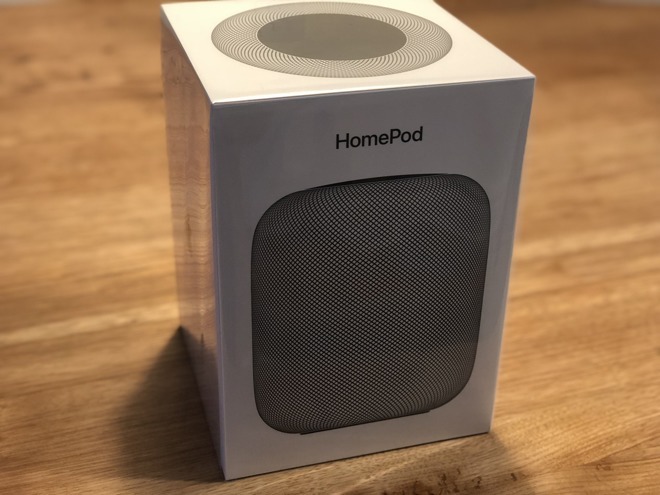 Reception
Ahead of the release of HomePod, Apple provided select publications with early hands-on time with the device. Reviews were mixed, largely praising the sound quality, but finding the current state of Siri on the device a bit lacking.
For audio quality, reviewers said the HomePod had a "sensational voice" that made it "literally laughable" to hear competitors in contrast. Music is said to be "richer and fuller" than competitors, with an impressive amount of bass that doesn't overwhelm the midrange tones.
The HomePod's ability to dynamically adjust its audio based on its surroundings was also praised, creating an enveloping sound around the listener. In one case, it was suggested the HomePod's design gives a sense "this is how the songwriter and producer wanted the song to be heard when they recorded it."
On music playback alone, the HomePod is considered a smash hit by the critics, though the speaker's other features were less well received. Complaints ranged from mispronunciation of artists, failure to learn one critic's taste in music after a week of usage, and a lack of access to third-party apps, but the main complaints were for Siri-related tasks.
All the reviewers agreed that the HomePod can respond to the "Hey Siri" prompt extremely well, including while loud music is playing. Siri itself was seen as a let down, with issues accessing calendars, setting timers and custom alarms, and failing to provide recipes.
The extended smart home functionality was noted as better than competitors, with HomeKit setup through HomePod seen as easier than the Amazon and Google equivalent processes.
Post-launch testing has seemingly confirmed critic opinions that the audio quality of the HomePod is of a very high quality. One extensive report on the Audiophole subreddit compared it to the KEF X300A speaker, in an extensive technical breakdown calling the graph of the HomePod's reproduction of sound "near-perfectly flat" at all frequencies.
Testing of Siri, however, indicates it to currently be the weakest point of the system. Trials performed by Loup Ventures of 782 queries reveals Siri on the HomePod understood 99.4 percent of the statements, but could only answer 52.3 percent correctly, compared to the 81 percent correct for Google, 64 percent for Alexa, and 57 percent for Cortana.
The Consumer Reports critique claims the HomePod's audio quality is beaten by the Google Home Max and the Sonos One, going against the grain of other publications praising the feature. According to the publication, the HomePod's bass was "a bit boomy and overemphasized" with hazy midtones and underemphasized treble, which apparently made the sound muddy compared to its competition.
Shortly after its release, AppleInsider published an initial hands-on with the device, followed by a review giving it 3.5 out of a possible 5.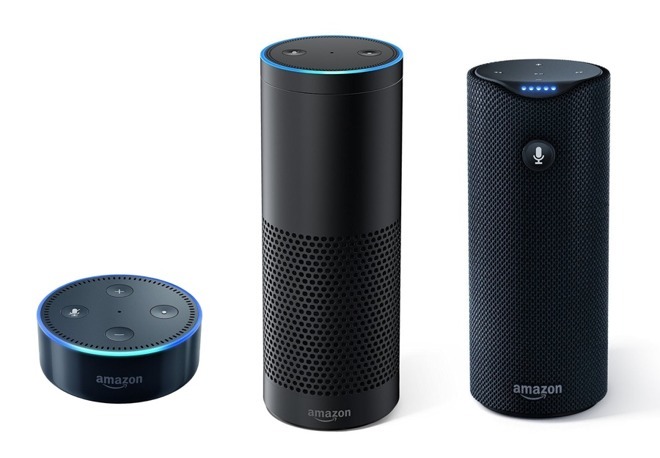 Amazon's Echo range, a prime competitor to the HomePod
The Competition
The HomePod will be entering a relatively new market that is already dominated by competing devices providing similar services to their users. There is a lot of similarity between the HomePod and its rivals, but Apple's focus on music and audio quality, as well as the only one offering access to Siri, should help it penetrate the market when it goes on sale.
Speaking about competition in relation to the HomePod, CEO Tim Cook said in January 2018 "We think one thing that was missing from this market was a quality audio experience, a very immersive audio experience. Music deserves that kind of quality as opposed to some kind of squeaky sound."
Amazon
The first company to offer connected speakers with some level of success, Amazon started with the Echo, a tall speaker that used seven microphones and beam forming technology to listen out for the user. After the creation of the Echo, Amazon introduced the Echo Dot, the portable Amazon Tap, the camera-equipped Echo Look, and the Echo Show, a version that featured a display for visual feedback and video-based interactivity.
Amazon introduced Alexa with the Echo, the retailer's attempt at a digital assistant in the vein of Siri. As is to be expected, Alexa can answer a variety of verbal commands directly, as well as those from a companion mobile app, with Amazon also building in the ability to connect to a number of smart home devices.
Amazon has also been keen to push third-party device producers to use the technology from the Echo and Alexa in its products, including the far-field micrphone array and voice recognition algorithms. It is also possible to buy third-party hardware that offers Alexa interactivity without requiring ownership of an Echo-family device, such as the Nucleus Anywhere intercom.
Since HomePod's introduction, Apple has reportedly started working on an update to the flagship Echo. According to an Engadget source in July 2017, the updated model will be "shorter and slimmer," the size of three or four stacked Echo Dots, with multiple tweeters instead of one, improving the microphone technology, and adding rounded edges and fabric to the exterior.
To further compete against Apple, Amazon is reportedly testing a new networking feature that would compete against Apple's AirPlay 2, as well as the same function available in Sonos speakers. The supposed feature would allow users to stream to speakers in multiple rooms simultaneously, as well as to group together speakers for music listening and voice commands.
In September, Amazon launched a number of new Echo devices, including an updated fabric-covered Echo with better far-field mic technology and dedicated woofer and tweeter units. The Echo Plus adds in the ability to use it as a ZigBee hub, allowing it to become more of a central control point to a smart home network.
Also launched was the Echo Spot, a compact version of the Echo Show that could easily be used as an alarm clock. The Echo Connect bridges the Echo with a landline, allowing Echo devices to perform standard speakerphone calls. Lastly, Echo Buttons are large buttons that could be used for various applications, including trivia games with an Echo.
Amazon has reportedly capitalized on the delay in the HomePod's release, declaring days after Apple's announcement that its Echo Dot speaker was the company's top seller over Black Friday and Cyber Monday. The higher sales gives Amazon even more of a lead in the smart speaker marketplace, ahead of Apple's hardware introduction.
Seemingly confirming the claims of high sales, the Amazon Alexa app topped the U.S. App Store charts for the first time in December. The app is used to set up the Echo range of devices, as well as setting up its smarthome functionality, enabling music services, and other remote functionality.
Google
Originally revealed at Google I/O 2016, the Google Home opts for a shorter and wider design than the Amazon Echo, as well as offering further customization by replacing the lower speaker grille with another, different colored shell. The Google Assistant, the firm's latest iteration of digital assistant, is used in the Google Home, and offers similar functionality to the version slowly rolling out to smartphones.
Able to support multiple units in the same house, the Home can be used to control other devices, including the Chromecast range, and can be used to play music as a network-connected speaker. It is also able to control a number of smart home devices, including the Nest, Wemo, and Philips Hue light ranges.
In October 2017, Google launched new devices in its Home device range. The Google Home Mini is a compact version of the original, providing the same functionality in a smaller and cheaper $49 package.
A more direct competitor to the HomePod is the $399 Google Home Max, a larger version with speakers 20 times more powerful than the regular Home model, thanks to its dual 4.5-inch high excursion woofers and custom tweeters. As well as being able to play music, it also includes intelligent context volume control, capable of automatically lowering the volume in the morning, or temporarily raising it when loud noises occur nearby, such as turning on a washing machine.
While Google didn't seem to capitalize on holiday sales in the HomePod's absense when compared to Amazon, there does appear to have been a considerable number of purchases going its direction. Downloads of the Google Home app rose from 38th on Christmas Eve to sixth on Christmas Day, indicating a large number of the devices were sold as gifts.
Microsoft and Harman Kardon
The Invoke is Microsoft's attempt to join the market, in partnership with speaker specialists Harman Kardon. It uses a similar array of seven far-field microphones as its competition to pick up voices, but it leverages Harman Kardon's expertise to use three woofers, three tweeters, and two passive radiators for a supposedly superior sound output.
Microsoft's own digital assistant, Cortana, makes an expected appearance, with a similar command set to those used on Windows Phone devices and through Windows PCs, places Cortana already operates. Cortana's Notebook, its storage of personal details it uses to answer some queries, may assist the Invoke in providing more personalized results to requests than its rivals.
Notably, Microsoft has yet to ship the Invoke to customers, something the company expects to do in the fall in the United States, so it is unclear how the device will perform when directly compared to releases from Amazon, Google, and Apple.
Samsung
While so far Samsung has yet to officially confirm a smart speaker, the South Korean electronics giant is said to be working on such a device. Said to be under the codename "Vega," the device would presumably provide similar functionality to the HomePod and the Amazon Echo, though there is no word on the potential form or specifications of the device.
Samsung would in theory center the speaker around its Bixby assistant, which debuted alongside the Galaxy S8 smartphone. Initially available in South Korea, Bixby has been extremely slow to roll out to other markets, which may hamper the alleged speaker's development and eventual release.
One December report claims the Bixby-based speaker will debut in the first half of 2018, with a prototype currently undergoing testing.
Facebook
Supply chain reports in July suggest Facebook is working on its own information appliance, though another report at the start of August indicates Facebook is looking at two different devices.
The first follows down the route of Amazon's Echo Show by featuring a large touchscreen, rather than creating a smart speaker. It is likely that the screen will be used to access content from the social network, as well as for communications between users.
It is thought Pegatron will be manufacturing the device, which will apparently use an LG Display-sourced screen and a magnesium/aluminum alloy chassis, though few other details have leaked. The initial batch of test units are said to have already been completed, with a release tentatively scheduled for the first quarter of 2018.
The second device is reportedly closer to the Amazon Echo and Google Home, in being a display-less intelligent speaker. As with the others, it will use a Facebook-created digital assistant. It is suggested that Facebook may abandon this second item, if the social network believes other devices in the smart speaker market have become too firmly established to compete against.
Report sources indicate the display-based device will cost a few hundred dollars, while the speaker could be in the "low $100 range" at launch.
Sonos
One of the major companies offering networked speakers in the marketplace, Sonos is moving into the smart speaker space with a new Wi-Fi-enabled speaker with voice control. A published filing with the U.S. FCC reveals it has created "S13," a device described as a "high-performance all-in-one wireless smart speaker" that "adds integrated voice control functionality with far field microphones."
This product was launched in December as the Sonos One, boasting Alexa integration and TruePlay tuning, where the speaker is calibrated using an iPhone or iPad running the companion app, moving around the room listening to pulses emitted by the speaker.
Of note is part of the description advising it will connect to "multiple voice platforms and music services." While Sonos hasn't created its own assistant, the device will be able to use other assistants in the future, alongside the existing Alexa.
While this could also include Google Assistant and Samsung's Bixby as well, it is unlikely to include Siri, as Apple has so far restricted its usage to its own hardware.
For the HomePod's release, Sonos offered a two-pack of the Sonos One to customers for $349, the same approximate cost as Apple's device.
Teardown
The customary teardowns of the HomePod arrived shortly after its release, with iFixit's attempt notably using some unusual techniques to open up the device.
After removing the glued shut threaded connections and cutting away the acoustical mesh, it was noted the HomePod is held together with glue and necessitated the use of a hacksaw to gain access. The entire device was suggested as being built "like a tank," indicating it to be a quite durable speaker that should last a long time.
Inside the casing, the team found a CX20810 Synaptics analog to digital converter used with the microphone array, as well as conductive screw-posts providing power in a similar fashion to the cylindrical Mac Pro.
It is noted that, while it is seen to have an A8 processor with 16GB of flash storage and "likely" 1GB of application RAM, more components could've been added, but were not. A few locations on the main motherboard are unpopulated with chips, but have SMD pads, strongly suggesting some design changes were made late in the process.
Ultimately, the tank-like nature and heavy usage of adhesives hampered the "repairability" score, with iFixit giving the HomePod 1 out of 10. While it features a clever design and is extremely durable, as well as using Torx threaded fasteners, the seeming lack of a nondestructive way to take it apart makes it hardware that is extremely difficult for customers to repair themselves.
Further investigation into the components used by Apple to produce the HomePod suggests Apple's margins for the device are slimmer than those of the iPhone. Research from TechInsights estimates the HomePod costs $216 to produce, equating to a margin of approximately 38 percent, lower than the 56 percent and 66 percent margin estimates for the Amazon Echo and Google Home.
The parts breakdown puts the microphones, tweeters, woofer, and power management at $58 in total, with other miscellaneous parts including the OLED panel costing an extra $60. The A8 chip apparently costs $25.50, with housing and other unmentioned components priced at another $25 on top, while the manufacturing, testing, and packaging processes add on an extra $17.50.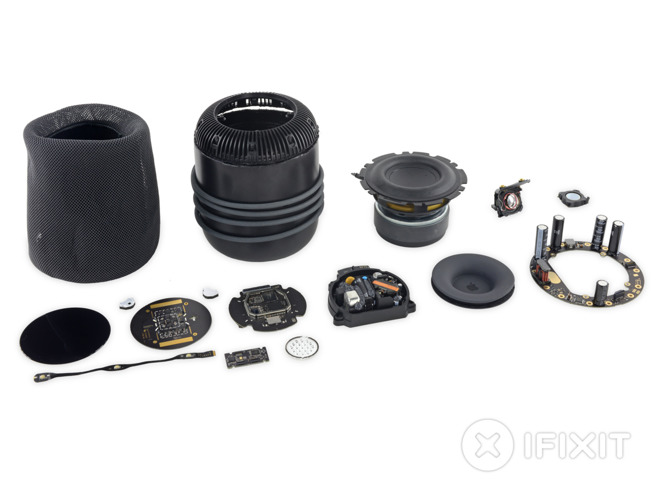 Privacy
Like other products, Apple has tried to maintain the privacy of its customers when using the HomePod. While the speaker does communicate with Apple's servers, it does so by anonymizing the data and using encryption.
In July, the automatic acoustic adjustment feature of HomePod was the subject of a query by one concerned user to the firm, prompted by a report claiming Roomba robot vacuum cleaner manufacturer iRobot was interested in collecting maps of customer homes generated by its cleaners, with the intention of providing the room-based location data (for example the dimensions and furniture placement) to other companies.
Later, iRobot's CEO Colin Angle backtracked from the earlier report, claiming iRobot would "never sell your data," and that customers have control over the sharing of the information. A PR representative also claimed the earlier report was a "misinterpretation" of Angle's statements.
In theory, this data could have been used by Apple to further enhance the audio profile of the HomePod, or even for the speaker to collect its own room data for alternative purposes.
In a response to a customer query about room-mapping technology, Apple advised it is refusing to repurpose the data collected by the HomePod for uses outside of the device, and had no intention of saving or sharing any similar data. Apple's statement also advises that the limited amount of data that it does recieve stems just from Siri queries, and that it had taken steps to protect that data.
"No information is sent to Apple servers until HomePod recognizes the key utterance "Hey Siri," and any information after that point is encrypted and sent via an anonymous Siri ID," wrote Apple. "For room sensing, all analysis is done locally on the device and is not shared with Apple."
Allegedly troublesome initial development
The HomePod has a difficult conception, a mid-November report from Bloomberg claims, with sources revealing the project was cancelled and restarted multiple times, and had gone through considerable changes throughout its development.
Originally a side project of some Mac audio engineers who wanted to take on Bose and Harman Kardon with better audio, some of the engineers were reportedly speaker makers, and were looking to implement beamforming technology in their projects.
Initial prototypes ranged from a flat panel to a larger unit with dozens of speakers, with some on the project putting forward the idea of making it a Beats product, and offering more color options than the few Apple showed at the HomePod's launch.
Apple turned the project into an official product in 2014, with a dedicated team led by Gary Greaves at Valley Green 1, an office near to 1 Infinite Loop in Cupertino. The team started testing the device outside of the project in 2016, with test participants including some retail staff.
White Rings
Shortly after launch, reviewers discovered that the HomePod would cause a white ring to appear below the device on certain surfaces, similar to a coffee ring.
It is noted that the effect only occurs on "oiled" wood surfaces, and only in the region of the silicone ring at the base of the HomePod. On other surfaces, such as MDF plywood, polyurethane-sealed wood, laminates, glass, and granite, no ring appears.
AppleInsider asked professional woodworkers what could have caused the ring, with the consensus suggesting a reaction between the silicone ring and a different form of silicone common in furniture polishes. The reaction is possibly similar to the "fisheye" that can develop in some furniture, as a result of chemical differences between the wood's finish and the polishes.
An Apple support document recommends users wipe the surface gently with a soft damp or dry cloth to remove the marks, if they do not disappear on their own after several days. If marks persist, Apple suggests cleaning the surface with the furniture manufacturer's recommended process.
The phenomenon is not limited to the HomePod, as reports following the ring appearances reveal the Sonos One speaker has similar problems with its vibration-insulating causing similar contact marks.
Accessory producers have also been quick to capitalize on the issue, with one vendor offering HomePod-specific coasters with days of reports surfacing.
Essential Reading