Summary
The harbinger of the smart assistant era, Siri was introduced in 2011 as a built in digital assistant for the iPhone 4S. Now, over eight years later, Apple's voice assistant has taken on many more tasks and devices, bringing secure and private voice control and automation to the masses.
Features
● Voice activated digital assistant
● Shortcuts for automation
● Personalized with machine learning
● Private and secure
● speaks and understands 20 languages
● available in over 30 countries
● introduced in 2011
---
Smart assistants are everywhere these days, from smart cars to email apps, you can't go far without running into some kind of assistant. Apple hopes to set its own apart with its close ecosystem integration, private and secure interactions, and background operations invisible to the user. Siri is becoming smarter with each passing update, and powers more and more user tasks.
What is Siri?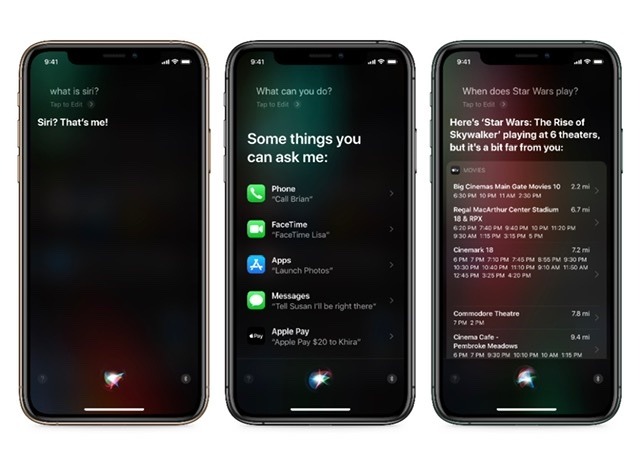 Meet Siri, your personal digital assistant.
Siri is an umbrella name for the smart voice assistant built into nearly every device in the Apple ecosystem, and all the technologies surrounding Machine Learning and on device intelligence used for smart suggestions. It does not have a single device to call home, although the HomePod is the only Apple device in which Siri is the primary form of user interaction.
Apple acquired
the original voice assistant from SRI, a research company, and integrated it into iOS to release alongside the iPhone 4S.
How Siri works
With a tap, press, or wake command, Apple's smart assistanti is easily activated across all Apple devices. The universal wake word "Hey Siri" will allow you to make commands or queries from nearly any Apple device. It is also available via spotlight search, which allows you to type commands in situations where you dont want to speak aloud.
When speaking to Siri, your command is processed locally to determine if it can be done on device, if not it is sent to an Apple server with a random identifier. Devices store all Siri intellegence data encrypted end-to-end so all data is synced without fear of snooping, and even Apple can't get to it.
Siri intellegence uses Machine Learning to find and suggest calendar appointments in email or messages, suggest web pages in Safari if links were shared in iMessage, and offer smart text suggestions based on what you were recently reading in Safari. Siri will also pay attention to tasks you perform frequently or during specific times of day and reccomend them on the lock screen or in spotlight.
Siri becomes more personal across all of your devices thanks to all of these integrations. After learning your voice, Siri should only be activated when you speak the wake word, and offer personal information from your calendars and iCloud connected data. Its like each and every Apple user has their very own personalized smart assistant! HomePod even understands who is speaking with multi-user support.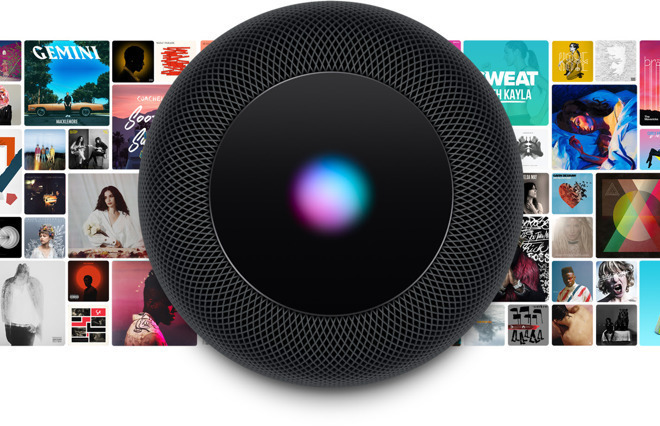 iOS 13 brought multi-user support to HomePod.
Third parties can tap into Apple APIs for Siri intents and create their own integrated functions. This has been under high scrutiny for years becasue of the nature of Apple APIs and developers only getting access to certain things. Recently Spotify was able to add Siri support, but only becasue the music API was finally made available.
Personalization
As you use Siri and your Apple products, the smart assistant will become more personalized based on what it has learned about you. You can go even further and change what voice it will use, like choosing between male and female voices, different accents, or even change the language entirely.
Other than the suggestions that occur across your device, you can also create your own custom actions called Shortcuts. As of iOS 13, Shortcuts are built into the system and allow even the most novice user to create quick interactions with their phone. Siri Intellegence and the voice assistant both play a part in this.
Further customization can take place within Apple apps or inside the voice assistant itself. You can tell Siri which of your contacts are your family members, teach it how to spell and pronounce certain names or words, and even set your own nickname that will be used to refer to you when talking.
Privacy and Security
As with everything Apple does, Siri and its systems were built with privacy and security in mind. Apple uses the secure element to store encrypted personal data on device, and only complex actions or questions are sent to servers to be parsed using a random identifier. This identifier and all personalization and data can be deleted and reset at any time from settings.
After a recent controversy with all smart assistants, Apple was faced with a privacy issue posed by its users unforeseen by the company. Users were upset that their voice data was being used, albeit anonymously as claimed by Apple, to improve Siri. This meant that any accidental activation could slip through and potentially reveal private information or conversation. Apple has since somewhat rectified the issue by allowing users to opt out of audio sharing with Apple, however, transcriptions are still sent regardless of the users choice.
When compared to other smart assistants, Siri can easily be seen as the privacy leader, if only because of the way Apple devices handle user data in general.
What Siri can actually do
Siri is attached to many apps and data points in your device. A request can either show information within the voice command UI, or just bounce you straight to the relevant app. For the most part, any quick action or information type query will lead to a pop up containing interactable details.
In the gallery below you'll see examples of the types of commands and questions you can ask. Keep in mind there is no need for a specific command, Siri can understand natural language for the most part as long as you give a complete command or request. Sending money, checking the news and weather, controlling your home and music, and finding information are all easily done with your voice.
Shortcuts
Shortcuts is the evolution of Workflow, an app on iOS that took advantage of available APIs to allow users to create on device automation, which was later purchased by Apple. Upon initial release, Apple distinguished shortcuts from "Siri Shortcuts" and was technically built into iOS 12 as suggested actions offered by Siri Intelligence. The Shortcuts app was separate from Siri Shortcuts, and required users to install the app to customize and add Shortcuts to Siri manually. Now Shortcuts and Siri Shortcuts have been combined and fully integrated into iOS 13 as a system app, which disambiguates the naming scheme and brings automation to all users.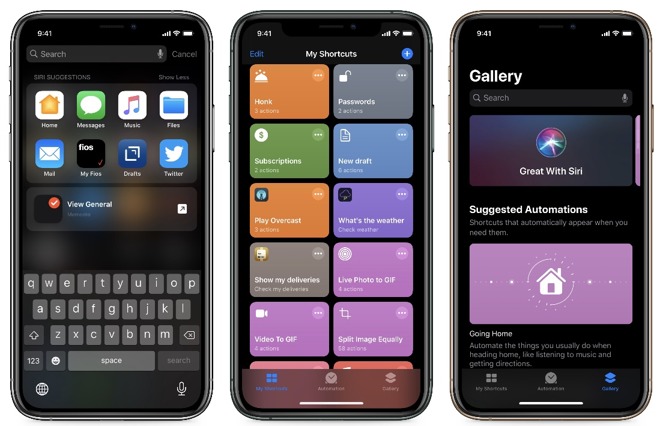 Shortcuts can be suggested, created, or added from the Gallery
Siri is an important part of Shortcuts and is implemented top to bottom. Siri Intellegence offer new Shortcuts to the user through suggestions and notifications, then Siri is able to be used to execute any created Shortcut via voice. If you want to learn more about Shortcuts, examples of them, and how to make your own, visit our Shortcuts page.
Devices
Siri launched as an exclusive iPhone feature and some say it was the 'S' in the iPhone 4S, but has since spread to every part of the Apple ecosystem. The following are examples of where it can be found and how it is implemented:
iPhone, iPad, and iPod touch
"Hey Siri" will wake any modern device and have it listening for a command. Siri can also be summoned by holding down the home button on Touch ID devices, or the side button on Face ID devices. Spotlight search offers an "ask Siri" option as well. You can teach your iPhone to listen only for your voice, reducing accidental activations from commercials or other users.
Apple Watch
If your Apple Watch is awake and screen is on, "Hey Siri" will activate voice commands on the watch. A feature that has existed since the Apple Watch Series 3 called "raise to speak" will allow you to just raise your watch to your mouth and speak a command without saying the wake phrase.
Like the home button or side button on iPhones, the Digital Crown will activate Siri when pressed and held down. It also has its own watch face, which updates with new cards from apps through the day.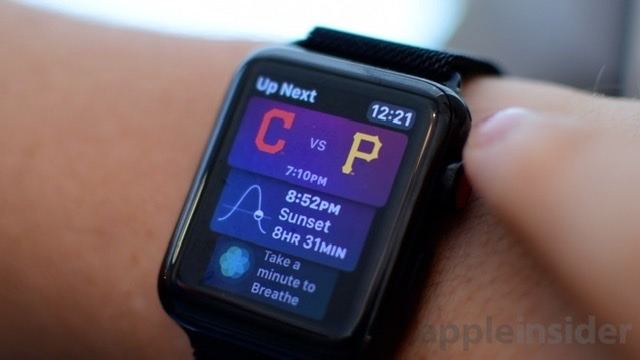 Siri's watch face gives you relevant information through the day.
Airpods and Beats Pro
Second generation Airpods, Airpods Pro, Powerbeats Pro, and Beats solo Pro all offer "Hey Siri" functionality. It will also read you incoming messages using "announce messages with Siri."
First generation Airpods can summon Siri with a double tap gesture. Try some of these commands.
Headphones, Headsets, and CarPlay
Devices connected over Bluetooth, lightning cable, or audio jack that have built in mics will allow a press and hold on the play/pause button or call button to summon Siri.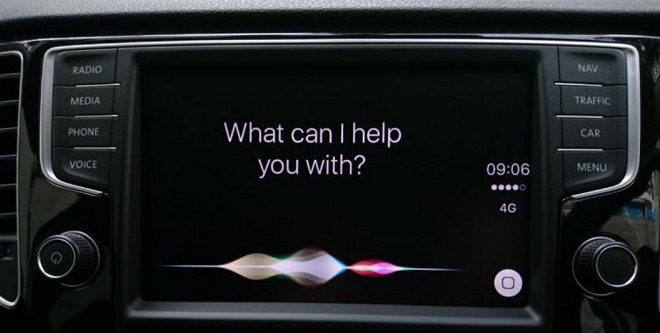 Siri in your car will help keep your eyes on the road.
CarPlay functionality will depend on the cars hardware, but usually will allow "Hey Siri" or a long press on the touchscreen home button or steering wheel call button to summon the assistant.
Apple TV
Siri on the Apple TV is a siloed version of Siri, meaning that not all functions are available. In order to use Siri on Apple TV you hold down the Siri button on the Apple TV Remote. You can request movies and music to be played, search for movies using universal search, ask some trivia questions, or control your home when using Siri from most locations on Apple TV. When viewing media you can ask "who is in this movie" or "what did they say" to get specific results designed for the Apple TV.
HomePod
Siri is the primary user interface with HomePod. You can summon it with "Hey Siri" or a long press on the glass top of the HomePod. Apple refers to Siri on the HomePod as a personal Music expert and offers other siloed functions unique to the HomePod like describing who an artist is rather than showing a page result when asked about an artist.
Mac
Siri is activated via a dedicated Siri button on the Touchbar on any MacBook with Touchbar, or a keyboard shortcut. "Hey Siri" also works on Macs with built in mics and T2 chips made after 2018. This version is also siloed and only recently gained the ability to control HomeKit.
The Future of Siri
With iOS 13 and Shortcuts, it is clear that Apple has no intention of slowing down Siri development. So what is next? Many speculate that a SiriOS is inevitable. This hypothetical operating system would eliminate the silos and make Apple's smart assistant a cohesive, single entity across a users ecosystem. Another rumor points to Siri interpreting your emotions to alter results.
Shortcut development will also lead to a more powerful Siri too. As rivals claim superior responsiveness and natural language parsing, Apple still holds the crown for user customization and third party integration with Siri Shortcuts, and can maintain that lead with its close system integration getting even tighter.
Apple also aquires new companies and technologies from time to time, which can lead to improvements across its services. A company called Voysis was acquired in early April 2020 that may bolster Siri's ability to understand commands.
Essential Reading