AirPods Pro 2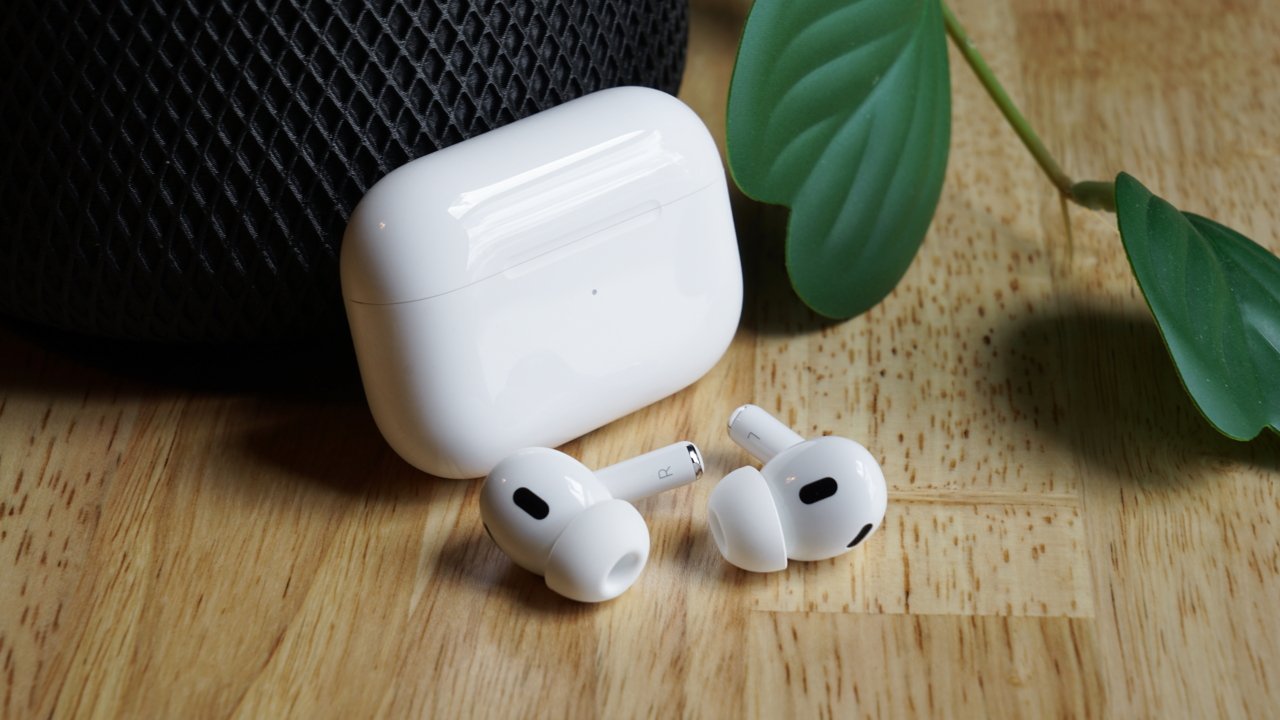 "AirPods Pro 2" are a rumored Apple product, expected to launch in early 2022. The earbuds are expected to have a rounded design with either no stem or a shorter one. They will have an updated chip that follows up on the H1 found in the current AirPods Pro.
● Rounded, stemless design
● New chip following H1
● Possible audio and ANC improvements
● Late 2022 release date
---
Get Apple News Directly in Your Inbox
AppleInsider is supported by its audience and may earn commission as an Amazon Associate and affiliate partner on qualifying purchases. These affiliate partnerships do not influence our editorial content.
---
"AirPods Pro 2" are a future Apple product expected to launch in 2022. Leaks point to the redesigned earbuds being more compact with no stem and a rounded shape. They will also have an updated system-on-a-chip.
We may be months away from a second-generation model, with the first-generation AirPods Pro over two years old. We expect the "AirPods Pro 2" to bring a smaller design, new chip, and other possible improvements like better audio and active noise cancelation (ANC).
The next generation of AirPods Pro are among the last of Apple's unreleased headphone products still being rumored. The AirPods Max were released in December 2020, and all signs point to the "AirPods Pro Lite" being the same product as the recently released AirPods 3.
"AirPods Pro 2" Features
Ming-Chi Kuo says Apple will release the updated AirPods Pro in early 2022. While leaks have been minimal, one October 2020 report predicted the "AirPods Pro 2" will have a fresh design that more closely resembles recent earbuds from Samsung, Amazon, and Google. The rounded design would fill the user's ear and either lose the stem entirely or replace it with a shorter one.
The "AirPods Pro 2" would have updated Apple Silicon, replacing the H1 system-on-a-chip found in the first-generation AirPods Pro. We don't yet know the full list of changes the "H2 chip" would bring, but leaks point to a more complex structure that would take up less space, allowing for the stemless "AirPods Pro 2" design.
Though no reports have specifically addressed this, it's possible the "AirPods Pro 2" would bring audio and ANC improvements. The current AirPods Pro offer impressive sound and ANC relative to their small form factor. Audio quality and ANC differentiate AirPods Pro from standard AirPods.
The updated "AirPods Pro 2" would still have a wireless charging case, but it would likely be smaller due to the buds' compact design. The third-generation AirPods introduced magnetic "MagSafe" charging to the case, but at normal 5W charging. It is possible Apple could introduce faster wireless charging for the new pro models.
Rumors in November 2021 point to a later 2022 release window, with a possible Q3 announcement. The slight delay may be related to the ongoing chip shortage that has affected every portion of the consumer electronics industry in 2021.
First-Generation AirPods Pro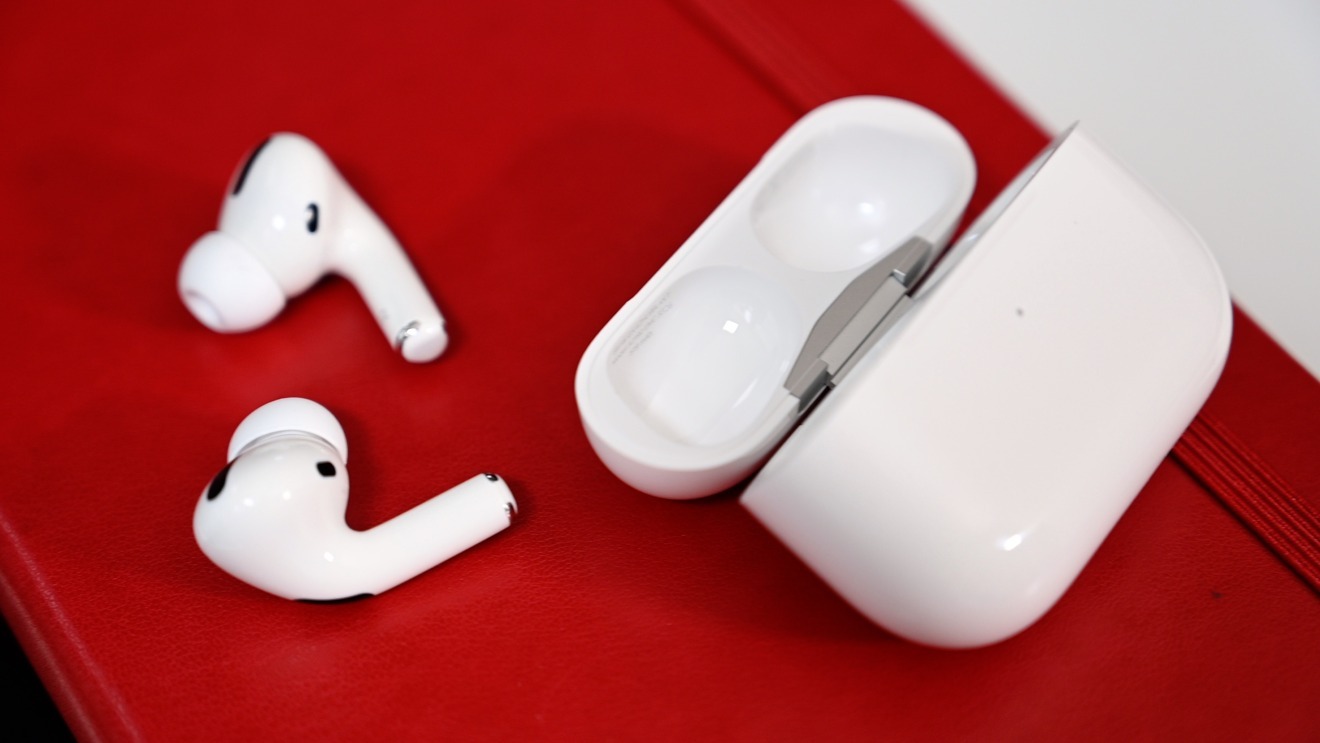 Truly wireless headphones have become commonplace, and multiple competitors offer their versions of the concept. Apple has three versions of AirPods, and AirPods Pro aims to set itself apart with a rich feature set and a pro price tag.
Active Noise Cancelation
AirPods Pro has ANC to eliminate external noise from a listening experience. Apple's pro-level earbuds utilize a microphone on the outside of the earpiece to listen continuously for external noise, sending a sound called anti-noise into the ear in what's virtually real-time. The anti-noise cancels out the external sound almost entirely before the wearer can hear it. A second microphone located inside the ear listens to the sound in your ear canal and will cancel any unwanted noise.
The ANC is continuously adjusted at 200 times per second to ensure the best results. If this sounds familiar, the HomePod also uses microphones to adjust the sound continually. The pro models are vented, which will equalize air pressure and prevent users from feeling like they are underwater or have clogged ears. Venting allows for increased comfort and fixes an issue many have with the in-ear rubber design.
Transparency Mode
Transparency mode is a third listening mode for AirPods Pro, after ANC and standard. When wearing earbuds with flexible ear tips, you're likely seeking to seal off the ear canal entirely. This creates a barrier to external sound that makes hearing the world around you difficult, even with ANC turned off.
Transparency mode uses the microphones to adjust the ANC to a much lower level, then pipes in some of the external environment and voices to your ear. It even listens for your voice to make it easier to speak naturally. This means that you can walk around town and not be afraid that you'll miss hearing an oncoming car.
When wearing a single AirPod Pro, Transparency mode is on by default. To make ANC work with only one ear, you will need to change it in settings. If you are in ANC mode and remove one of your AirPods, it will automatically switch the remaining AirPod to Transparency mode.
Fit and Design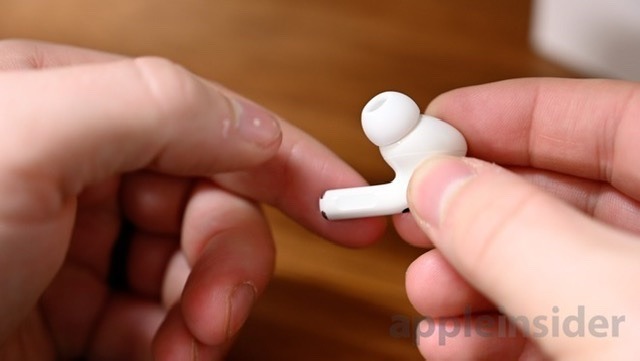 If you tried to wear Apple's original earbuds or Airpods and you found that their "one size fits most" design just didn't fit you, you will want to try again with the pro model. AirPods Pro includes three different earpieces in the box, which allows for some variety to the fit and seal. The attachment is a simple plastic oval that should easily be replicated and sold by third parties, so even if Apple's tips don't work for you, others may.
Another unique feature introduced is its ability to perform an "Ear Tip Fit Test" and verify that the ear tips you have chosen provide a proper seal.
Battery Life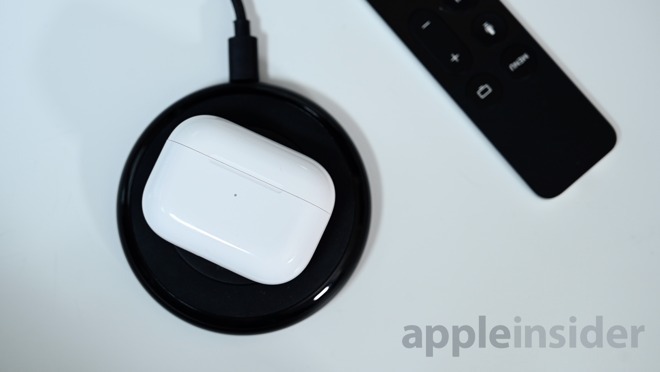 Apple says that with ANC turned on, the AirPods Pro will last 4.5 hours and only gain another half hour with it off. The charging case offers an additional 24 hours of battery, just like its predecessor. Apple says that 5 minutes in the case will get you 1 hour of listening back.
The key to long battery life lies in how you use them. Like with the AirPods, keep the earpieces in their case when not in use, and this will ensure a continuous charge. Using only one earpiece at a time will extend their battery life even further.
Other Features
All of the features mentioned add up to a versatile device, but there are a few more features worth mentioning:
Water resistance is rated at IPX4, which means working out with the AirPods Pro or a little rain shouldn't scare you. The previous AirPods all stood up to water rather well, and some even survived a trip through the wash, but this is the first time Apple gave AirPods a water resistance rating.
Adaptive EQ is another unique feature. Just like ANC, Adaptive EQ will continuously listen to the audio inside your ear canal, but instead of adjusting for noise, it adjusts for audio quality. Another feature likely born from Apple's experience designing HomePod.
Previous AirPods used a tap gesture to summon Siri or play/pause music, which would sometimes be uncomfortable or push the earphone deeper into your ear. The AirPods Pro use something called the Force Sensor, which you squeeze to perform tasks. One press operates play/pause, two will skip forward, three will skip back, and a long press will switch between ANC and Transparency modes.
The H1 chip brings all the quick pairing and Siri features common to all Apple headphones. It works with "Hey Siri" and "Announce Messages with Siri." You can also share audio with other users who have the latest H1-equipped headphones.
"AirPods Pro 2" Price and Release Date
No reports have pointed to specific pricing for "AirPods Pro 2," but we expect the updated earbuds to be around the same as the original's $249 price tag.
A report predicted the "AirPods Pro 2" would launch in early 2022, perhaps in the March or April slot that Apple often reserves for new iPads and MacBooks.