SharePlay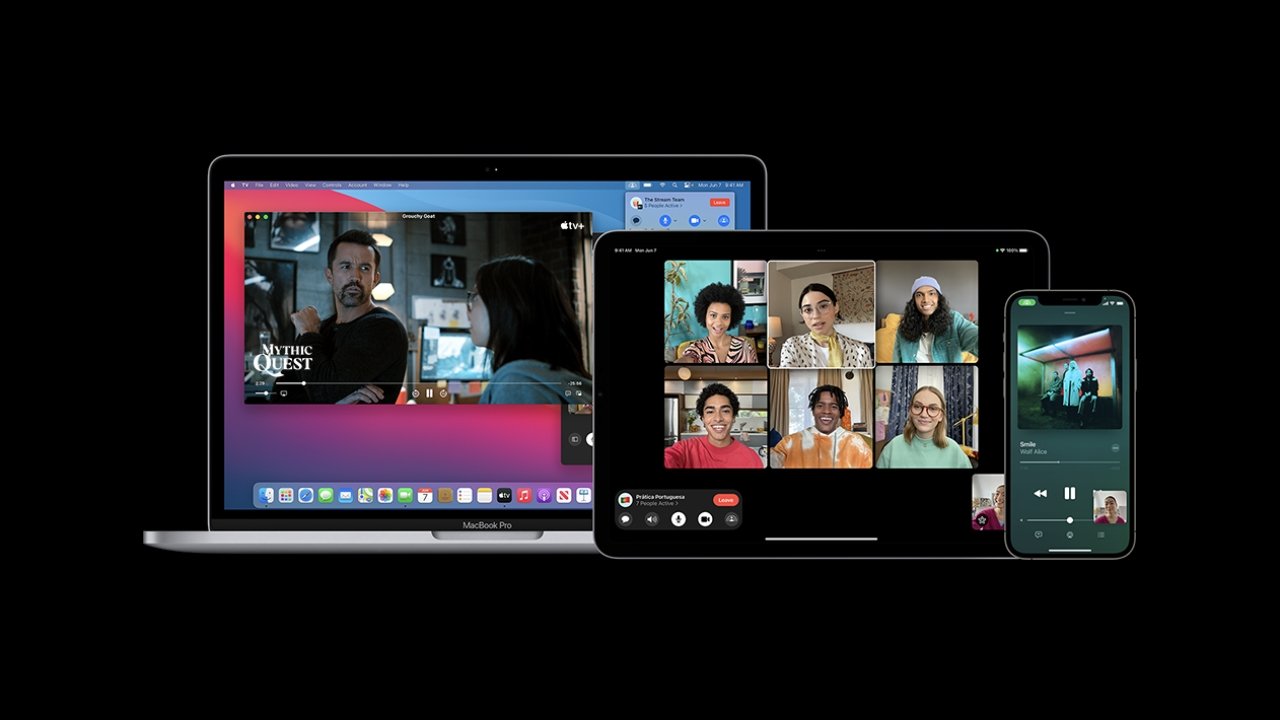 SharePlay, announced in June 2021, is a new feature attached to FaceTime that allows users to share media with family and friends like video, music, apps, and the screen.
● Share Apple Music over a call
● Watch videos together in sync
● View another person's screen
● Third-party app support with new API
Apple introduced this new set of sharing features at the 2021 World Wide Developers Conference.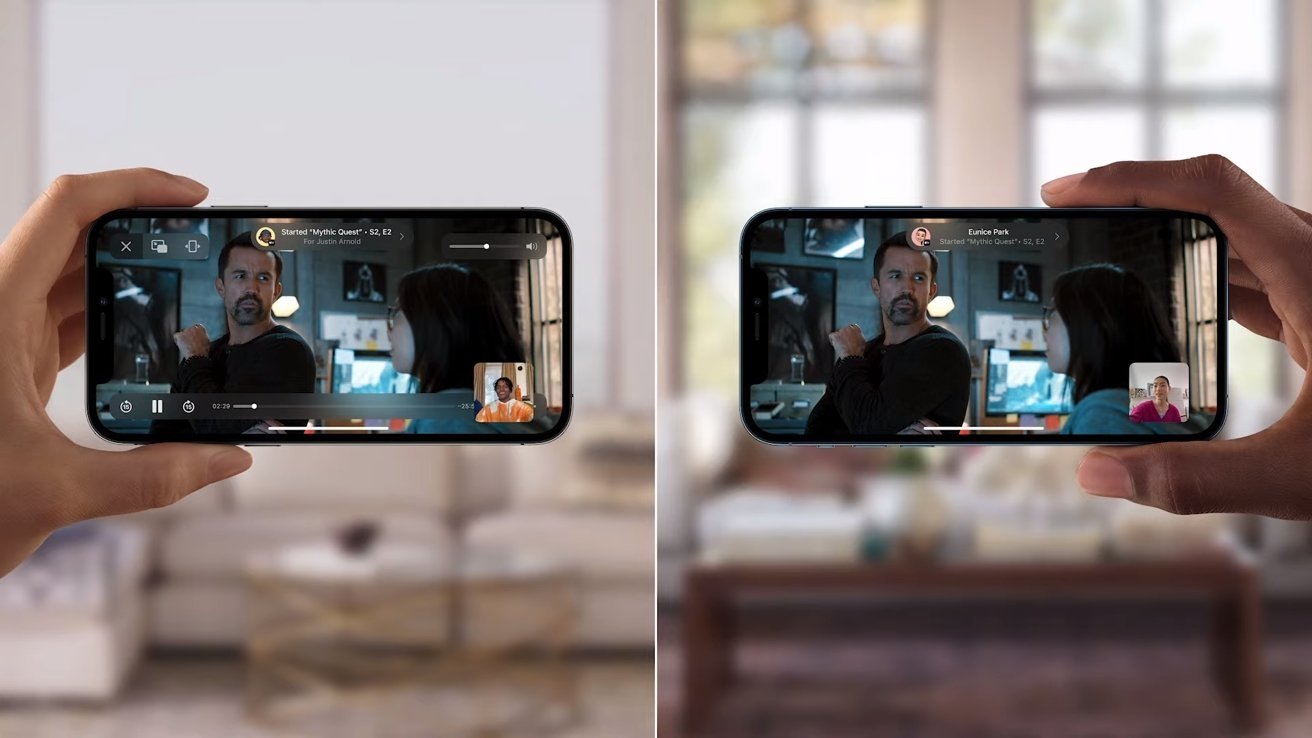 The feature supports most of Apple's operating systems — including iOS 15, iPadOS 15, macOS Monterey, and tvOS 15. Apple does not specify support for watchOS 8. SharePlay will launch as a feature included in these updates coming in the Fall of 2021.
Additionally, the company publicized partnerships with several companies to bring SharePlay to their apps.
Partnerships include, but aren't limited to:
Disney+
Hulu
HBO Max
NBA
Twitch
TikTok
MasterClass
ESPN+
Paramount+
Pluto TV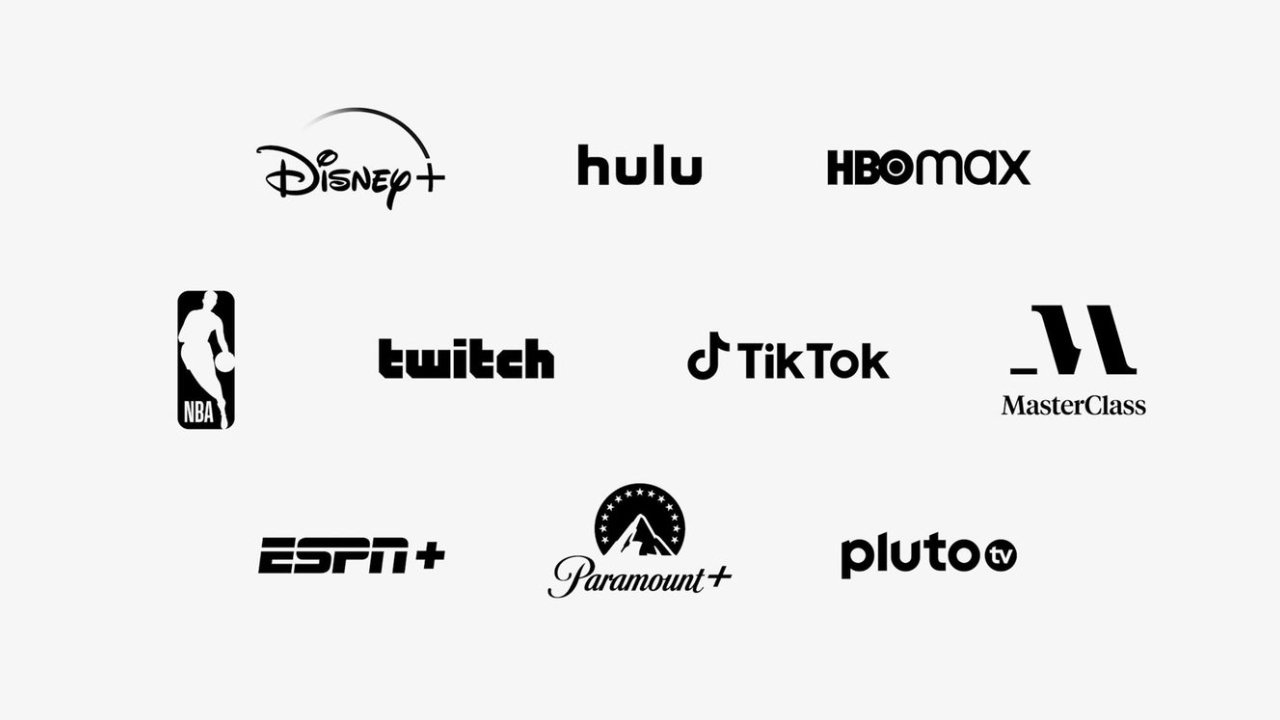 Watch together and Listen together
SharePlay will allow users to watch videos or listen to music while also using FaceTime.
Starting SharePlay is simple — the sharing user starts the media streaming app and presses play. Then, the content and FaceTime call will show up in a Picture-in-Picture popup while using the iPhone or iPad for other tasks.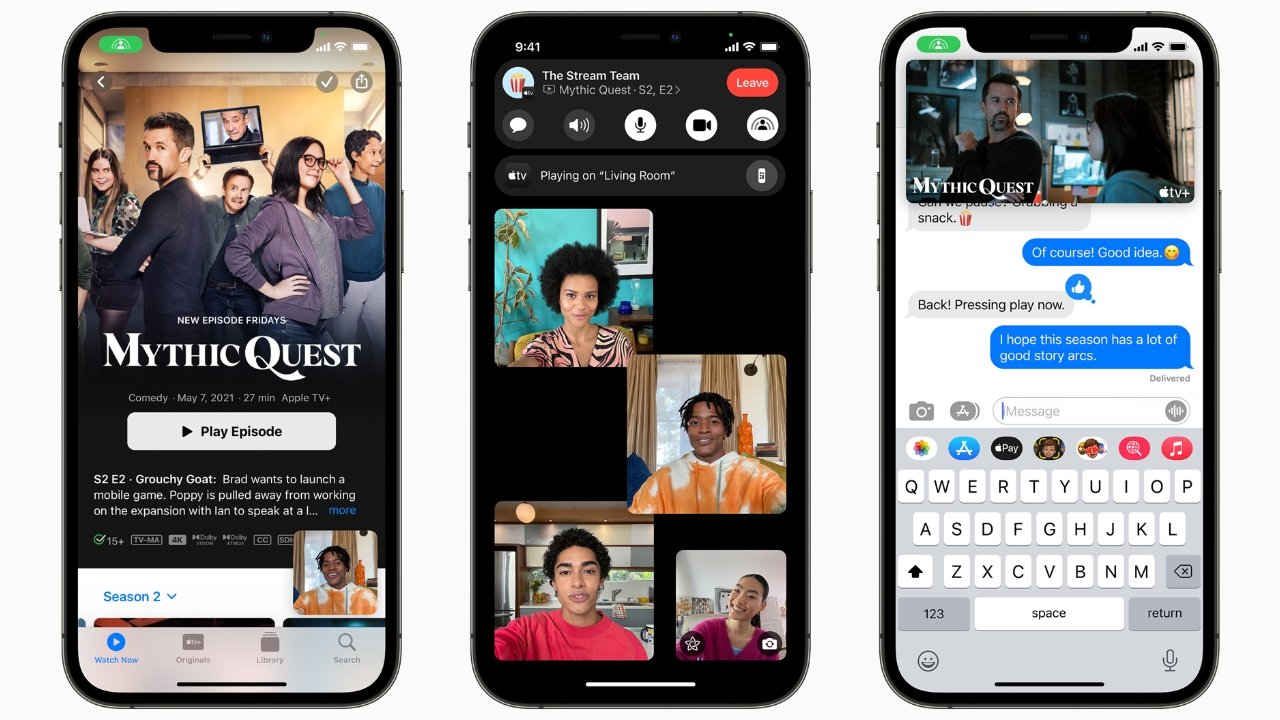 For example, if a user is watching a video with a friend and wants to order take-out while watching a movie on Apple TV+, they can use the home gesture, go to DoorDash, and order the food. This can be done while still watching the movie in Picture-in-Picture.
During the call, when out of the FaceTime screen, controls will be available by clicking the green SharePlay icon at the top of the screen. Controls include a Messaging button, Mute button, video enable/disable button, and a SharePlay enable/disable button.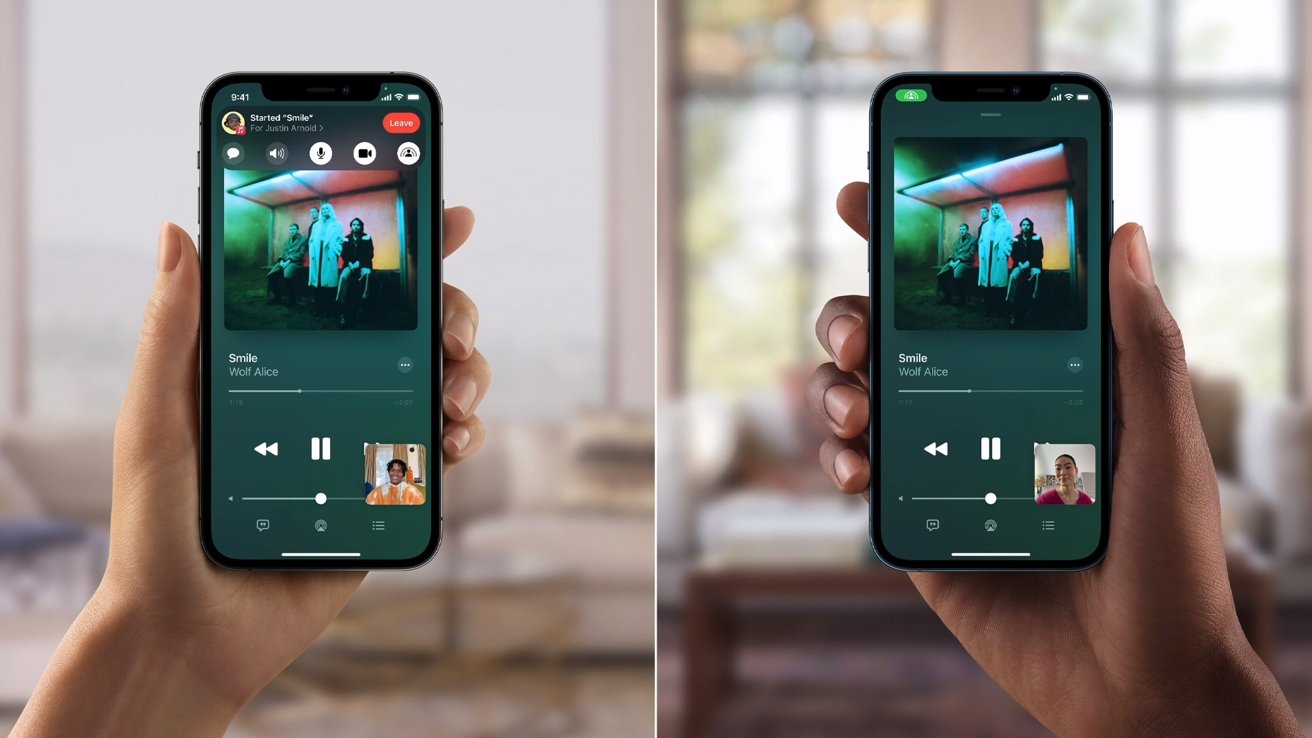 Screen sharing
SharePlay will also allow users to share their screen while talking over FaceTime. Again, this feature works across all devices — including iPhone, iPad, and Mac.
The feature will allow users to browse various apps together. For example, a user could browse with a future roommate over FaceTime to find a new apartment on Zillow or Zumper.
SharePlay also will allow users to help others with technological questions. For example, a person could teach an older relative how to turn off notifications they don't want to receive on their phone.
Screen sharing works similar to AirPlay Screen Mirroring. The app will ask if the user would like to share the screen, and it will show they are sharing their screen in the left-hand corner.
The feature is different from AirPlay Screen Mirroring because it allows 3rd Party apps to have different features that will enable more features with media and controls.
SharePlay API
SharePlay API, or GroupActivities API, will allow developers to add SharePlay support to their apps.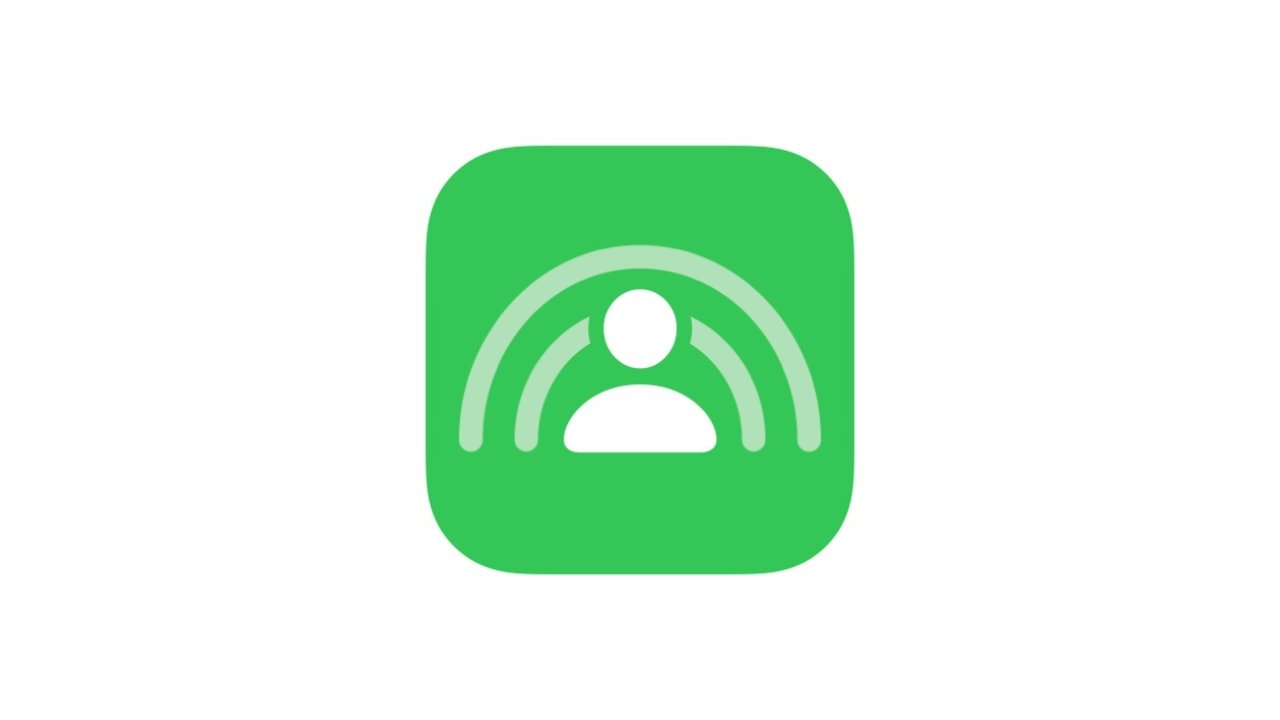 The API will enable app developers to implement video sharing, music sharing, and even synchronous app sharing.
The set of functions allows developers to create the ability to interact and collaborate with users over FaceTime. For example, it will be possible for developers to implement whiteboard sharing for business meetings.
Additionally, it allows developers to set controls for media playback on devices. It could also let developers take away controls from specific users. For example, maybe one user doesn't have a subscription to the app, so they'll be able to view content but will not use the controls.
How it works
With both listening together and watching together, users can control the playback. For example, when listening to Apple Music, everyone on the call can add songs to a shared queue, play/pause the music, or skip to the next track.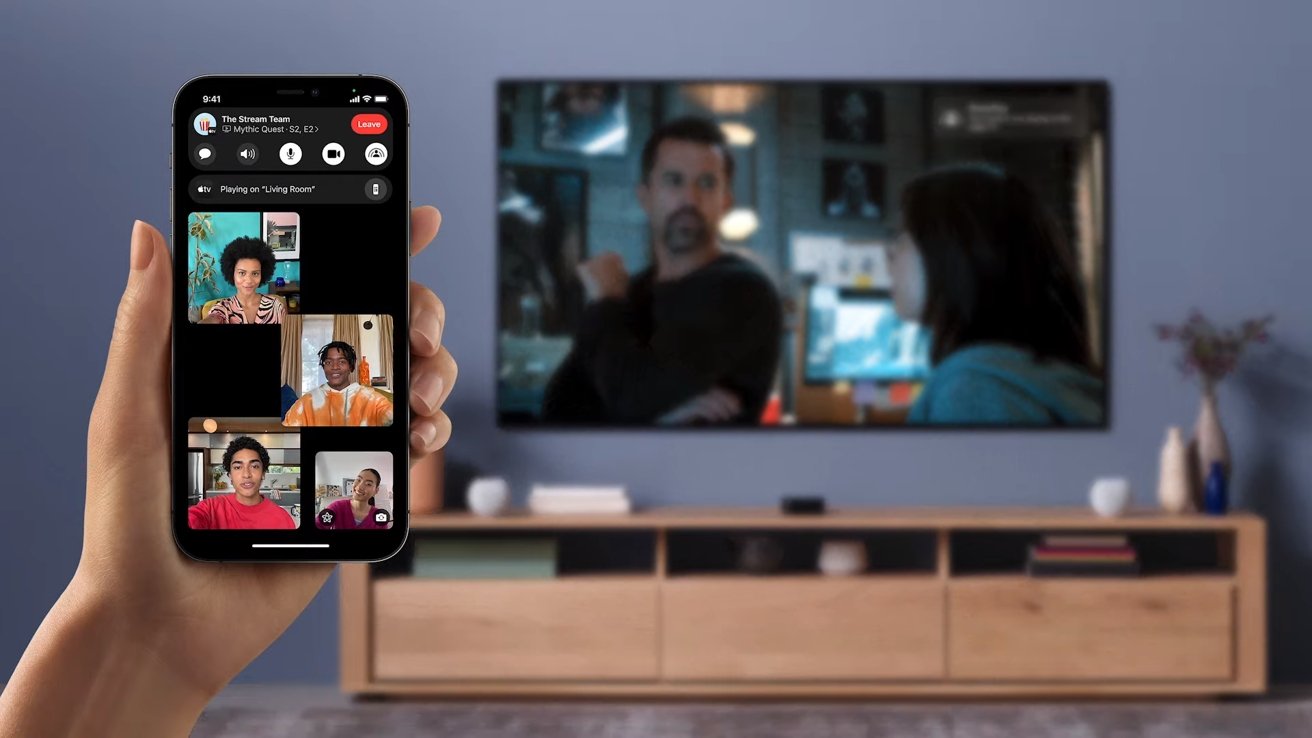 With Watching Together, the feature is similar. Users can play/pause, rewind, fast-forward, or choose to watch something else. Users also have the option of selecting different subtitles or none at all.
Whether the users are watching together, listening together, or sharing their screen, all of this is done in sync. If a user pauses the content, it pauses it for the other user. If the user sharing their screen makes a selection, the other user will see that selection.
AirPlay technology
Apple utilizes AirPlay technology when users send video or music SharePlay content to their Apple TV.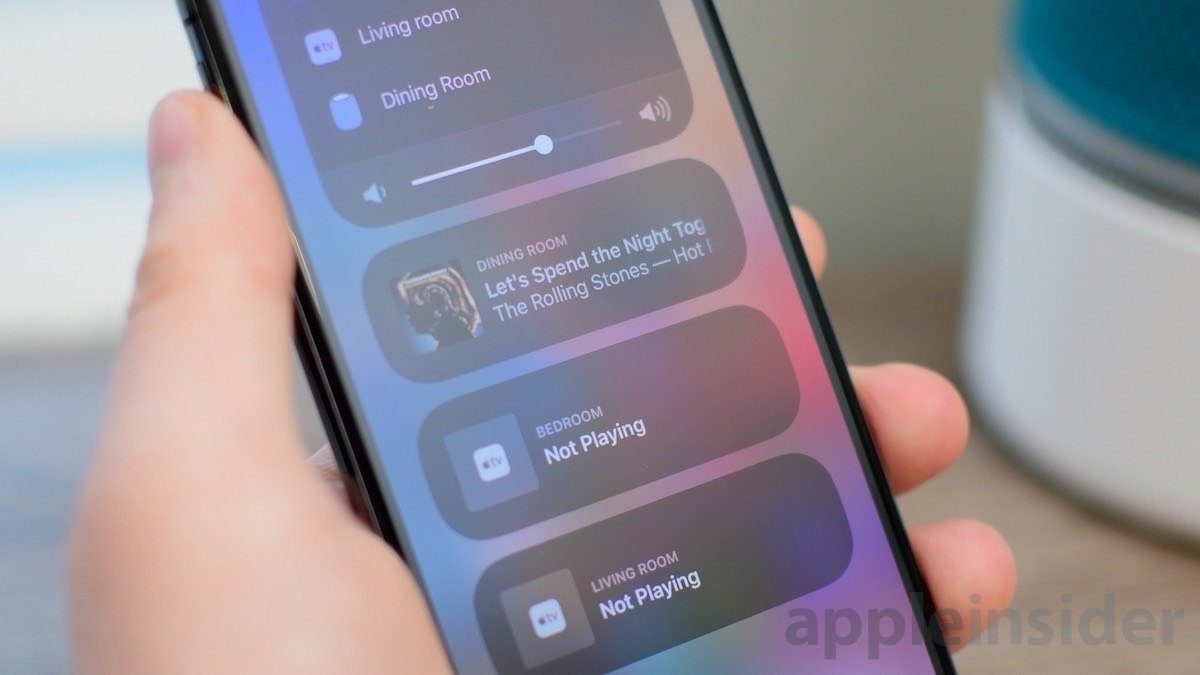 AirPlay is a technology that relies on WiFi to stream content between multiple devices. The technology was released in November 2010 after being rebranded from AirTunes. The current AirPlay technology, AirPlay 2, was released in June 2018 with multi-room audio and third-party app support.
To use AirPlay, a user clicks the AirPlay logo to open the AirPlay menu and then clicks where they want to send the media.
With macOS Monterey, users will be able to send media to their macOS device simply by clicking their Mac in the AirPlay menu.
SharePlay on macOS vs. SharePlay on iOS
When a user utilizes a Mac and wants to do something out of the shared app, the shared video or screen will be playing in the background. iOS will play the video or screen in a Picture-in-Picture dialog.
While using FaceTime with SharePlay on iOS, users will be able to send a video or music to their Apple TV. The video chat or audio chat will still play on their iPhone.
Like iOS, macOS, users can bring content to their Apple TV screen when watching a video in QuickTime, Safari, or other AirPlay supported apps. In addition, FaceTime will continue to play on their Mac computer.
Encryption
SharePlay uses end-to-end encryption on all FaceTime data. This level of encryption means the party who owns the information owns the key to unlock the data. In FaceTime and SharePlay, the users in the call own the data, and the users also own the key to unlock the data.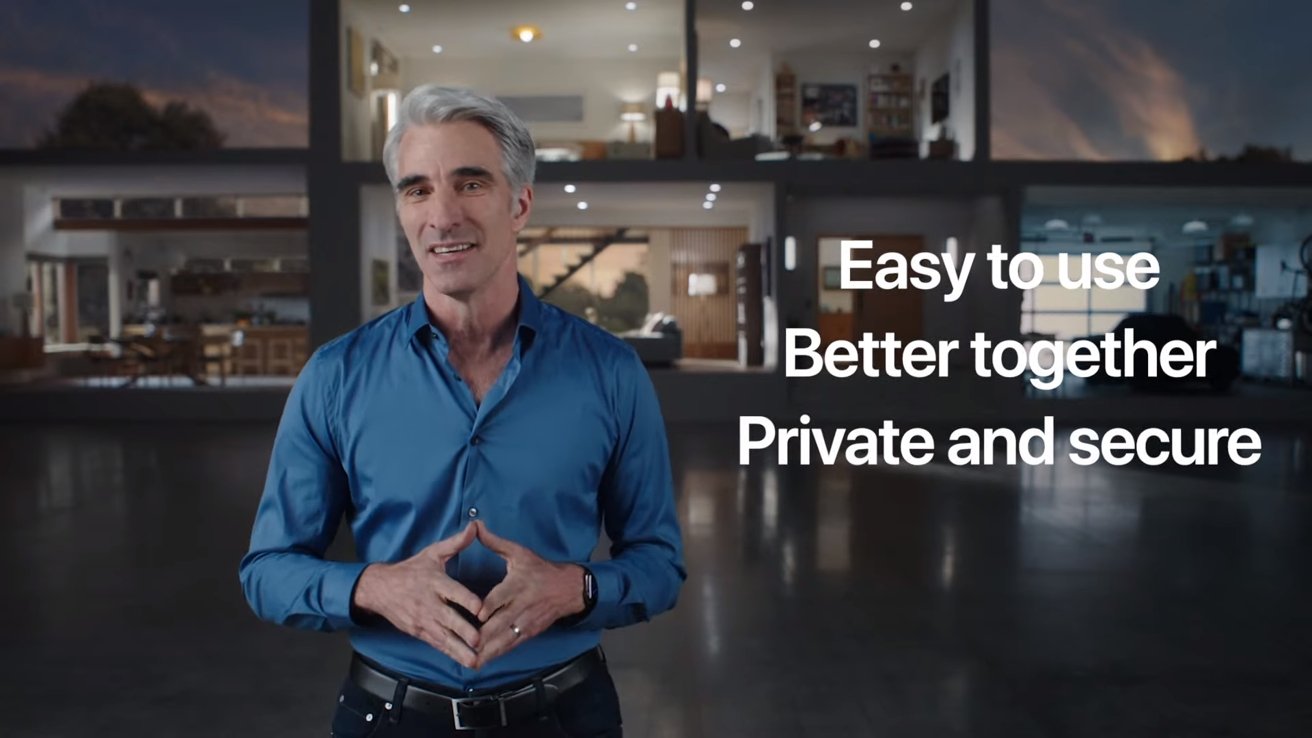 End-to-end encryption allows for information and media to travel through Apple's servers while not giving anyone, even Apple, access to that data — including while streaming on FaceTime.
What a user needs for SharePlay
For SharePlay playback to work, all users will need access to the application they want to interact with. For example, if a user wants to listen to a song on Apple Music, all users will have to have Apple Music installed on their device.
It is not clear whether or not all users will have to have a subscription to share an app's experience. However, in the Developer Human Interface Guidelines, Apple notes that SharePlay allows people to discover content by sampling an app with a trial during a group activity.