iPad mini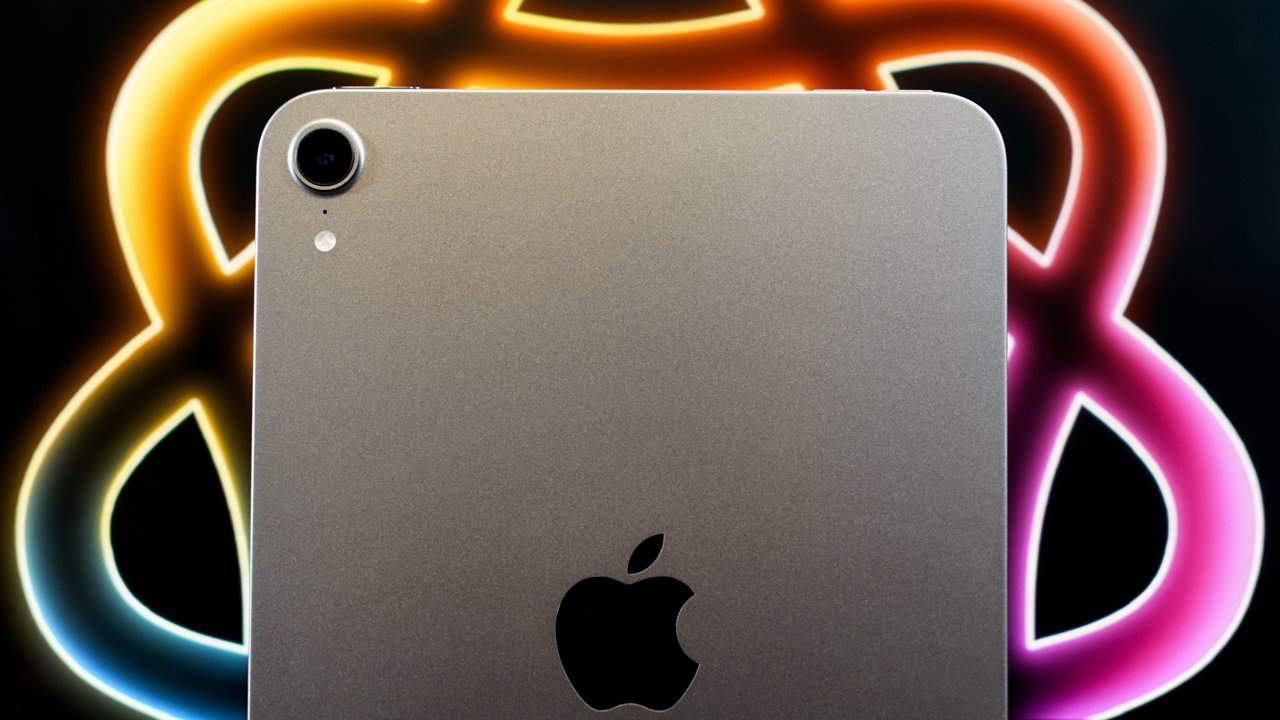 Initially released in November of 2012, Apple's diminutive 7.9-inch iPad mini has undergone substantial changes since its inception. Designed to go wherever you go, Apple's smallest tablet is great for cozying up with a book, jotting down notes, catching up on your favorite shows, and more.
● 7.9-inch screen
● Lightweight and portable
● Access to iOS and iPadOS apps
● Apple Pencil support (2019)
● Available with or without cellular
● Starts at $399
---
The iPad mini is Apple's smallest iPad. It has a 7.9-inch screen that fits between the larger iPhone and 10.2-inch iPad.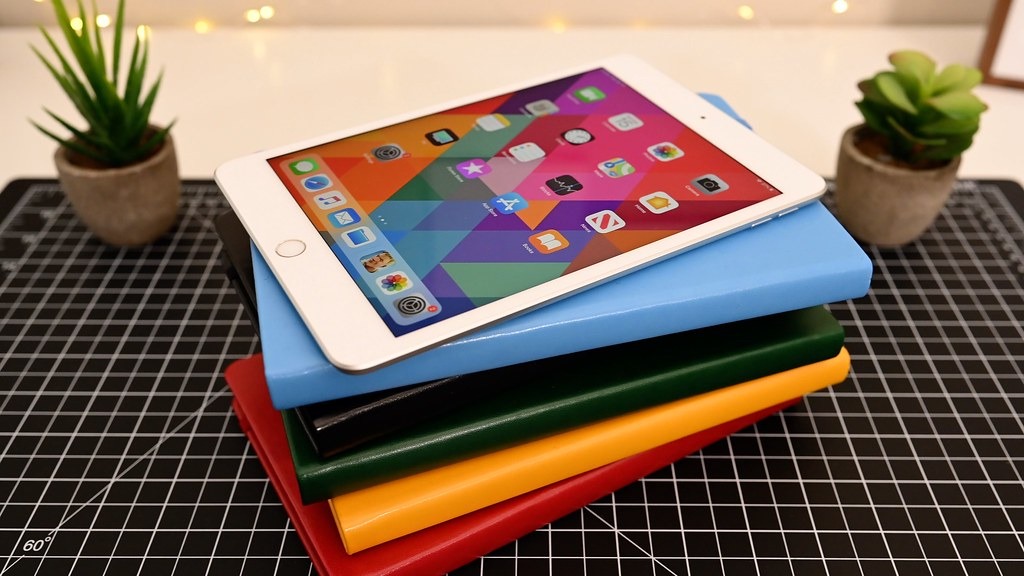 iPad mini Features
Since its inital 2012 release, Apple has launched four new iPad mini updates, with the most current model being the fifth generation. Faster chipsets, a laminated display, True Tone, and a thinner and lighter design have made this a truly pro iPad in miniature.
Like all iPads, it features most Apple-installed iOS apps and runs iPadOS. The portable design means it is ideal for carrying on the go, and the 7.9-inch display lends itself exceptionally well to reading eBooks. At its inception, the size was designed to be the primary selling point, and it continues to be.
For most users, a laptop and phone, tablet and phone, or some combination of the three is more than enough. For others, though, the addition of a smaller device that fits between use cases just makes sense.
The difference between a 7.9-inch screen on an iPad versus the 6.68-inch screen on the iPhone 12 Pro Max may not sound like a big difference, but how that screen is used and the aspect ratio make up all the difference. Taking aspect ratio into account, the iPad mini has over 55% more screen area than the iPhone 12 Pro Max. An iPhone is also designed for a mobile-first experience; websites load a specific way, text is small, and images don't fill the screen.
Even as the smallest tablet in Apple's lineup, it still runs iPadOS and provides a full desktop Safari experience. It also has larger text on the screen, full-sized images, and drawing with the Apple Pencil.
Sometimes you want to have more than your phone but don't want an entire 13-inch laptop or tablet to lug around either, and that is where the iPad mini lives.
Redesign rumors
There are rumors pointing to a new design for the smallest iPad, bringing an edge-to-edge display somewhere between 8.4 inches and 9 inches. A report from Ming-Chi Kuo suggests such a device could arrive in the second half of 2021.
The iPad Air 4 got USB-C when it was updated, so Apple may be moving the port all the way down the line. It isn't clear whether Apple would introduce a Smart Connector and smaller Magic Keyboard or Apple Smart Keyboard for the updated tablet. However, given the cramped typing space that the smaller tablet would allow, that seems unlikely.
Further rumors point to an 8.4-inch bezel-less display for the redesigned "iPad mini 6." The new device could come in July 2021 at the earliest.
iPad mini History
Fifth Generation
The iPad mini 5 is the latest model that Apple released in March of 2019. It received significant upgrades over its predecessors after three-and-a-half years without any updates.
This 2019 model uses Apple's A12 Bionic chip, 3GB of RAM, an upgraded 7.9-inch Retina display with True Tone, and an upgraded front-facing camera. It is three-times faster than the fourth-generation model.
In addition to notable hardware upgrades, this is the first iPad mini that supports the first-generation Apple Pencil.
Fourth Generation
The fourth-generation model released in September of 2015 with a substantial redesign. The device measured 203.2 millimeters (8 inches) by 134.8 millimeters (5.31 inches) versus the previous 200 mm (7.9 inches) by 134.7 millimeters (5.30 inches).
Despite the increase in length and width, the iPad mini 4 was 33.2 grams lighter than the previous model, and a full millimeter thinner.
This model also saw hardware upgrades, including Apple's dual-core A8 chip, 2 GB of RAM, and a fully laminated display. The screen received a substantial increase in color accuracy over previous monitors.
It was the first generation to support iPadOS, allowing it to utilize Sidecar with macOS Catalina and support external USB drives.
The iPad mini 4 was discontinued in March of 2019 but had received high praise from most major tech outlets during its three-and-a-half-year run.
Third Generation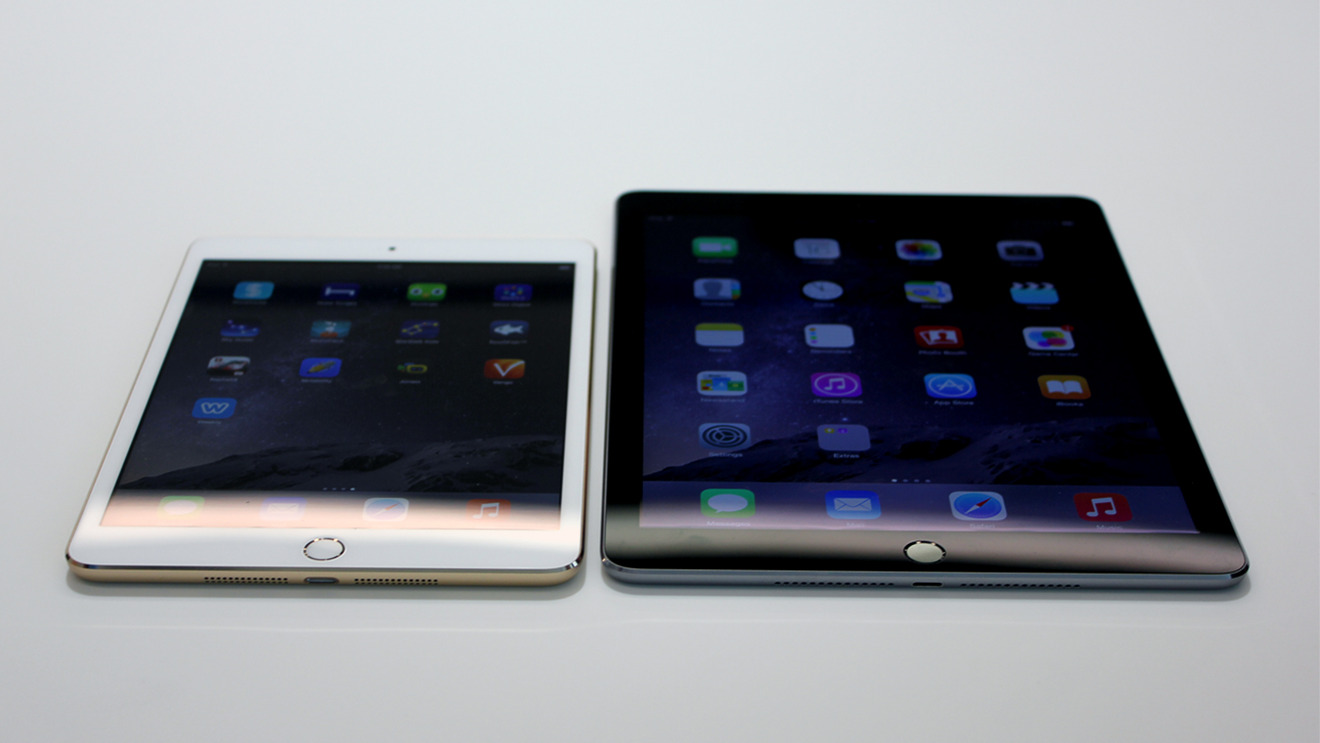 Apple released the third-generation model, named the iPad mini 3, in October 2014. The device received fewer upgrades between generations than its predecessor had, providing almost exactly the same hardware as the previous model.
Touch ID was the only significant change. That meant iPad mini 3 owners could use Apple Pay on Apple's smaller tablet for the first time.
It was available in both Silver and Space Gray, and for the first time a third color, Gold.
While it was received positively, the iPad mini 3 didn't receive enough substantial upgrades to outshine the model it replaced. It was subsequently retired in September of 2015, eleven months after its launch.
Second Generation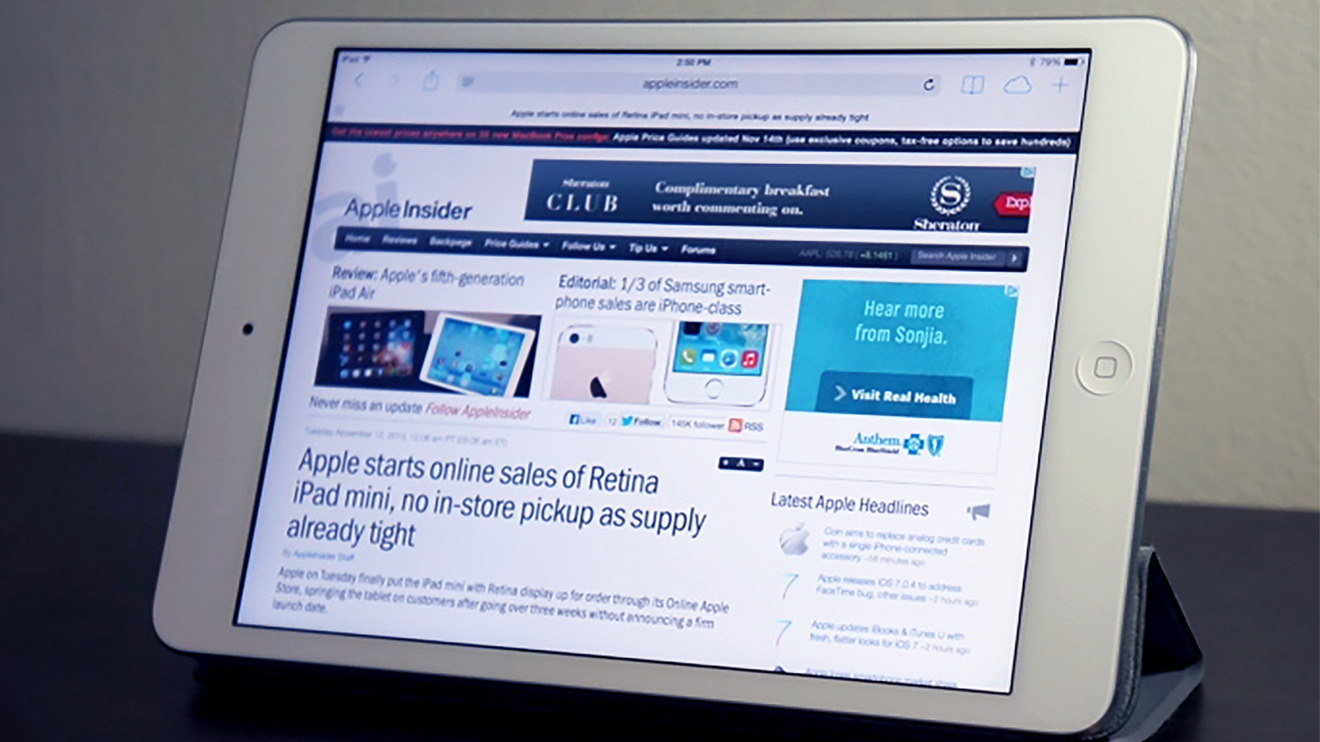 The second-generation model had a nearly identical design to its predecessor but saw some substantial upgrades to its hardware. The second generation received the A7 chip and a new Retina display that quadrupled its predecessor's pixels.
That Retina display was the tablet's standout feature, as evidenced by Apple initially marketing it as "iPad mini with Retina Display." However, the upgraded screen wasn't without its limits. It had a narrower color gamut than the high-resolution displays found in 9.7-inch iPads of the same era. It also lacked the True Tone and anti-reflective coatings found in later iPad displays.
In a rare move for Apple, the tablet became thicker and heavier than the first-generation model it replaced. Apple did this to accomodate the larger battery it needed to power its higher-resolution screen. With the beefier battery, it offered the same 10 hours of battery life over Wi-Fi as its predecessor.
It was available in Space Gray and Silver and released on November 12, 2013.
It was discontinued in March of 2017 but had been the first to support six major versions of iOS; from iOS 7 through iOS 12.
First Generation
At the first model's unveiling, Apple's Phil Schiller said it was the company's goal to help customers "find even more uses for iPad, to use it in places and ways they never imagined.
"This is iPad mini," Schiller said. "What can you do with an iPad mini that can't already do with the amazing fourth-generation iPad? You can hold it in one hand. This isn't just a shrunken-down iPad —it's an entirely new design."
This quote referred to the difference between the smaller tablet's narrow side bezels compared to the wider bezels on the 9.7-inch iPads of the day. The larger model eventually borrowed the miniature tablet's slimmer design the following year, when Apple debuted the iPad Air.
iPad mini Review
AppleInsider's review of the latest model gave the tablet 4.5 out of 5 stars. It touted the mini tablet's gaming prowess and its ideal fit for children and in retail and medical environments.
"We wouldn't hold it against you if just by looking at the new iPad you were unable to distinguish it from its predecessor. Both the fourth-generation and fifth-generation models have starkly similar appearances. Both feature a Home button with Touch ID used for authentication. Both have rather large bezels surrounding the frame that look more substantial in 2019 than they did when the fourth-gen debuted.
"The display retains the same high resolution as before, 2,048 x 1,536 resolution at 326 pixels per inch, but it now supports the P3 wide color gamut and integrates True Tone technology. True Tone helps they display appear more natural in a variety of lighting situations and the wide color gamut helps colors pop more than ever. Side-by-side with an OLED iPhone display, the blacks on the mini aren't quite as deep, but few would scoff at such a minor discrepancy and this is expected with the iPad line. For what it's worth, this would fall under the category of nitpicking."
"The biggest changes Apple has put forth for the new tablet, are inside. There is now the extremely capable Apple-designed A12 Bionic processor powering this device. This is the same chip used on the latest iPhones. It isn't quite as powerful as the A12X Bionic processor found on the iPad Pros, but it is more than enough for this tablet.
"You are likely to be limited first by the screen size rather than the processor. In our mandate to push the processor, we wanted to see how smooth it was to edit a film in LumaFusion but found ourselves more hung up on the limited display real estate than any speed deficits. The processor wasn't our bottleneck, the small size was.
"If you truly wanted to edit more often or longer films, you would probably be more comfortable with the iPad Pro line. That said, if you ware looking to edit a few videos, casually, you will be able to do so without a hiccup.
"The small tablet is almost too powerful. It packs so much performance into the small body that few people will likely take advantage of. Running apps side-by-side is possible though almost silly at the size they are. The real potential of the mini is with games."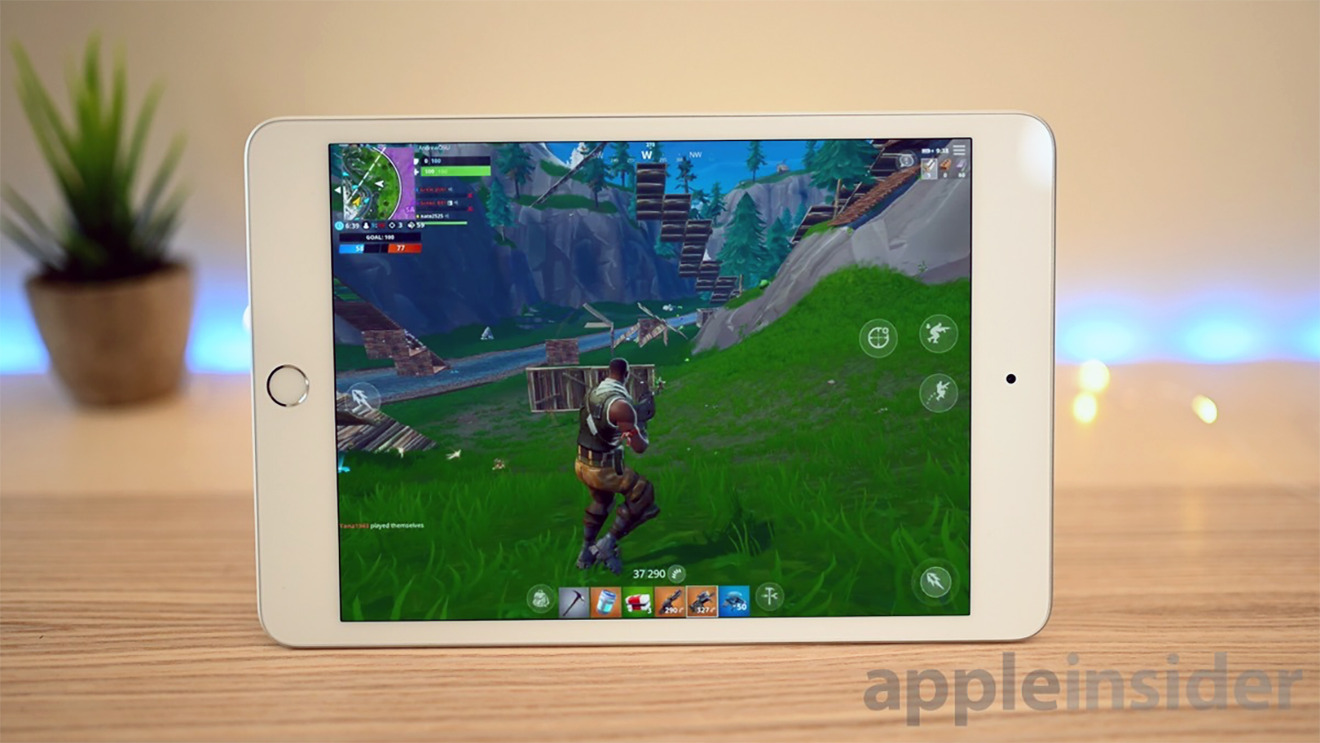 "... we can see Apple Arcade as an excellent path for the mini tablet. We played Fortnite, Alto's Adventure, and much more on our mini and loved the mix of screen size and power.
"Our normal alternatives for mobile gaming would be our iPhone — which packs a smaller display, our Nintendo Switch — which has poor controllers and a subpar display, or our larger 12.9-inch iPad Pro — a far less portable option."
"Kids who aren't yet old enough for an iPhone can still have their own, cheaper, dedicated iOS device. Hospitals and medical institutions have a great portable tablet to take room to room. Anyone who loves to read on their tablet will enjoy the mini, which is so lightweight you experience little-to-no fatigue after long reading sessions.
"Retail is also a home to the device, though more often for smaller businesses. During the JAMF National User Conference last year, AppleInsider spoke to high-end outlets like Rituals that was turning to iPhone over iPad mini for handheld POS systems. Using an iPhone meant they could rely on cellular service rather than shoddy Wi-Fi coverage.
"That still leaves smaller retail organizations who don't want the expenditure of iPhones turning to the smaller tablet instead. Apple's own retail is often seen using the small iPad.
"Apple also takes the target audience into consideration here. Any business organization or even a child who ends up with the iPad, is likely not going to worry about things like wireless headphones when necessary and prefer the physical headphone jack that lived on another year in the mini.
"With larger iPhones such as the XS Max, the market for a smaller tablet has shrunk since we saw the fourth generation, but it is clear there is still a market for the small tablet. It's apparently large enough for Apple to refresh its smallest tablet, but not big enough to have done so for the last few years."
"iPad mini 5 supports Apple Pencil, but like the new iPad Air, it only supports the first generation model and must be charged using the Lightning port. Speaking of Lightning, we also see the Lightning port stick around on the mini rather than USB-C. Even in the box, Apple includes a slower charger brick and no Fast Charger.
"Other compromises include the fact the bezels are still large, there is no Face ID, and there are no huge improvements to the camera.
"Most people are going to be perfectly fine passing on all these features. Apple focused on the mini where it mattered — performance — and that's exactly what we got."
iPad mini Pricing
You can purchase the current model in three colors; space gray, silver, and gold. It is configurable to have 64GB or 256GB of storage, and there is also a cellular option. The iPad mini is priced at $399 or $549, respectively. Add $130 to the total if you want to add cellular to either option.