iPadOS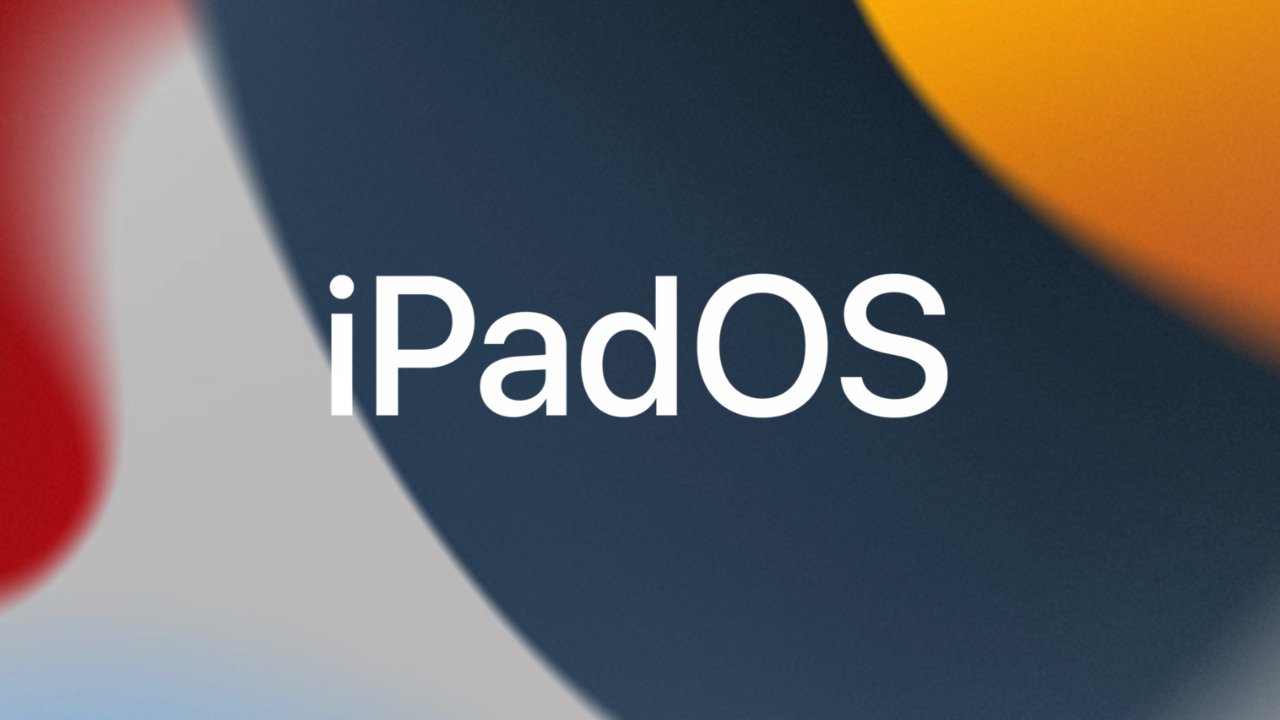 iPadOS is a fork of iOS, and Apple's attempt to differentiate between its mobile device software for the first time. Since iOS 9, iPad software has been slowly gaining features unique to its form factor. Now, Apple believes it is time to split up the two, and show that they mean to update iPad software on a more regular basis. This is the OS meant to help take the iPad to its fully realized form; a standalone personal computer.
● Slide Over and Split View window management
● App Spaces with App Exposé
● More dense home screen with pinned widgets
● SideCar
● Text management gestures
● Full size or floating on-screen-keyboard
● Full desktop Safari
● Local file system with support for external drives and network servers
---
Apple first created iOS for iPhone with the idea that touch interfaces needed larger icons and easy controls. Apple used Mac OSX as their code base, and created a touch interface system just for iPhone. When iPad released with iOS, it received much ridicule for being "just a large iPhone."
Over time features began to split and be added for the iPad alone, until ultimately Apple decided to begin designing an OS just for iPads aptly named iPadOS.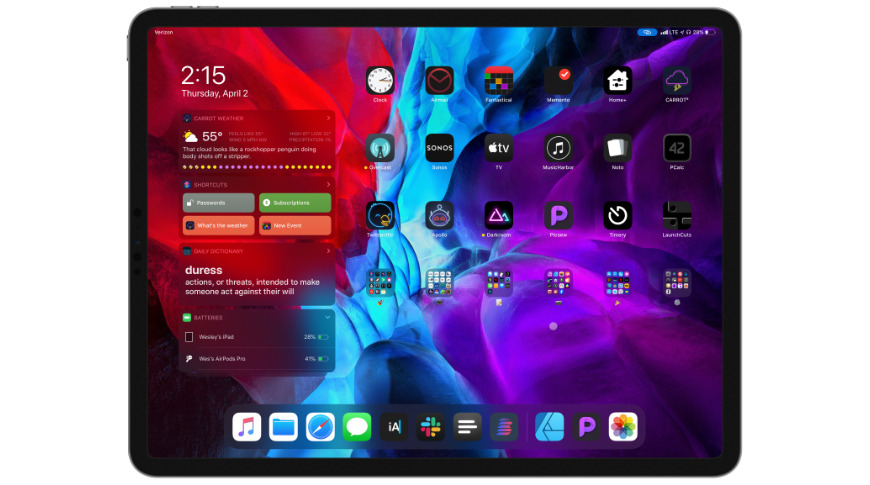 What is iPadOS?
iPadOS is an operating system branched from iOS and is now being developed in parallel. Previously iPads would only see few, if any, changes year-over-year in software, and this dedicated OS signifies Apple wants to do more for the tablet line. iPadOS and iOS still share much of the same code base; meaning iPadOS is only distinct in a few key features. These differences should increase and become more varied as Apple updates the two.
Beginning with iOS 9, iPad software was showing a big shift from iphone with the added ability to have multiple apps on the same screen. This was later refined in iOS 11 with better file sharing and drag and drop gestures. iOS 13 arrived in 2019 with many new features across the ecosystem, and with it, iPadOS. With its improved split screen, multi-window app states, and external storage support, iPads took a big leap forward as a laptop replacement.
What iPadOS features are different from iOS?
iPhone and iPad have both benefitted from parallel development; hardware innovations trickling back and forth between the devices as Apple pushes each form factor to its limit. The software, however, hasn't seen the same benefit. What is good for a small phone display isn't likely going to translate well to a large tablet, and vice versa. This is why differentiation between the operating systems was needed, and the following features are totally unique to iPadOS:
New Home Screen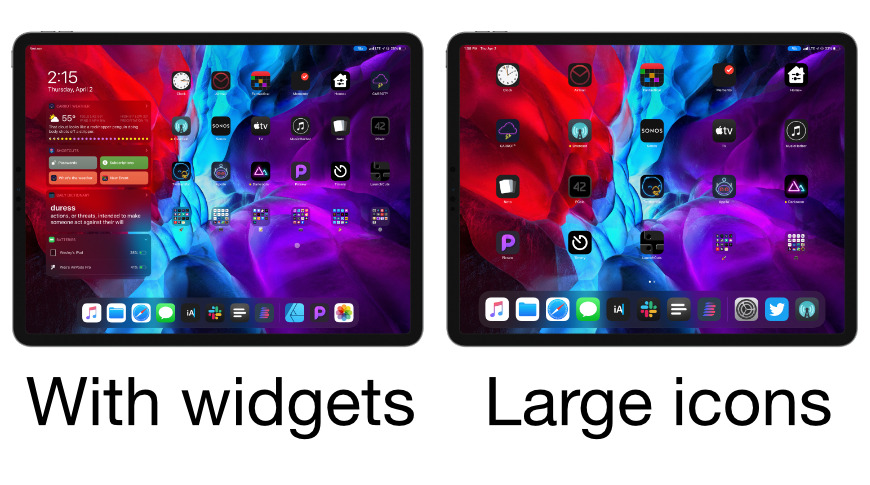 The iPad Home Screen displays a square grid of 30 icons. This means the apps will not move from their location when the iPad is rotated. Users can also add their Today View widgets to the Home Screen, which gives you more information and control at a glance. Widgets can be pinned to the top of the Today View so users can customize what widgets are always displayed. Scrolling the widget view will show every widget in the today view without leaving the home screen.
Split View
iPads are generally much larger than iPhones and have a more square 4:3 aspect ratio, which makes it easy to display multiple apps on the screen. The initial development of Split View was done with the intention of having multiple full sized or reduced view apps on the screen.
First, you will need to consider which apps you want in your Split View. To create a Split View workspace you will need to have one of the apps open, and access to the second app's icon. Drag the second app's icon to the very edge of the screen to enter Split View. This can be achieved using one of three methods:
1. Drag an app from the dock into Split View.
2. Drag an app from Spotlight search into Split View.
3. Drag an app from the Home Screen into Split View.
From here you can adjust the Split View arrangement and window size using the new adjustment bars floating at the top of your windows, and in the middle of the split. The two small bars at the top of the screen will act as window controls. Grab one of the bars to pull an app out of split view into Slide Over, or move an app to the opposite side of the screen.
The bar in the center of the screen will allow you to adjust your apps to take up two-thirds/one-third, half-and-half, or one-third/two-thirds arrangements. Drag the center bar all the way to the edge of the screen to dismiss Split View altogether.
Slide Over
Slide Over allows for yet another window to be added to the screen, but in a hovering state above your current space. With only a single app on the screen, drag the app's icon you wish to use in Slide Over to one side of the screen, but not all the way to the edge. You will see the app window animate as a tall and slender window, let go to drop this app into Slide Over. With Split View in use, drag the app's icon to the center adjustment bar. A Slide Over window can be created in multiple ways:
1. Drag an app from the dock into Slide Over.
2. Drag an app from Spotlight search into Slide Over.
3. Drag an app from the Home Screen into Slide Over.
4. Drag an app from Split View into Slide Over.
Using the adjustment bar at the top of the Slide Over window, you can be move it to either side of the iPad, and dismiss it by swiping the window off the right side of the screen. The Slide Over app can also be dragged into Split View by dragging the adjustment bar to the edge of the screen.
Slide Over also acts as its own windowing system, and can hold multiple apps inside this space. If you have an existing Slide Over window, you can add an app to it by dragging another app on top of it. You can then switch between different Slide Over apps using the small navigation bar at the bottom of the window, much like switching between apps on an iPhone or iPad.
The navigation bar also lets you open a Slide Over app switcher using the same gesture you would use on the main iPad navigation bar. This lets you see all the current Slide Over apps at a glance.
App Spaces and Exposé
An App Space is what you would consider a full screen window on MacOS. You can have multiple apps in one space, or multiple of the same app across multiple spaces, or even multiple of the same app in the same space. This is all managed using Split View and Slide Over.
For example: you might want to view a folder of documents on one side of Split View, and an individual file in the other side with quick view. You can accomplish this by dragging a file out of the current files app window and setting dropping it on the edge of the screen, similar to using an app's icon for Split View. Or if you want to easily reference the file from other open spaces, drag the file into the Slide Over window, which will create a new Files app space with that file open in quick view.
Another thing iPadOS mimics from MacOS is App Exposé. Now that you have multiple of the same app open across multiple spaces, you might want to see what is open and where. Do this by having the app open, to continue our example; files, then click on the app icon in the dock to see every space the app appears in. This view is called App Exposé and can be used to quickly switch between spaces or dismiss open spaces.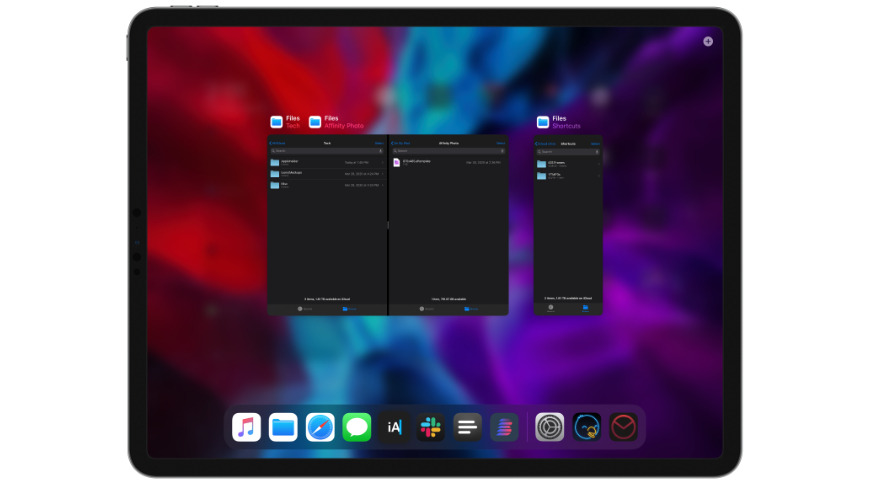 The app must be in the dock to see the App Exposé view. To truly take advantage of iPadOS multitasking, you'll likely want to enable "show suggested and recent apps in dock" to always have access to your current app's spaces. This will also allow for easier access to app icons for Split View and Slide Over creation.
Drag and Drop
Apps that are open next to each other in their own App Spaces using Split View and Slide Over can easily share data between them. Dragging information between windows isn't new to computing, but how it is handled on iPadOS is very different.
When you want to share an image, text, or document between apps in an App Space, you can select it, press and hold it, then drag it to the desired location in the other app. This can be done with almost any element that is user intractable in an app. How the data is managed is decided on a per App Space basis.
For example: You have an App Space consisting of the Files App and Apple Notes. If you drag an image from files into an active note, it will be embedded where you drop it. If you drop a .txt file into notes, it will be pasted. Incompatible formats, like a photoshop file, will be added to the document as an attachment.
Each app will have different interactions with different data dragged and dropped, and this is determined by the developer of the app. iPadOS will attempt to decide what is best for every drag and drop initiated based on context and will default to what makes the most sense. Be aware that drop targets are important; a link dropped into a text field will paste in Safari, but will open the link if dropped outside the text field.
App Spaces are still sandboxed from each other, and apps cannot share data between them until the user takes action. Even when actively dragging and dropping an item, the other app in the space will not be aware of the contents until the user lets go of the item at the destination.
iPadOS File System
iPadOS introduced a more robust file system to iPads with local storage, server access, and external drive access. The Files app will surface any file provider in its browser, along with external drives, cards, and servers. Users can tag or favorite files and folders to have them show up in the Browse sidebar too. From here you can drag files to any location listed without the need to change apps.
iCloud Drive and the local "on my device" work similar to a MacOS file structure. Add folders and files, creating file pathnames easily searched by Spotlight. Then tag anything to surface it in the tags section of the sidebar. A new view in the file navigator allows you to view an entire folder structure at a glance, all the way down to quick view of a specific file.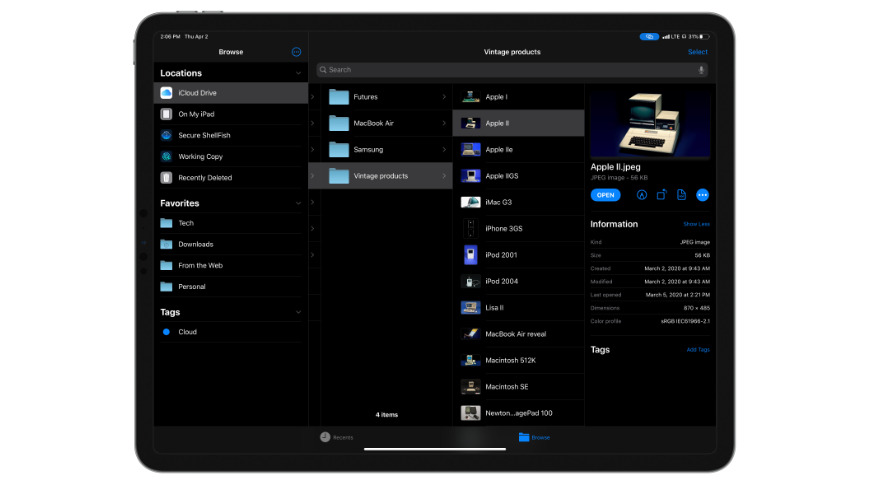 If an app generates files, it will likely create its own folder in iCloud Drive or locally. This is dependent on individual app settings and user configuration. These folders contain all the files generated in an app, like in Pixelmator Photo, and allow for users to interact with the project files directly in the files app.
One interesting result of having apps able to target specific folders in the file system is having multiple apps interact with one file. This can be useful if you want to take advantage of multiple app features in one file. For example: IA writer has file versioning, but Ulysses has better writing presentation controls. You can write in Ulysses, then open the same file in IA writer to see the version history.
Users can also attach specific apps called "file containers" to the files app. This means that you can have your iCloud Drive, Dropbox, Google Drive, and other apps like FileBrowser all in one place. Files will also show any connected external storage like SD cards, Zip drives, and hard drives. External storage shows up in the sidebar and can be targeted by apps while connected or files can be moved in and out easily.
If a user needs access to a local network SMB server, you can now attach this directly via Files app. Simply tap the ellipsis icon in the sidebar and select "connect to server". Once you have entered the credentials, the server will show up in the sidebar as a storage container.
Desktop Class Safari
iPadOS has a completely reworked Safari app, which allows for websites to properly render as if being viewed from a desktop computer. Apple changed several behaviors for this to work, like mapping several touch functions to mouse gestures. All of these changes should be behind the scenes for the user, so browsing using touch should just work.
Desktop class websites will now open and operate as expected. Google Docs, Wordpress, or even iCloud.com will now open as a fully functional web app. This means legacy websites and utility pages can finally be accessed from iPad without issue. Users can now set per website settings by pressing the aA icon in the browser bar. From here you can set a website to always display its desktop or mobile version, toggle content blocking for a page, or show the reader view.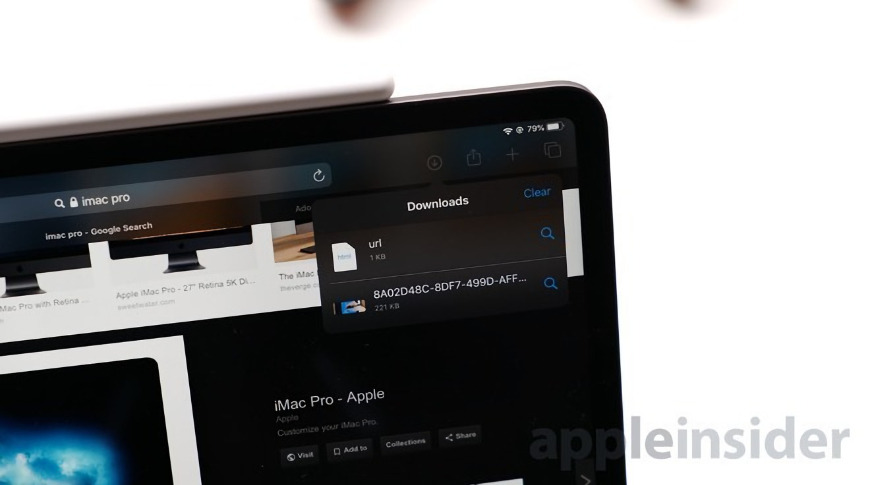 Safari is now integrated with the Files app in iPadOS, which means you can easily download files from websites and have them appear in a designated Downloads folder. You can change whether downloads are saved locally or in iCloud in settings. Clicking on a downloaded file in the downloads manager will open it in its respective app based on file extensions.
Sidecar
iPadOS and macOS Catalina have a shared feature between them for users looking to expand their Mac's utility. Connecting an iPad to your Mac via Sidecar will allow users to place specific apps onto the iPad for direct manipulation of data with touch. Sidecar can be started using the AirPlay icon in the menu bar, and can be connected wirelessly or via a cable.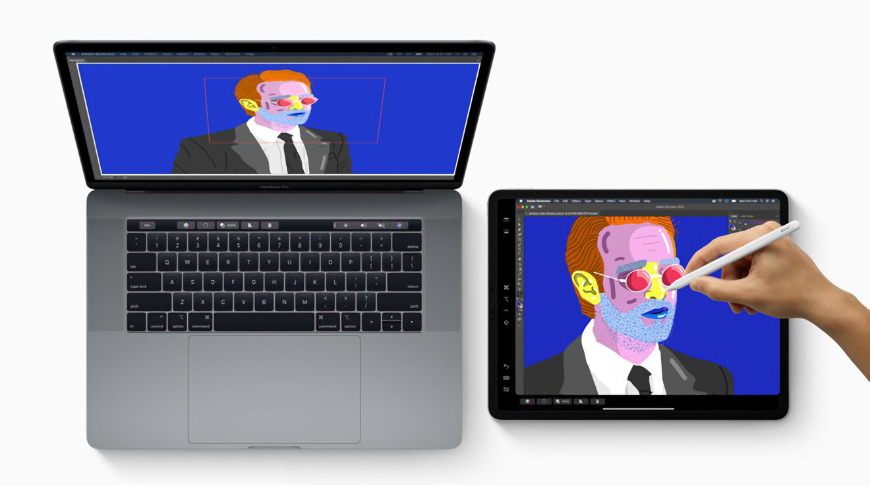 Drawing and graphic apps can take advantage of Sidecar by making the iPad act as the input device for the desktop app. Users can also mirror or extend their Mac's desktop, making the iPad act as an external display. Some more advanced users can utilize their Mac's remote access and scripting options to enable Sidecar from anywhere in the home.
Mouse Support on iPadOS
With iPadOS 13.4 users will be able to connect external mice or trackpads. This will create a cursor on screen that looks like a small circle and will change shape depending on the task.
A text cursor, an object selector, or even a button highlight tool will appear depending on where the new mouse cursor is placed.
Accessory makers are already taking advantage of this new accessibility feature. Brydge has a trackpad version of its keyboard coming soon, and Mokibo with its interesting design.
Xcode
Rumors speculate that the iPad Pro could be the transition machine for developers prior to the release of an ARM Mac. This means Apple will need to start bringing its development environment, Xcode, to iOS and iPadOS for the transition to work.
A new rumor suggests that Xcode for iOS is ready to be released at WWDC alongside iOS 14. This means that developers could have a few months head start in developing ARM based apps before something like a ARM Mac releases in winter 2020.
Even if its just for development of iOS and iPadOS apps, Xcode on an iPad would create a whole new area of opportunity for users to utilize the device in pro workflows.
What devices can run iPadOS?
iPad (5th, 6th, and 7th generation)