macOS Monterey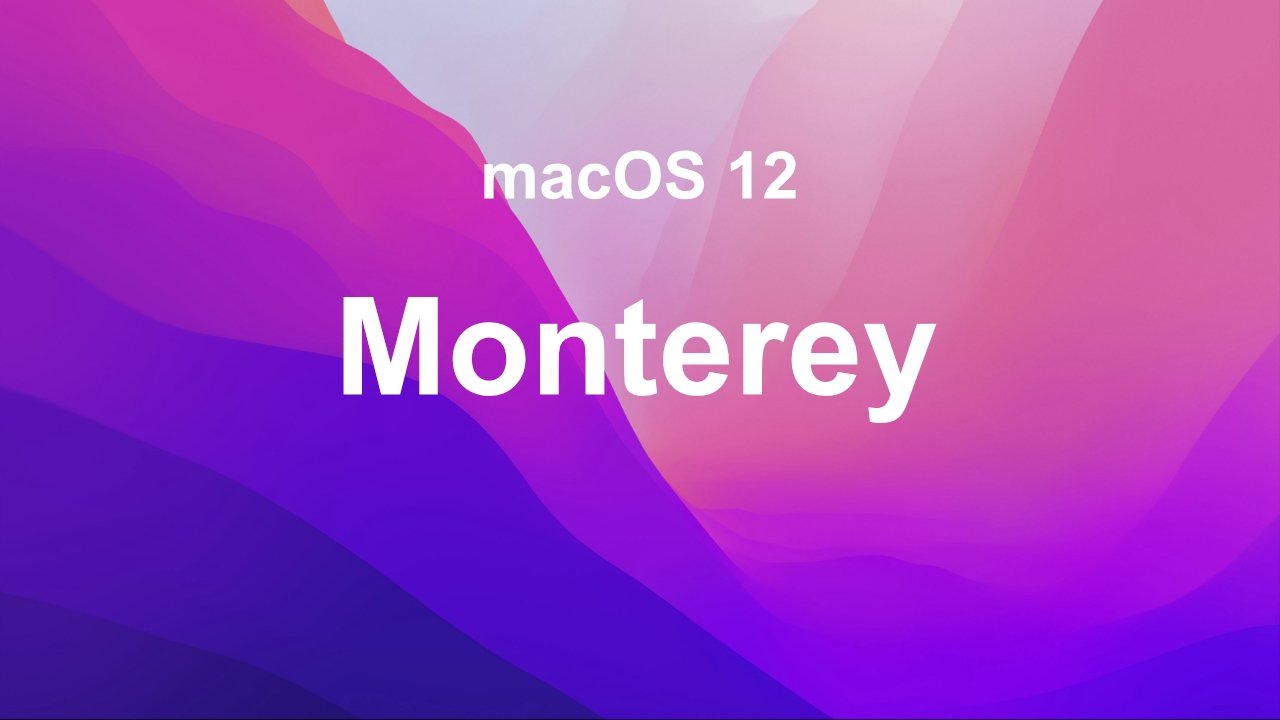 macOS Monterey is an update focused on making features work better together and streamlining workflows across the operating system. Social features in FaceTime and iMessage are improved with SharePlay and 'Shared With You' across apps. Continuity features have also been bolstered with Universal Control, a new way to move your mouse cursor across nearby devices with no setup.
● Universal Control
● Shortcuts
● Redesigned Safari
● FaceTime and iMessage updates
● SharePlay
● Focus
---
Apple introduced macOS Monterey at WWDC 2021 with several new features that bring further parity across iOS and macOS. In addition, as the Apple Silicon transition continues into its second year, macOS got a few updates to bring even more iOS favorites to the platform.
macOS Monterey Features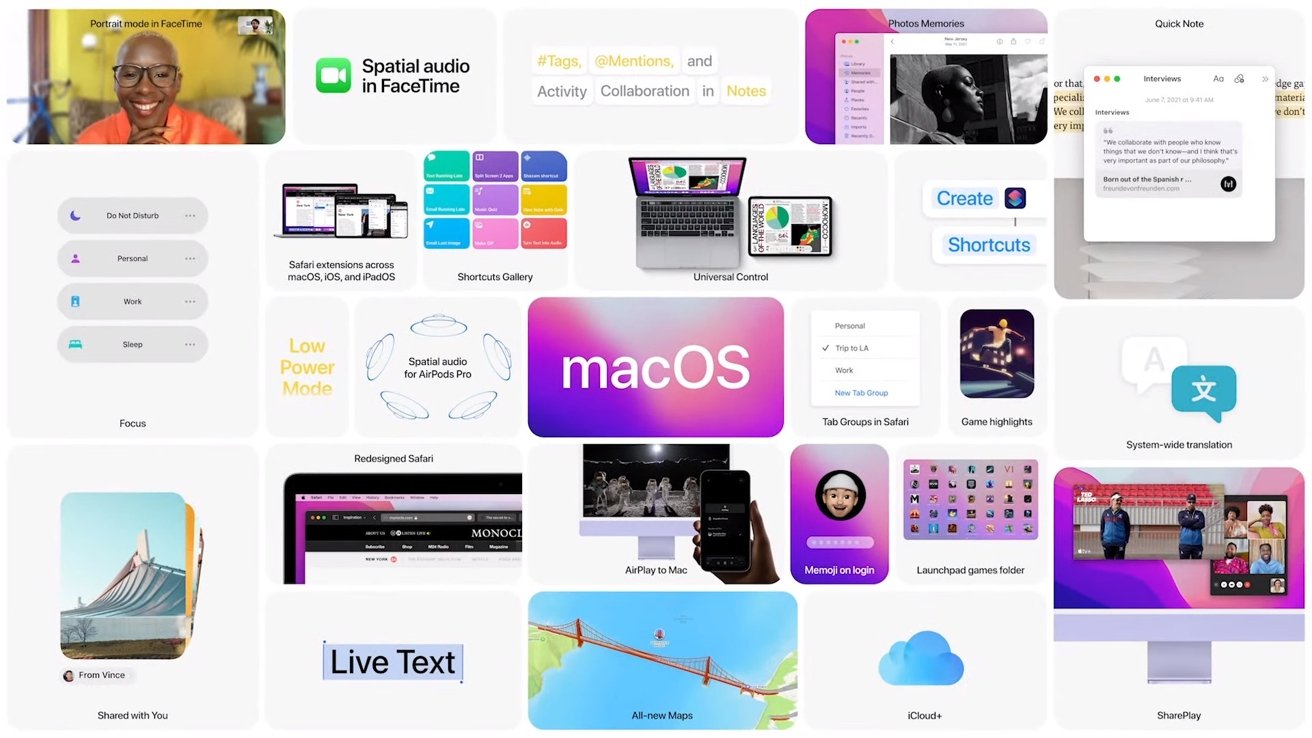 Many of the features announced for iOS 15 are present in macOS, thanks to Apple's commitment to keeping the ecosystem in sync. In addition to Focus, social updates, and an all-new Safari, there's Universal Control, Shortcuts, and AirPlay to Mac in this update.
Universal Control
One of the most noteworthy features unveiled at WWDC 2021 is Universal Control. It uses a combination of features to enable multiple devices to work in tandem automatically.
This is a macOS Monterey feature, so you need a Mac to initiate Universal Control. Place a second Mac or an iPad near the first Mac and move your mouse cursor to the edge of the display. The UI will appear as a small bar showing the cursor moving from one device to another.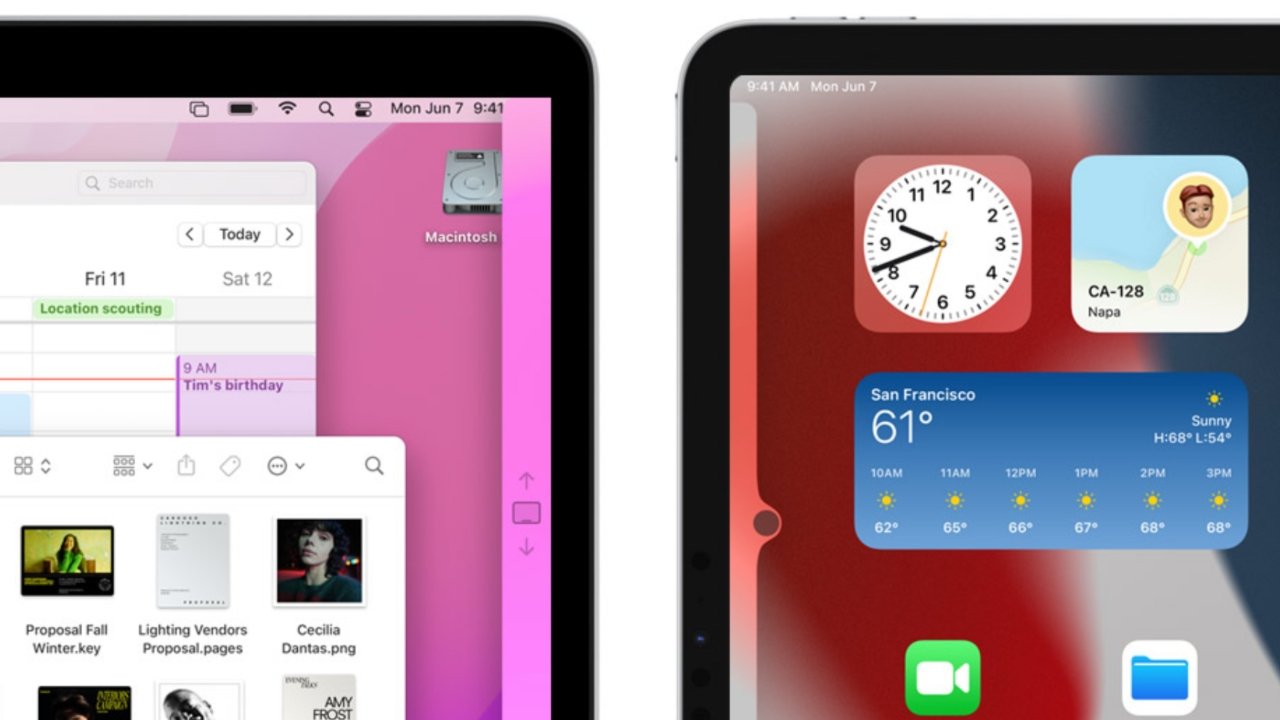 Once initial pairing is done, a user can move the cursor freely between the multiple devices as if they were the same machine — one mouse and keyboard can control them all.
Not only is the cursor moving between devices, but drag and drop works as well. Grab an image or a file on your iPad and drag it to the Mac without effort.
This feature is possible thanks to existing technologies and continuity features. That means any Mac running macOS Monterey and iPad running iPadOS 15 will be able to take advantage of Universal Control.
Apple says the devices are using proximity to determine which device a user wants to connect. The user's behavior will select on which side of the display the additional computer has been placed.
The devices connect via a direct Wi-Fi signal. The UI of dragging objects across devices disguises the fact you're performing a simple AirDrop, but the result is the same.
Shortcuts on Mac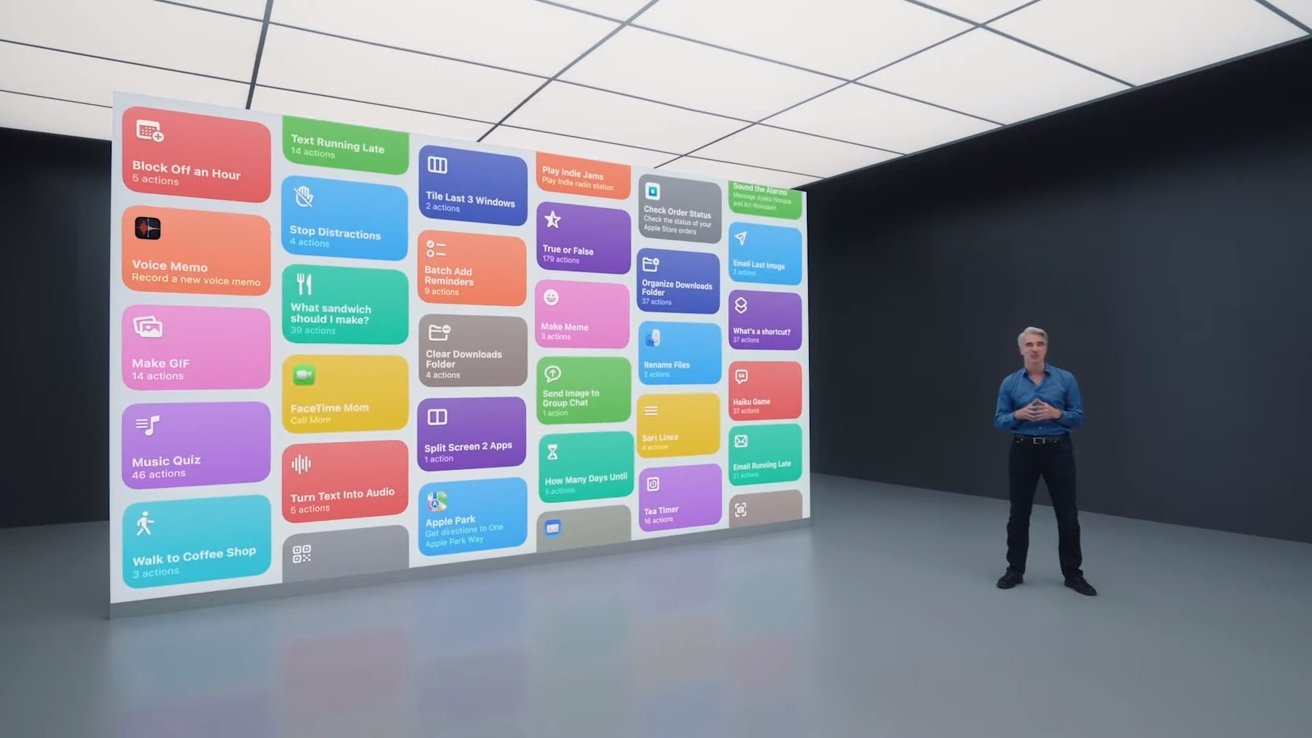 Automation has always been possible on the Mac, but it had a learning curve many wouldn't bother to overcome. With Shortcuts on Mac, users will be able to set up, share, and use automations easier than ever.
Apple's move to replace Automator with Shortcuts has been a long time coming. However, new Shortcut actions have been added to help with the transition, enabling Automator actions to be directly imported into Shortcuts.
For users just looking to get something done, there are several ways to get a shortcut without ever touching the editor. There is a Shortcuts gallery that Apple manages with many example Shortcuts inside. Users can also share Shortcuts via links, so if a savvy friend builds a tool you want, they can share it.
Shortcuts are simple to build, and Apple has added some algorithm magic to suggest what a next step might include to help you even further. Once a Shortcut is created, users can set them to the Menu Bar or automatically run one.
Quick Note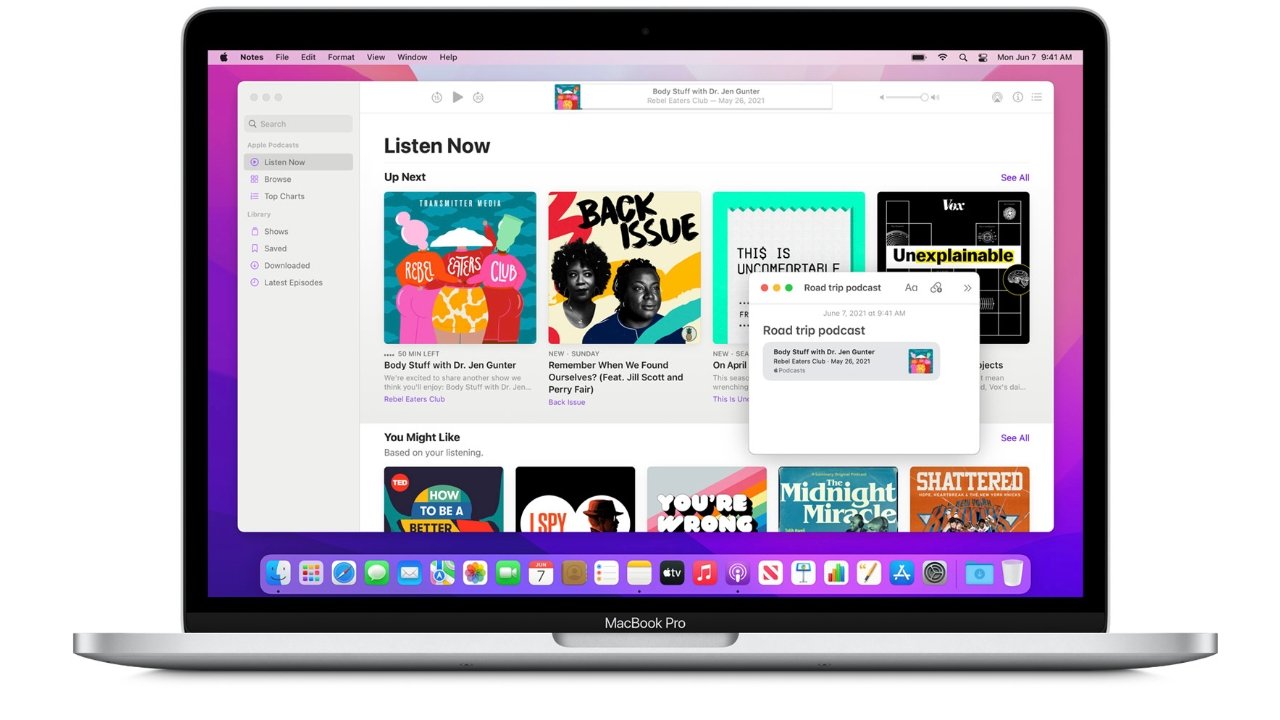 A new feature of macOS and iPadOS is Quick Note. Users can open a Notes app dialog anywhere in the operating system and annotate what they are viewing.
Developers will be able to implement Quick Note in their app so when one is opened, a link back to that area of the app can be generated. When a user navigates back to an app where a Quick Note was taken, a floating indicator will show up.
Quick Notes sync across iOS, macOS, and iPadOS within the Notes app. Like regular notes, users can add links, images, or text within the note body.
Other new Notes app features include tags and shared note activity views. See every change to a shared note in a timeline and tag other users within a note using an @ symbol.
AirPlay to Mac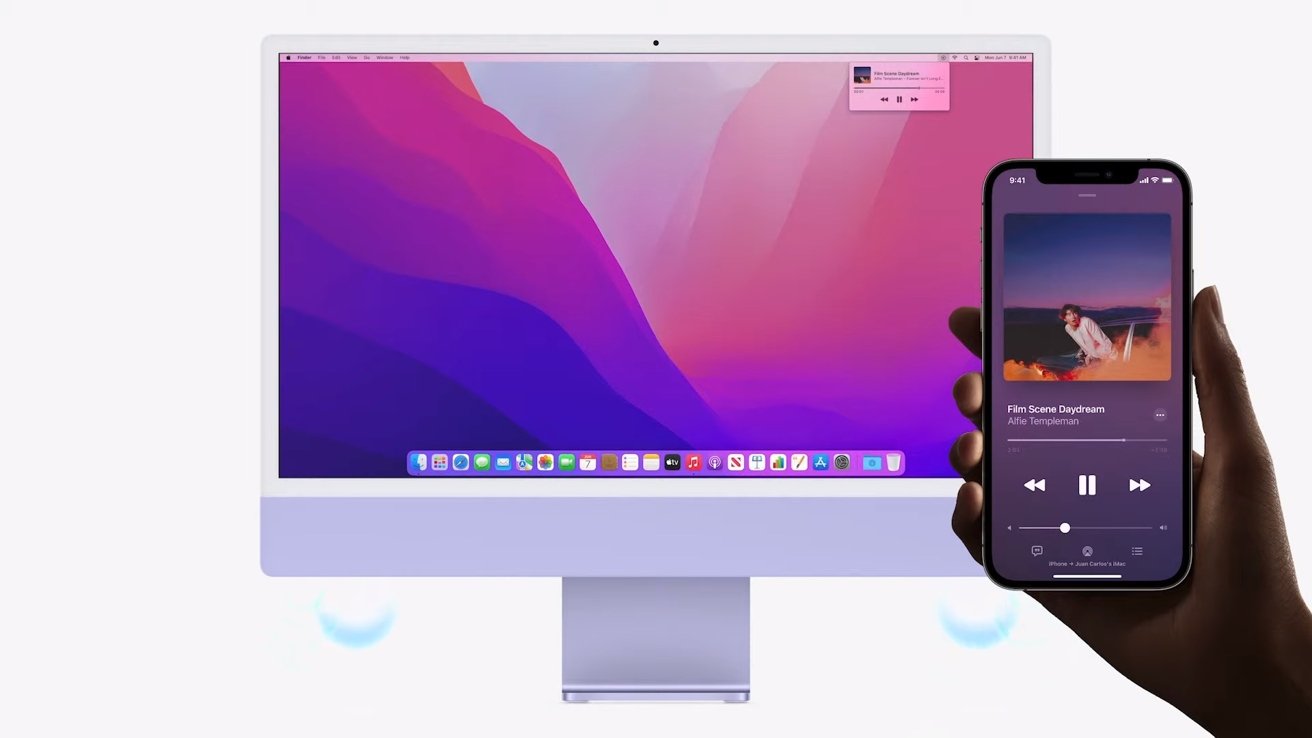 The ability to send media from a Mac to an AirPlay device has been around for a while, though Macs themselves couldn't be targeted as a receiver. With AirPlay to Mac, users will be able to play audio and video from their devices to a Mac and take advantage of the display or connected speakers.
Macs have great displays that can show content better than a tiny phone display, from Retina MacBooks to the lofty Pro Display XDR. Rather than navigating to a piece of content on the Mac itself, users can send the video or audio to the Mac directly via AirPlay.
This feature is an extension of Apple's push for more social interactions. As described below, SharePlay will let users view a video shared to their iMac display while on a FaceTime call with friends.
Focus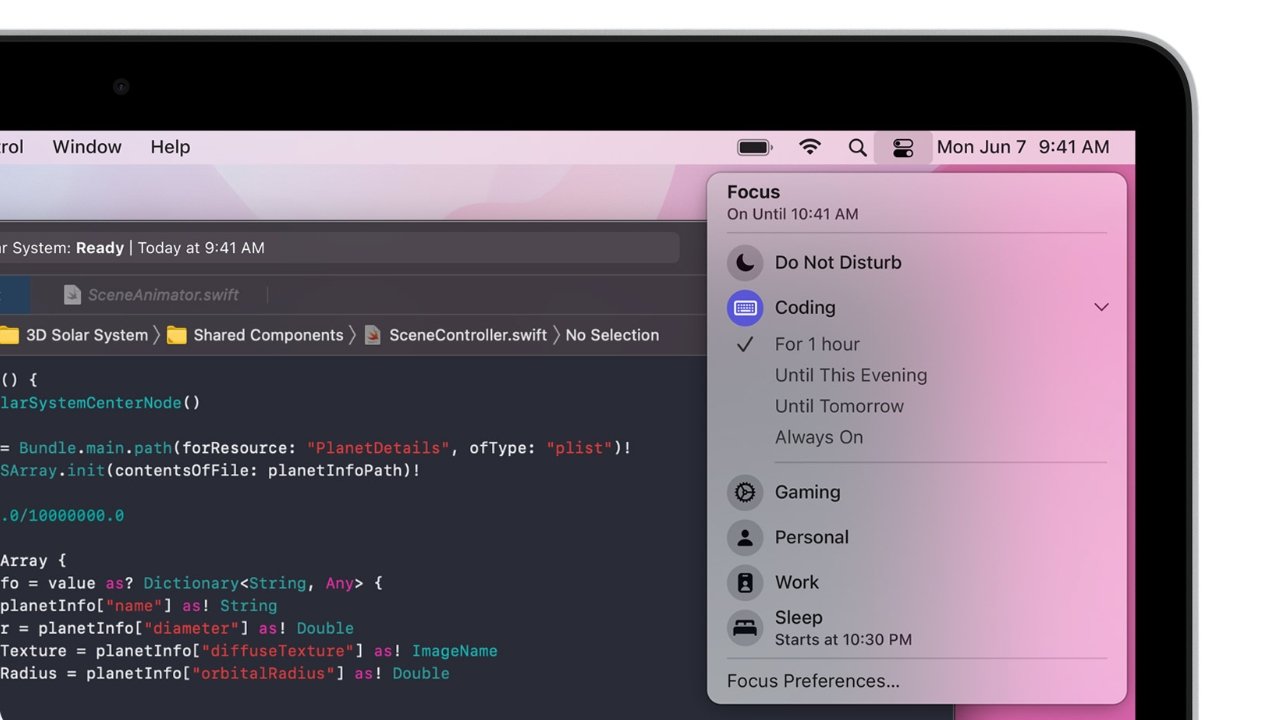 Rather than have a blanket Do Not Disturb command that shuts the world out, Focus offers users a granular control to let some apps or people in depending on the moment. Focus can be set up for work, personal, or driving, as an example.
Focus can be scheduled for a time of day or set manually via Control Center. Once a Focus is set on one device, the same Focus is enabled across all devices via iCloud sync.
When setting up a Focus, users can enable status notifications in iMessage for that Focus. When enabled, iMessage users will see a message saying notifications won't reach the recipient unless it is an emergency.
Users select which apps can send notifications during a Focus, like Slack on a work Focus. Other notifications are collected in a group for reviewing after a Focus ends.
App updates across macOS Monterey
Apple updated many of its core apps during WWDC 2021. These app updates affect the app on every platform with new features and designs.
FaceTime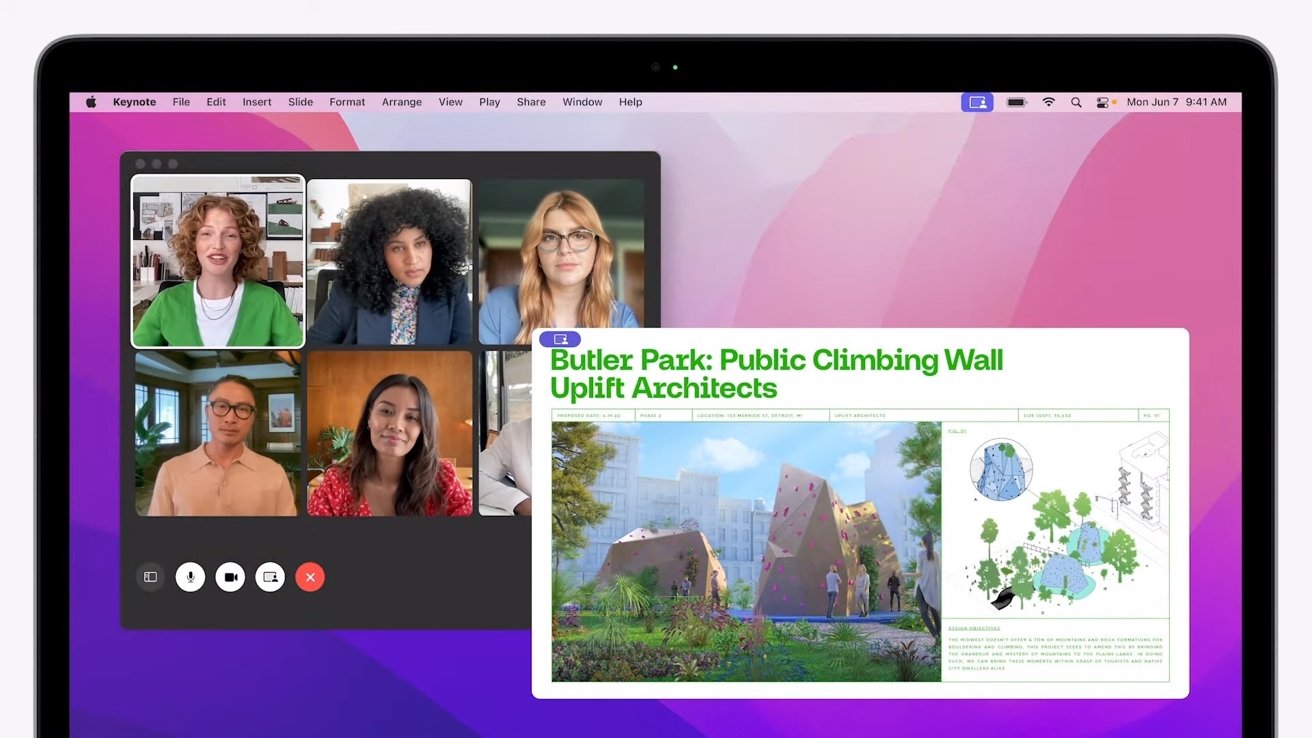 The pandemic spurred Apple's renewed focus on social features. FaceTime takes on new design language and features inherited from other popular video apps like Zoom.
Users can set a grid view rather than seeing Apple's floating square format. A white box will appear around the speaker's square to emphasize who is talking.
Audio can be filtered so the microphone only picks up the sound of the speaker, not whatever may be happening in the background, like fan noise or a vacuum. A wide-spectrum audio setting is also available for that moment when you're trying to show off how a keyboard sounds on a call.
Portrait mode from photos has been enhanced for calls. Now you'll be able to blur the background and increase the focus on your face. The M1 processor can quickly keep track of your outline and reduce errors in the algorithm for blurring.
Apple has also opened FaceTime up to users outside of the Apple ecosystem. Apple users can generate links to a FaceTime call and share it with Android or Windows users. Calls on other platforms will take place via the web, similar to Zoom.
iMessage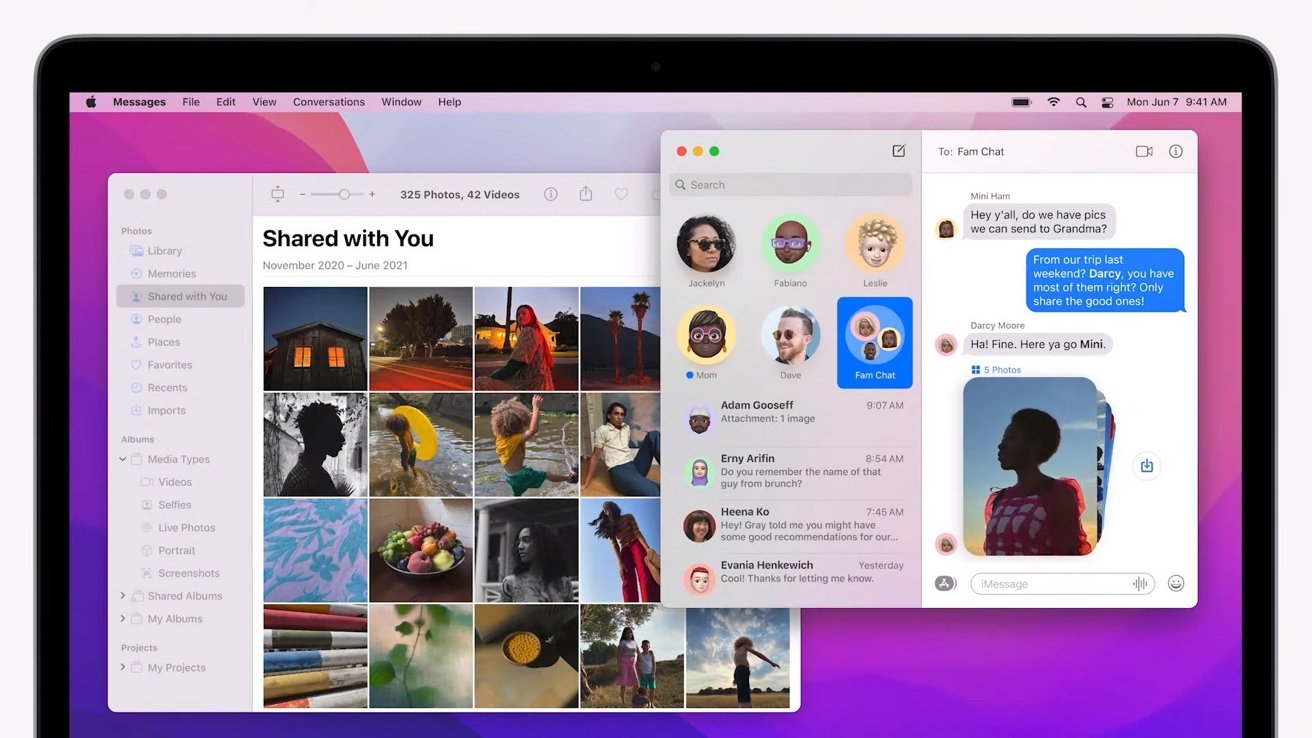 Apple's most significant change to the Messages app is under the surface — new intelligence for sharing items. When links, images, or other media are shared with you via iMessage, the system displays it in other locations.
For example, a friend can share a song via iMessage, then in Apple Music, a "Shared With You" section will show the song. You'll no longer need to manage the media yourself or dive through message history to find the media.
Other apps taking advantage of this feature include Safari, Apple News, Apple TV, and Photos.
Apple also improved the photo-sharing experience in iMessage with photo stacks. A group of photos sent at once is shown in an interactive stack that can be swiped through or opened.
SharePlay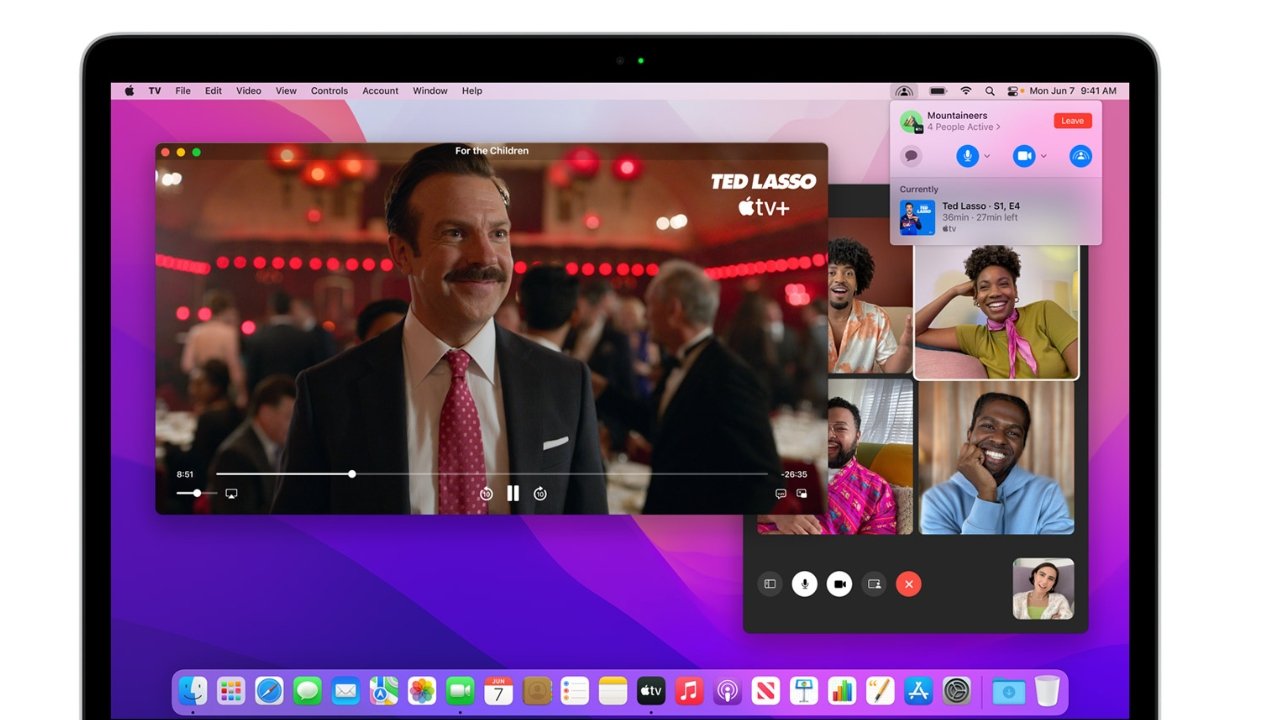 SharePlay is a social experience baked into FaceTime. Now users can watch movies or listen to music during a call.
See your friends on screen as you watch a video, or AirPlay the video to an Apple TV while keeping the FaceTime call active on the Mac. The video or audio will sync across all participants so everyone can react at the same time.
Third-party apps can tap into the SharePlay API, so soon, FaceTime participants will be able to view TikTok or YouTube during the call.
Safari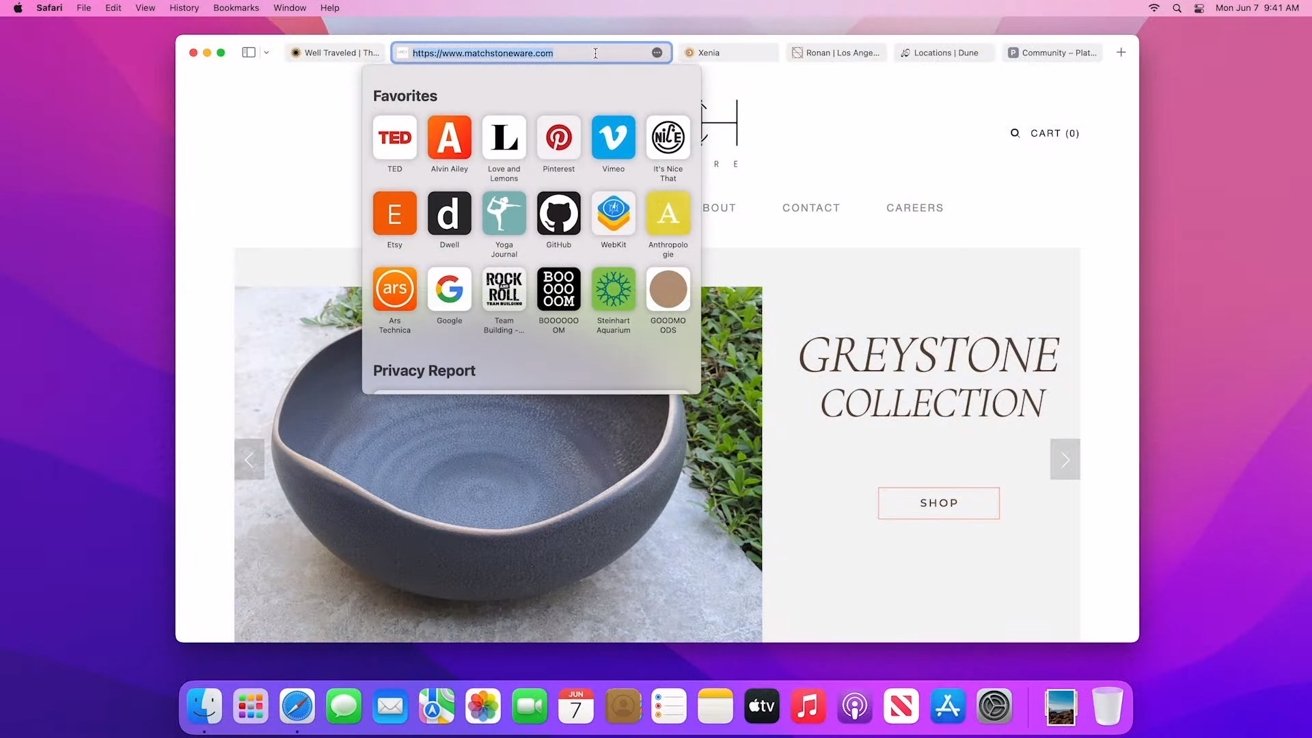 Safari has an all-new look with tabs occupying the same space as the address bar. The page's content can influence the background color of the entire UI to make the tab bar blend in with the webpage.
Users can open multiple tabs in a group then save that group in a new organization system. Rather than have hundreds of open tabs occupying a window, save sets of tabs as groups to open them later.
Tab Groups sync across devices, so they are easily accessed wherever you are. This new tool lives in the sidebar, along with bookmarks and the reading list.
Live Text and Photos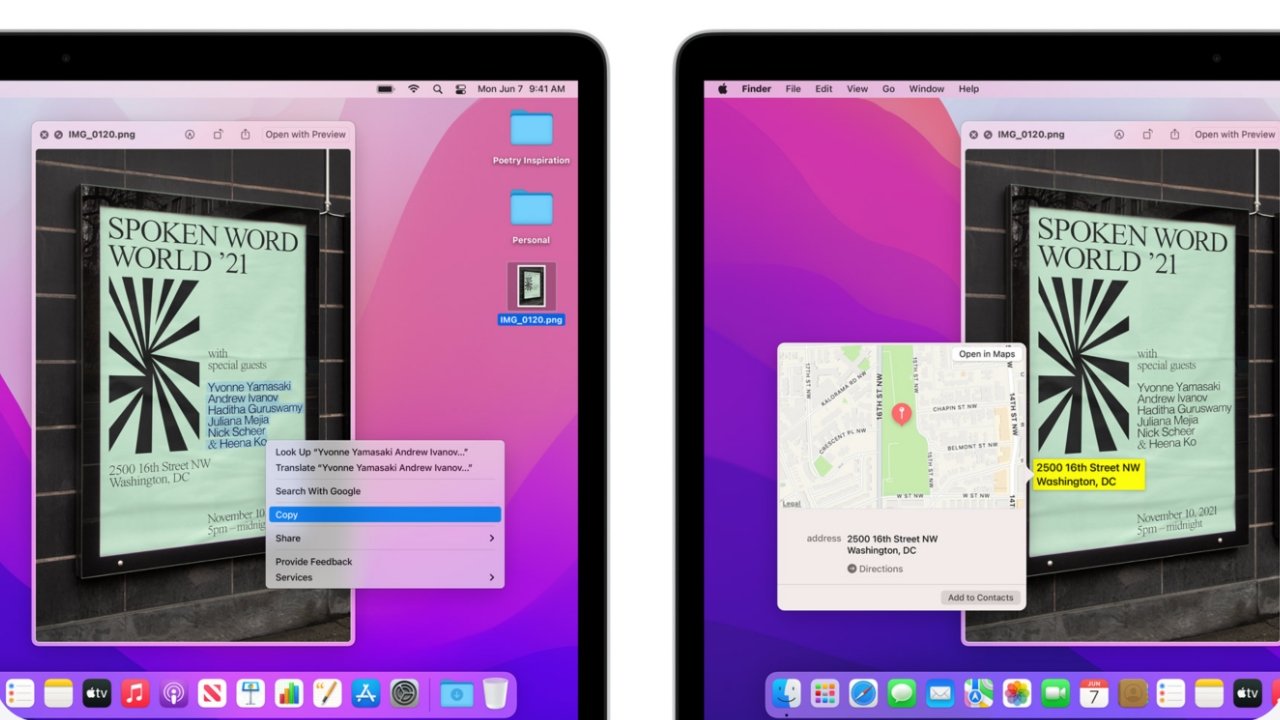 Images across macOS Monterey will now display a new tool when text is found in the picture. Users will be able to select text and interact with it directly within a photo using content recognition algorithms.
Spotlight will also surface text found in images throughout the user's photo library. Addresses and phone numbers are also presented as rich links within images when found.
macOS Monterey Compatibility
iMac Pro (2017)
M1 iMac (Retina 4.5K, 24-inch, 2021)
iMac (Retina 5K, 27-inch, 2020)
iMac (Retina 5K, 27-inch, 2019)
iMac (Retina 4K, 21.5-inch, 2019)
iMac (Retina 5K, 27-inch, 2017)
iMac (Retina 4K, 21.5-inch, 2017)
iMac (21.5-inch, 2017)
iMac (Retina 5K, 27-inch, Late 2015)
iMac (Retina 4K, 21.5-inch, Late 2015)
iMac (21.5-inch, Late 2015)
Mac mini (M1, 2020)
Mac mini (2018)
Mac mini (Late 2014)
Mac Pro (2019)
Mac Pro (Late 2013)
MacBook Pro (13-inch, M1, 2020)
MacBook Pro (13-inch, 2020, Two Thunderbolt 3 ports)
MacBook Pro (13-inch, 2020, Four Thunderbolt 3 ports)
MacBook Pro (16-inch, 2019)
MacBook Pro (13-inch, 2019, Two Thunderbolt 3 ports)
MacBook Pro (15-inch, 2019)
MacBook Pro (13-inch, 2019, Four Thunderbolt 3 ports)
MacBook Pro (15-inch, 2018)
MacBook Pro (13-inch, 2018, Four Thunderbolt 3 ports)
MacBook Pro (15-inch, 2017)
MacBook Pro (13-inch, 2017, Four Thunderbolt 3 ports)
MacBook Pro (13-inch, 2017, Two Thunderbolt 3 ports)
MacBook Pro (15-inch, 2016)
MacBook Pro (13-inch, 2016, Four Thunderbolt 3 ports)
MacBook Pro (13-inch, 2016, Two Thunderbolt 3 ports)
MacBook Pro (Retina, 15-inch, Mid 2015)
MacBook Pro (Retina, 13-inch, Early 2015)
MacBook Air (M1, 2020)
MacBook Air (Retina, 13-inch, 2020)
MacBook Air (Retina, 13-inch, 2019)
MacBook Air (Retina, 13-inch, 2018)
MacBook Air (13-inch, 2017)
MacBook Air (13-inch, Early 2015)
MacBook Air (11-inch, Early 2015)
MacBook (Retina, 12-inch, 2017)
MacBook (Retina, 12-inch, Early 2016)