Apple News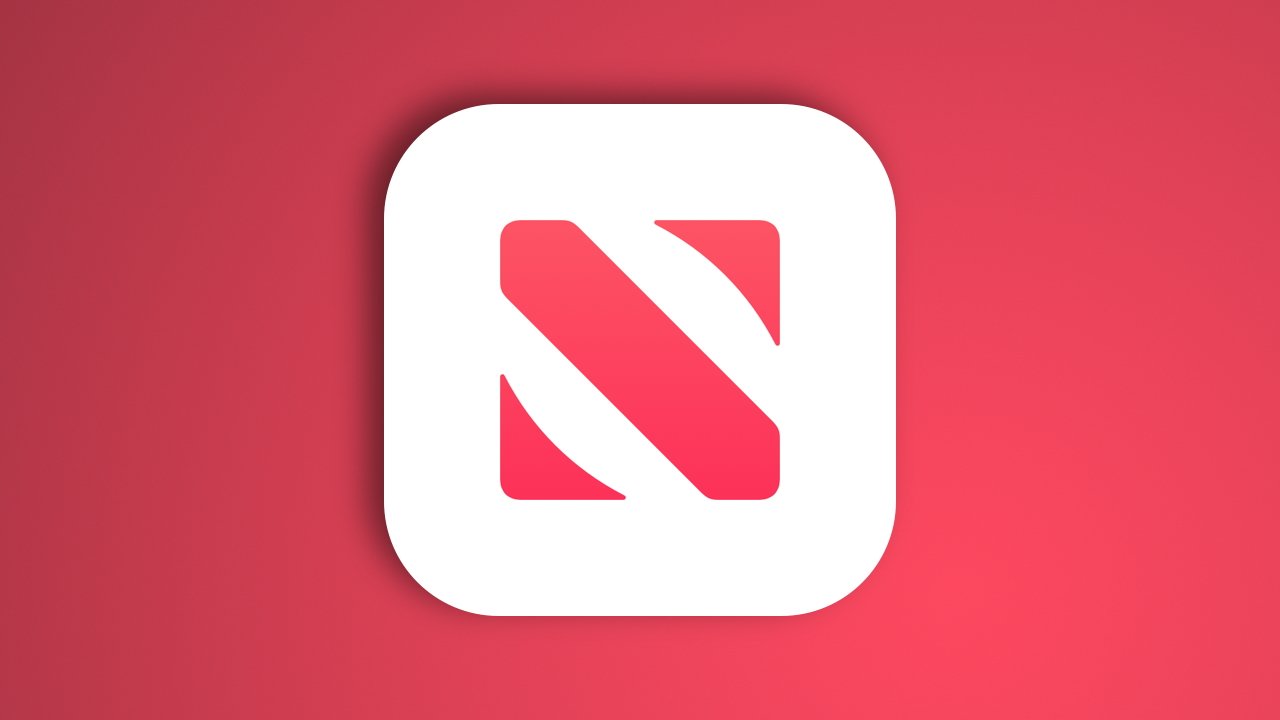 Apple News is an app that aggregates multiple news sources, blogs, breaking stories, video publications, magazines, and newspapers into one feed. Users can follow different outlets and have them appear in the news feed, which is sorted by topic and publisher. The app is also home to News+, Apple's subscription service for premium news content.
● Human-curated news
● Personalized news feed
● Unique and exclusive format
● Audio version of articles
● Zero data sharing with third parties
● News+ Subscription for premium content
● Available across all Apple devices

---
Get Apple News Directly in Your Inbox
---
Apple News debuted with iOS 9 as a replacement for Newsstand. Using RSS and publication feeds, the app gathers articles from across the web and sorts them into a news feed.
Users can subscribe to their preferred publications, like or dislike articles, and save stories for offline reading. Apple prides itself on offering a private and human-curated news resource for its users.
What is Apple News?
Where RSS ruled the early days of the web, news aggregators stepped up to take over by offering users algorithmic news feeds. This approach requires the user to invest less time finding what they want to read.
Apple took a specific approach to this and created a new format, Apple News Format, to specifically cater to iPhone readers. Device-optimized articles, rich media, and uncluttered reading were all key components of the new platform.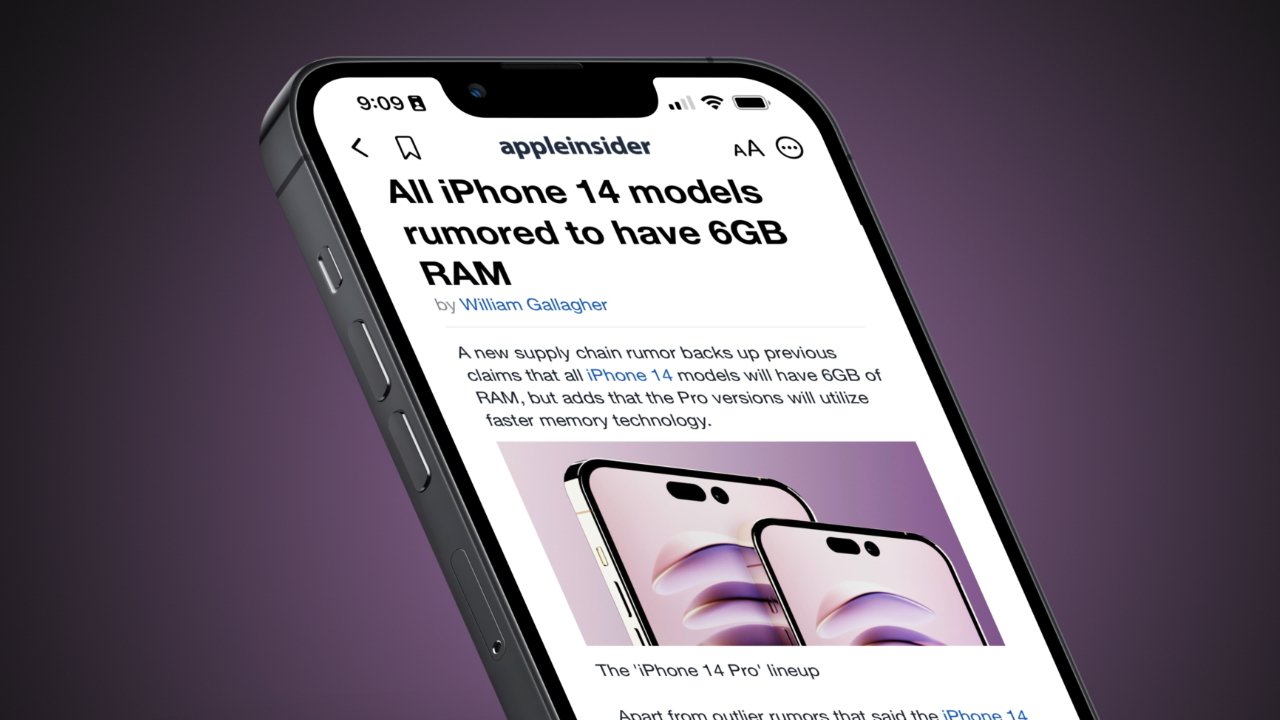 Apple offers some advertising in the app, but it's otherwise a clean feed of articles sorted by topics. Apple's human editors select Top News sections, and relevant topics will surface based on the reader's history of reading, liking, and saving.
The app gathers the data with a random identifier that can be reset at any time, so users don't need to feel like they are being tracked.
The app has several sections, which are presented differently depending on which device you are using. On iPad and Mac, all the different areas are in the sidebar, and on iPhone, there is a small navigation bar at the bottom of the screen.
The Today tab shows your personalized news feed. From here, you can see all of the articles sorted based on your interests.
Sections like For You offer specifically curated information based on what you like. Editors curate Top Stories to offer an overview of what's happening right now. Channels and topics show up as individual sections, containing all the relevant articles to that topic, even if they oppose each other.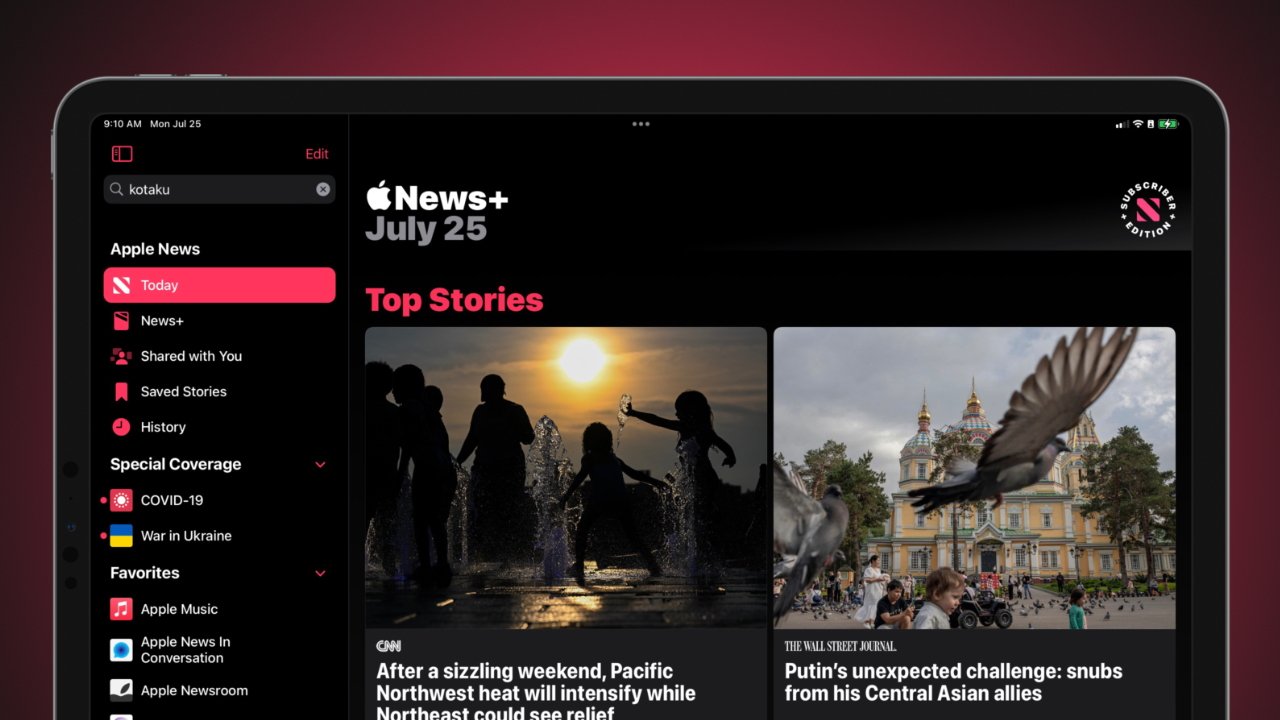 News+ is its own tab, containing all the subscription services content. From here, you can choose to follow certain magazines or newspapers and browse their content.
Premium articles and magazines display in an optimized format with rich media throughout. Other publications that do not follow the news app format will show up as full-page scans of the magazines. Apple News+ is a premium service and costs $9.99 per month for a family subscription.
The Following tab shows you which channels and topics you follow, and what your saved stories and history are. From here you can manage what shows up on your Today view or see a specific channel's page with only its articles showing. Saved Stories act as a repository for your favorite articles. However, it does not save them for offline reading.
How to personalize Apple News
When you first start out using Apple's news app, it displays content based on popular news and publications. To start seeing curation, you will need to follow several of your favorite publishers and topics. When reading an article, you can like it to show that you find it relevant, or dislike it to see fewer articles from that topic or channel.
From the Today view, press and hold an article to access the share sheet. From there, you can perform further tasks like blocking channels or reporting spam or broken stories. The share sheet from within articles works the same way.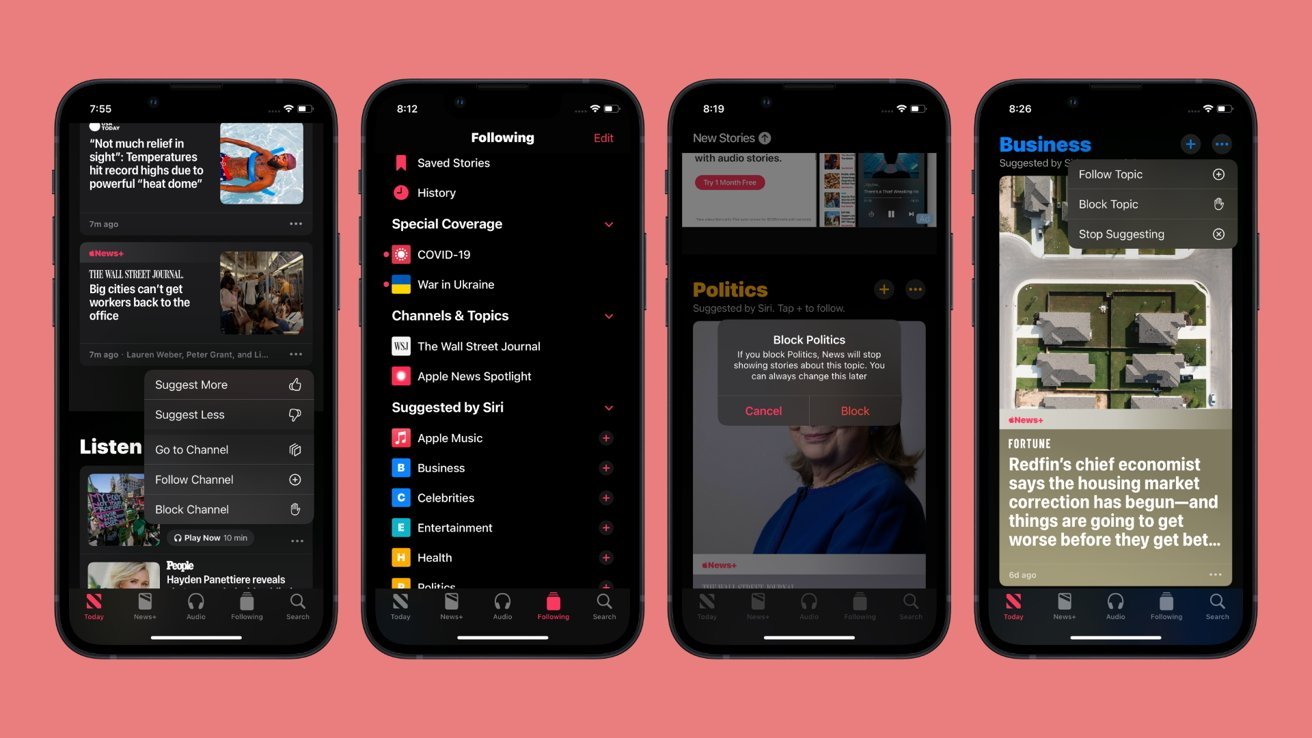 Apple wants its news service to avoid fake news and information bubbles, so don't expect to see the same views represented throughout.
By default, the app shows you all the content it can in an abbreviated format to get pages loaded quicker. These can be changed in settings to gain more control over the feed. De-select "show story previews" to always launch directly into the story and avoid the reduced preview screen.
If you only want to see the news publications you follow and avoid any world stories or politics, for example, toggle on "restrict stories in today." This will make the Apple News app function a little more like a personal RSS reader, rather than a full news app.
Apple News in the news
Apple has slowly shown more and more interest in not only curating news but participating in it. Its editorial staff now writes articles in the Newsroom quite frequently, and Apple has a dedicated team writing stories in the App Store.
Apple has tried its hand at hosting large political events like the 2018 midterms. During the midterms, Apple News had a prominently featured section dedicated to midterm election updates. During the 2020 election and its aftermath, the Today feed permanently displayed Electoral College tallies and links to collated election coverage.
Apple News has also been somewhat controversial. Apple wants publishers to be on the platform but offers little incentive. The app offers curation via human editors, but this means a story can live or die based on what they choose to feature.
Major publishers see decent reader numbers, but because of the lack of heavy advertising, revenue isn't especially high. Smaller publications don't find a lot of traction on the platform, and revenue is sparse.
Despite all of this, Apple continues to boast that its news service is growing.
Timeline
In 2011, Apple launched Newsstand, an app that presented magazine and newspaper subscriptions in a skeuomorphic bookshelf. This replaced the many individual apps that publishers had been designing for iPad. Apple's goal was to help users manage all of their subscriptions in one place.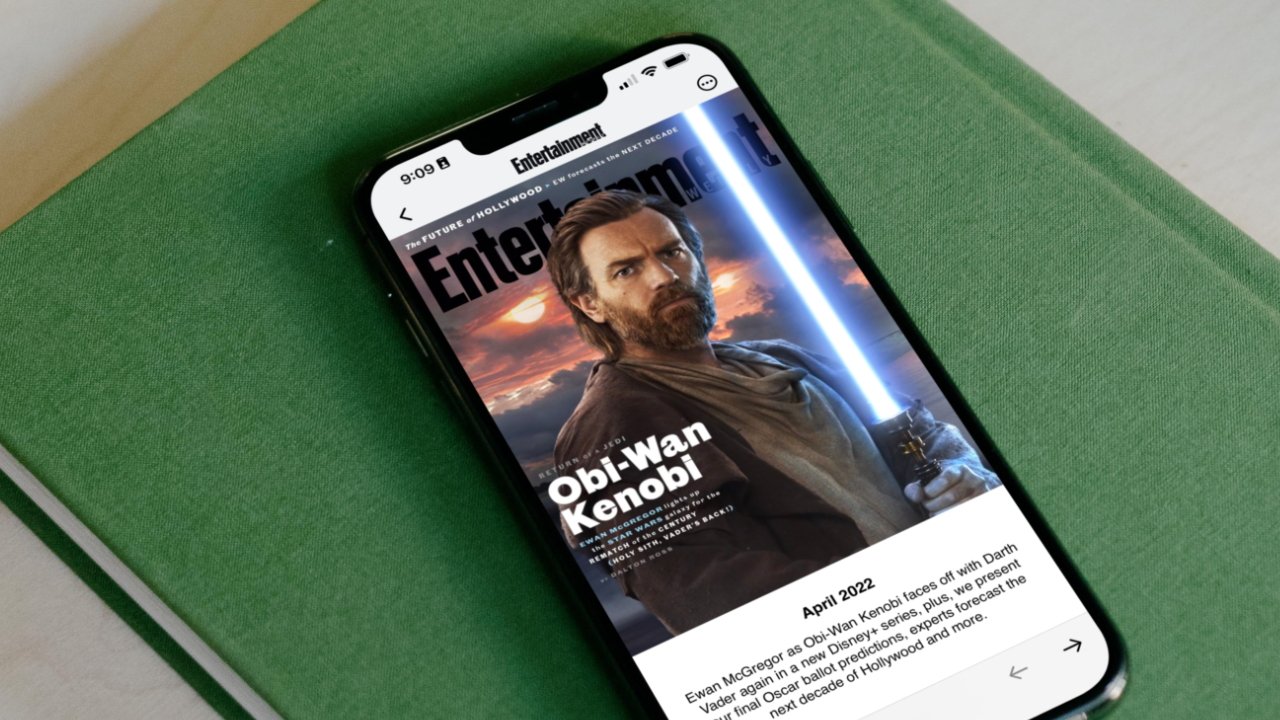 One problem was that these publications still needed to develop and support apps, which they would have to pay developers to make.
In 2014, Apple acquired Prss, a company that created a web app for creating digital magazines. It also allowed the digital issues to download in much smaller sizes. This acquisition led directly to the creation of Apple News format and the app. The News app launched with iOS 9 in 2015. In 2018, Apple acquired Texture, a digital magazine service that the company appeared to use as a foundation for Apple News+.
The Apple News service saw fast adoption, which was unsurprising given its status as a built in-app. Just one month after its release, Apple claimed 40 million active users. This number continues to climb each year.
Apple News and its design haven't significantly changed since the 2015 release. Apple added the app to macOS in 2018 as one of the first Mac Catalyst apps, and since the update included a system-wide dark mode, the News app got it too. iOS and iPadOS released with system-wide dark mode in 2019 as well, adding it to the Apple News app, and making the design uniform across the ecosystem.
In July 2020, Apple added an audio component to its news platform in several areas. A new daily news brief called "Apple News Today" hosted by Shumita Basu is available from the app in a new audio tab and on Apple Podcasts.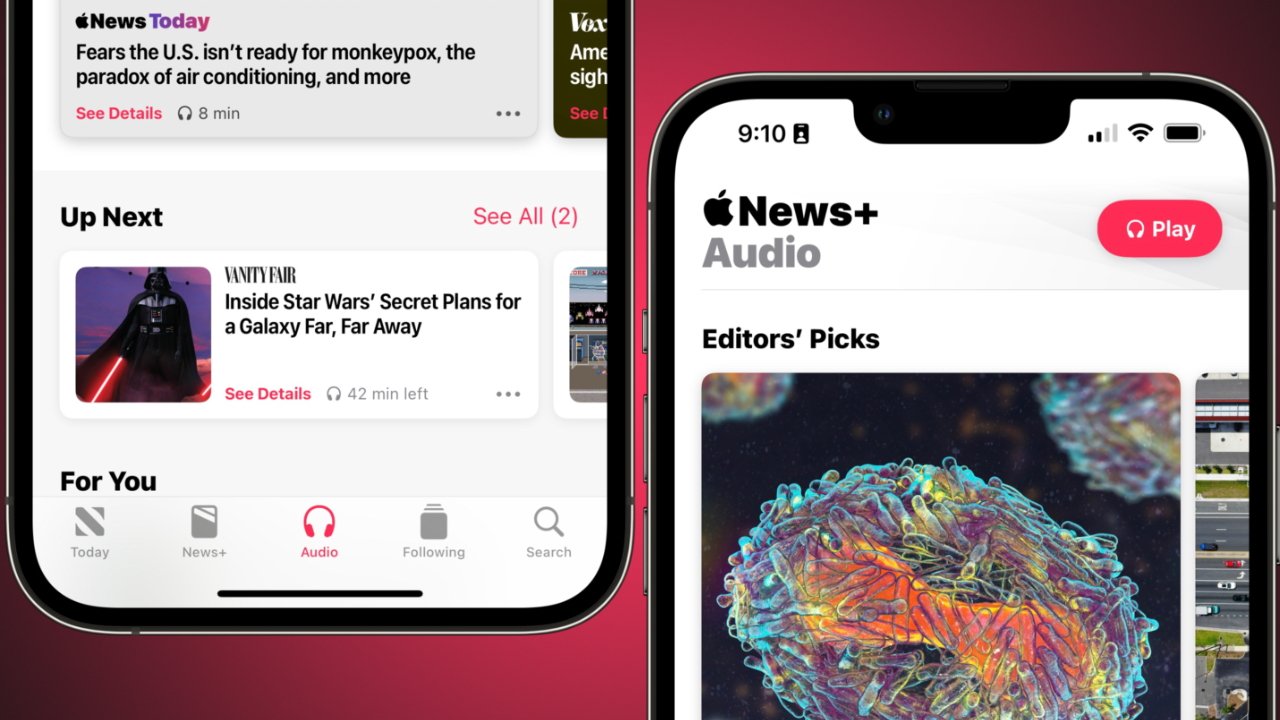 Along with the daily briefing, professional voice actors read premium articles from several News+ publications. Apple's editor-in-chief of Apple News, Lauren Kern, is excited about the work her team has done for the audio feature.
"Apple News showcases so much great journalism, and we're excited to help bring it to life in new ways with Apple News+ audio stories and a new daily news show, Apple News Today. We also greatly value our many local news partners — our new local news feature highlights their work for readers who live, and are interested, in those communities."
A curated selection of local news will begin being served as well. It is unclear how far the local news segments will spread, but the initiative will start in larger cities like Houston, Los Angeles, New York, and San Francisco.
Apple has also added the News app to CarPlay. The audio segments will be available from the app while driving.
It is yet to be seen if Apple News+ will be a success, given its struggle to retain users and its relatively high price. Despite low subscription retention rates, publications on News+ still saw more traffic to their content. This increased traffic did not increase revenue, however, due to how Apple pays participating publishers.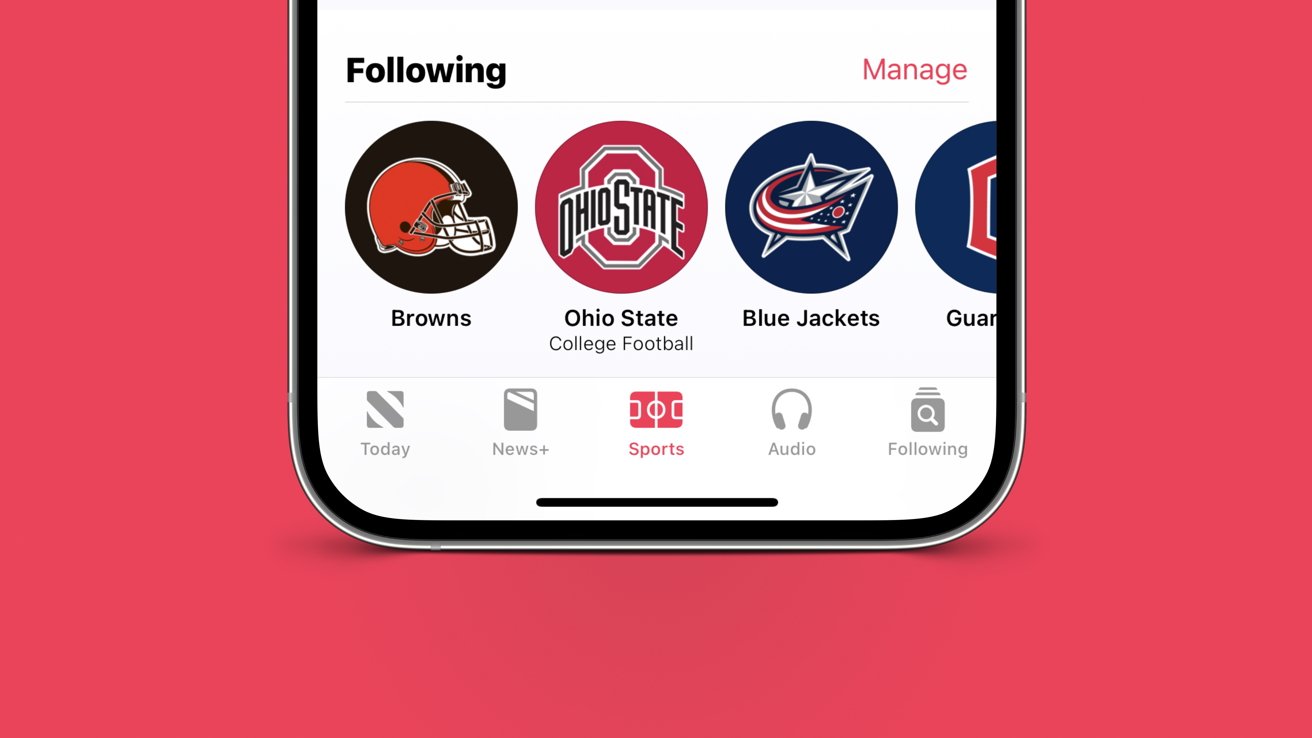 The app hasn't changed in recent years except to reflect Apple's push into sports programming. A dedicated sports feature was added in iOS 16, then a new tab was introduced to bring the feature front-and-center in iOS 16.4.
Users can follow their favorite sports teams across nearly every professional sporting league. News about the teams, scores from recent games, and more are shown in the specialized Apple News sports tab.