iPad Pro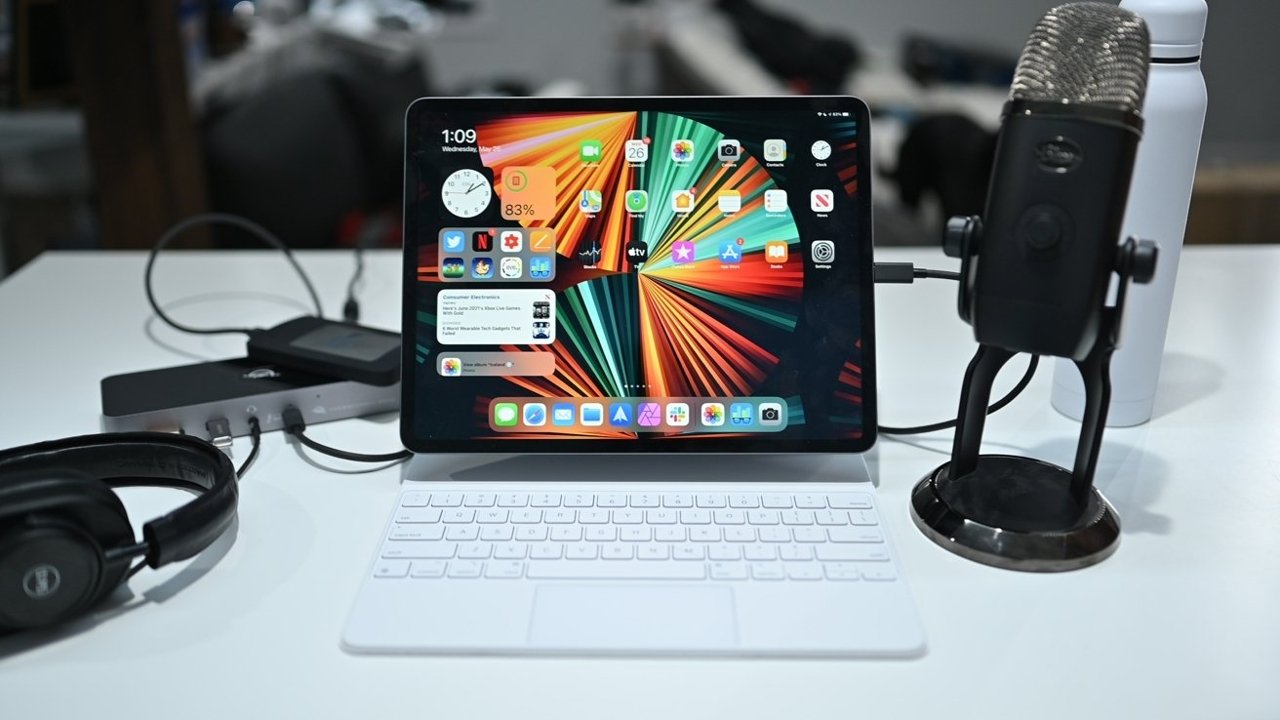 Launched in 2015, the iPad Pro packed more features, more storage, and a brand new accessory -- the Apple Pencil -- into Apple's beloved tablet line. It is designed to help users do more with features like an edge-to-edge display, Face ID, USB-C, and support for external storage thanks to iPadOS.
● Slim design
● Available in Silver or Space Gray
● 12.9-inch or 11-inch edge-to-edge display
● A12Z processor
● Face ID and TrueDepth Camera
● Dual lens rear camera system with LiDAR
● Up to 1TB of storage
● Compatible with Apple Pencil 2
● Liquid Retina with ProMotion Display

---
Initially announced at Apple's September event in 2015, the iPad Pro is the premium model in Apple's iPad lineup. The larger screen, greater storage capacities, and better hardware target higher-end tablet shoppers.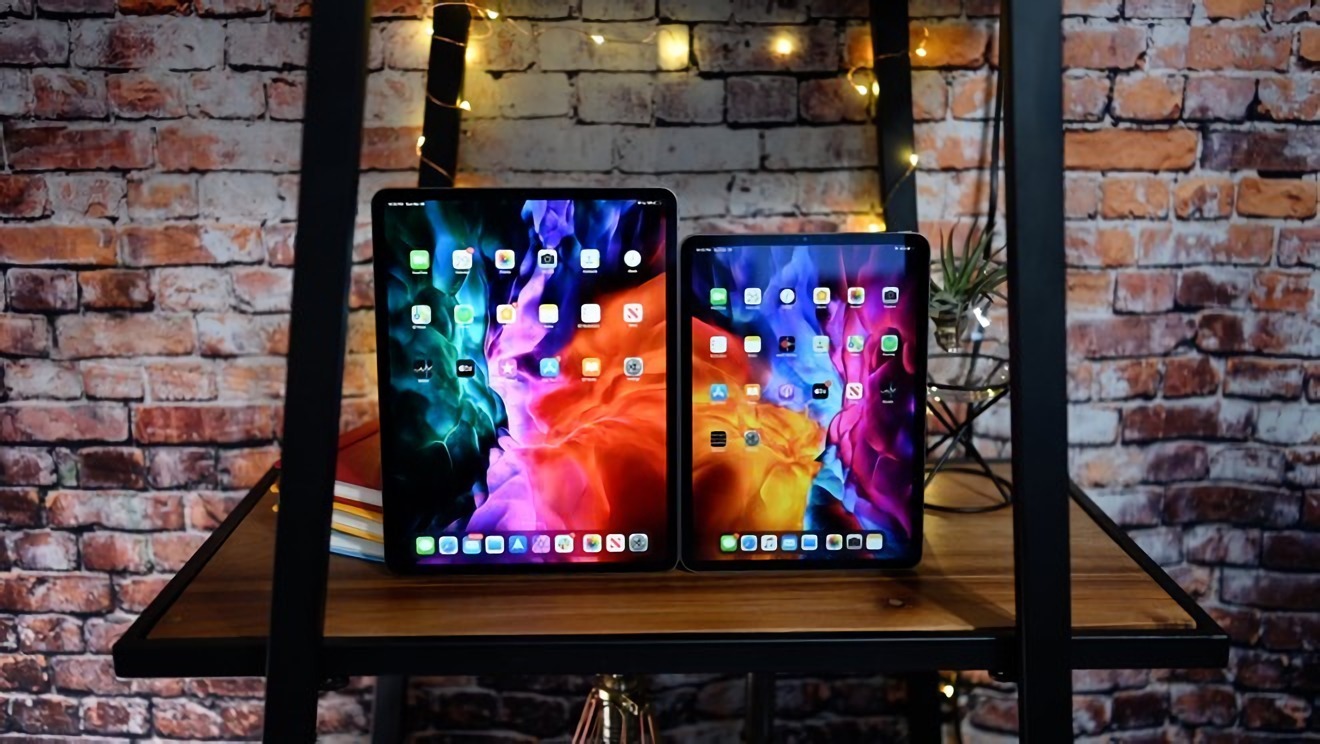 The iPad Pro can function as a tablet, laptop, or even a desktop with a dedicated monitor depending on your personal use case. A feature in macOS Catalina called Sidecar introduced the ability to use your iPad as a second screen for the Mac. Apple has positioned the tablet as "the future of computing" and a direct competitor to its own MacBook lineup.
Common uses for Apple's tablets include watching video, reading books and magazines, taking notes, and general web browsing. Its portability and power have made it popular with college students and those who frequently travel. Thanks to the Apple Pencil, many digital artists have begun using it as their primary tool for digital drawing and painting.
As its name suggests, the iPad Pro is capable of professional work. However, its mobile operating system still falls short for some customers. This applies especially to those who need to perform complex tasks, require specific apps that arne't on iPadOS, or want to create apps in Xcode.
All generations of the pro tablet have been praised by reviewers and the general public widely. The most common criticism is their premium cost. By the time you've added accessories, its price can be greater than or equal to a base MacBook Air or even MacBook Pro.
Apple threw a curveball into the iPad lineup with the iPad Air 4. While those who already own an iPad Pro will not move to the iPad Air, it rivals the pro-level tablet in several key ways. These include a similar full-screen design and support for the Magic Keyboard and second-generation Apple Pencil. Compared to the iPad Air, the 2020 pro-level iPads boast better graphics capabilities, ProMotion, and Face ID, but not much else to differentiate.
Models and Features
Future iPad Pro Rumors
According to well-connected analyst Ming-Chi Kuo, Apple is bringing mini LED to its products starting in 2021. The iPad Pro is expected to receive the new screen technology first, with industry analysts pointing to a March release window. Other sources have also pointed to an early 2021 launch of the 12.9-inch iPad Pro with mini LED and an improved processor. Apple could update the more popular 11-inch iPad Pro at a later date to reduce initial demand of the new display technology.
The intelligence firm Trendforce also weighed in, suggesting the Mini LED displays would be used in multiple products in 2021. These include the iPad, 16-inch MacBook Pro and 14-inch MacBook Pro.
Thunderbolt may be coming to the next iPad Pro according to multiple reports. Mass production of the updated devices is expected to start in mid-April with no indication of a launch window. Apple could announce the products at WWDC or a fall event.
Fourth-generation iPad Pro
Apple announced the fourth-generation iPad Pro in mid-March with new updates to its cameras and processors. The two sizes come with up to 1TB of internal storage and a cellular option.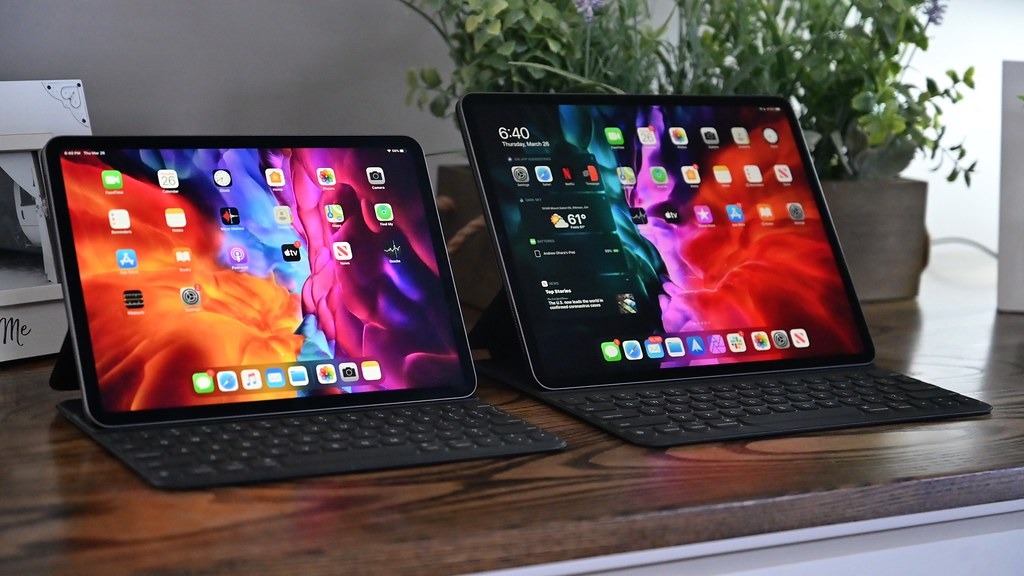 The latest A12Z Bionic processor is optimized for more powerful graphical applications and better AI for camera operations. The eight-core GPU and eight-core CPU with improved thermals mean more performance than ever, and all models have 6GB of RAM. Apple says the processor is faster and more powerful than most Windows laptops.
Benchmarks showed little improvement in processing and graphical power compared to the A12X. The A12Z is a rebinned version of the A12X, meaning an inactive GPU core is in use now that was not before.
The fourth-generation iPad Pro has a new dual-camera system with a built-in LiDAR scanner. A 12MP wide-angle and 10MP ultra wide-angle camera will allow for improved photography and depth capture. The camera system uses a similar sensor to those found in the iPhone XR series of phones, so don't expect iPhone 11 levels of quality, and no night mode.
LiDAR can be used for 3D environment mapping that will allow for AR to be massively improved. The scanner works from up to five meters away and gets results instantly, making AR apps easier to use and more accurate.
There are now five independent studio-quality microphones on the device for capturing the best audio possible without the need for extra equipment. While this might be useful for better call quality or recording a quick tune on your guitar, don't expect to launch a Podcast using just the built-in mics.
The wireless capabilities have also improved, with WiFi 6 and improved LTE coverage with 30 bands vs 29 in previous generations. The U1 chip was notably absent from this updated model.
Alongside the new iPad comes a new Magic Keyboard designed to transform the tablet into a laptop. It has a glass trackpad, working with the cursor support Apple added to iPadOS in 2020. It uses a hinge mount to make the tablet appear to float above the keys. It also has a scissor-switch keyboard that's nearly identical to those on the latest Macbooks. The Magic Keyboard with trackpad works with the third and fourth-generation iPad Pro and the iPad Air 4.
Third-generation iPad Pro
Apple announced its third-generation pro tablet announced during a 2018 Special Event. It included the classic 12.9-inch size and an 11-inch model that would replace the second generation's 10.5-inch model.
Both devices received a new edge-to-edge Liquid Retina display, ProMotion with 120Hz screen refresh rate, improved front and rear cameras, and the Apple A12X Bionic chip.
The third generation was the first to use Face ID and remove Touch ID, like on modern iPhones. Face ID on the third-generation iPad Pro is capable of working in any orientation. The tablets also boast tap-to-wake, allowing a user to wake an iPad via touching the screen rather than pressing a physical button.
The third-generation models were also the first iPads to use USB-C ports instead of Apple's proprietary Lightning port.
The maximum storage capacity of the third generation doubled that of the second generation, with a maximum of 1TB of storage possible on both models. Interestingly, installing 1TB of memory will also gain you more RAM, maxing out at 6GB in both models.
The 11-inch model originally released for $799 for the most basic model, with additional configurations driving the price upward to $1,699. The 12.9-inch model could be bought for $999 at the cheapest, with the one terabyte cellular-enabled model priced at $1,899. Because of reductions in memory pricing across all Apple products since their 2018 launch, the 12.9-inch and 11-inch now max out at $1,499 and $1,699 respectively.
Second-generation iPad Pro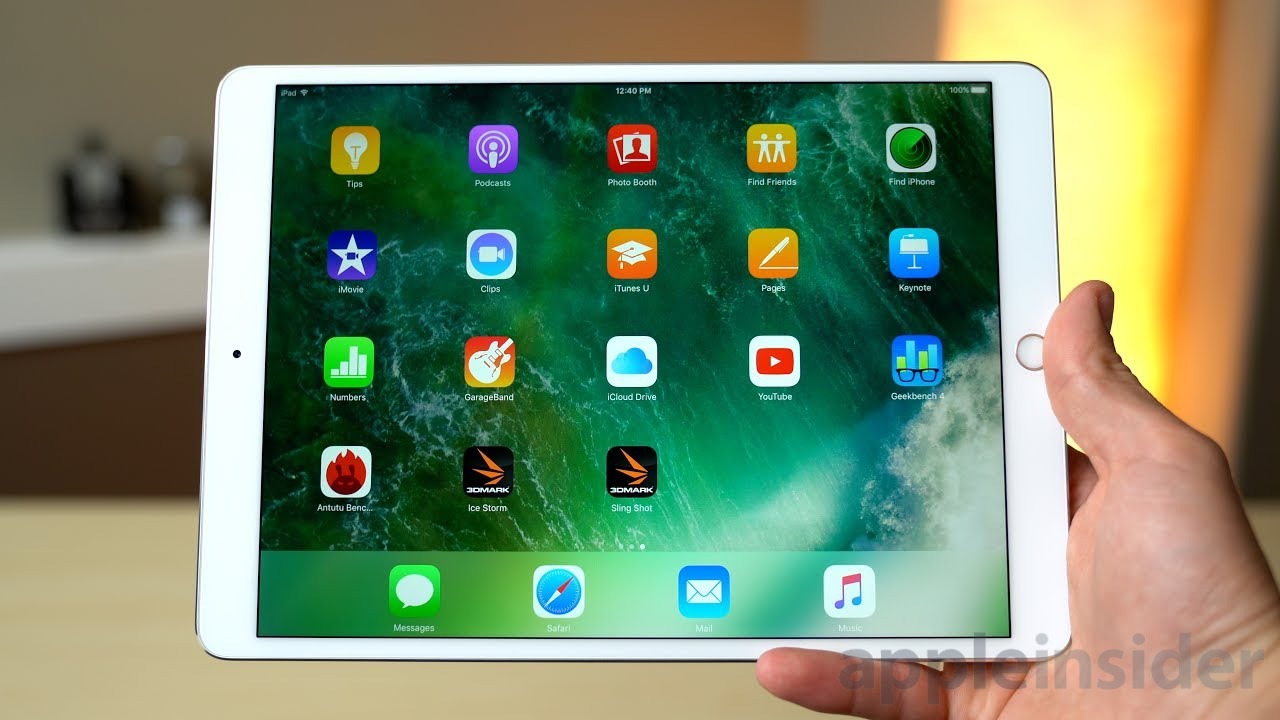 The second-generation iPad Pro models were announced at Apple's WWDC event in 2017 and saw significant upgrades over their predecessors. Replacing the 9.7-inch model was the new 10.5-inch model, though the 12.9-inch model's size would remain unchanged.
Both second-generation models used an A10X Hex-core CPU and a 12-core GPU, ProMotion display, and a True Tone display that was 50% brighter than the previous models.
The second-generation models also boasted a 12-megapixel rear-facing camera, a 7-megapixel front-facing camera, and storage capacities up to 512 GB.
At launch, the 10.5-inch model started at $649 and could cost as much as $1,079. The 12.9-inch second-generation model could be purchased for as low as $799 or as much as $1299, depending on the configuration.
The second-generation 12.9-inch iPad Pro was discontinued in October of 2018, then the 10.5-inch model was later discontinued in March of 2019.
First-generation iPad Pro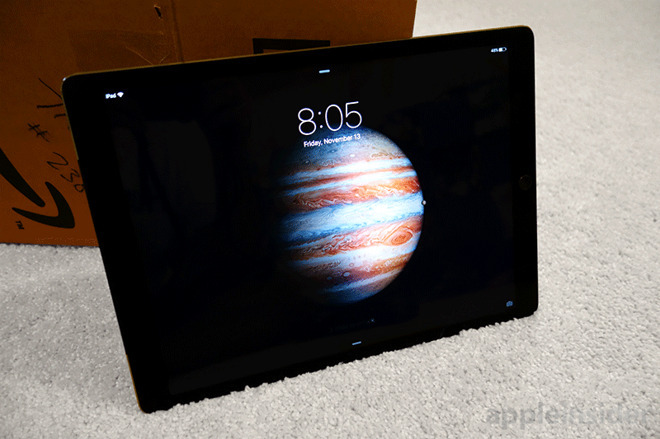 Released on November 11, 2015, the first-generation iPad Pro featured a 12.9-inch display and was available in silver, gold, and space gray. It could be purchased for $799 to $1299, depending on the size or cellular connectivity.
In March of 2016, Apple released the smaller 9.7-inch model, which featured an additional rose gold color to its line. It was available for $599 to $1129, depending on the buyer's chosen configuration.
Both models included Apple's A9X system-on-a-chip and the Apple M9 motion co-processor, and both featured Touch ID and Retina Display. A smart connector allowed users to connect Apple's Smart Keyboard, and both models were compatible with the first generation Apple Pencil.
Both first-generation iPad Pros were discontinued in June of 2017.
Apple Pencil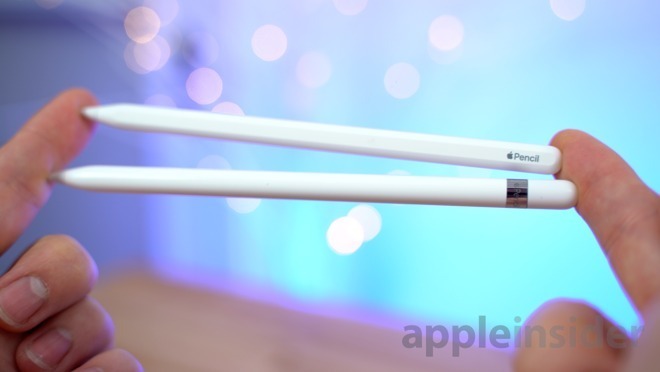 The Apple Pencil is an Apple-developed wireless stylus that works with various iPad models, including all editions of the iPad Pro. It is a low-latency stylus with pressure sensitivity and angle detection. When using the Apple Pencil, the iPad will reject a user's palm input.
The first-generation Apple Pencil released alongside the first-generation iPad Pro in 2015. It connects to compatible iPad models via Bluetooth and can be charged using the iPad's Lightning port, or via a Lightning cable when used in conjunction with the included adapter. On a full charge, the Apple Pencil will last for roughly 12 hours. 15 seconds of charging time enables the Apple Pencil to perform for up to 30 minutes.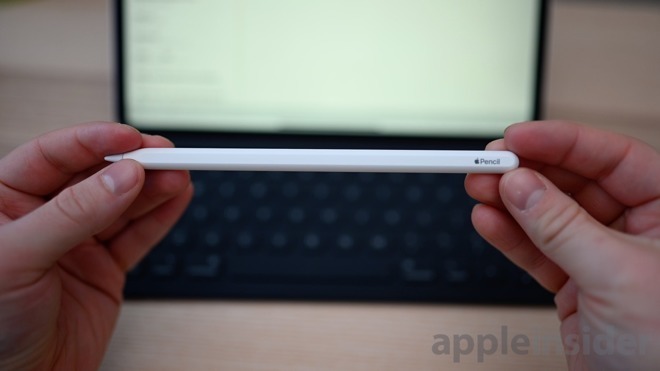 The second-generation Apple Pencil works with the third-generation and fourth-generation iPad Pro. It features a flattened section to prevent the stylus from rolling when placed on a flat surface. It also eschews the Lightning connector for wireless charging and boasts tap-sensitive areas that can be configured to perform functions within apps.
iPad Pro Review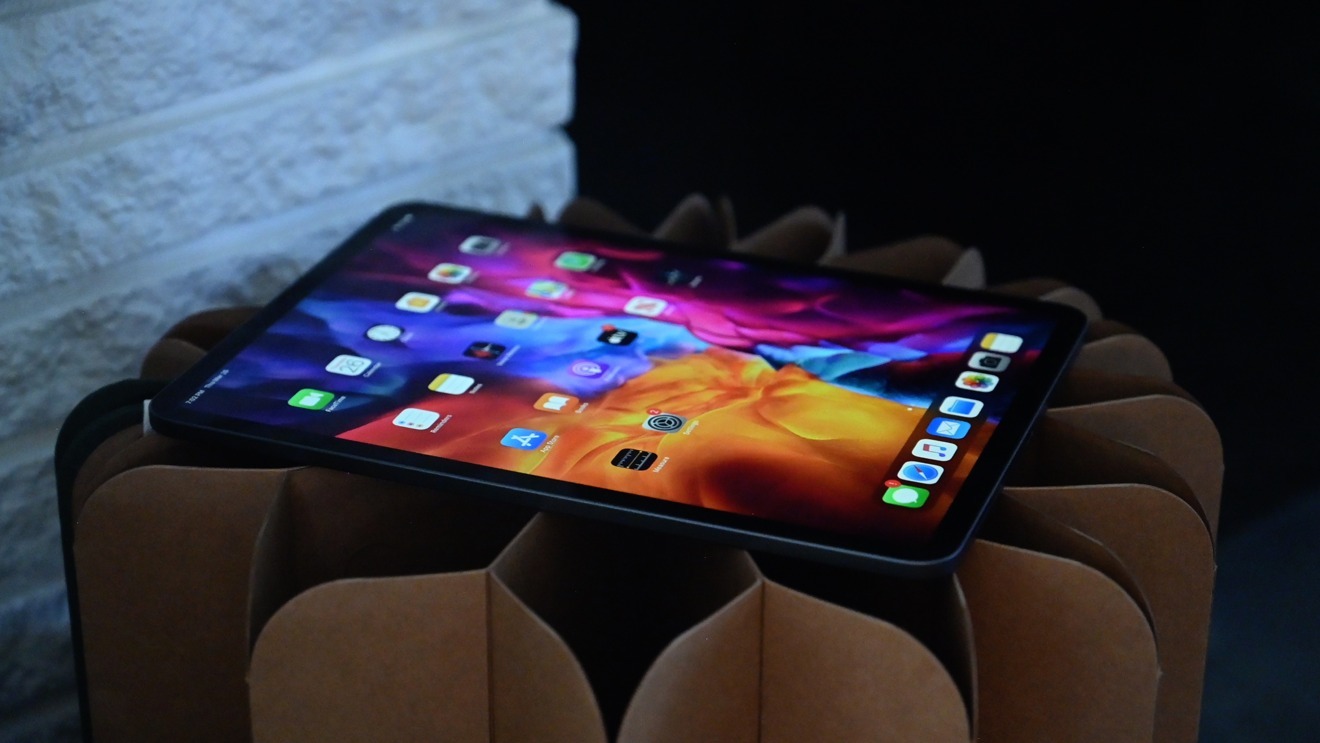 AppleInsider's review of the 2020 model gave it a 4 out of 5 rating. We praised the premium design that carried over from the previous model, Magic Keyboard support, and LiDAR for AR apps. We were less enthusiastic about how incremental the update was, including its lack of notable performance improvements.
On the pro-level model's improvements over time:
"When we tell people that we use iPad as a tool to produce 4K videos or as our writing instrument of choice, people no longer show surprise or act as if its some insurmountable task. People everywhere have embraced iPad for a huge array of different purposes and the 2020 pro model is absolutely the best one yet — even if the differences model-over-model aren't all that riveting.
"Hardware changes on iPad, like iPhone before it, have become a bit more predictable and a bit less flashy. Apple has iterated on tried-and-true tactics to perfect the device while also focusing strongly on the software.
"Apple started down this road in 2019 with the branching off of iPadOS from iOS to allow more iPad-specific features and we expect Apple to continue that trend."
"This time around, the physical changes to the device are minimal. It looks identical to the 2018 model.
"The new iPads still have the same gorgeous Liquid Retina display, the same support for Apple Pencil, and the same TrueDepth camera system."
Graphical performance and benchmarks:
"In reality, the biggest spec it had to boost was graphics. And not because the previous-generation graphics were underpowered, but because you can always encode that video faster or export that massive RAW image quicker. This is what Apple gave us in the new A12Z Bionic processor, slightly better graphics.
"To test, we ran the latest Geekbench 5.1 benchmarks. Our 2018 model delivered around a 1116 single-core and a 4584 multi-core score. The new 2020 edition garnered a similar 1117 single-core and a 4653 multi-core. These are effectively identical results if you take into account the variability of Geekbench testing."
"If just looking at the device in a bubble on its own merits, the 2020 model is a stellar device. Apple has made strides over the years, iterating on the small aspects to perfect the user experience of the device.
"The 2020 iPad Pro is more powerful than ever, more full-featured than ever, and has a mass of potential waiting to be unleashed by iPadOS 14 and the updates that follow. You just probably don't need it if you jumped on the 2018 refresh."
Pricing and Release
The latest 11-inch and 12.9-inch iPad Pro models released in March 2020. They start at $799 for the 11-inch version and $999 for the 12.9-inch model. Apple has discontinued all previous variants.