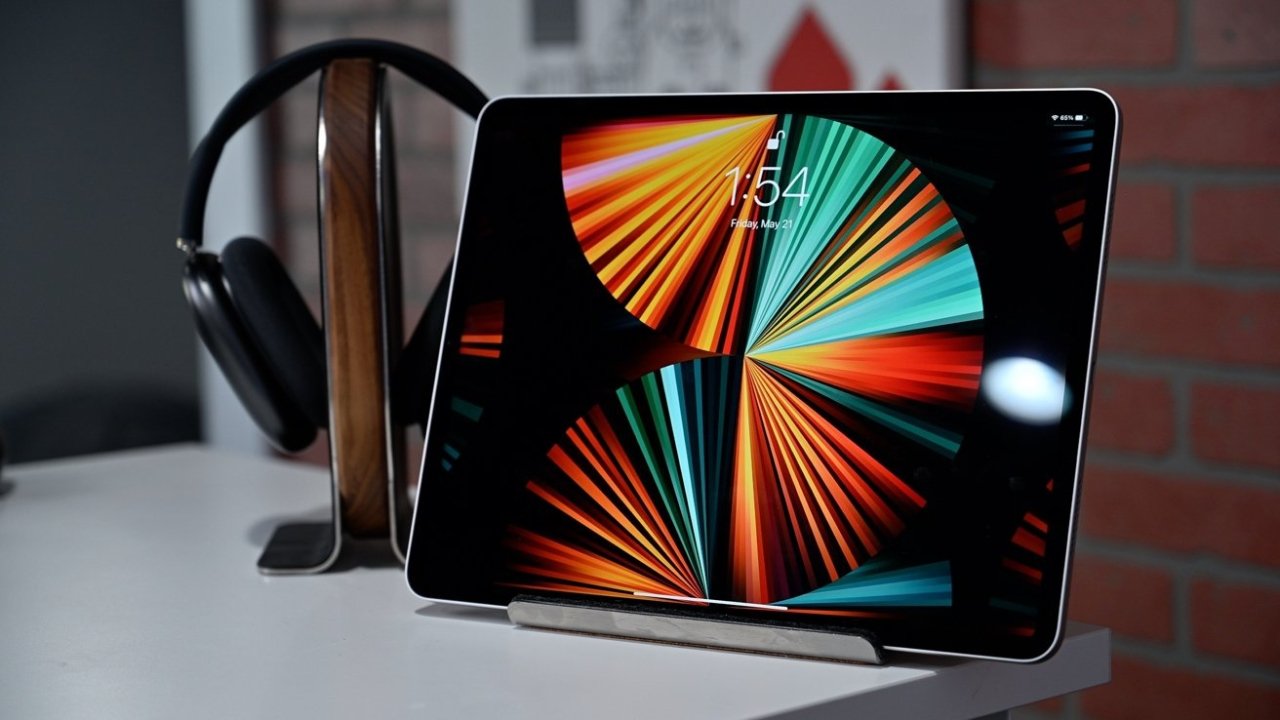 Summary
The 12.9-inch iPad Pro was updated in March 2020 to host a new LiDAR system, dual rear cameras, Gigabit LTE, and an all new Magic Keyboard. The ProMotion Liquid Retina Display that goes edge to edge, USB-C, and Apple Pencil are all still here making this an amazing all around tablet computer.
Features
● Edge-to-edge ProMotion Display
● A12Z Bionic
● Face ID
● Apple Pencil support (second gen)
● USB-C port
● Liquid Retina Display
● 12MP wide angle and 10MP ultra-wide angle cameras
● LiDAR for improved AR
● 7MP TrueDepth Camera
● WiFi 6
● up to 1TB SSD
---
The 12.9-inch iPad Pro is Apple's flagship iPad and was built with the idea that users will augment their Mac with this device, or even replace it entirely. Featuring ProMotion and Liquid Retina display technology, Apple hopes to offer the best tablet experience available for artists and consumers alike. The 12.9-inch iPad Pro starts at $999.
Appleinsider reviewed the 2020 iPad Pro and gave it a 4 out of 5.
What has changed about the 12.9-inch iPad Pro design?
When the original iPad Pro launched in 2015 it was almost comical how large it was. The screen size was encroaching on MacBook territory, but its design was stuck in the past. A large forehead and chin with Touch ID made this massive device even bigger.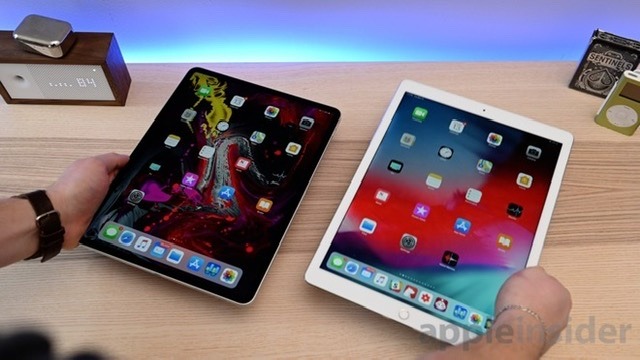 The slimmed-down design of the 12.9-inch iPad Pro greatly changes its physical footprint
The introduction of edge to edge displays with the iPhone X prompted Apple to do the same for their tablet line the following year. Removal of Touch ID and new LCD display technology allowed the 12.9-inch display size to stay the same, but in a much smaller and thinner device. The new iPad Pros measures less than a quarter-inch thick, making them the thinnest iPads ever.
The iPad Pro also has flat sides, making it easier to grip and allows for the Apple Pencil magnetic charging mount to sit flush on one side. The smart connector has moved to the back of the iPad Pro alongside over 90 magnets meant to support cases attached to the rear.
This also means that old smart connector accessories won't work with the new iPad Pros, and we likely won't see third parties adopt the new design; resorting to clips, cases, and Bluetooth for their peripherals.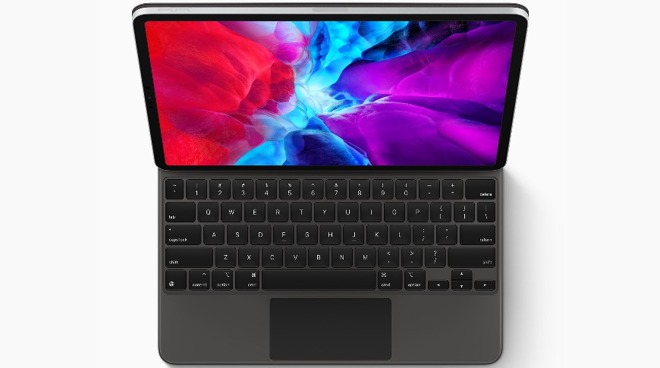 The 12.9-inch iPad Pro with a Magic Keyboard makes for a good looking laptop
The old lightning connector has been replaced by a USB-C port, which allows for easy connection to many devices without needing proprietary cables. USB-C was an essential change if Apple was ever going to convince professionals to switch to iPad, and with iPadOS it furthers the ports usefulness. External drives, monitors, cameras, or other USB-C devices can be plugged directly into your iPad Pro due the versatility and availability of the connector.
In March 2020 Apple released another update to the iPad Pro line, giving it an all new camera system, improved chipset, and introduced a new Magic Keyboard.
The Fourth Generation iPad Pro has a new dual camera system with built in LiDAR. A 12MP wide angle and 10MP ultra wide angle camera will allow for improved photography and depth capture.
The LiDAR will be used for 3D environment mapping that will allow for AR to be massively improved. The scanner works from up to 5 meters away and gets results instantly, which makes AR apps much easier to use and more accurate.
What's a Computer?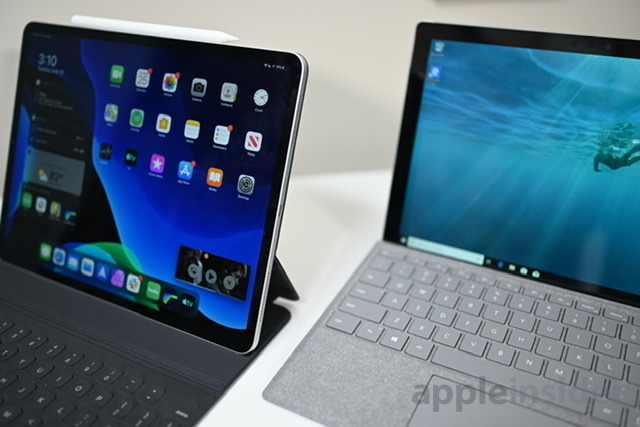 The iPad Pro and Surface Pro are both at the top of their class
One side effect of Apple pushing their iPad line to be even more capable as a standalone device is the concept of being "iPad only". A highly controversial ad from Apple in November of 2017 sparked the debate surrounding the idea of using an iPad full time. This has caused much turmoil and many articles surrounding the idea, but simply put; its user preference.
Power and app availability won't be an issue, given that the A12X Bionic processor is more powerful than most consumer PCs, meaning the latest A12Z is even faster, and Apple's iPad App Store hosts powerful professional tools. iPadOS takes this even further with better multitasking and external storage support and a new mouse cursor.
If you choose the iPad Pro to be your primary, or even only computer, you will find a wholly different platform that requires a lot of changes to your workflow. If learning how to use a new device does not intimidate you, then iPad Pro is worth a shot. If you have specific software not on iPadOS, or want to make apps, going iPad only isn't for you. Apple designs all of its devices with overlap and the idea that cannibalization of different products will occur, and they are ok with that.
The A12Z
Apple is well known for the power of the ARM chipsets operating all of their mobile devices. These processors are custom 7-nanometer chipsets with a 8-core GPU. Apple claimed that, at release, the A12Z was outperforming most Windows laptops. All of the 2020 iPad Pro models come with 6GB of RAM and feature better WiFi and cellular connections.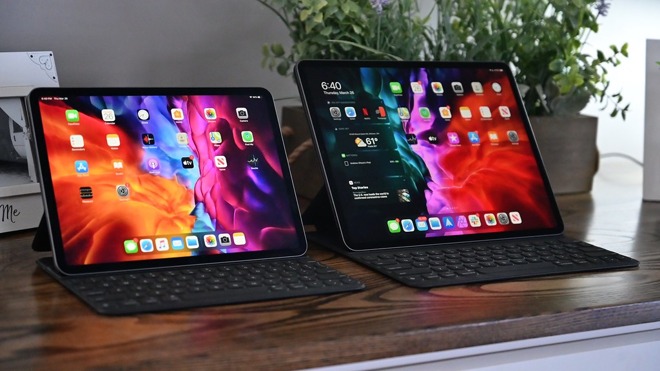 The iPad Pros are very powerful machines that could replace your laptop
While touted as a pro device, the 12.9-inch iPad Pro is also a very capable gaming machine. Games are beginning to update to utilize the 120Hz refresh rate for even smoother gameplay, and the A12Z Bionic handles this without any issue. With the introduction of Apple Arcade this year, we will likely see more games taking advantage of this powerful processor.
Early benchmarks show little improvement in processing and graphical power, but this may also be due to unoptimized tools on an unreleased version of iOS. Another theory behind limited speed gains shows the A12Z could be a re-binned A12X, which means an inactive GPU core is in use now that was not before.
What accessories work with the 12.9-inch iPad Pro?
Due to the location of the smart connector on the new iPad Pros, Apple is the only company with an accessory that supports it; the Smart Keyboard. Other keyboards will connect over Bluetooth or USB-C, and usually attach directly to the iPad Pro to form a clamshell design. The new design allows for some nice cases too.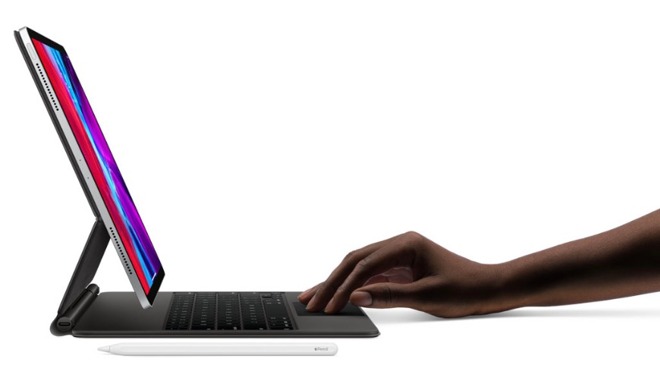 The latest keyboard from Apple makes the 12.9-inch iPad Pro float
The second generation Apple Pencil is the only one that will work because the first generation Apple Pencil pairs over lightning, which the modern iPad Pros do not have. The second generation Apple Pencil uses a magnetic mount on the iPad Pro for storage, charging, and pairing. The Logitech Crayon will also work with the iPad Pros, since apple included the proprietary pairing tech in the 12.9-inch iPad Pro.
As stated before, the USB-C port offers many other accessory options like external drives, monitors, keyboards, controllers, and hubs. Many devices use this standard and it is one less thing to worry about when deciding what to buy or what to pack with you.
A new Magic Keyboard is due to arrive in May and it features an all new design derived from the Smart Keyboard Folio. The iPad will sit on a magnetic mount and hover above the keyboard and trackpad and works with both the third and fourth generation models. A USB-C port in the base of the keyboard will allow pass through charging while the iPad is connected and leave the port free on the iPad itself.
You will need a new case if upgrading from any previous model to the newest fourth generation pro iPad. These are some good cases that went on sale right after they were announced.
Pricing and configuration
You can purchase the 12.9-inch iPad Pro in space gray or silver, and is configurable to have 128GB, 256GB, 512GB, or 1TB of storage. These models are priced $999, $1,099, $1,299, or $1,499 respectively. Add $130 to the total if you want to add cellular to any model. See our Price Guide for information on current sales and prices of the iPad Pro.
Essential Reading