Face ID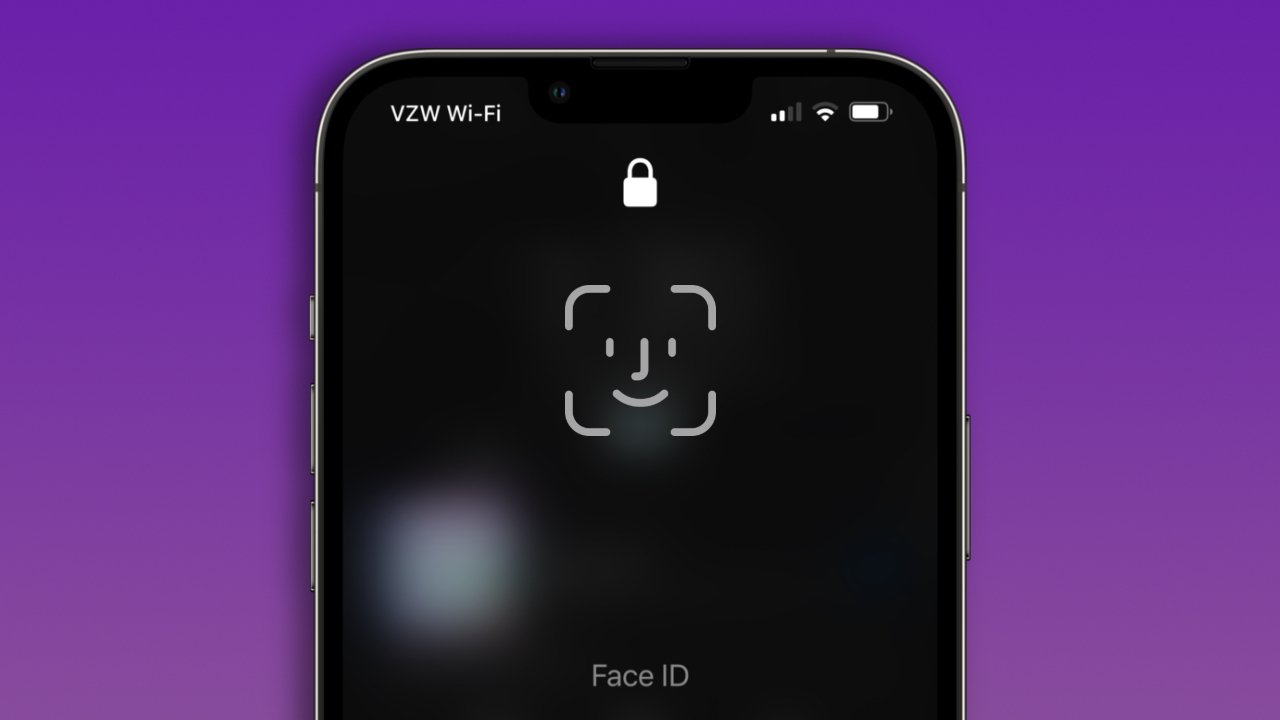 Apple removed the physical Home button and Touch ID sensor with the launch of the iPhone X. By supporting face recognition, users can quickly unlock an iPhone or iPad Pro, sign in to services, and approve purchases without needing to press a button or manually enter a password.
● Quickly unlocks using your face
● Biometrics
● Secure Enclave
● AES-256 encryption
● TrueDepth camera
---
Get Apple News Directly in Your Inbox
AppleInsider is supported by its audience and may earn commission as an Amazon Associate and affiliate partner on qualifying purchases. These affiliate partnerships do not influence our editorial content.
Apple's Face ID is the successor to its Touch ID technology, moving biometric hardware-based authentication from the finger to the face. It relies on the company's TrueDepth sensor platform to capture the user's face and generate a 3D map. The key takeaway to this method is "depth," as this platform prevents others from using a photo or mask to unlock the device.
Devices with Face ID
Here is the current list of Face ID iPhones:
iPhone X
iPhone XS
iPhone XS Max
iPhone XR
Here are the supported iPads:
Face ID and TrueDepth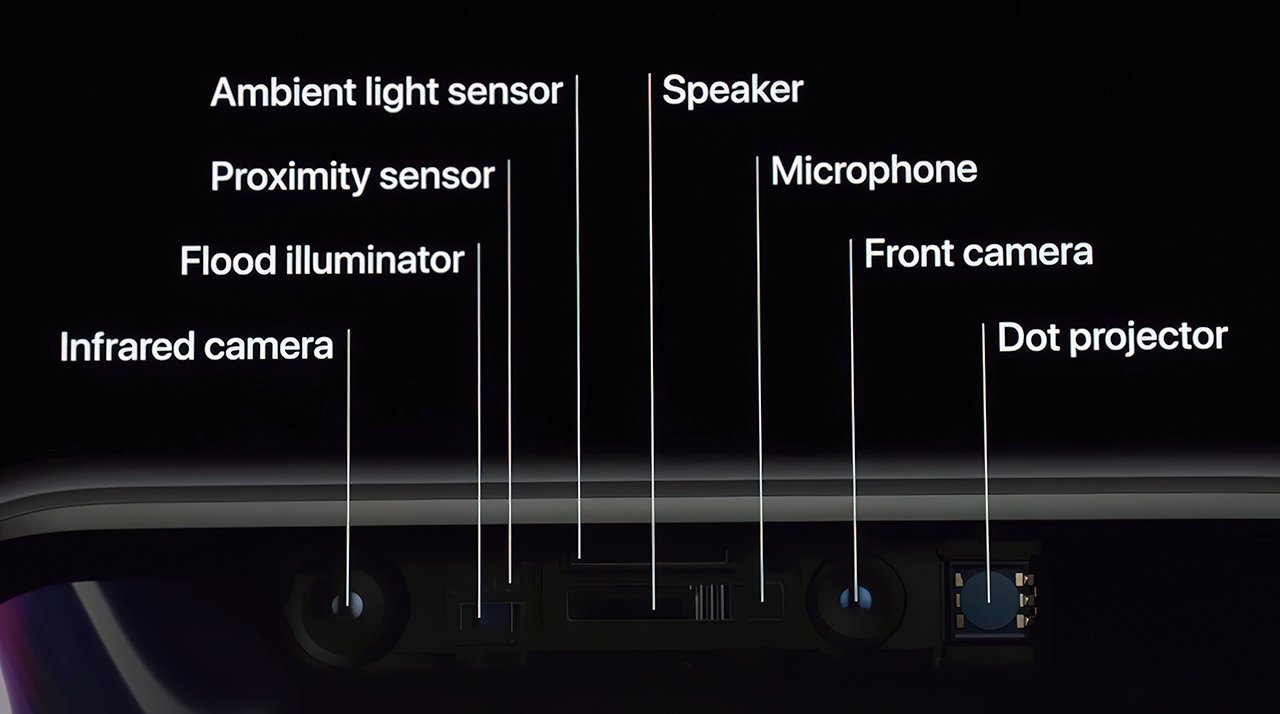 This system requires multiple hardware components to enable face recognition securely.
First, when motion is detected, the TrueDepth Infrared camera looks for a face. If one is found, the proximity and ambient light sensors determine the amount of light needed for face recognition. A Flood Illuminator then washes the user's face with invisible infrared light. The front-facing camera confirms a face's presence.
During enrollment, Face ID creates 3D maps with a Dot Projector that projects a device-specific random pattern of over 30,000 invisible dots across the user's face. At the same time, Apple's TrueDepth Infrared Camera captures 2D infrared versions of the user's face. Enrollment requires the user to rotate their face while looking at the device, completing a circle, to capture multiple angles.
Once complete, this combined data is sent to the application processor. The neural engine turns this information into a mathematical representation. This data is then encrypted and stored on the device while the primary encryption key resides within the Secure Enclave. This "class" key is not accessible to anyone, not even Apple.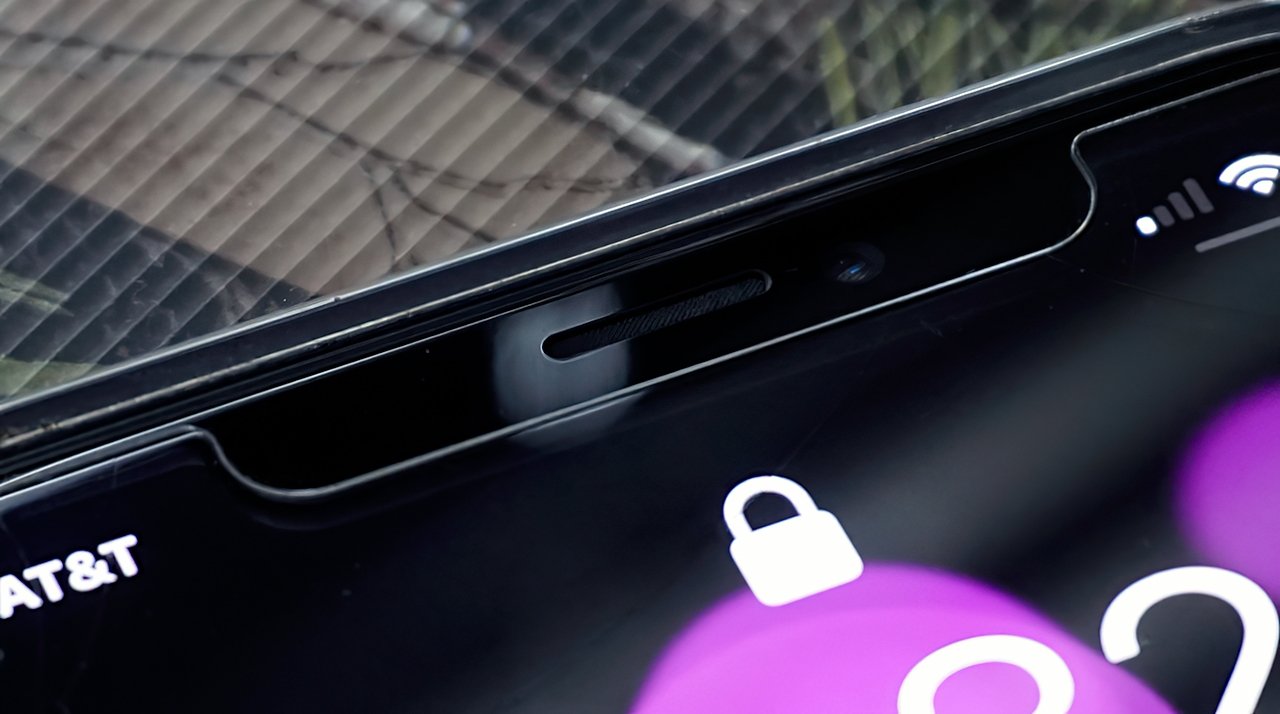 When a device is locked, the TrueDepth system automatically activates when owners tap the screen, raise the device, or when a notification wakes the screen. When the user attempts to unlock the device, the TrueDepth system captures a new image. This data goes to the neural engine and is compared with the encrypted data stored in the file system.
This face-matching is based on neural networks trained explicitly for matching faces. Apple says the chance of a random stranger unlocking a device using face identification via a single enrolled appearance is 1 in 1,000,000. By comparison, Touch ID is 1 in 50,000.
This system works with hats, glasses, many sunglasses, and scarves. Significant changes require the user to re-enroll their face, like shaving off a heavy beard. Apple states that the stored data is refined and updated each time users successfully unlock the device using face recognition. Additionally, this system updates the data if face recognition only finds a close match and forces the user to enter a passcode.
Apple recommends using a passcode for children ages 13 and under, for twins, and users with near-identical siblings. Face ID requires the user to establish a passcode for when facial recognition isn't possible, or after five failed attempts.
To enable face recognition, go to 'Settings' followed by 'Face ID & Passcode.'
Face ID and Secure Enclave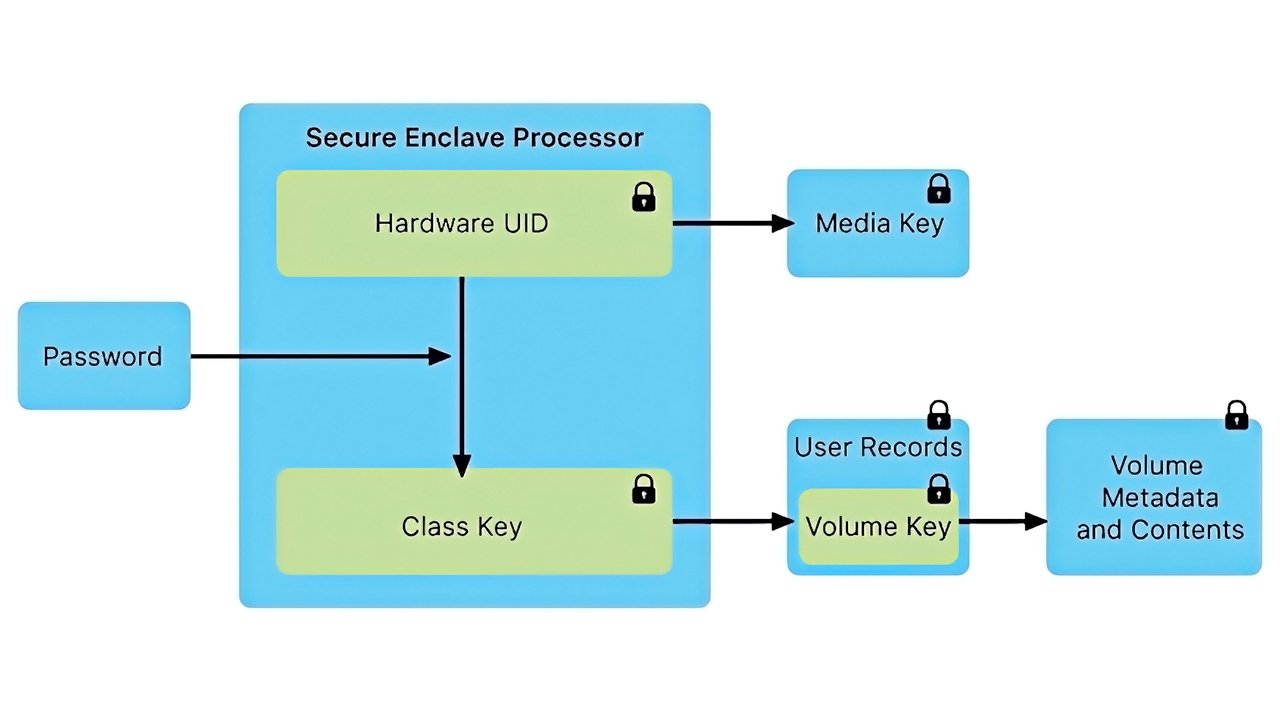 The Secure Enclave is a coprocessor (or hardware-based key manager) that physically resides within the application processor package, like the Apple A7 and newer. It is isolated and communicates directly with the parent chip using an interrupt-driven "mailbox." The Secure Enclave and parent chip also share memory data buffers. Because the Secure Enclave is isolated and self-maintaining, it retains its integrity even if iOS or iPadOS is compromised.
According to Apple, it runs a custom version of the company's L4 microkernel (firmware) that's digitally signed by Apple and verified during the hardware boot chain process.
A portion of the neural engine is protected within the Secure Enclave. This AI converts data provided by the TrueDepth platform into mathematical representations. These numbers are encrypted and stored in the file system, as the Secure Enclave's 4MB of storage is only used for 256-bit elliptic curve private keys.
When a file is created on the device, the AES engine generates and uses a new 256-bit "per-file" key to encrypt the data as it's written to the flash storage. This key is then encrypted using a class key and stored in the file's metadata, which in turn is encrypted with a random file-system key created when iOS or iPadOS was first installed.
The Secure Enclave stores the class key and handles all wrapped file keys, meaning these keys are never revealed to the application processor. On devices that use the Apple File System, the file-system metadata key is encrypted using the Secure Enclave's Hardware UID (Unique Identifier) key. The SoC's firmware encrypts all keys stored within the Secure Enclave.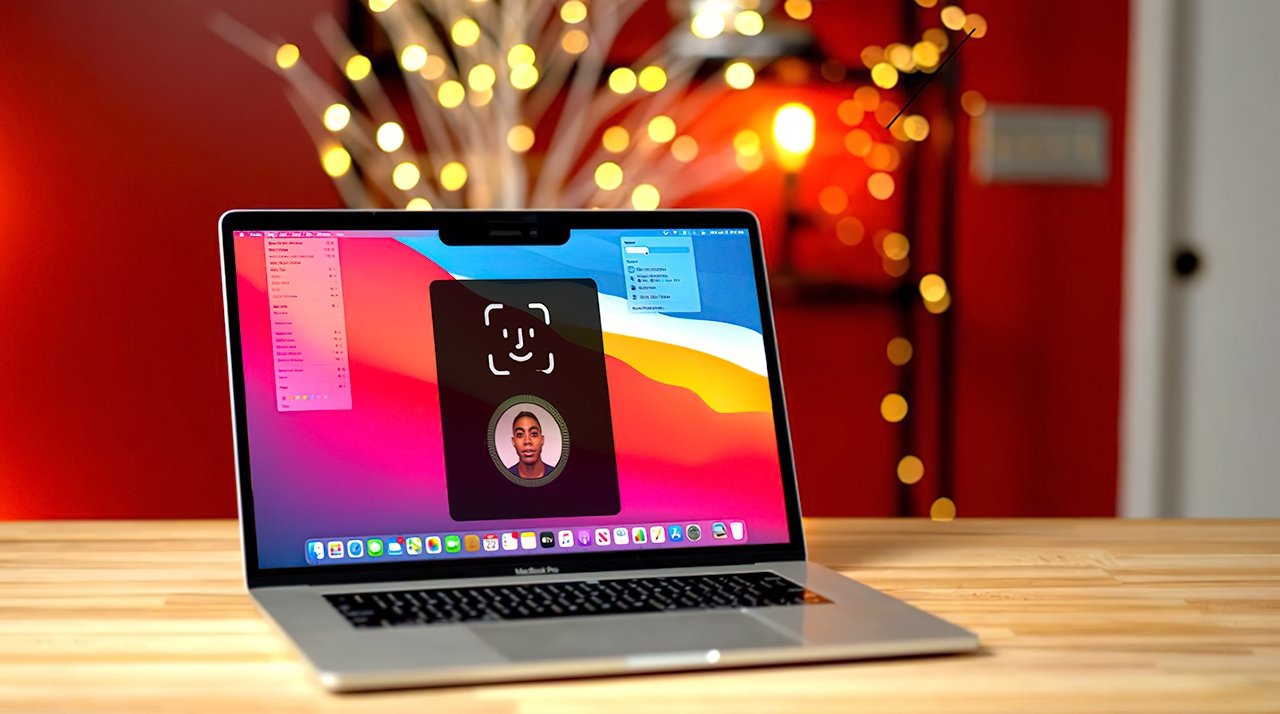 The Secure Enclave is also installed in Apple's T2 chip for Macs supporting Touch ID. Apple said Face ID would eventually carry over to Macs, although no specific timeframe is known. A patent that surfaced in early 2020 indicated that the MacBook Pro and iMac would be the first.
Face ID Review
When the iPhone X launched in 2017, AppleInsider took stock of the then-new security method.
"With Home button functionality delegated elsewhere, a proxy for Touch ID is still needed. Face ID works really well across all the lighting scenarios we tried, and didn't seem to introduce any real problems with delays or awkward positioning, but we were using the phone normally, not looking for obtuse ways we could break it.
"Any actions that require authentication (and use Touch ID) now make use of the new TrueDepth sensor (unique to iPhone X) to perform Face ID, which is handled by the same A11 Bionic chip and TrueDepth sensor array (discussed below) that runs iPhone X's front-facing face tracking used by Apple's fun Anamoji feature and Portrait Lighting selfies. It's also open to third-party developers to use in their apps.
"Enrollment is done during setup, and is even simpler than configuring Touch ID: you roll your head in a circle twice (below) and it creates a 3D model 'key' that is stored in the Secure Enclave. Like fingerprint information used by Touch ID, this isn't backed up to iCloud or saved in a way that malware or rogue apps can access or spoof.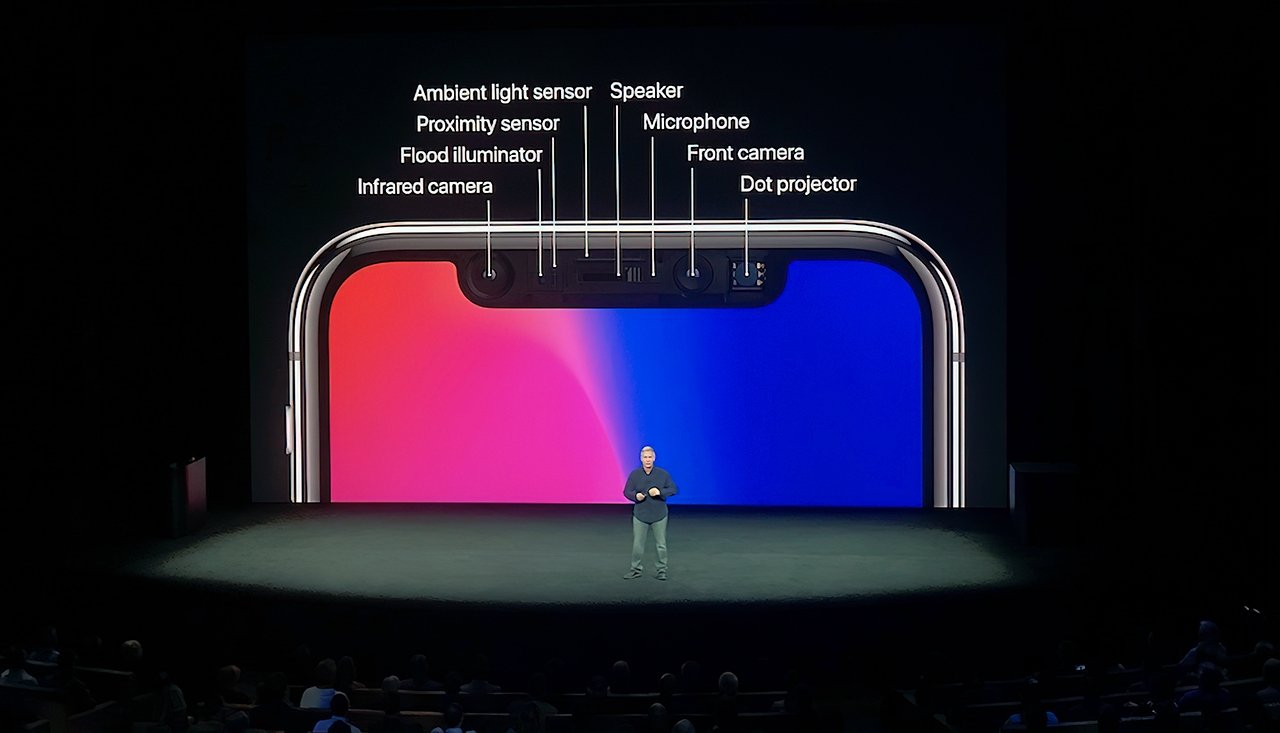 "Apple's facial recognition is implemented using Apple's new TrueDepth sensor array that includes a standard front-facing camera and speaker, as well as an infrared dot projector that paints out a matrix of points using invisible light, a flood illuminator that beams out IR light and an IR camera that captures a depth image and the dot pattern to compare against the facial model it saves at enrollment.
"The sensor array is presented as a notch into the top of the display. Rather than blocking it off in a black margin, Apple uses the OLED panel's ears' on either side of the sensor array to present information, such as signal strength and battery status on the right, and location status on the left.
With facial unlock configured, once iPhone X wakes it begins looking for a face to verify as matching your enrolled profile. Also like Touch ID, the new biometric sensors can be used to authenticate unlocking your phone, Apple Pay, iTunes and App Store purchases, unlocking your Safari AutoFill data (such as passwords and credit card information) or within third-party apps such as Facebook, Twitter, banks, password managers and so on (any app that currently supports Touch ID).
"Unlocking iPhone X is done as soon as it detects you are looking (although this extra 'attention' security can be turned off, such as if you wear sunglasses that block visibility your eyes). It occurs very rapidly as you raise the phone, making it ready to jump to the Home screen on a flick without delay. You don't have to wait for Face ID to begin swiping.
"On by default, 'Attention' settings allow you to configure Face ID to make sure you are attentively looking at the display before recognizing your face when logging in, or separately to occasionally check to see if anyone is attentively looking at the screen before deciding to dim the display or ring the phone at full volume.
"Note that Touch ID is separate from Facial Tracking and Attention. Only you can authenticate, but other facial recognition features (such as Animoji) are available to anyone using the phone.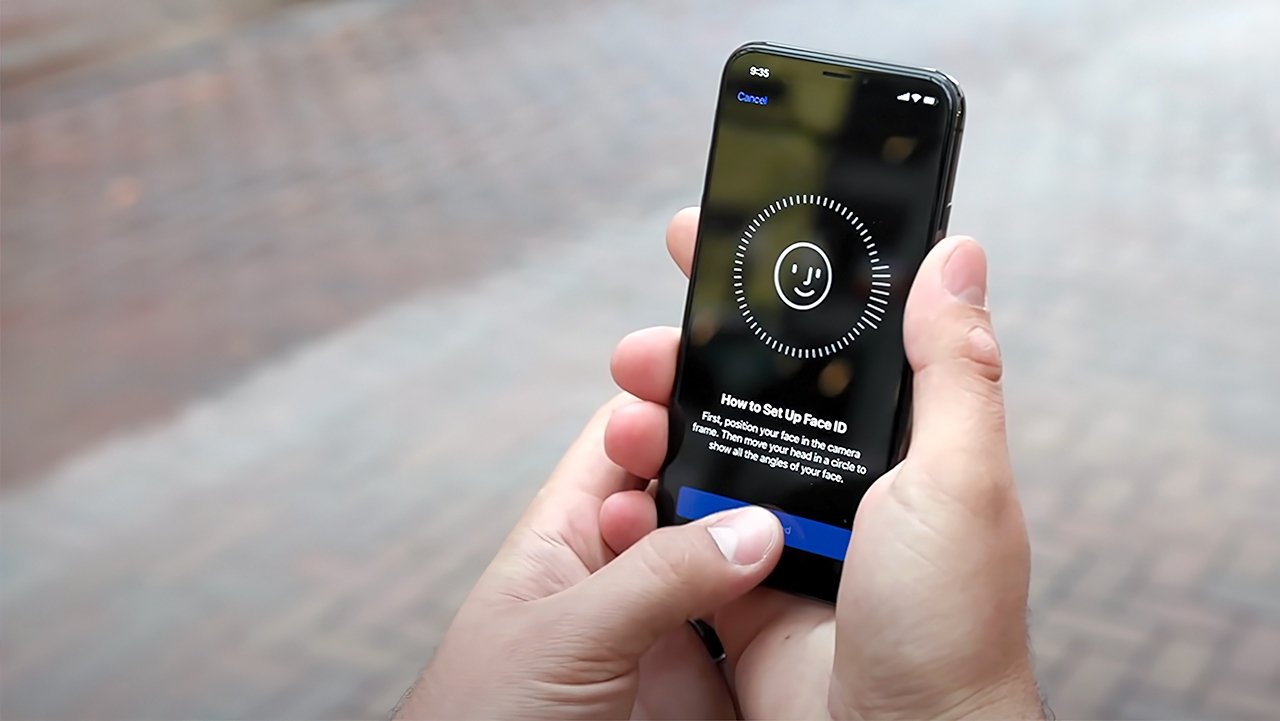 "If you tap the screen (rather than lift the phone) to wake the screen, you have to explicitly swipe up afterward to unlock it; you might want to do this if your phone is laying beside you at a desk and you want to check for notifications before deciding to go to the home screen. Alternatively, a tap wakes it to the point where you can invoke the Flashlight or Camera using the new 3D Touch press icons (which can be opened without unlocking, although Face ID is generally so fast that it unlocks on sight before you could open the camera, unless you try hard to avoid eye contact).
"If you wake the device and it sees another person's face prior to unlocking, Face ID presents a rejection, shaking the lock icon and vibrating so you're aware it failed to authenticate. You can then authenticate yourself again.
"If authentication fails repeatedly, Face ID stops further attempts until you enter a passcode (just like Touch ID) to prevent malicious users from unrestricted attempts to break in. Similarly, you have to enter a passcode after restarts, major software updates and after a couple days of inactivity.
"If Face ID isn't fully certain you're you, it prompts you to enter your passcode. This might happen if your eyes are obscured behind special glasses that block infrared light (none of the standard sunglasses I tried interfered with Face ID). It might also not verify you if you cover your nose or mouth with winter gear (just like wearing gloves with Touch ID), because the facial recognition requires the center of your face (with your eyes, nose and mouth) to be visible. Facial hair, wigs and normal clothing do not seem to affect recognition, but if you shave dramatically you might need to reenter your passcode to allow it to learn your new look."
"It isn't possible to 'share' a face profile or independently enroll two different faces on the same device. This is possible using Touch ID, but it's not a recommended practice. It's similar to sharing a password, which in the era of Apple Pay and saved banking and social media credentials, is not only a risk to the authenticated, but also a problem for apps and services that expect biometric authentication to be a reliable way to serve a specific person. Banks also don't want you to let your friends sign your credit card receipts, not out of rudeness but due to their own liability.
"In practice, the only time I ever noticed that Face ID couldn't recognize me is when I held the phone horizontally. When you wake iPhone X, it always opens up in vertical portrait mode. This is the same as earlier iPhones, but Touch ID can be used to unlock sideways. On iPhone X, the Face ID unlocking process requires that you hold it tall for the moment you authenticate."