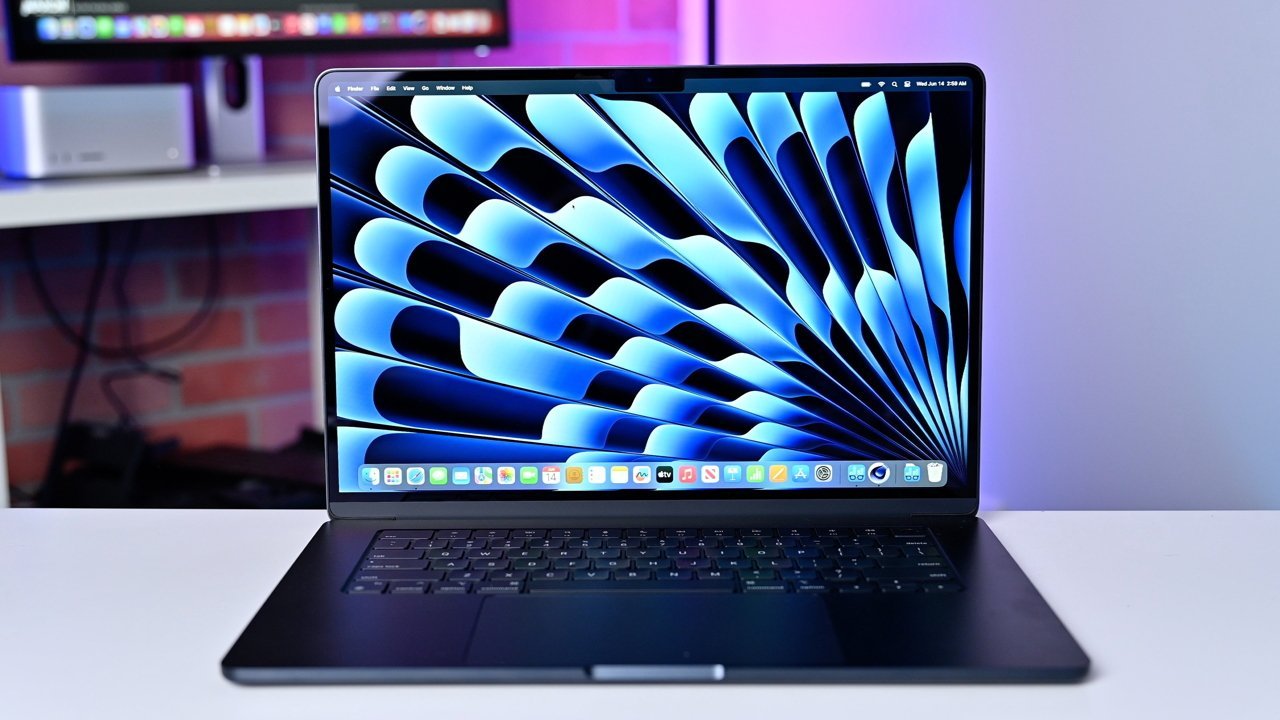 Summary
It has been over a decade since Steve Jobs revealed the original MacBook Air, a laptop so thin he introduced it by pulling it out of an envelope. Apple's 2018 and 2019 re-design of the MacBook Air has taken that ethos, and carried it forward yet again.
Features
● 1.6GHz dual-core processor
● Up to 16GB of RAM
● Up to 1TB of flash storage
● Two Thunderbolt 3 ports
● True Tone Retina Display on 2019 model
AppleInsider reviewed the 2019 MacBook Air shortly after release, and gave it a 4 out of 5.
The MacBook Air uses Intel's Amber Lake Core i5-8210Y processor, with a 1.6GHz base speed, and a turbo speed of up to 3.6GHz. It has a thermal envelope of 7 watts, less than half the 13-inch MacBook Pro's 15 watts.
By default, the MacBook Air comes with 8GB of LPDDR3 RAM, but this can be boosted to 16GB of RAM at time of purchase. At the low-end, storage is limited to 128GB of flash media, but configurations are available up to 1TB.
MacBook Air Retina display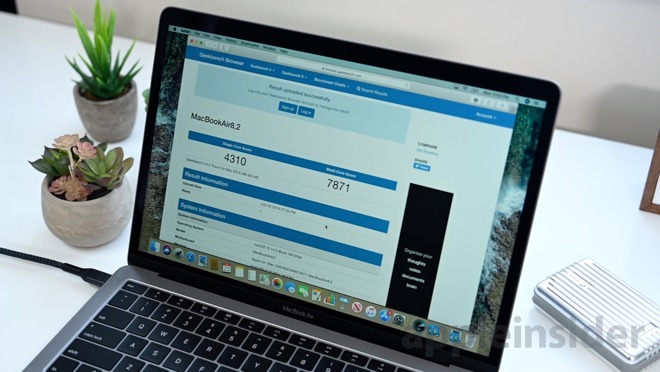 The 13.3-inch display on the 2018 and 2019 MacBook Air have a native resolution of 2,560-by-1,600 pixels, with scaled resolutions of 1680 x 1050, 1440 x 900, and 1024 x 640. With the Intel UHD Graphics 617, the new MacBook Air can support one external display with 5120 x 2880 resolution at up to 60Hz or two external displays with 4096 x 2304 resolution.
The only variance between the 2018 and 2019 model's display is the addition of True Tone on the newer model. True Tone is Apple's display tech that automatically adjusts the temperature of the display based on the room. A sensor monitors the ambient light in a room and matches the display's white balance to match. When the display matches the room's light, it is less harsh on the eyes and more comfortable and natural to view.
External displays and other peripherals are connected with two 40 gigabit per second Thunderbolt 3 ports instead of the slower USB 3.2 type C found on Windows laptops. This allows users to not just connect any USB peripheral, but also has sufficient bandwidth to connect an external GPU or a 5K external display to the MacBook Air, the same way that you can to a MacBook Pro.
MacBook Air butterfly keyboard and Touch ID
The new MacBook Air has Apple's "Generation 3.5" butterfly keyboard. The butterfly keyboard is controversial, with complaints about long-term reliability in earlier generations. It isn't presently clear if Apple's changes in the "generation 3.5" keyboard have completely solved reported reliability issues in earlier generations, but usability concerns remain.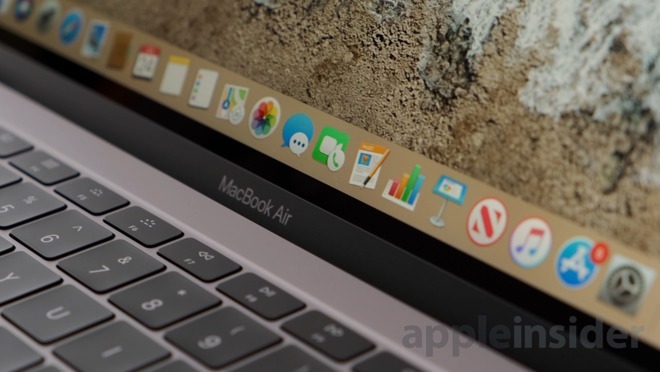 From day one of availability, 2019 the MacBook Air keyboard has been included in Apple's extended repair program. If someone picks up this machine now, the keyboard will come with a de facto four-year warranty.
Touch ID and Apple's T2 chip
The 2018 revision incorporated a Touch ID sensor which can be used for biometric identification instead of entering a password. Touch ID has been retained on the 2019 refresh.
Apple T2 Security Chip is a separate processor that for some aspects of operation sits between whichever main Intel processor your Mac has, and macOS. Beyond hosting the Secure Enclave for Touch ID and providing encryption services to macOS, the T2 chip provides a secure boot, which means that the only things that can run at start up is trusted, approved macOS software.
It also provides a boost to video encoding in certain circumstances.
MacBook Air performance
The 2018 and 2019 MacBook Air have essentially identical performance. The single-core Geekbench score for both is about 760 single-core performance, and 1560 multi-core. In comparison. the 2015 13-inch high-end MacBook Air revision with i7 processor had a single-core score of 740 and a multi-core score of 1548.
The new 13-inch MacBook Pro with two Thunderbolt 3 ports released at the same time as the 2019 MacBook Air delivers a 944 single-core score, and 3899 multi-core with the multi-core score difference mostly attributable to the quad-core processor in the MacBook Pro.
Pricing
The entry-level retail MacBook Air price of $1099 gets a 1.6GHz dual-core 8th-generation Intel Core i5 processor that can Turbo Boost up to 3.6GHz,128GB of storage, and 8GB of LPDDR3 RAM. Prices vary, up to a maxed-out configuration with 16GB of RAM, and 1TB of flash storage for $1899. Students can purchase the entry-level model for $999.
Essential Reading