M1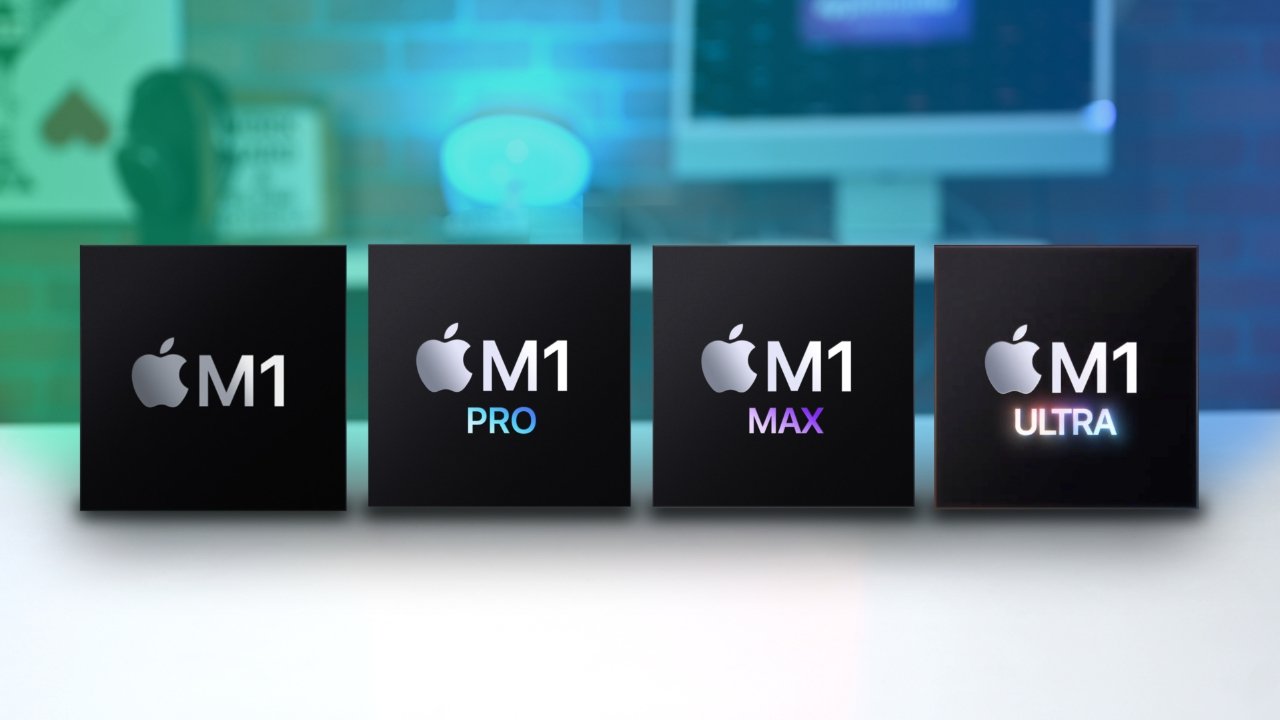 There are three variants of the M1 processor designed for Apple's laptops, desktops, and even iPad Pros. The move away from Intel has enabled the company to redesign its products with better thermals, longer battery life, and more feature parity with its mobile offerings. Benchmarks show M-series chips outperform nearly all their Intel counterparts in power efficiency and performance.
● Apple Silicon for Macs
● 5nm architecture
● Performance, Efficiency, and GPU cores
● Neural Engine for machine learning
● Enormous claimed performance and efficiency boosts
● Used in the latest MacBooks and iPad Pros
---
Get Apple News Directly in Your Inbox
AppleInsider is supported by its audience and may earn commission as an Amazon Associate and affiliate partner on qualifying purchases. These affiliate partnerships do not influence our editorial content.
---
The M1 and its high-end variants are Apple's first processors meant to replace Intel chips across its Mac lineup. Each processor is optimized for the hardware and software stack it is intended to run, enabling more power and efficiency in every task.
In late 2021, the pro-grade M1 Pro and M1 Max were introduced for use in the updated MacBook Pros. They incorporated more cores, better GPUs and enabled high-end RAM and storage configurations.
These three processors are built upon the same 5nm foundation and act as distinct entry points into Apple hardware. The M1 is used in the widest variety of consumer-grade devices with more than enough performance to tackle any day-to-day task. The M1 Pro is the middle-tier "prosumer" chip that acts as the base option for the new MacBook Pros but is still limited when compared to the high-end.
The M1 Max is the peak of Apple's offering in the M-series processors. You'll want this processor if you want the highest RAM option and the best performance for intensive tasks like multi-channel 4K video rendering or app development.
System-on-a-chip
All M-series processors are integrated systems-on-a-chip. This means the CPU, GPU, Neural Engine, and other processes are set on the same system package and use a unified memory pool.
On Intel-based systems, these were all separate chips with individual memory pools, which means data had to be copied between the memory pools before the CPU or GPU could act on the data. Apple says the integrated approach maximizes efficiency.
Vertical integration also allows Apple to optimize performance. That's opposed to Intel's one-size-fits-all chips, which are designed to power computers running macOS, Windows, Chrome OS, and Linux.
Further complicating matters, Intel's processors need to work across a range of hardware from HP and Dell to Samsung, LG, and Microsoft's Surface line. Meanwhile, Apple can design its chips, hardware, and software from the ground up to work together seamlessly.
M1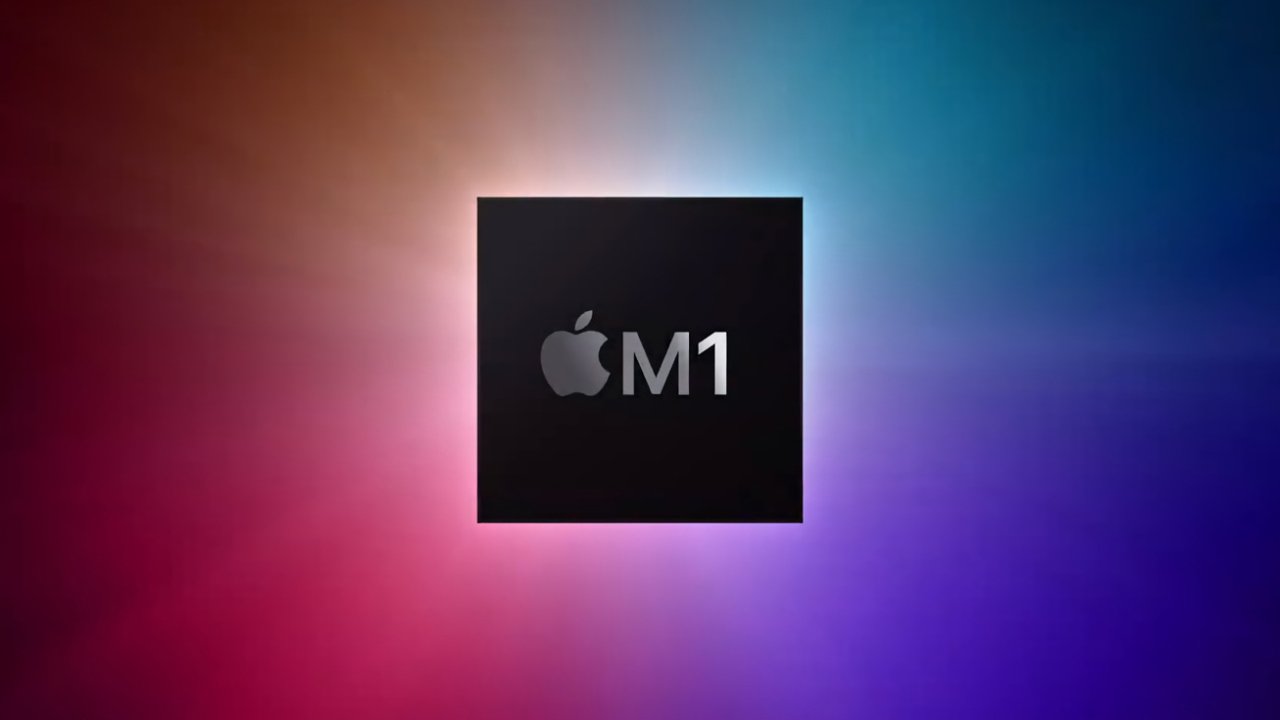 The entry-level M1 includes eight processing cores and up to eight additional GPU cores. The processing cores are split between four high-performance cores and four efficiency cores.
The integrated GPU handles graphically intense tasks like photo and video editing, playing a game, or outputting video to an external display. Apple said the M1's graphics cores could simultaneously handle nearly 25,000 threads.
Apple's silicon has a unified memory architecture (UMA) that merges high-bandwidth and low-latency memory into one pool within a custom package. The UMA lets all segments of the M1 access the same data without copying between different memory pools, boosting both performance and power management. Apple says the UMA will allow for up to 3.9x faster video processing and 7.1x speedier image processing.
Like Apple's mobile chips, the M1 also includes a 16-core Neural Engine for machine learning (ML). The M1's Neural Engine can execute up to 11 trillion ML operations per second, working with the GPU to boost tasks like complex photo and video filters.
Apple says the M1 delivers up to 3.5x faster CPU performance, up to 6x faster GPU performance, and up to 15x faster machine learning when compared to Intel-based Macs. All this and the battery life is doubled too.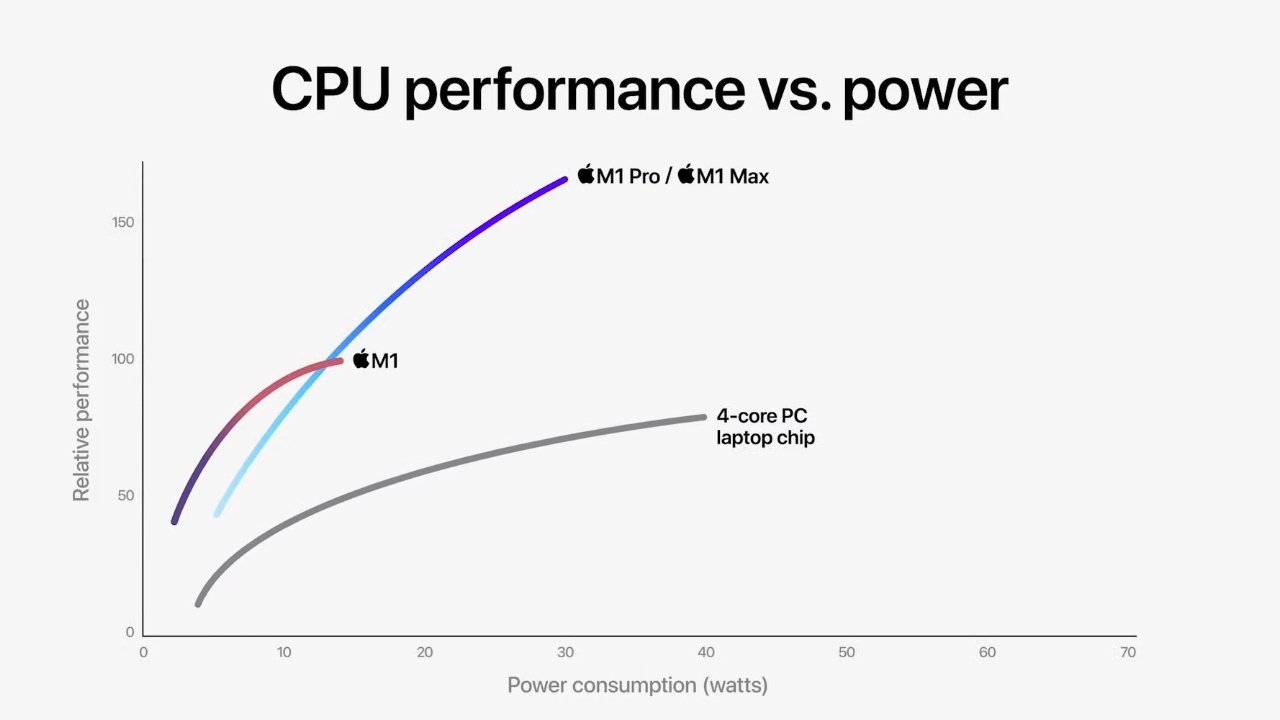 Benchmarks show that MacBooks running the M1 could outperform any but the most powerful Intel-based MacBook Pro. Even when running Intel apps through Rosetta 2, most operations performed better than on native Intel.
Along with enormous performance boosts, the M1's efficiency also allows for longer battery life. Apple says the M1-equipped MacBook Air can last for 15 hours of wireless web browsing and 18 hours of video playback. Those estimates for the 13-inch MacBook Pro jump to 17 hours for web and 20 hours for video. Those are up to 10 hours longer than Apple's estimates for their Intel-based equivalents.
Apple's integration between the M1 and macOS also helps with both performance and efficiency. For example, devices wake from sleep instantly on Apple Silicon Macs, similar to iPhones and iPads. Apple states that apps also launch nearly instantly, animations are snappier, and Safari scrolling is smoother due to vertical integration.
Configurations
While the M1 is an impressive piece of technology, it isn't without its limitations. Customers buying a computer with the M1 processor should be aware of the few, but significant, drawbacks when compared to Intel machines.
M1 Macs max out at 16GB of RAM, can only connect to one display over Thunderbolt, and can only have up to two Thunderbolt ports. These limitations won't affect all customers, but for pros, this was problematic until Apple revealed the newer processors.
Of course, Apple wasn't limited to Thunderbolt ports, so the 24-inch iMac had the option of adding two USB-C ports and the Mac mini had an HDMI port.
All M1 processors have an 8-core CPU and vary between a 7-core and 8-core GPU based on performance tier chosen.
Customers can choose between 8GB or 16GB of RAM and up to 2TB of storage. For iPad Pros, the RAM was dependent on storage chosen — 8GB of RAM with 512GB or less and 16GB of RAM for 1TB or 2TB models.
Computers with M1 processors:
13-inch MacBook Pro
MacBook Air
Mac mini
24-inch iMac
12.9-inch iPad Pro
11-inch iPad Pro
M1 Pro
The M1 Pro is designed for professionals who rely on the MacBook Pro. Rather than use a discrete GPU like other professional notebooks, Apple included it in the system-on-a-chip with a unified memory architecture.
The 10-core CPU has eight high-performance cores and two high-efficiency cores. That's six more performance cores than the standard processor. That translates to about 70% faster CPU performance than M1.
The 16-core GPU enables 2x graphics performance when compared to the smaller chip. Apple also included a ProRes acceleration module to enable faster processing of the large file format.
There are improvements to the display engine and Thunderbolt I/O, enabling more external displays and more ports. The new MacBook Pros have three Thunderbolt 4 ports and can connect to two external displays.
Configurations
There are multiple configurations for this chipset with 8-core or 10-core CPU options, 14-core or 16-core GPU options, and 16GB or 32GB of RAM. Customers can also purchase up to 8TB of integrated SSD storage.
M1 Max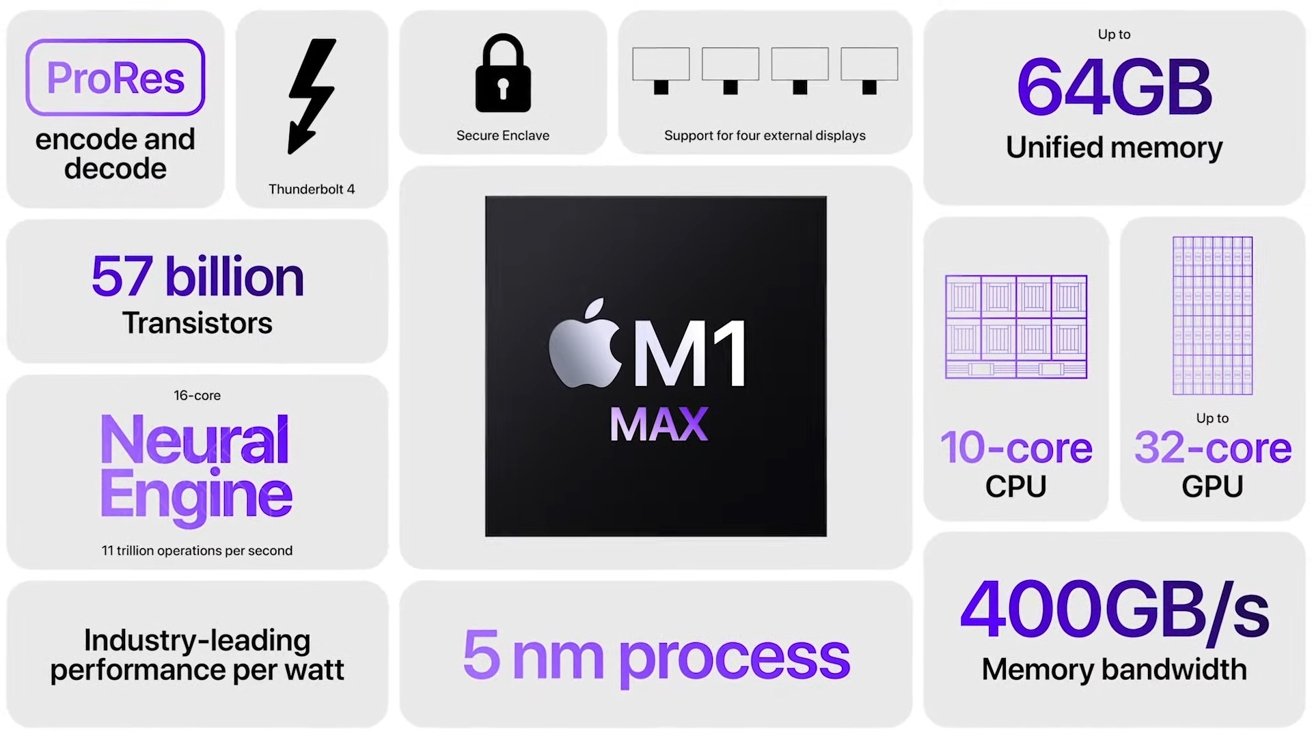 The M1 Max takes Apple Silicon even further as the largest system-on-a-chip Apple has ever made. Its massive 57 billion transistor die supports up to 64GB of RAM at 400GB/s.
The 10-core CPU is the same as the M1 Pro, but the GPU can be increased to 32 cores. That translates to 4x faster graphics performance.
The M1 Max also benefits from the improved Thunderbolt I/O and display engine. However, this processor can handle up to four external display connections.
Power and efficiency is the goal of Apple's custom silicon, so performance per watt is industry leading. When compared to a maxed out Intel-based machine with a powerful GPU, the M1 Max consumed 100W less power at its peak performance. Due to this effect, the high-end Intel computer has to stay plugged in to power in order to achieve its high performance while the Mac can sustain peak performance even on battery power.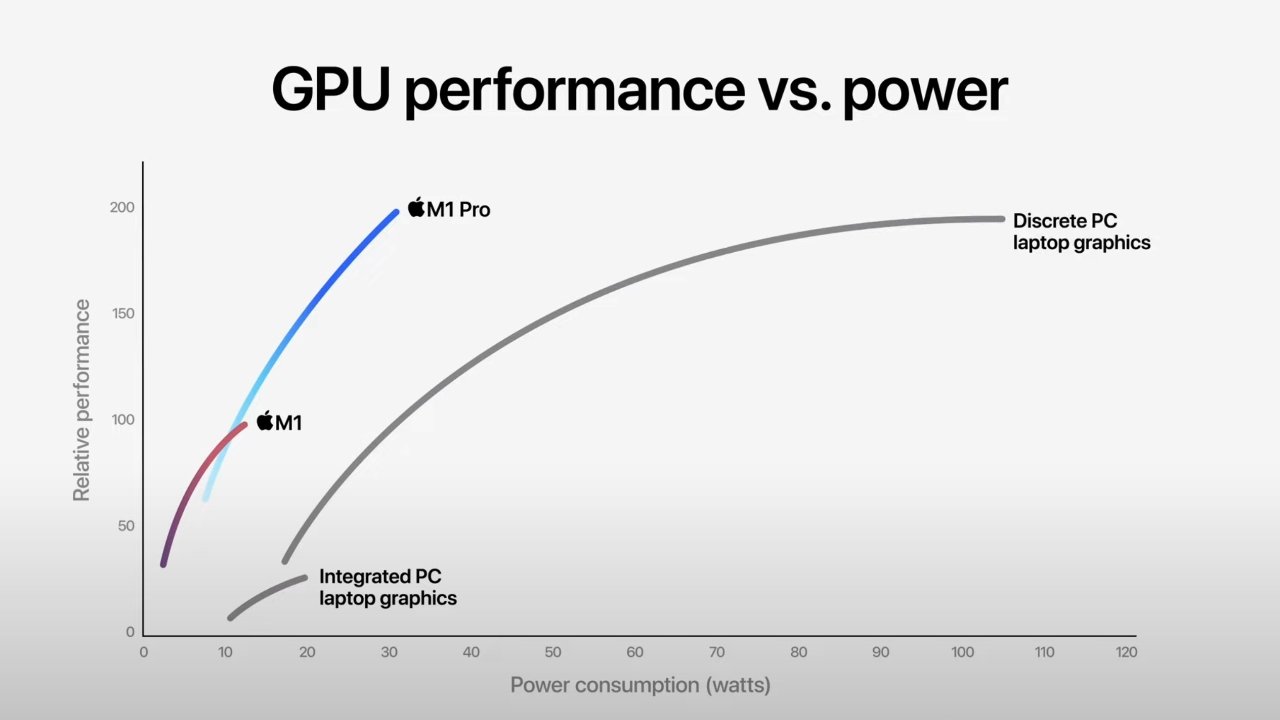 Configurations
Customers can configure the M1 Max with a 24-core or 32-core GPU and up to 64GB of RAM. Maxing out this processor adds $700 to the base price of the laptop, costing another $800 for the maximum RAM.
Only the 14-inch MacBook Pro and 16-inch MacBook Pro use the M1 Max at this time.