14-inch MacBook Pro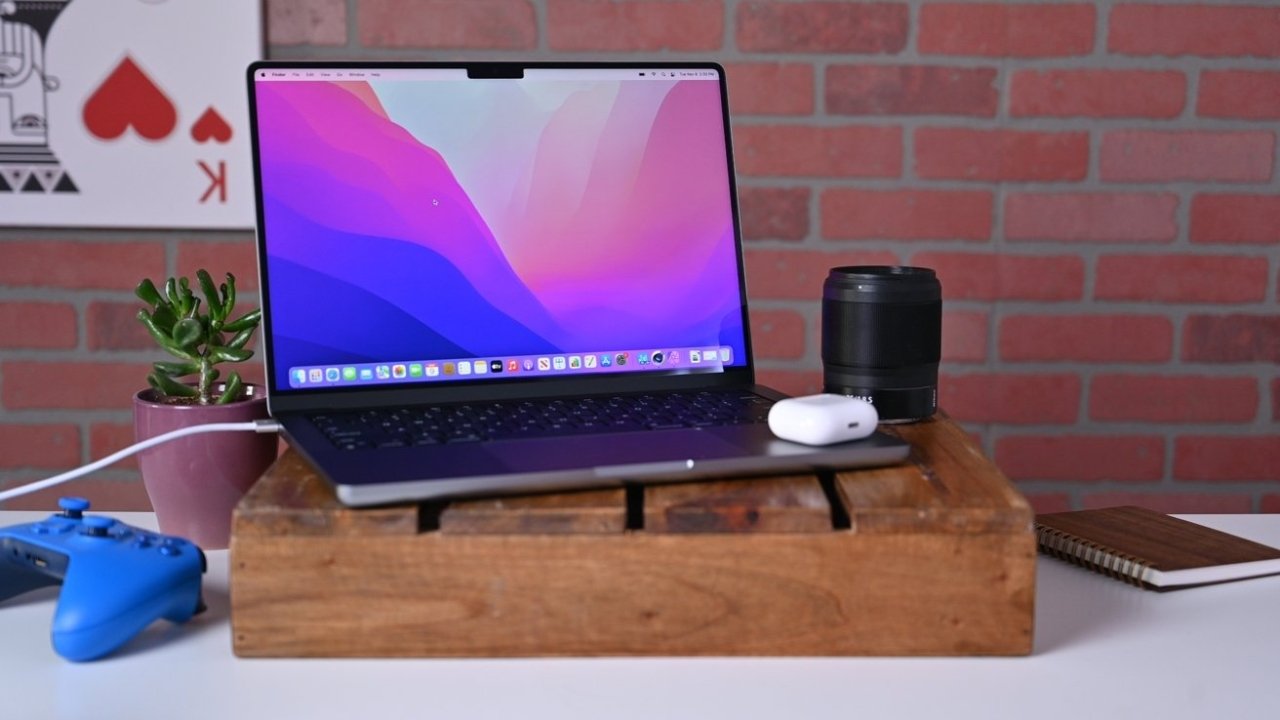 While Apple has updated their 13-inch MacBook Pro with a scissor keyboard and better processors, there is still rumors about a future refresh. Since the 15-inch MacBook Pro saw a screen size increase to 16 inches, it is believed that the smaller one will see a similar increase. Since the latest revision occurred in May 2020, rumors point to a potential 2021 release of this updated model.
● Announcement and release in 2021
● New 14.1-inch Retina Display
● Micro LED could be introduced
● ARM or Intel chipsets possible
---
14-inch MacBook Pro Potential Features
Rumor cycles around Apple's unreleased products constantly churn, and usually provide some insight into what may be relesed next. With the recent update to the 13-inch MacBook Pro, very little is known about what could come for the 14-inch refresh beyond the screen size update.
Keyboard
After years of increased failure rates and reported stickiness and repeating keys, Apple has finally found a suitable replacement for the butterfly keyboard. The new Magic Keyboard features a new scissor switch mechanism, which has 1mm of travel. The 13-inch finally received this new keyboard, so it isn't going anywhere when the refresh occurs.
As with the other touchbar MacBook Pro, the 14-inch is expected to see the physical escape key. User frustration over a digital escape key, one without tactile feedback that could disappear during use, must have been heard loud and clear.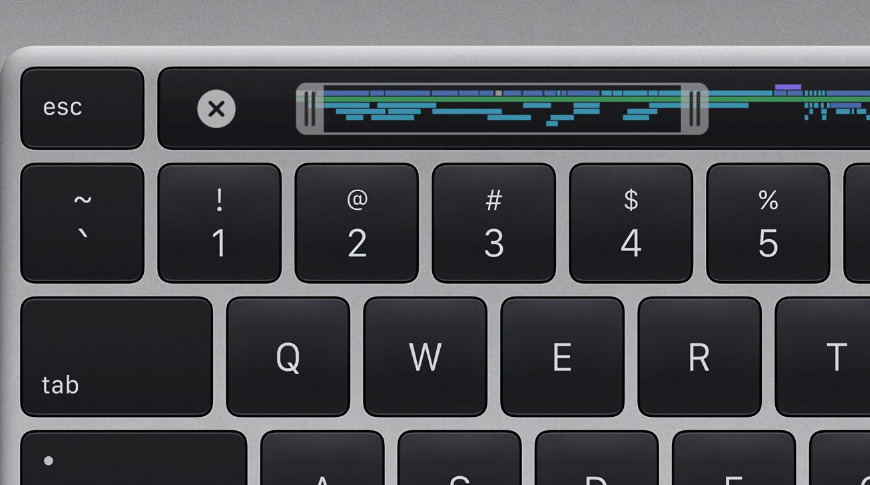 Each device with a Magic Keyboard have keys that are spaced slightly further apart for better ergonomics. There is a distinctive click to this keyboard, but is not as loud as the 2016 butterfly mechanism.
A much desired change to the arrow keys has also been applied to the Magic Keyboard. The inverted-T arrangement with half spaced left and right arrow keys make it much easier to find keys when touch typing. The up and down keys take up the space of a single key, but are distinguishable from feel.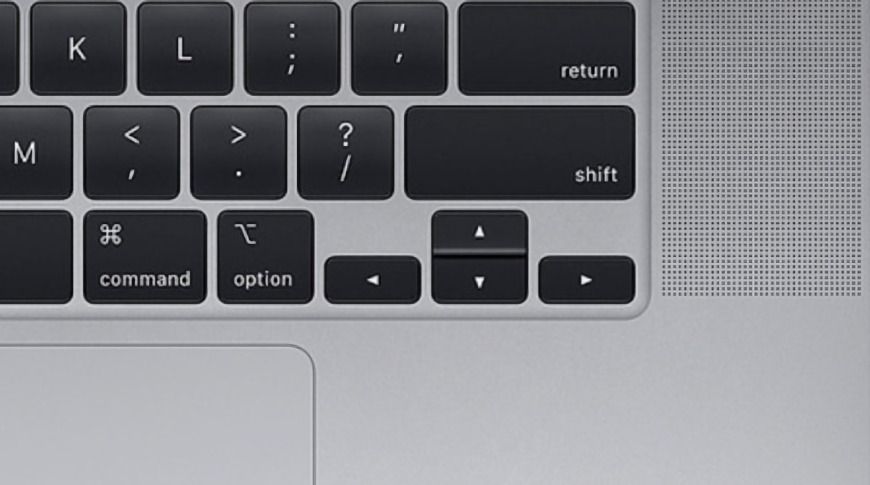 Screen
The 16-inch MacBook Pro gained extra inches, and extra pixels. If the 13-inch MacBook Pro truly is upgraded to a bigger display, then a higher resolution is likely as well.
Rumors point to a 14.1-inch Retina Display. This is the size you would get from slightly extending the screen into the current bezel space of the 13-inch, which provides a more immersive experience.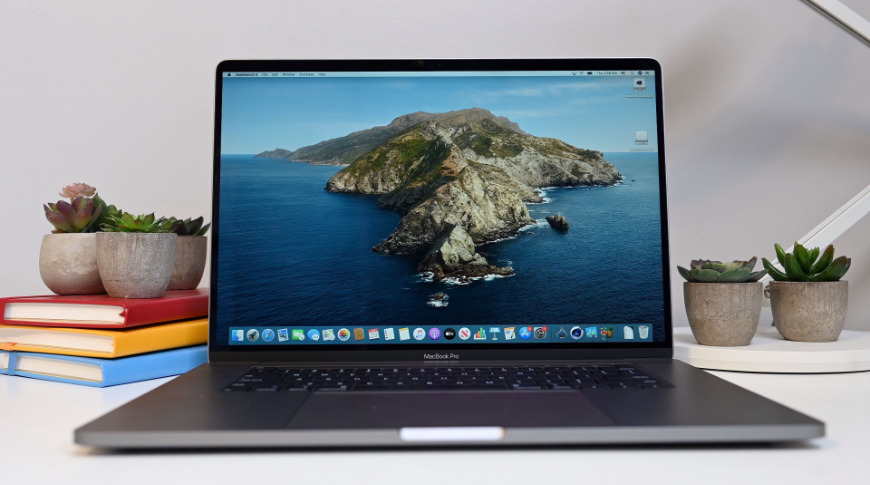 Since the other specs of the 16-inch screen did not change, it is unlikely the 14-inch will either. 500 nits of brightness with a P3 color gamut is still well placed in a professional laptop, however.
Some rumors point to a 2020 MacBook Pro refresh with Mini LED. The 14-inch MacBook Pro that is expected in May could have such screen technology, alongside a refreshed 16-inch, but it is unlikely. Mini LED could show up next year across several Apple product updates.
Processors
The current 13-inch MacBook Pro uses 8th-generation Intel core i5 or i7 processors in the base configuration, and 10th-generation processors in the high end configuration.. The 16-inch MacBook Pro uses the 9th-generation processors, and has an i9 option.
Intel has since released their updated 10th-generation processors with support for WiFi 6 and some speed increases. While the 2020 MacBook Air already features the 10th-generation processors, the latest released are the higher 45W H-series for high end laptops.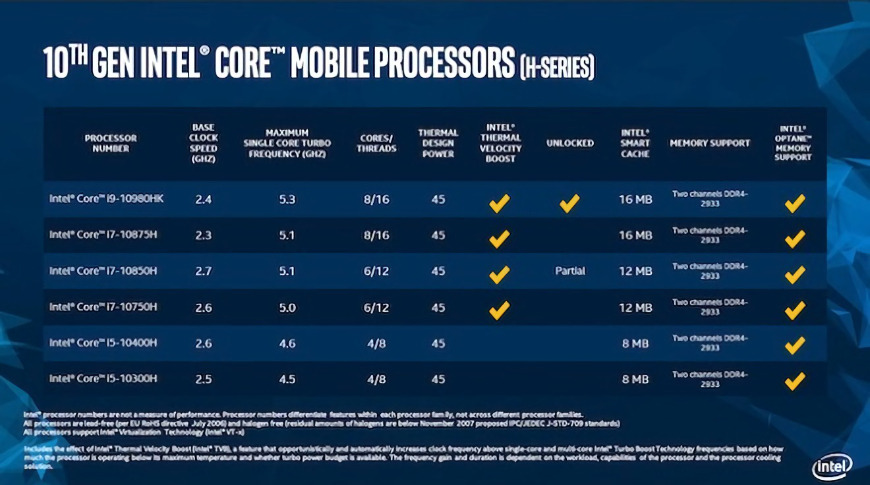 The H-series chipsets feature nearly identical specs to their 9th-generation counterparts, but have some slight speed boosts when turbo boosted. The i5 boosts to 4.5GHz, the i7 to 5GHz, and i9 to 5.3GHz which is up from 4.1GHz, 4.5GHz, and 5GHz respectively.
The Core i7 chipsets also gain a new feature previously reserved for the i9, called thermal velocity boost.
While these are not major updates, the 14-inch MacBook Pro stands to gain some performance from their implementation across the line, eliminating the base configuration's use of 8th-generation chips.
Other 14-inch MacBook Pro updates
The microphones are likely to get the same treatment as the other Apple laptops. Apple introduced three "studio grade" microphones positioned about the keyboard for better capture without the need for an external mic.
The current 13-inch MacBook Pro has two or four Thunderbolt 3 ports depending on the processor configuration. This may change with the newer model, or could continue being limited.
Due to the latest Thunderbolt 3 specs brought by new Intel processors, it will be able to drive displays up to 6K, including the Pro Display XDR.
A tweet on May 11 revealed that the 14-inch MacBook Pro will not be coming until 2021, with Jon Prosser confirming the information with a "100%" in his reply.