MagSafe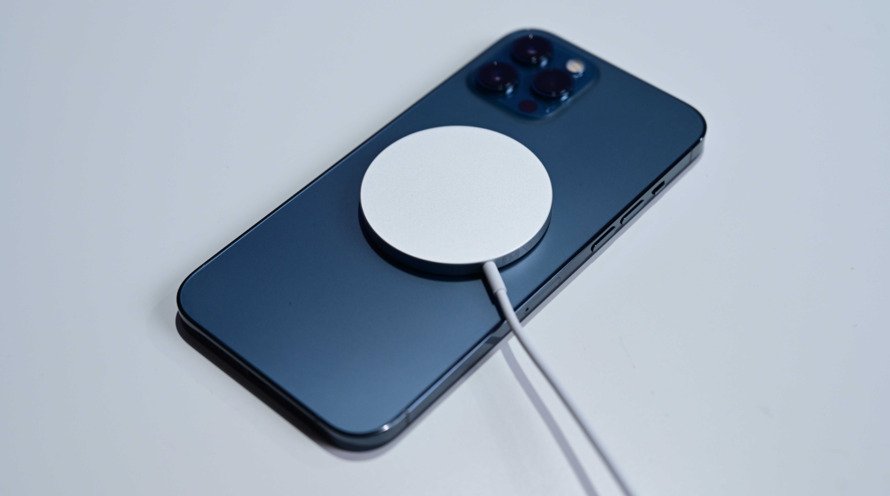 Last updated: 1 month ago
MagSafe is a wireless charging system for iPhone 12 smartphones. Previously, it was also a name for MacBook chargers from 2006 until its phaseout from 2015-2017. In both cases, magnets snap the device and charger into alignment.
● Wireless charging system for iPhone 12
● Apple chargers, cases, iwallet, sleeve
● Third-party accessories
● Previously, magnetic charging for retired MacBooks
---
MagSafe is Apple's wireless charging system for the iPhone 12 family of smartphones. That system includes built-in magnets on the iPhone and cases and charging accessories from Apple and official partners. Previously, it was also a marketing term for MacBook chargers from 2006 until its gradual phaseout from 2015-2017.
In MagSafe for iPhone 12, a circular series of magnets inside both the new iPhones and official cases snap onto accesories in perfect alignment. The effect is similar to how the Apple Watch magnetically attaches to its charger.
MagSafe Features
The MagSafe ecosystem may be what Apple opted to make instead of the canceled AirPower. While it's a different approach, it has a similar goal of removing user friction from charging. However, recent rumors suggested Apple engineers are still working on a revised AirPower design, now carrying the A11 chip for power management.
Chargers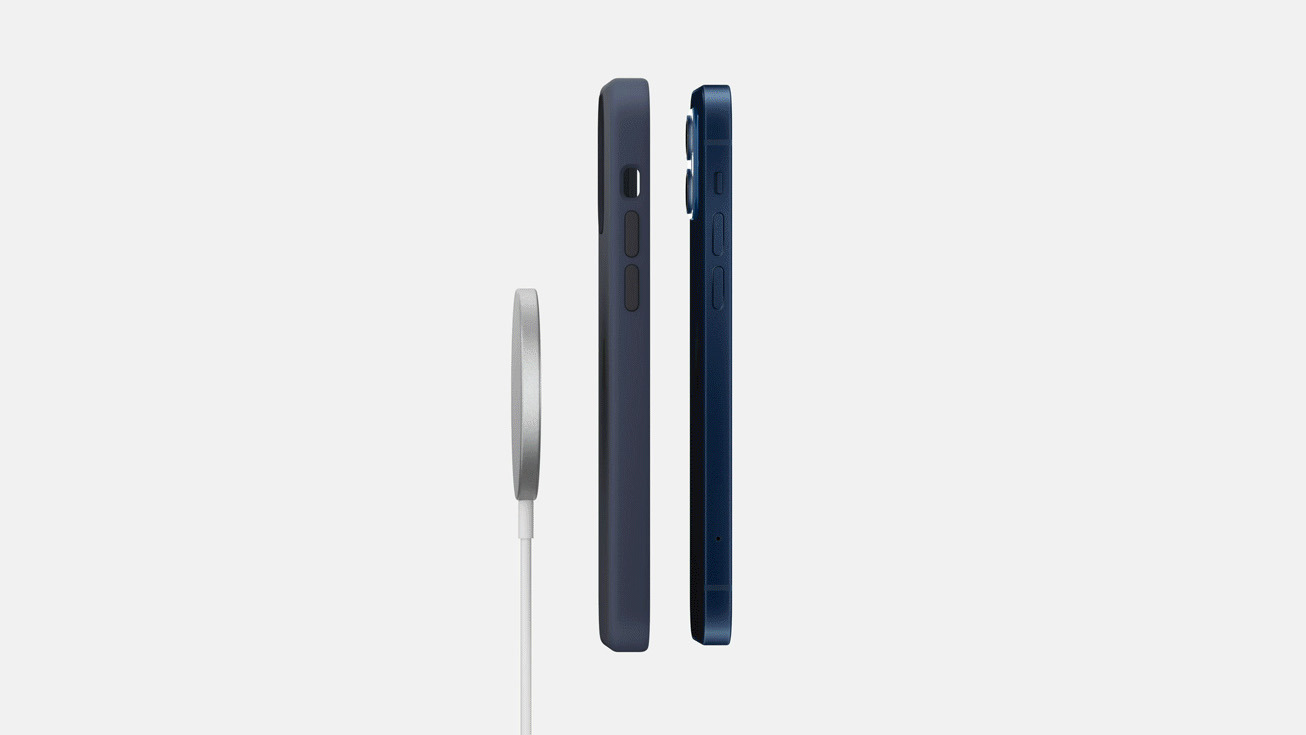 Apple announced MagSafe for iPhone 12 at the "Hi, Speed" event on October 13, 2020. Apple makes MagSafe accessories for iPhone and Apple Watch. The chargers allow users to hold the phone near the charging pad, while magnets' circular arrangement snaps it into perfect alignment for charging.
The MagSafe Charger, a small, puck-like charging pad, snaps onto the back of the iPhone. The MagSafe Duo is a larger accessory that simultaneously charges an iPhone and Apple Watch. They both charge the iPhone at 15W if connected to at least the 20W wall adapter that uses the USB PD 3.0 spec.
The standard magnetic charger costs $39 and is compatible with all iPhone 12 models. The MagSafe Duo costs $129 and can only charge the iPhone at a max 14W when using a 30W adapter.
Cases, Wallet, and Sleeve
Apple is also building its magnetic charging tech into official iPhone 12 cases. The cases will magnetically snap onto the phone, and charging accessories will then snap onto the case.
The company is also offering a wallet that snaps onto the back of an iPhone or MagSafe case and a sleeve with a window that adjusts the iPhone's display to show the time.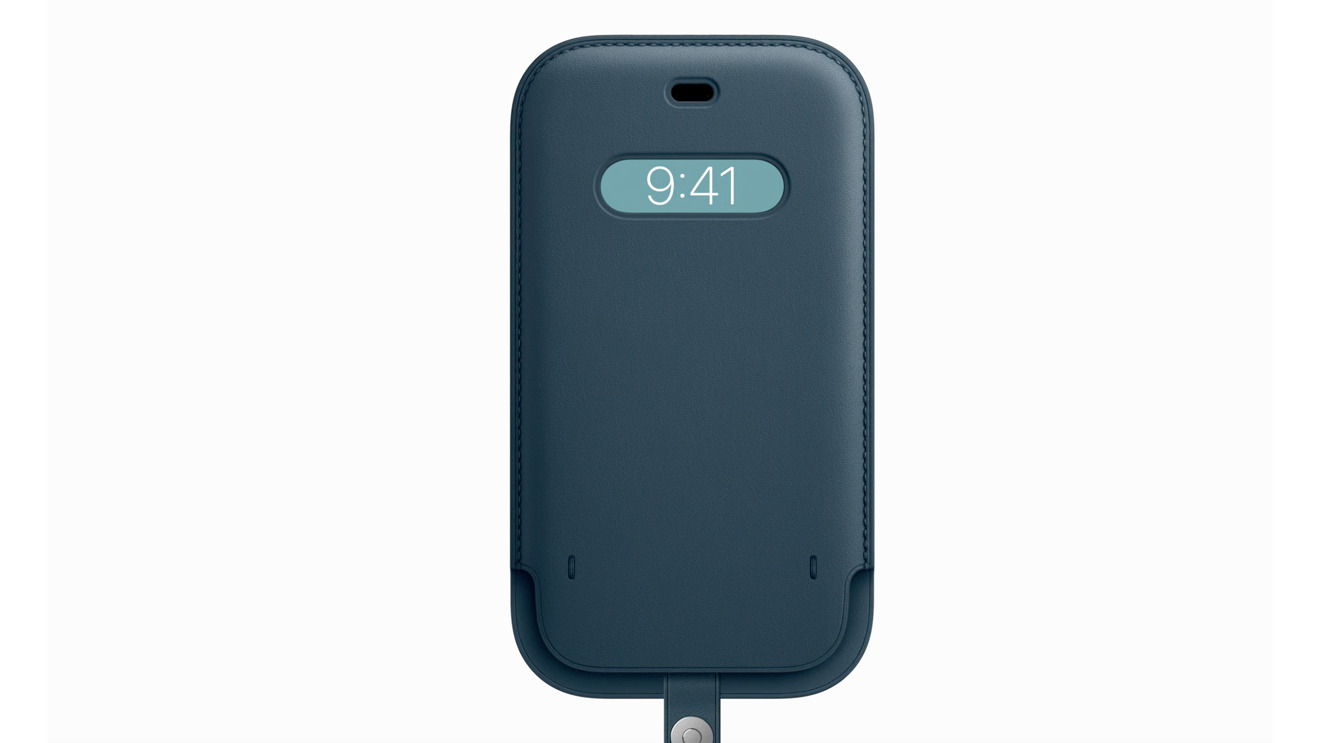 Apple's magnetic charging tech will also work with official third-party accessories. Belkin and other accessory makers have MagSafe charging products on the way.
Third-party Accessories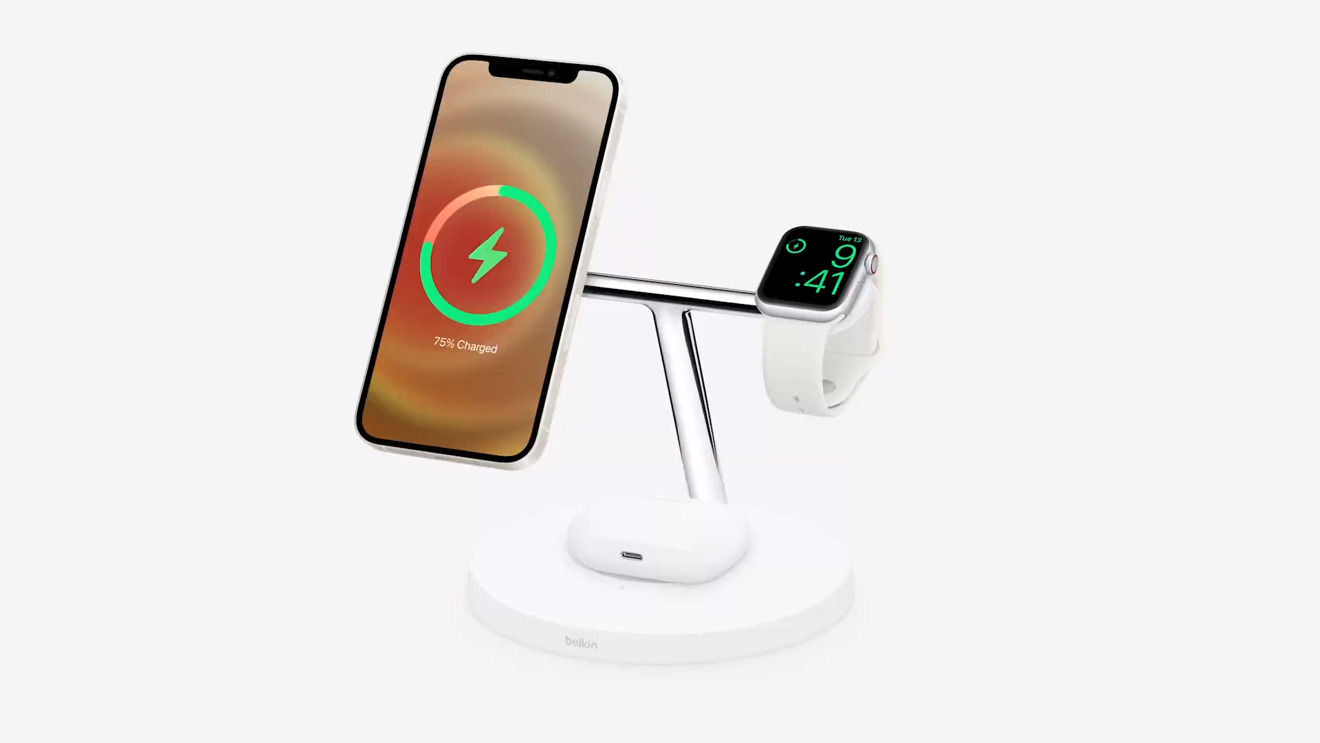 Apple sees its magnetic charging setup as a new ecosystem both for itself and hardware partners. You can expect to see more compatible accessories launching in the coming months.
Belkin was early out of the gates with its 3-in-1 Wireless Charger. The sleek stand can simultaneously charge an iPhone, Apple Watch, and AirPods. It launches this winter for $149.95. It charges an iPhone 12 or iPhone 12 Pro in portrait or landscape. The charger holds the iPhone up, and the strong magnetic mount will not let it fall even if notifications keep vibrating it.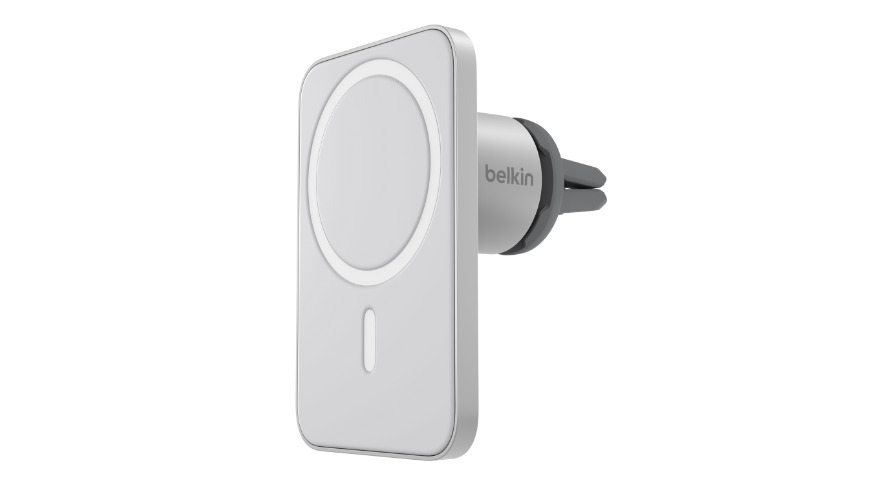 The MagSafe Car Vent Mount Pro is a dash mount for the iPhone 12. Its attaches via vent clip and can be rotated and tilted to hold an iPhone 12 in portrait or landscape orientation.
MagSafe MacBook Charger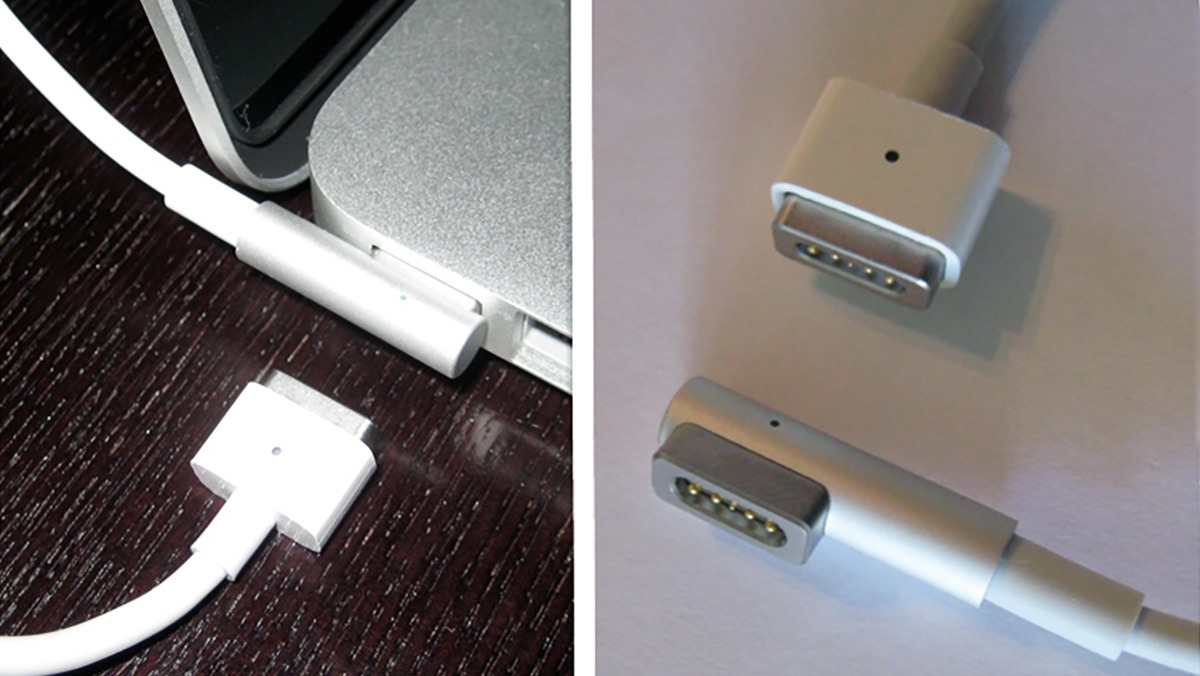 Before reviving the brand for its wireless chargers, Apple used the MagSafe branding for its series of MacBook chargers.
In 2006, Apple launched the initial one in the first Intel-based MacBook Pro. It included a "T" shaped male plug that magnetically snapped into the female port on the laptop's side.
The charger had connector pins with a symmetrical design that allowed you to insert the plug in either orientation. The charging plug had LEDs on both sides that display as green for fully charged, and amber or red to indicate that it's charging.
Apple switched to an "L" shaped MagSafe plug with the MacBook Air in 2008. Apple transitioned the MacBook Pro to the "L" shape in 2010.
The MagSafe 2 reverted to a thinner version of the initial "T" shape design in 2012's MacBook Air and MacBook Pro with Retina Display. MagSafe 2 was the final version for MacBooks, as Apple shifted to USB-C starting in 2015 with the 12-inch MacBook. The 2016 MacBook Pro also used USB-C.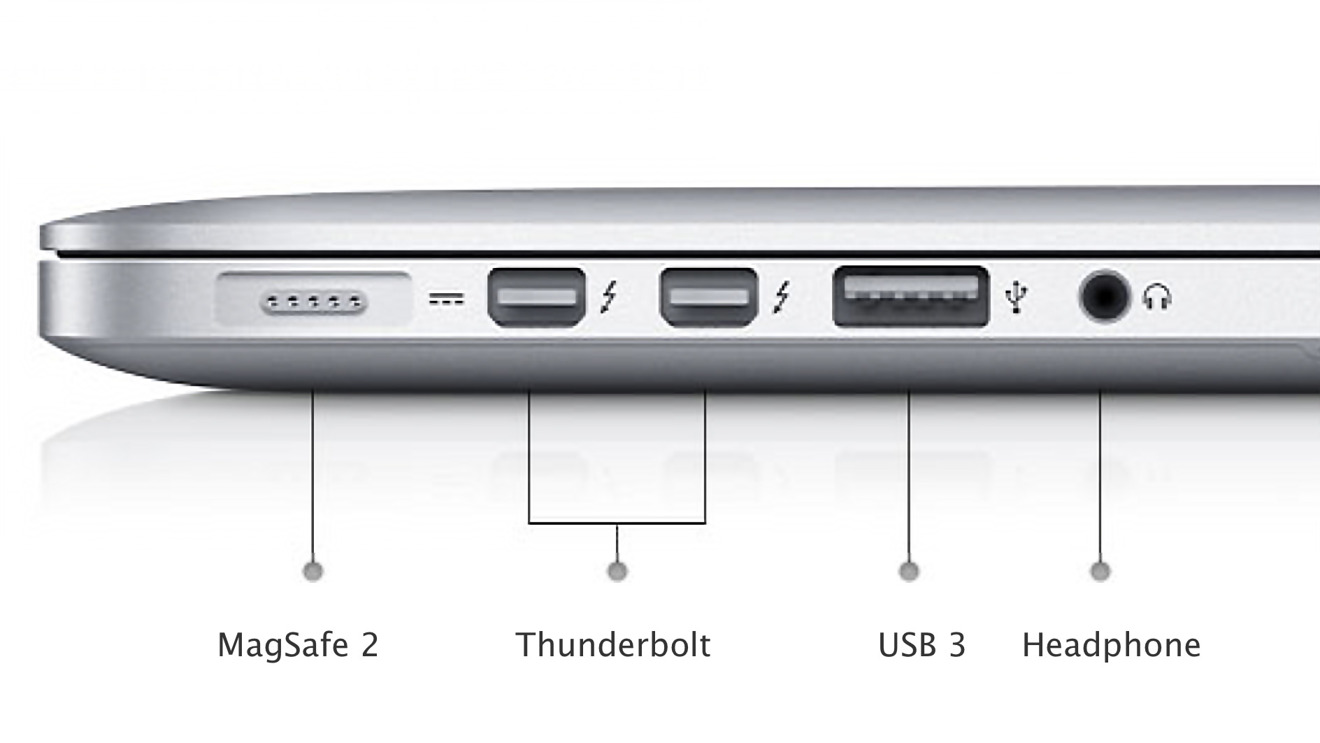 Apple's last MagSafe product was the 2017 MacBook Air, a minor spec upgrade based on the 2011 MacBook Air design. When Apple rebooted the MacBook Air brand in 2019, it too carried USB-C.
In addition to MacBooks, Apple also used its magnetic chargers on the Thunderbolt Display and LED Cinema Display.
Third-party Adapters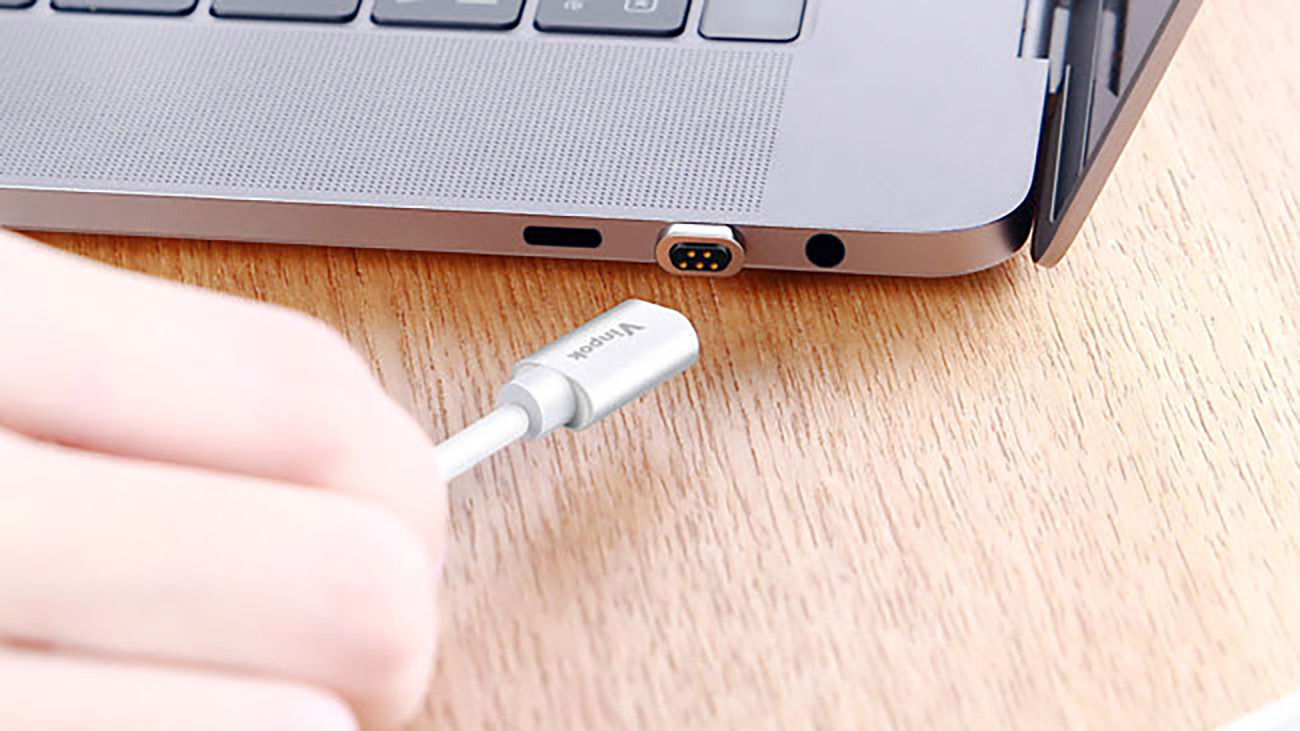 Numerous third-party companies have mimicked the MagSafe charging design with small adapters for USB-C MacBooks. They provide a tiny dongle that inserts into the MacBook's USB-C port. That dongle provides a magnetic female port that a male charging cable can snap into, providing a similar effect to Apple's retired magnetic chargers.
There are different versions of third-party adapters. Some avoided legal trouble by repurposing Apple ports onto the new adapters, allowing customers to use Apple-made cables with newer MacBooks.
Other third-party adapters use designs that aren't explicitly the same as Apple's but create a similar effect. These can include third-party charging cables that plug into a magnetic female dongle or two-part adapters with one piece plugging into Apple's USB-C cable and another into the MacBook's corresponding port.
The Future of MagSafe
Apple sees MagSafe as a new ecosystem both for itself and hardware partners. Apple's partners will launch more magnetic charging accessories in the coming months. These can include charging pads and stands, wallets, and perhaps even battery cases.
Some MacBook owners have voiced a longing to return to the retired magnetic chargers. While USB-C provides a versatile and powerful port for charging and accessories, Apple's current USB-C setups lack magnets. However, there haven't been any reputable leaks about the old magnetic chargers returning to MacBooks.