iMessage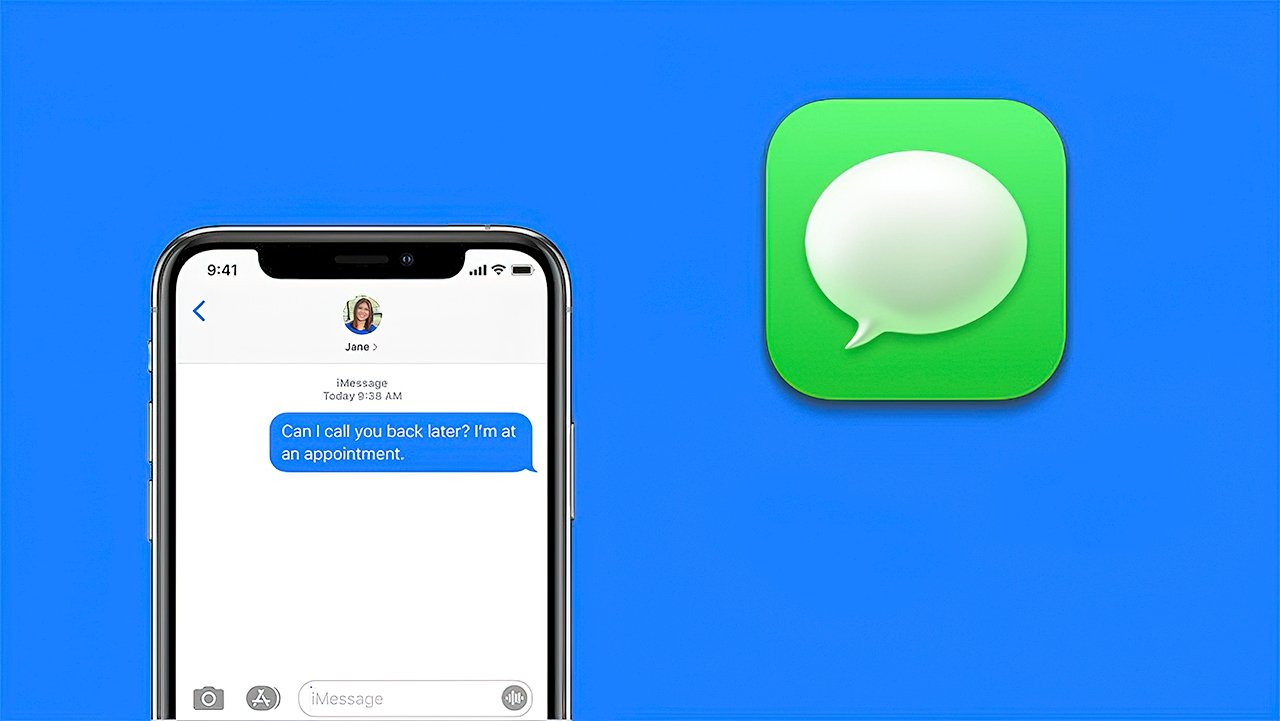 iMessage is an instant messaging (IM) service in the Messages app on iOS, iPadOS, and macOS. It differs from SMS in its use of end-to-end encryption and enhanced chat features. On Apple devices, iMessage chats appear as blue bubbles, while SMS conversations have green bubbles. It supports easy media sharing, message effects, and stickers.
● Requires Apple devices signed into iCloud
● End-to-end encryption
● iMessage App Store
● Stickers
● Memoji and Animoji
● Pinned conversations, mentions, and inline replies arrived in 2020
---
Apple's iMessage is an instant messaging (IM) service baked into the Messages app on iOS, iPadOS, and macOS. It has end-to-end encryption for maximum privacy and a growing feature list that allows for greater self-expression than standard text messaging.
iMessage provides IM-style chat features for two or more people chatting while using Apple devices. All parties will need to have the service turned on and linked to their iCloud account in their device settings.
When you send a message on an Apple device, the Messages app will check with Apple whether the cellular number is registered with iMessage. This determines whether it will use iMessage or standard text messaging (SMS/MMS).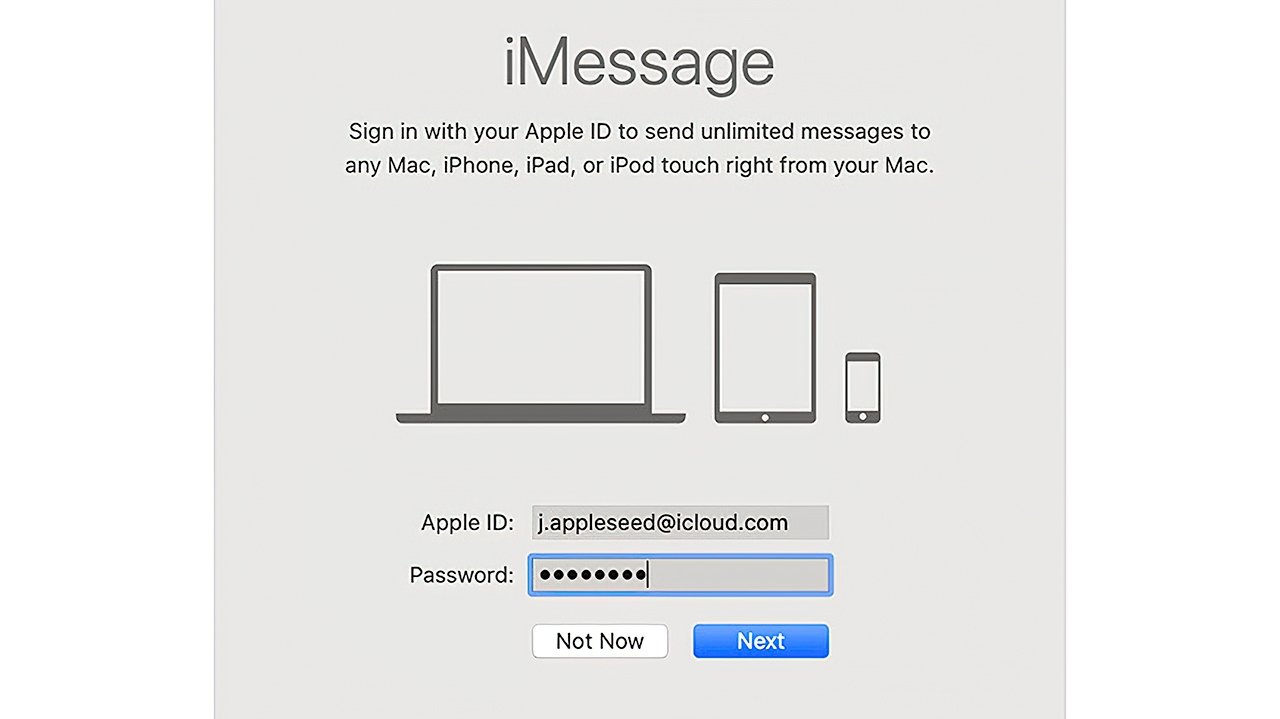 iMessages appear as blue bubbles in the Messages app. Messages sent to non-iPhone numbers will appear as green bubbles. The colors have become a social status symbol for iPhone users, and Apple fully intended this to occur.
Users desire the blue bubble texts for multiple reasons, but above all, it shows that you're messaging a fellow iMessage user and have access to all the features therein. Tapbacks, stickers, and message effects don't work with SMS messaging, so iMessage users tend to playfully shun the "green text" associated with Android users.
Apple has publicly acknowledged that this is by design. Bringing iMessage to other platforms has proven difficult, and ultimately it would hurt Apple more than help them. Besides the reduction of lock-in, bringing iMessage to Android would cut carriers out of charging for SMS texts in some markets.
Apple debuted iMessage in 2011 with the arrival of iOS 5. The following year, it arrived on Mac.
Since then, Apple has periodically added new features that allow users to liven up their chats. These include reactions and effects, animated characters that play your voice while mirroring your face, and a shortcut to the iMessage section of the App Store.
iMessage Features
End-to-End Encryption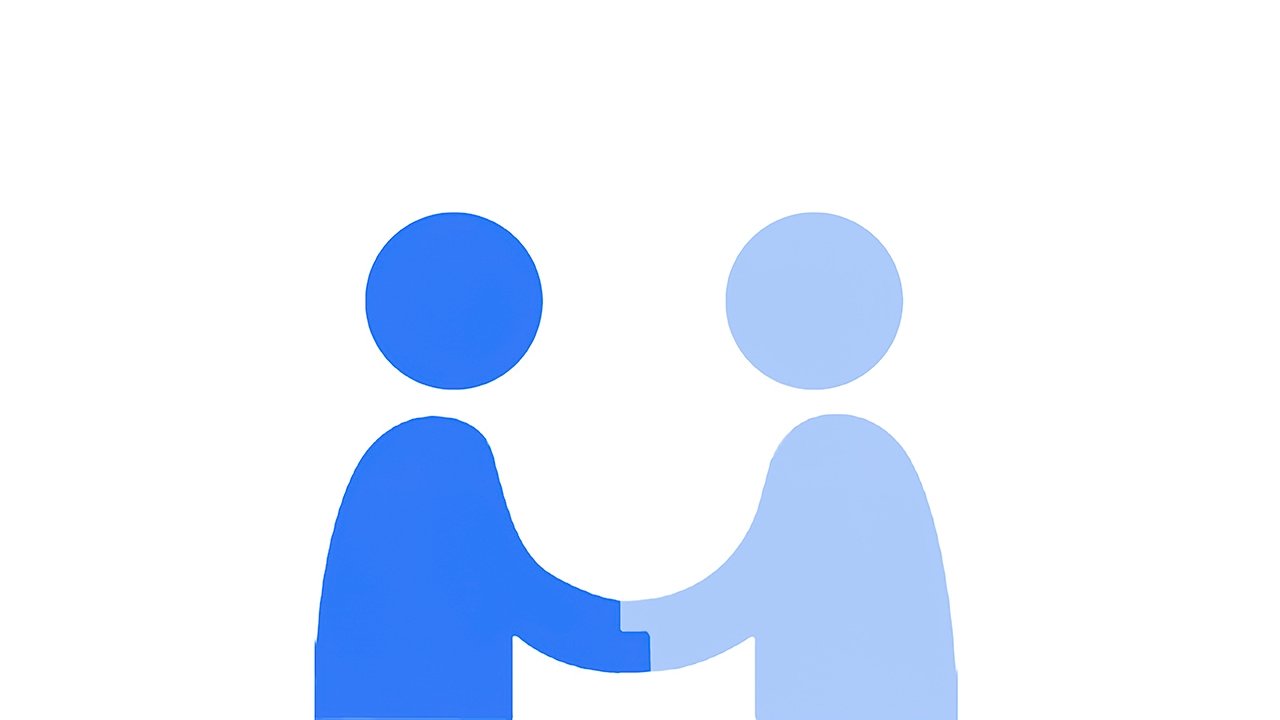 Apple encrypts iMessage on your device, so even they can't read them while they're in transmission between devices. The only way anyone could read your messages was if they had access to either an unlocked Apple device that was participating in the chat, its passcode or biometric login, or the device's backups.
In your device's settings, you can choose to leave messages on your device for 30 days, one year, or indefinitely.
Chatting in iMessage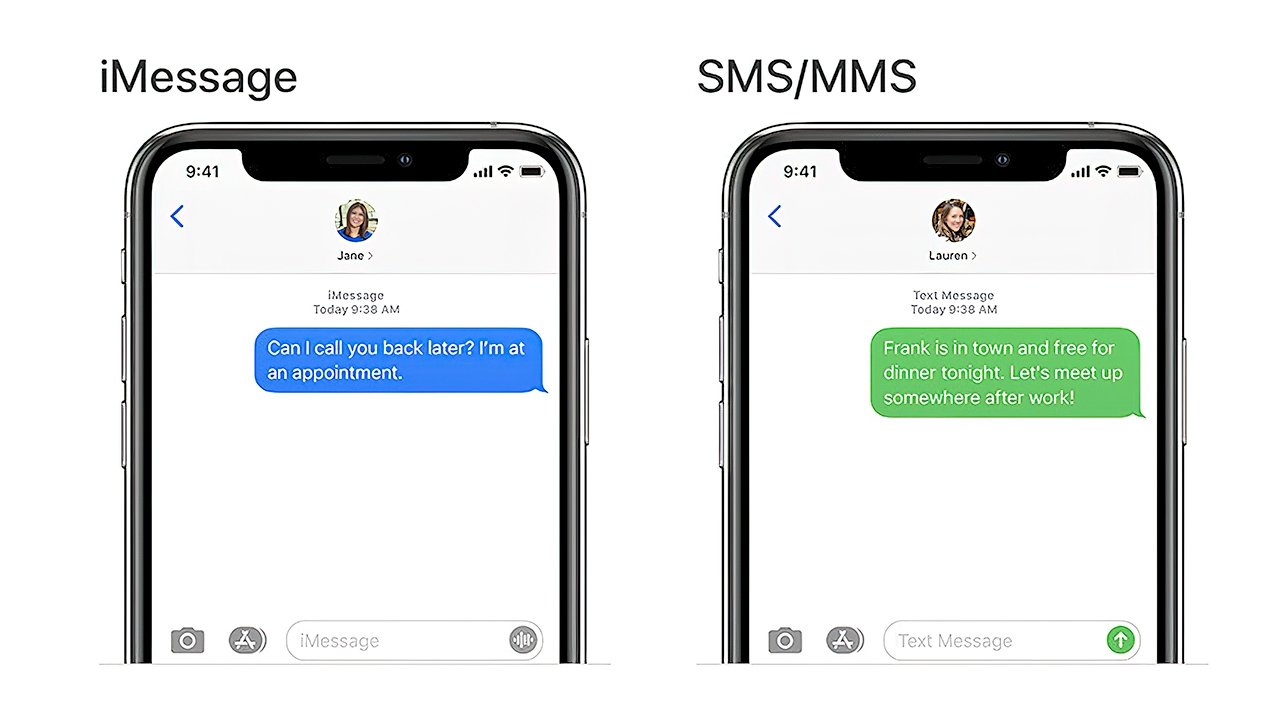 If you don't use any effects, apps, or stickers, chatting in iMessage will look similar to texting with a contact through SMS. The primary difference is blue chat bubbles for iMessage and green bubbles for SMS. You will also see the light gray "iMessage" status in the empty text box for iMessage chats vs. a light gray "Text Message" for SMS.
Another significant difference is that you would see typing indicators (an animated ellipsis) when an iMessage contact typed in their text box. If the person you're chatting with has read receipts turned on, you would also see the words "Delivered" change to "Read" once they open the Messages app to read your message.
You can universally toggle the sending of read receipts on or off. You can also switch them on or off for individual chats. Receiving others' read receipts depends entirely on their settings, not yours.
Sharing Media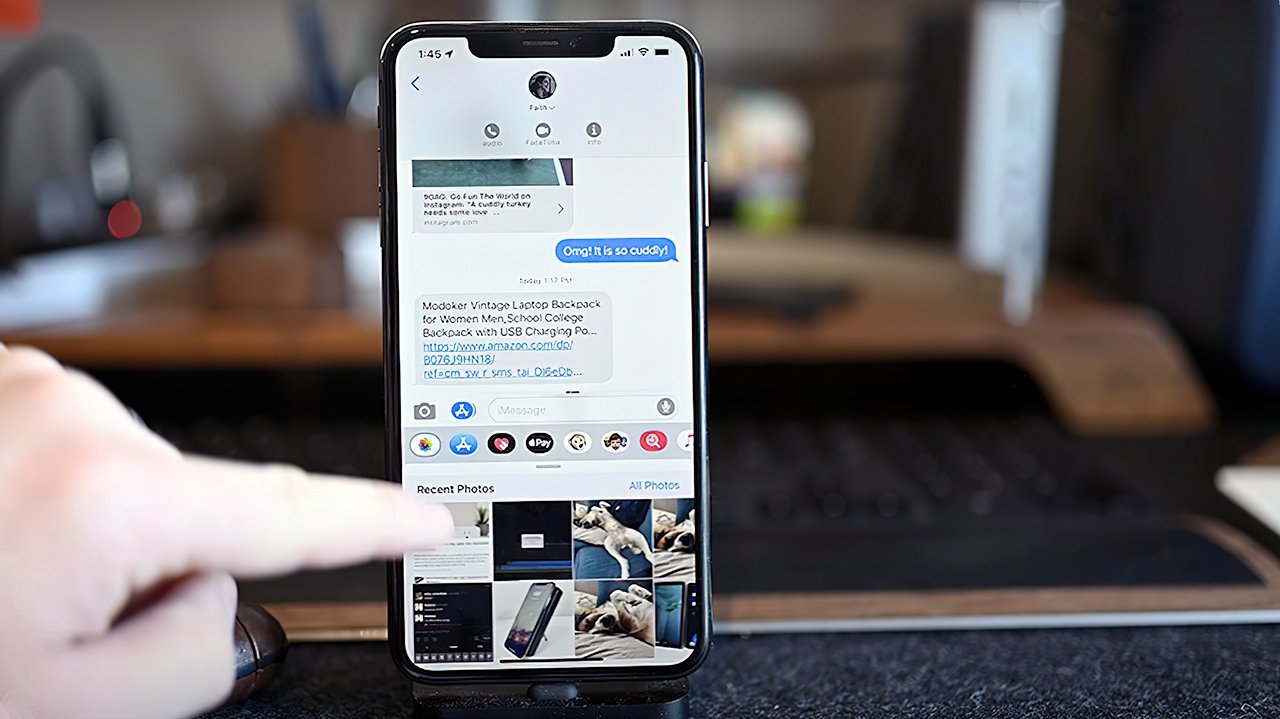 iMessage supports photos, Live Photos, videos, and animated GIFs.
You can share media by selecting the Photos app from the row of icons below the text box and choosing one or more pictures or videos. Alternatively, you could choose a photo from the Photos app and then use its share sheet to select an iMessage contact.
You can take a picture or video directly from an iMessage chat by choosing the camera icon next to the text box. After taking a pic or recording a video, you can edit it or add effects. You can also use Markup to draw on photos before sending them.
You can send audio messages by holding down the audio icon in the text box. You will then have the option to preview or cancel the recording before sending it. By default, the Messages app deletes audio messages after two minutes, but you can change that setting to allow them to stay on your device indefinitely.
You can attach any other kind of file in iMessage using the Share Sheet from the Files app.
iMessage Filtration and Blocking
The Messages app allows you to mute conversations, so you no longer receive notifications from them. To do this, swipe left on the chat from the conversations list and choose "Hide Alerts" (on iOS 14, it is a purple bell icon with a cross through it).
You can block iMessage contacts by navigating to their contact info and choosing "Block this contact."
If someone contacts you and you want to report it as spam, you'll see an option to "Report as Junk" at the bottom of their unsolicited message. This option will only be there for incoming messages from unknown numbers.
Apps, Effects, and Tapback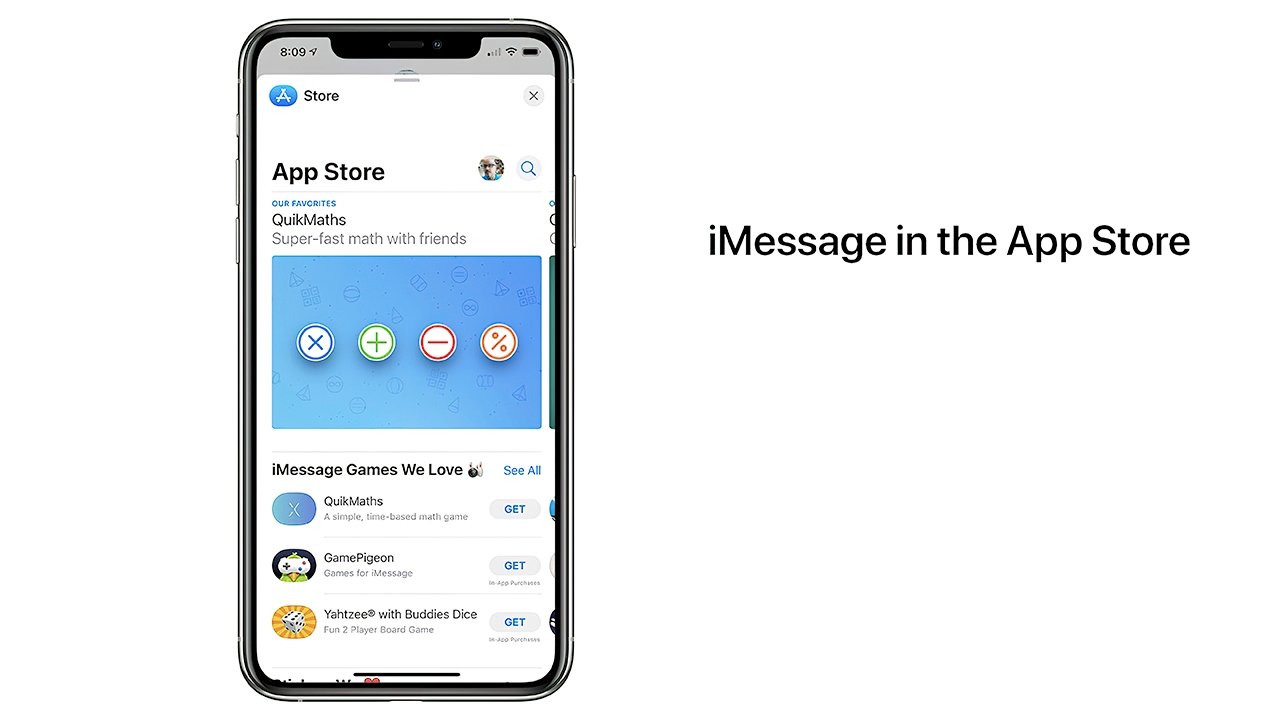 Starting with iOS 10, Apple enhanced iMessage with effects, stickers, reactions, and support for third-party apps.
Effects send a message with an animation that your recipient will see on their screen. Holding down on the send button brings up the option for bubble effects (slam, loud, gentle, or invisible ink) or screen effects (echo, spotlight, balloons, confetti, love, lasers, fireworks, or celebration).
iMessage apps reside in a row of icons below the text box in an iMessage chat. Apple gives you default iMessage apps for the following:
Photos - share your images and videos
Music - share Apple Music songs, albums, artists, and playlists
Apple Pay - send Apple Pay Cash
Digital Touch - send haptic animations like a heartbeat, sketch, tap, etc.
Memoji - share animated or sticker versions of yourself or a cartoon animal
#images - search for GIFs and images to share
App Store - discover third-party iMessage apps, games, and stickers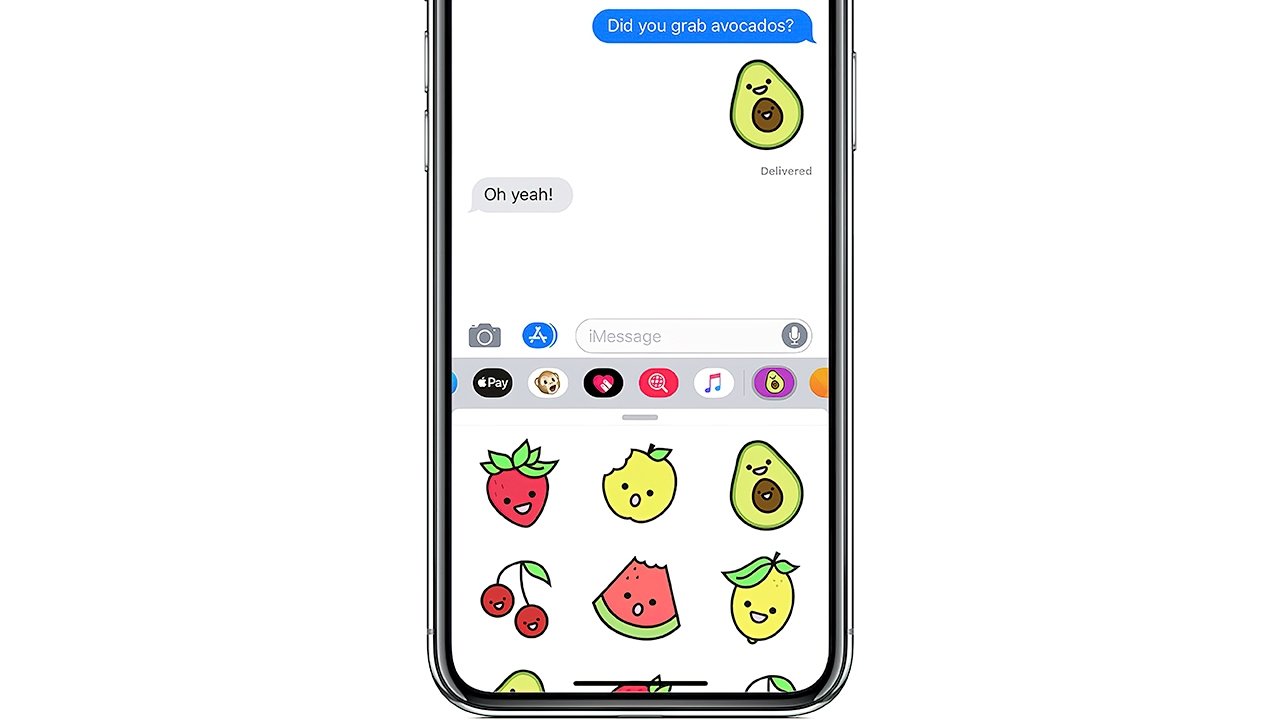 iMessage apps can include games, where friends in the same chat can play together. Third-party iMessage apps don't have access to any of your info or data.
Stickers differ slightly from regular images or GIFs. If you send a sticker on its own, it will appear as an image or animation, but you can also drag and drop one or more stickers on top of chat bubbles, photos, videos, or other stickers.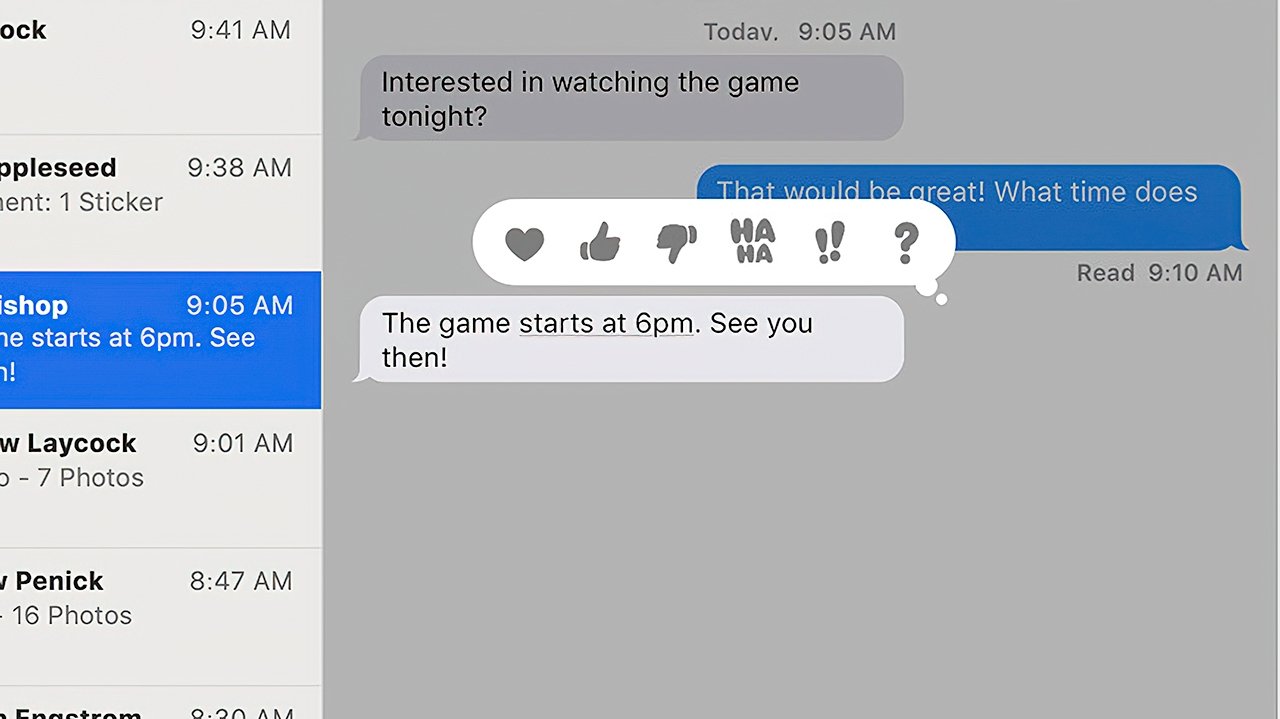 Tapback lets you react to a specific message without typing a new message. Long-pressing or double-tapping on a chat bubble enables you to choose from several emoji reactions: love, like, dislike, laugh, emphasize, and question. The emoji appears as a pop-up bubble on top of the chat bubble.
Memoji and Animoji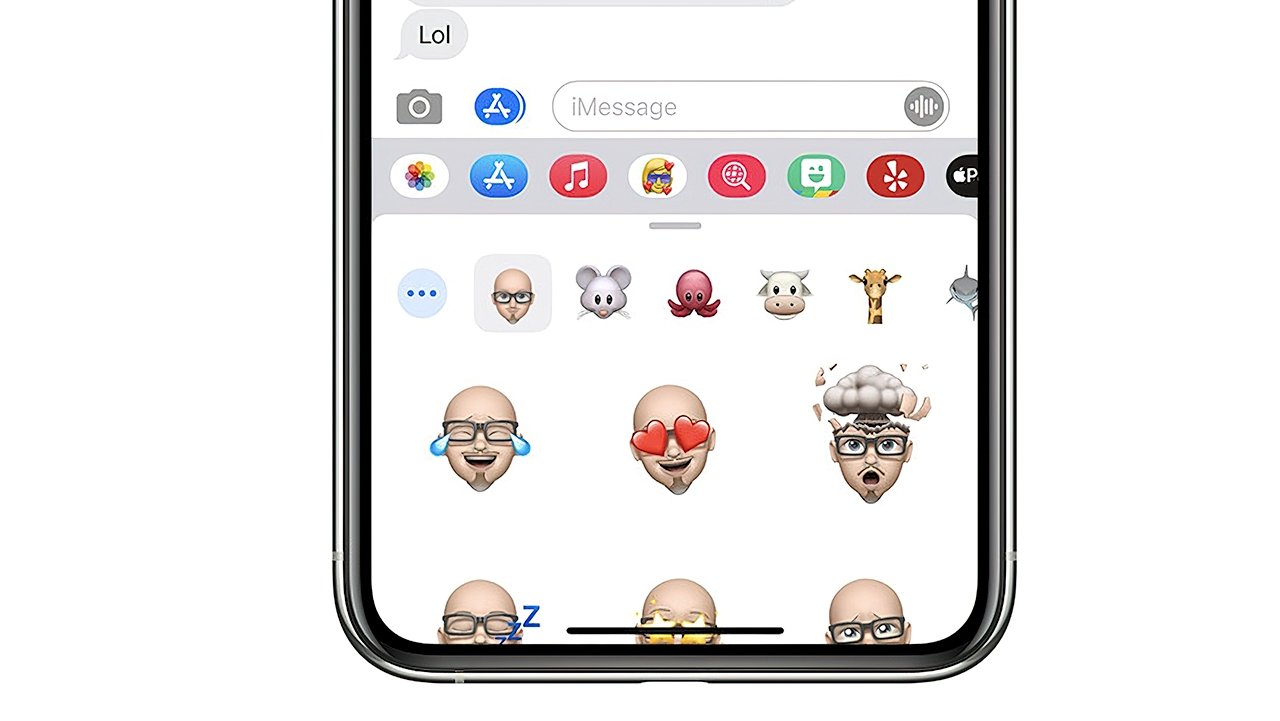 Introduced with the iPhone X in 2017, Animoji are animal characters that play your voice and mirror facial expressions using Face ID sensors. The following year, Apple added Memoji, which does the same with an avatar that you can customize to look like you.
In addition to these tracked animations, you can also send static Memoji and Animoji stickers, posing in various pre-designed reactions such as thumbs-up, laughing, in love, and mind blown.
Messages in iCloud
Messages in iCloud syncs messages – both iMessage and SMS – so they're automatically in sync on all your Apple devices. It saves attachments in the cloud to free up device storage, and if you delete a message on one device, it disappears on all of them.
Messages in iCloud can be toggled on and off in device settings.
Group Chats in iMessage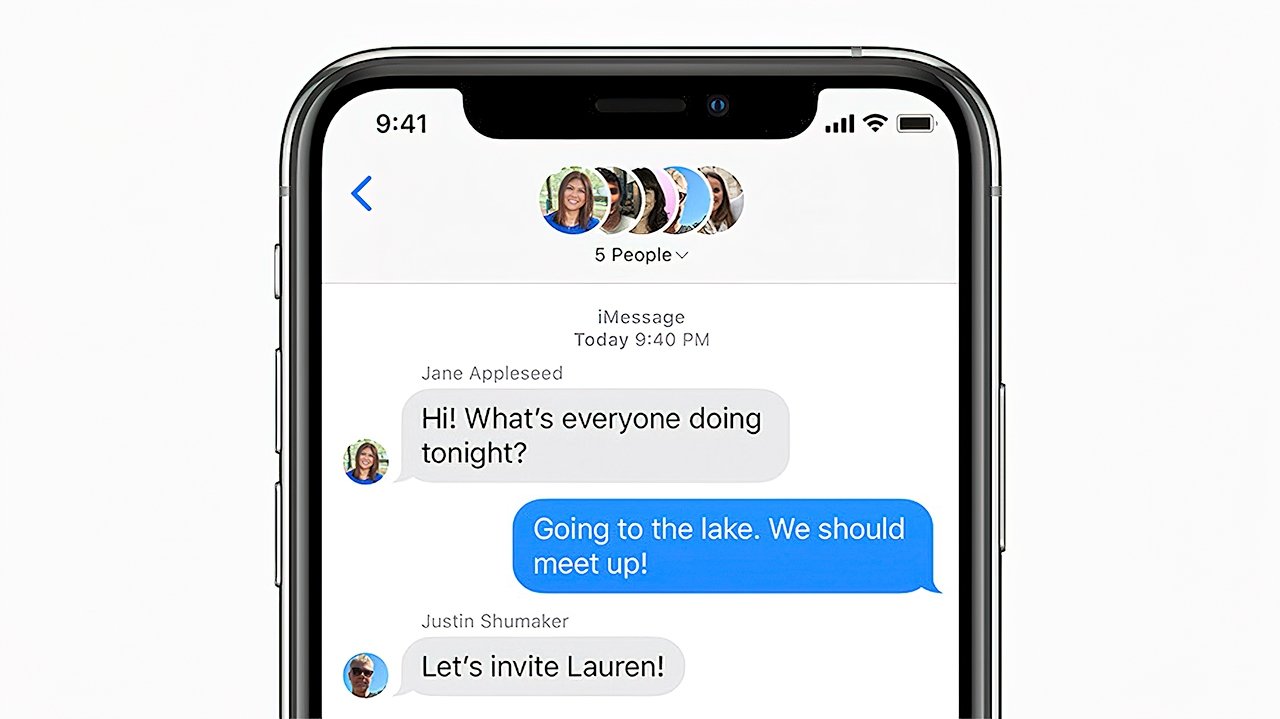 In addition to one-on-one chats, iMessage supports group chats.
The Messages app allows you to name the group and add or remove members.
iMessage chats support all iMessage features. However, if one or more group members are non-iPhone users, all messages will send as standard text messages (MMS) rather than iMessage, and that chat won't have any enhanced features.
iMessage Updates in 2020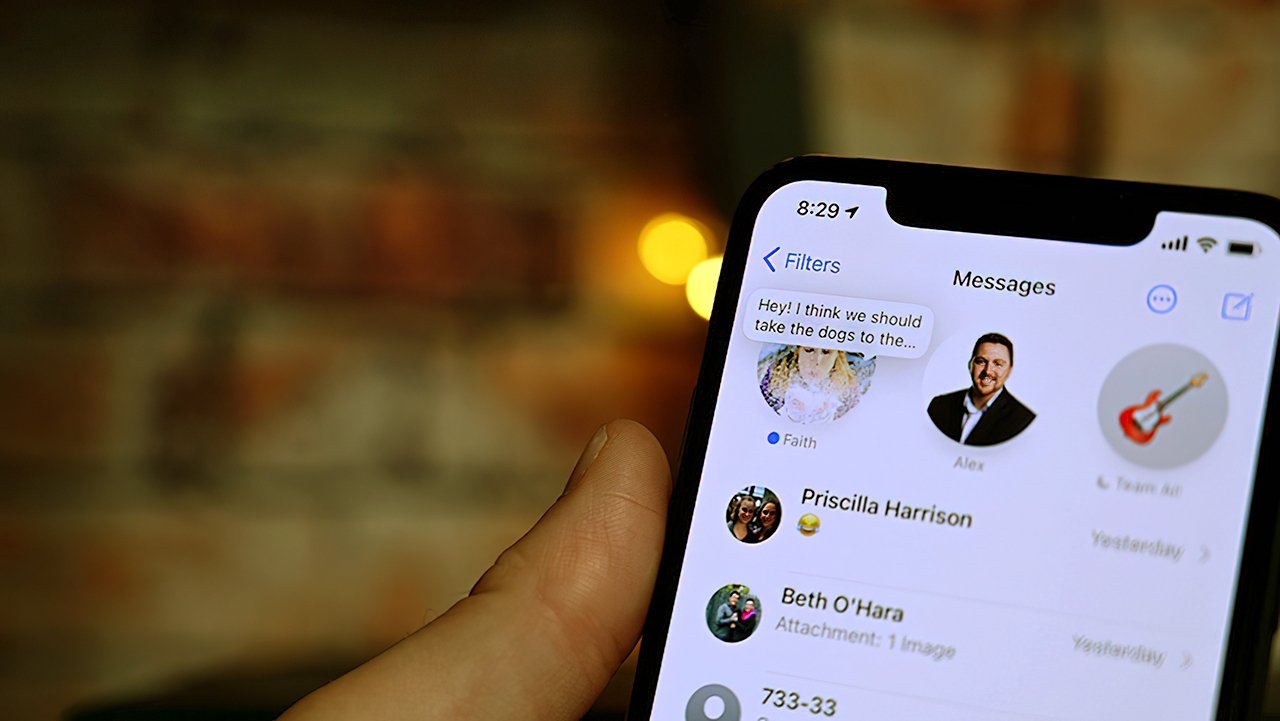 Apple's 2020 software updates – iOS 14, iPadOS 14, and macOS Big Sur – provide the most significant overhaul to the Messages app in four years.
Big Sur marks the first time Messages on Mac has enhanced iMessage features like quick access to the Photos app, Memoji stickers, GIFs from #images, and effects. The new Messages app is a Mac Catalyst app, using Messages for iPadOS as its backbone.
In iOS 14 and Big Sur, you can pin chats to the top of the conversations list. Appearing as large and round icons, they will always stay at the top unless you manually remove or replace them.
Inline replies are also included in iMessage in iOS 14 and Big Sur. When you long-press or double-tap on a chat bubble, you can choose "reply" to compose a new message replying to a previous message in the same conversation. A small box next to your reply will reference the original message.
Inline replies work in both one-on-one and group chats.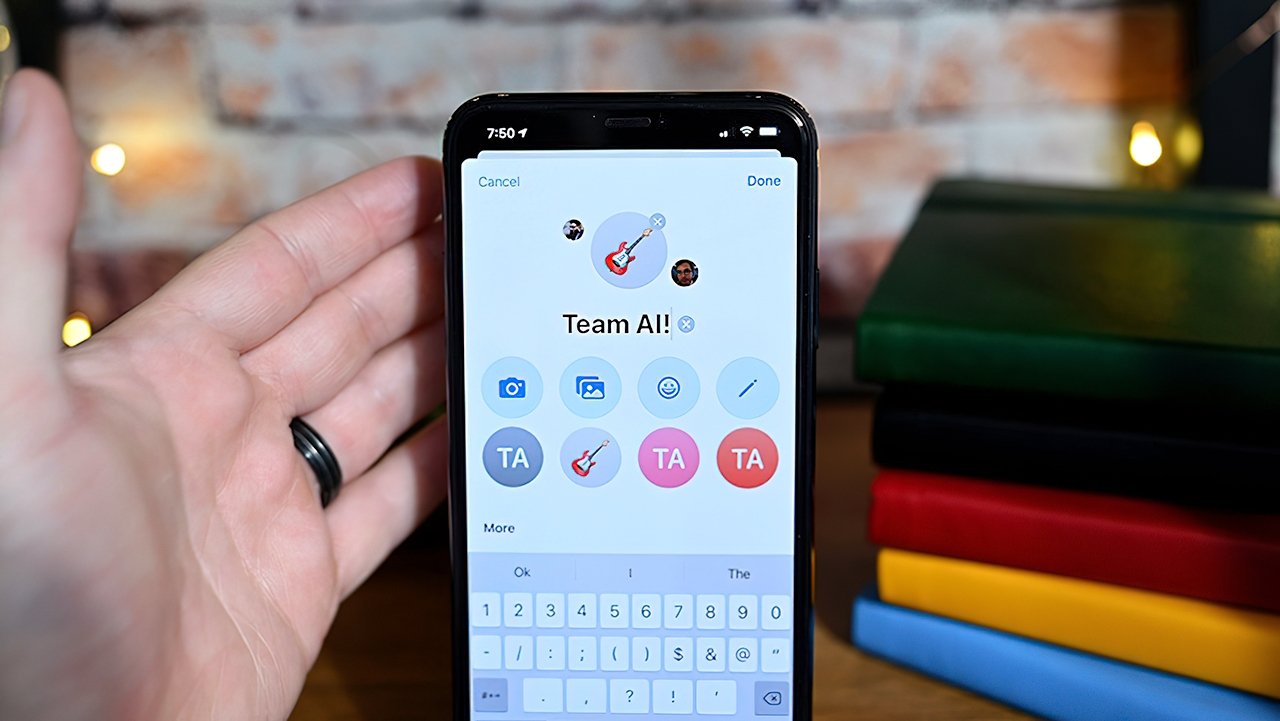 Group chats also add mentions. To mention someone from a chat, type the name of that person in the group conversation, and it will highlight. Tap their highlighted name, and you'll see a bubble with their name pop up. When you tap the bubble, it will notify that chat member when you send your message – even if they have muted the conversation.
You can also set an image and custom name for group chats.
iOS 14 introduced improved Memoji animations that better represent facial muscles. There are also new Memoji reaction stickers (including a fist bump and blushing) and Memoji customization options in iMessage.