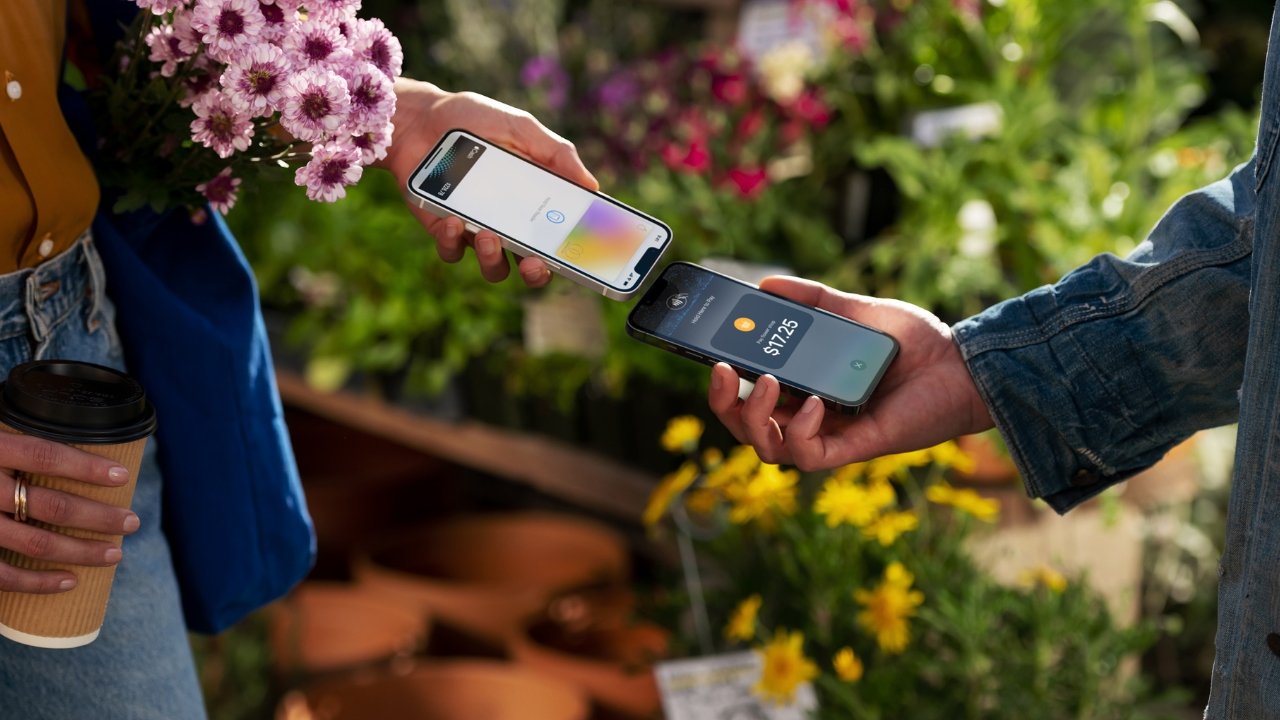 Summary
Apple Pay is Apple's mobile contactless payment method that utilizes an iPhone, iPad, or Apple Watch's onboard NFC chip. In conjunction with the Wallet app, Apple Pay allows users to store between eight to 12 cards on their device to be used when purchasing goods from retailers. The program launched in 2013 in the US and since then has been adopted in over 50 countries.
Features
● Users can store eight to 12 cards on their device
● Contactless payment at most major retailers
● Second-factor authentication increases security
● Card information is never shared with merchant
● Can be disabled via Apple's "Find My" feature in event that device is lost
● Compatible with iPhone, iPad, Apple Watch, and Macs that feature Touch ID
---
While it initially launched in 2013 in the United States, Apple Pay is now available in over 50 countries and territories globally. Many major retailers accept Apple Pay, and most major point-of-sale retail terminals can process tap to pay transactions.

How it works
By using a device's near field communications (NFC) chip, Apple Pay can wirelessly communicate with point-of-sale systems to initiate contactless payment, or what is often referred to as "tap to pay" transactions.
Tap to pay transactions are often highly praised by both customers and retailers. Some suppliers have claimed that tap to pay transactions are up to twice as fast as traditional methods.
During a sale, a buyer will activate Apple Play via double-clicking the home button (on devices before the iPhone X) or by double-clicking the side button. After they select which card to use, a buyer must hold their Apple Pay device near a point-of-sale terminal. The device will provide the necessary information, such as the device ID and a dynamically generated transaction code, to the terminal. The buyer will need to authenticate the sale, usually either through Face ID or Touch ID. At no point is the buyer's card information shared with the merchant.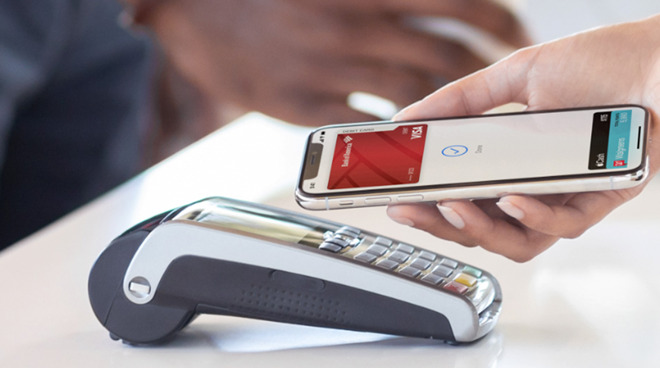 Apple Pay uses an EMV-mode form of payment, similar to credit and debit cards that utilize integrated circuit chips. EMV is a technical standard that protects the buyer from security fraud by preventing cloning of the card by traditional methods that made cloning magnetic-stripe cards easy.
Adding cards
A user can add eight cards on any device released before the iPhone 8, and 12 cards on the iPhone 8, iPhone 8 Plus, and later devices. A user will need to add each card to each device if they want to use Apple Pay on more than one device.
Adding cards can be done by manually entering the information, scanning the card in via the device's camera, or through the card issuers app if they allow it.
In certain countries, a user can add store cards, boarding passes, movie tickets, coupons, rewards cards, transit cards, and student ID cards to Wallet. The process for using these cards and services is similar to using a credit or debit card.
The Apple Card
In 2019, Apple, with the help of Goldman Sachs, launched the Apple Card. The Apple Card is designed primarily to be used with Apple Pay, though a physical card does exist. By visiting their Wallet app, a user can view their spending habits.
Using the Apple Card via Apple Pay, either online or at a point-of-sale terminal will merit a user 2% cashback in the form of Apple Cash at most retailers. At certain retailers, including Apple, Uber, Walgreens, and Nike, users may earn 3% back when using the Apple Card via Apple Pay.
Compatible devices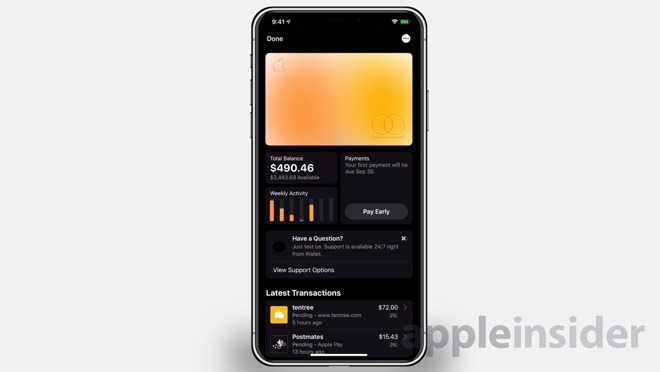 Apple Pay is compatible with iPhone 6 and newer phones, the iPad Air 2 and more modern iPads, all Apple Watches, and any Mac that uses Touch ID.
If a user has an iPhone 5 or iPhone 5C, they can use Apple Pay provided they also have an Apple Watch.
Security benefits
Apple Pay adds an added layer of security by obscuring personal data of the user from the retailer. Instead of offering the customers credit or debit card number, it replaces it with a tokenized Device Primary Account Number. Utilizing the DPAN, each transaction gets a unique dynamic security code. Apple does not track usage for third-party cards.
Each purchase also requires the use of a second-factor authentication method, either by Face ID, Touch ID, or passcode. When used on an Apple Watch, the watch must be unlocked and worn on the wrist to initiate Apple Pay, and the purchase must be authenticated by double-clicking the side button.
In the event that a user loses their device, Apple Pay can be remotely suspended via the Find My feature.
Controversy and criticism
Apple's NFC chip, which enables contactless payment, can only be accessed via Apple Pay. Restricting access prevents third-party apps, such as those used by credit card and bank card issuers, from being able to use it for their purposes.
Apple argues that limiting access to the NFC chip provides tighter security, citing that this is the reason that users choose Apple Pay in the first place.
Rival payment services have argued that this makes alternative payments less attractive and that it is evidence of anti-competitive and self-preferential practices.
In late 2018, Apple had settled a complaint with the Swiss payment company, TWINT, to avoid an antitrust probing. However, in mid-2019, the European Union began to question online retailers about their experience with Apple Pay. While a formal investigation has not taken place yet, EU antitrust chief Margrethe Vestager has not ruled one out.

Countries and reigons where Apple Pay is accepted
Asia-Pacific
| | |
| --- | --- |
| Australia | Macao |
| China mainland | New Zealand |
| Hong Kong | Singapore |
| Japan | Taiwan |
| Kazakhstan | |
Europe
| | |
| --- | --- |
| Austria | Latvia |
| Belarus | Liechtenstein |
| Belgium | Lithuania |
| Bulgaria | Luxembourg |
| Croatia | Malta |
| Cyprus | Monaco |
| Czech Republic | Montenegro |
| Denmark | Netherlands |
| Estonia | Norway |
| Faroe Islands | Poland |
| Finland | Portugal |
| France | Romania |
| Georgia | Russia |
| Germany | San Marino |
| Greece | Slovakia |
| Greenland | Slovenia |
| Guernsey | Spain |
| Hungary | Sweden |
| Iceland | Switzerland |
| Ireland | Ukraine |
| Isle of Man | United Kingtom |
| Italy | Vatican City |
| Jersey | |
Latin America and the Caribbean
Brazil
Middle East
| | |
| --- | --- |
| Saudi Arabia | United Arab Emirates |
North America
Essential Reading