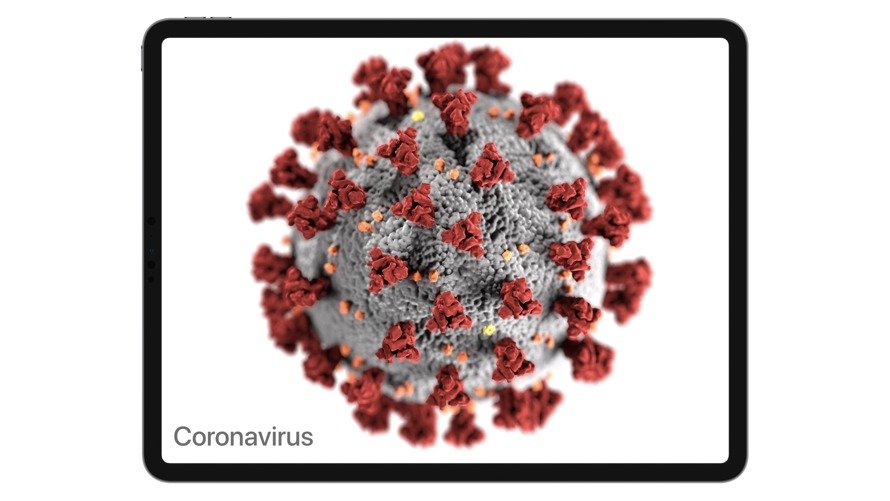 Summary
The 2019 strain of the coronavirus is a pandemic level virus that has spread across the globe over the course of 2020. Apple and other tech companies are reeling from the constrained supply chain, limited demand, cancelled events, and closed businesses.
Features
● Strain originating from China causing COVID-19 infection
● Death rate around 3% globally
● Transmitted via fluid
● Approx. 50% recovery rate to date
● Only certain face masks may provide protection
● Killed with alcoholic hand sanitizer
---
As the Novel Coronavirus continues to spread, Apple uses its size and influence to push for appropriate reaction in a timely manner. The past three months have moved from programmed response to triage as every safeguard that Apple had built in to its supply chain was tested to the max.
With things shutting down for most of March in order to curb the spread of the virus, the impact will be felt for months to come as Apple catches back up with supply and demand going into the fall.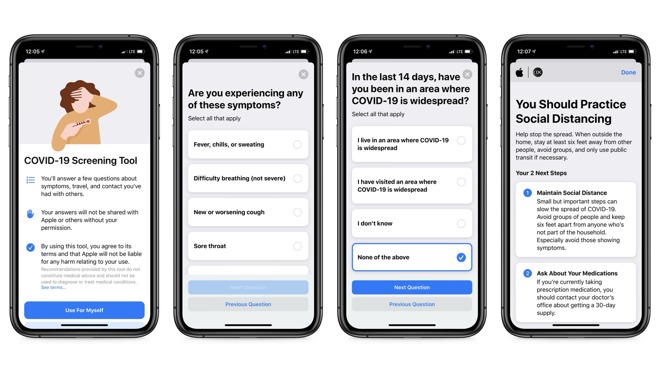 Apple COVID-19 app will provide users with guidance on coronavirus
Apple has launched a new app, and a website, with resources to help people stay informed, and take the proper steps to protect their health during the spread of COVID-19. The app is called "Apple COVID-19" and will walk users through a questionnaire and offer guidelines provided by the CDC.
The 2019 Novel Coronavirus and COVID-19
The latest strain of coronavirus is a new mutation first discovered in Wuhan, China in December of 2019. The illness it causes in humans has been called COVID-19, and is spread via mucus, and not the air. Attempts by the Chinese government to contain the infection before it spread failed, as they refused outside help, and it quickly spread through all of China by the end of January.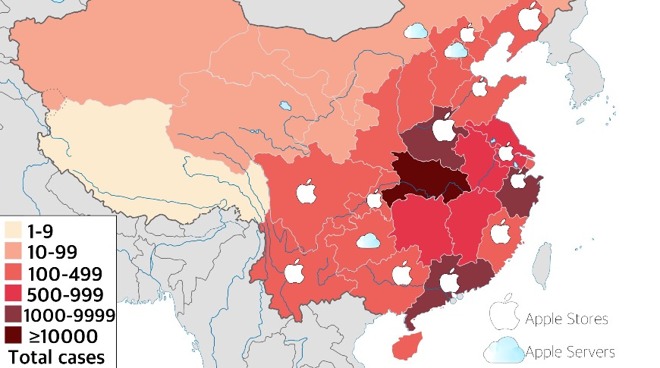 Apple locations in China on an infection map provided by Wikipedia
February to mid-March saw an accelerated global contamination, starting in Italy and spreading through Europe, Japan, then the US. The first two weeks of March saw the coronavirus fully take hold in the US, and businesses are starting to lose business or shut down completely.
The best ways to protect yourself from coronavirus is "Social Distancing" and frequent hand washing, as stated by the CDC. Store-bought masks will likely not protect the sick or the healthy, as the virus is small enough to slip through the fiber of the material. More expensive masks may be needed for complete protection, however any covering over the mouth is better than nothing if you are already sick.
The coronavirus can be killed by using alcoholic hand sanitizer, and as long as you practice a six foot distance from everyone, you'll be safe from exposure due to others being sick. The virus can live for a few hours on some surfaces, so be sure to disinfect, use hand sanitizer and don't touch your face.
With schools and businesses shutting down across the US, just as it has in other countries affected by the virus, the strain that the coronavirus has placed on the world is now being felt in full. Staying home and keeping things clean is the best thing to help stop the spread.
In the United Kingdom, the government and its National Health Service have urged people with symptoms to stay at home, to only contact the non-emergency NHS number 111 in instances where they are concerned for their wellbeing, and to perform online symptoms checking where possible. Social distancing is also being practiced, with the government offering dedicated online support and daily briefings about the virus.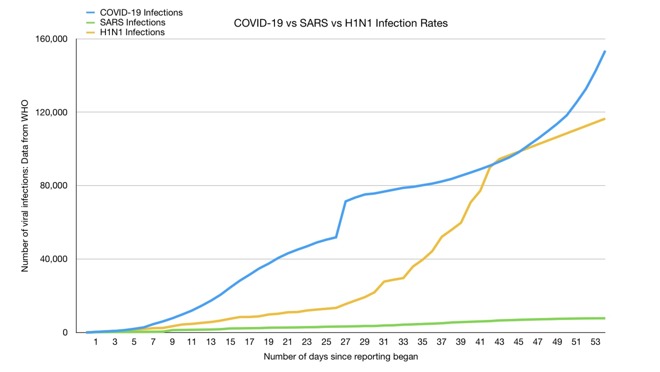 These historical infection rates put some perspective on the current situation
How the pandemic affects Apple
From the beginning, Apple saw some kind of threat from coronavirus. Right before their quarterly earnings call for Q4 2019, Apple put out a statement suggesting that an outbreak in China would likely impact their first quarter results. Apple bet wide, thinking they had more than covered their bases by doing so.
The virus took hold, factories shut down, and parts of Apple's supply chain were not in full operation. Usually these companies take a break for Lunar New Year, but this time they couldn't get workers to return. Each day that the quarantine was not lifted created more worry amongst Apple pundits.
Apple and its supply chain partners like Foxconn began shuffling things around, moving manufacture out of China to nearby facilities in Taiwan and India. This was the kind of secondary fail safe that Apple had at the ready in case of situations like the one that had taken hold in China.
It was not long after those initiatives were triggered that the first cases outside of China began to show up. The coronavirus had gone global, and now there was no getting away from it.
Mobile World Congress was set to occur in Spain, but one company after another began withdrawing until it was ultimately cancelled.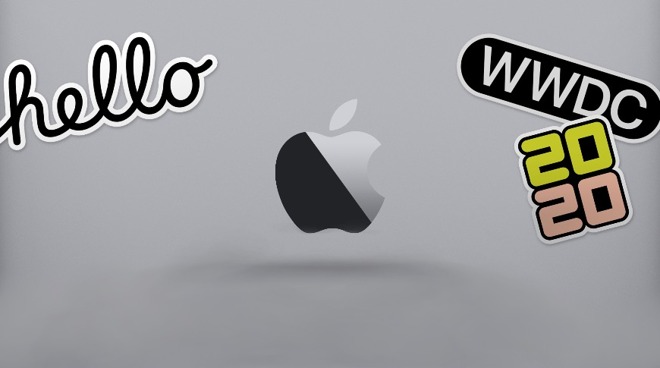 WWDC 2020 will be online only
Conferences around the world began seeing cancellations of the public facing portion of events, and as the coronavirus spread to the US, Apple was faced with the same issue. If there were ever a March event, it certainly isnt happening now, and Apple has officially announced WWDC is moving to be online only this year.
Employees are being affected too. Apple's CEO Tim Cook And SVP Eddy Cue may have been exposed to the virus at a birthday party for Universal Music CEO Lucian Grainge.
A mid-March update from a research firm, product availability began normalizing in mid-March, which means Chinese production might finally be back on track. Supply for the iPhone 11 series, AirPods Pro and standard AirPods have all been at average availability for several days.
Foxconn reports that as of March 23 they have achieved enough workers for seasonal demands. This is just in time to begin work on "iPhone 12."
Some markets are taking notice of the need for contactless payment systems, such as Publix. The supermarket chain is adding support for Apple Pay and other contactless systems by March 31.
Some things remain unchanged, however, as Tim Cook will be giving his commencement address to OSU again this year, but digitally.
Apple's response to coronavirus so far
Apple Stores
Apple's developer conference wasn't the only thing affected by the global outbreak of coronavirus. At first, Apple just cautioned their stores to stop in-store try on of Apple Watches and AirPods, then all in store "Today at Apple" sessions were stopped until further notice. The Apple Stores that were set to reopen in China continued to do so, since they seemingly have stopped the spread of the virus there.
Starting with Italy, then Spain, and ultimately the US; Apple closed down all retail stores outside of China. Skeleton crews with only a few employees returned only to take care of already scheduled in-store pickup of orders and repairs.
As a result of the US President announcing the need to restart the economy by mid-April, Apple has announced its intent to start re-opening stores. This was opposed to their previous two announcements, which first had stores open by March 27, then closed indefinitely.
While Apple Stores remain closed, Apple is offering subsidies to its service providers for offering pick-up and dropoff repairs. Apple is providing $20 each for iPhone, iPad, Apple Watch and Beats repair and $25 for Mac repairs.
Apple, in a memo to employees on April 2, said it plans to keep all U.S. retail stores closed until early May as the COVID-19 pandemic continues to wreak havoc on the nation.
Apple Park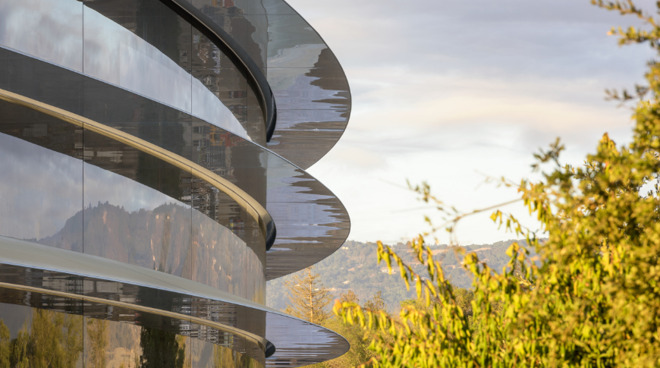 Apple Park is meant to host 12,000 employees, but lays nearly empty during the epidemic
The development side of Apple took a hit too. As the coronavirus began its spread across the US, Tim Cook encouraged its staff to work from home when possible.
This worked for the most part, however some employees found that the culture of secrecy lead to a lot of questions about what could be worked on at home, and who still needed to work on site. Engineers working on new and unreleased products had to continue going in to the Apple campus, because unreleased products are forbidden from leaving the site.
In mid-March, Cupertino issued a lockdown over six counties that may prevent employees still commuting to the Apple Park campus from getting to work. A drone video shows how eerily empty the campus is during the lockdown.
The lockdown has of course added another wrinkle to device testing and prototyping. Apple has had to lighten up its restrictions for employees to allow them to take unfinished devices and parts home. This is a major risk and represents a big change for how things normally operate.
Employees who cannot work from home due to the nature of their job, like janitors or contractors, have been promised full pay during the stay at home order.
To further complicate things, engineers usually travel to China during this phase of manufacture and processing of the new iPhone. Instead, they have to rely upon video chats in order to walk Chinese employees through the steps of assembling the new devices.
Apple hires interns every summer and despite the outbreak, will be doing so again in 2020. Apple expects to hire 1,000 interns for in-person and online work, while providing them with the same care and protection afforded to regular employees regarding coronavirus.
Apple Services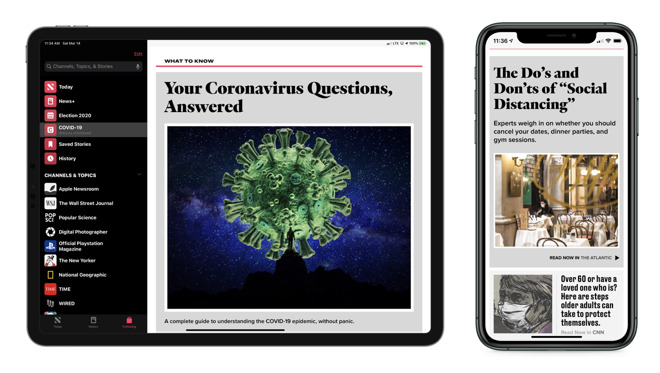 Apple News has a special coronavirus content section
Apple services each had some level of attention on them due to the coronavirus. Apple News gained its own dedicated section to detail what was happening with the virus and provide official sources along the way.
Apple TV+ shows still in production for upcoming seasons were put on an official production halt until worries about the coronavirus had passed. Content providers for iTunes and Apple TV began considering releasing some content early, like Disney did with "Star Wars: The Rise of Skywalker."
Movies still in theatres are coming to iTunes for purchase or rental sooner than normal, with a few films from Universal coming first, and Disney movie "Onward" being up for purchase early too. Paramount is releasing "Sonic the Hedgehog" early as well for purchase.
Apple Card holders were offered the ability to miss their March payment interest free by using a new "Customer Assistance Program" with Apple Support. With no signs of the pandemic slowing down, users may request payment deferment again for April as well.
The App Store changed its guidelines for Apps related to coronavirus or containing the name "COVID-19" to restrict all uses of the terms to officially sourced apps. No entertainment or game apps may use the terms in their titles. This is to help push official sources up and prevent the spread of misinformation.
Apple has started sharing more information about the coronavirus via its own services by advertising the White House statements in all of their media apps.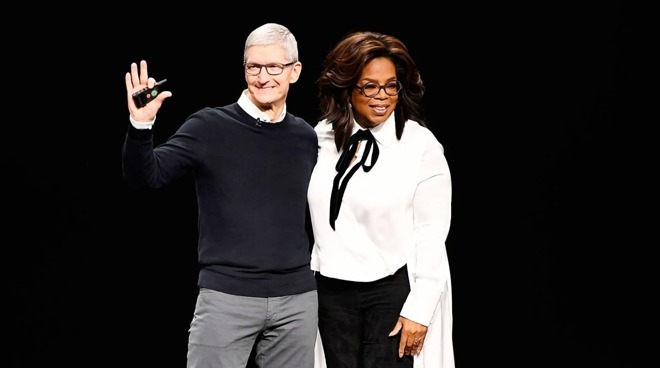 Tim Cook and Oprah on stage at Apple TV+ event
Another initiative is a new show with Oprah where she interviews doctors about the coronavirus and discusses what people should be doing during the outbreak. The show called "Oprah talks COVID-19" is on Apple TV+ but does not need a subscription.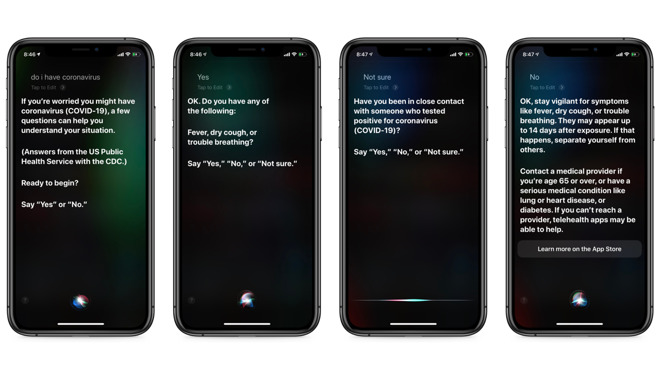 Ask Siri about coronavirus
If you think you are showing symptoms of COVID-19 just ask Siri for more information or help. Apple has added a function that will let users ask Siri questions about the outbreak using data from the CDC. And don't forget the aforementioned Apple COVID-19 app.
Apple Maps has been updated with a small reshuffle of its search terms in order to provide users with easier access to hospital and food delivery searches.
Apple has started a $50 million fund for indie music labels and distributors. This is to combat the lack of pay and damage to the music industry caused by social distancing practices.
It appears that the fund will go toward one-off advance payments pulled from future Apple Music royalties. Only labels and distributors with a direct distribution deal in place with Apple Music qualify, and those that do must also meet a minimum of $10,000 in quarterly Apple Music earnings. The limitation rules out indie labels distributed through larger labels.
Apple's donations
Apple has always made some contribution when distaters affect people on some monumental scale. Their contributions scale from pure financial donations to care packages. The coronavirus is no exception, even when things were localized to China, Apple was ready to provide help.
In a tweet, Tim Cook said that Apple would donate directly to the Protezione Civile, which is the Italian Government's official emergency response department. The organization been in charge of taking action to prevent the spread of the coronavirus.
As of March 14, Apple had donated over $15 million worldwide, including money donated to San Jose to offset losses from an all digital WWDC. Tim Cook also declared that Apple would be supporting "Silicon Valley Strong," an initiative from the San Jose district office to help people remain informed throughout and get donations for local business.
March 24, Apple said they are donating their reserve of face masks to those in need. Over 9 million masks were donated to US health facilities and more to other parts of the world. Tim Cook provided an update on April 5, saying that Apple had donated 20 million masks and had designed its own face sheilds for donation as well.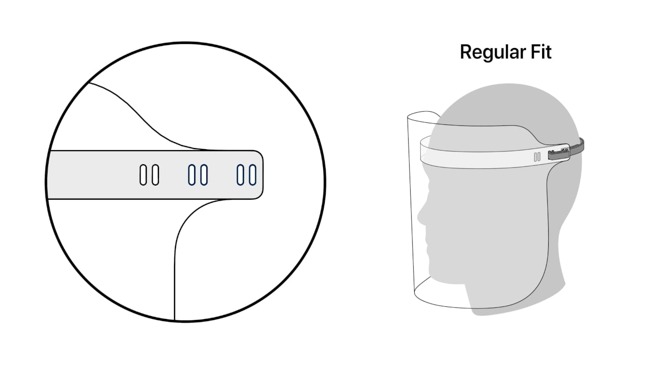 Apple's face shield for protecting healthcare workers
Apple released documentation for how to handle and clean the face shields. The page titled "Assemble and adjust your Face Shield" outlines the item as being made of three parts: the Face Shield itself, a forehead band, and a latex-free silicone strap. The three-piece design and simple components are designed to pack flat to 100 per box, and can be assembled in less than two minutes.
Announced on April 1, Apple has doubled its contributions to China's coronavirus relief efforts. Apple originally donated 20 million yuan to Beijing-based China Foundation for Poverty Alleviation, which offered support to six hospitals in Hubei, including a makeshift hospital in Wuhan.
The new donation brings Apple's total in China to $7 million (50 million yuan,) which will go on to help fund longer-term public health recovery.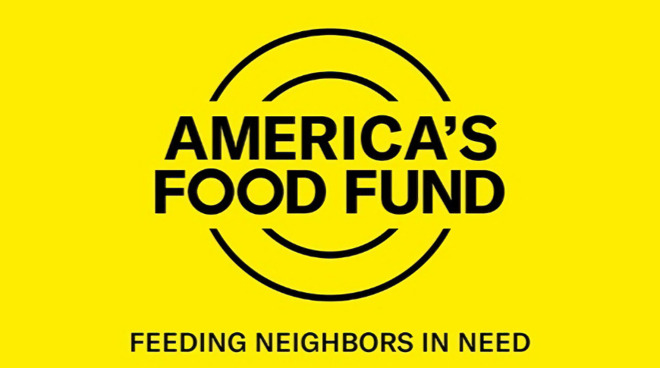 Apple and Emerson Collective donate to America's Food Fund
The America's Food Fund is an effort from Emerson Collective, Apple, and the Ford Foundation to provide funding to beneficiaries like World Central Kitchen and Feeding America. This is a response to the rapid growth in unemployment and loss of financial stability in homes across the world as the coronavirus pandemic escalates.
Apple and Laurene Powell Jobs' Emerson Collective were the first to donate, sourcing $12 million for the launch of the fund.
An event
arranged by Global Citizen and the World Health Organization (WHO) called "One World: Together at Home," will air April 18 as part of a continuing initiative to drive funds to the WHO's COVID-19 Solidarity Response Fund.. The project has raised $35 million over the past week, and
Apple announced
they had provided $10 million in funding and will also stream the event live using their services.
Looking beyond coronavirus
Every change, cancellation, or rescheduling is another small impact on a company known for being slow to change. Apple has had to be quick on its feet these past few months, and the end result may maintain some of these new changes.
The App Store ban on misinformation directed at coronavirus could easily lead to more guidelines surrounding health, news, and information apps. This is a sticky territory to enter, as people may not like having Apple decide what is considered valid information or not.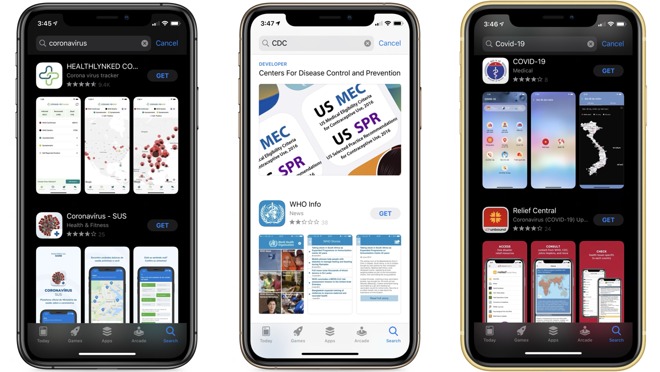 The App Store has many apps about public health, but are they all accurate?
WWDC moving online could mean big changes for the conference and every Apple announcement moving forward, that is if they take going online only very seriously. Given the nature of the announcement, there is sure to be some curation and Apple service aspect to the conference. If Apple is forced to innovate in how it presents developers new information, it will trickle down to bettering the consumer facing information as well.
Just as encountering and overcoming challenges related to a remote conference can lead to new innovation, so can forcing developers and engineers to work from home. Some of the complaints surrounding software and hardware today are that engineers seem to not have to use it themselves. If anyone can improve telework and remote education capabilities, its going to be the sequestered Apple engineers forced to dogfood their own products.
Ultimatlely the latest coronavirus will pass, and we can all get on with our lives, but the impact it has had on today's society and Apple itself will surely be seen in how it handles itself in the future.
AppleInsider coronavirus tips
Essential Reading