Best iOS board game replacements to get during the coronavirus quarantine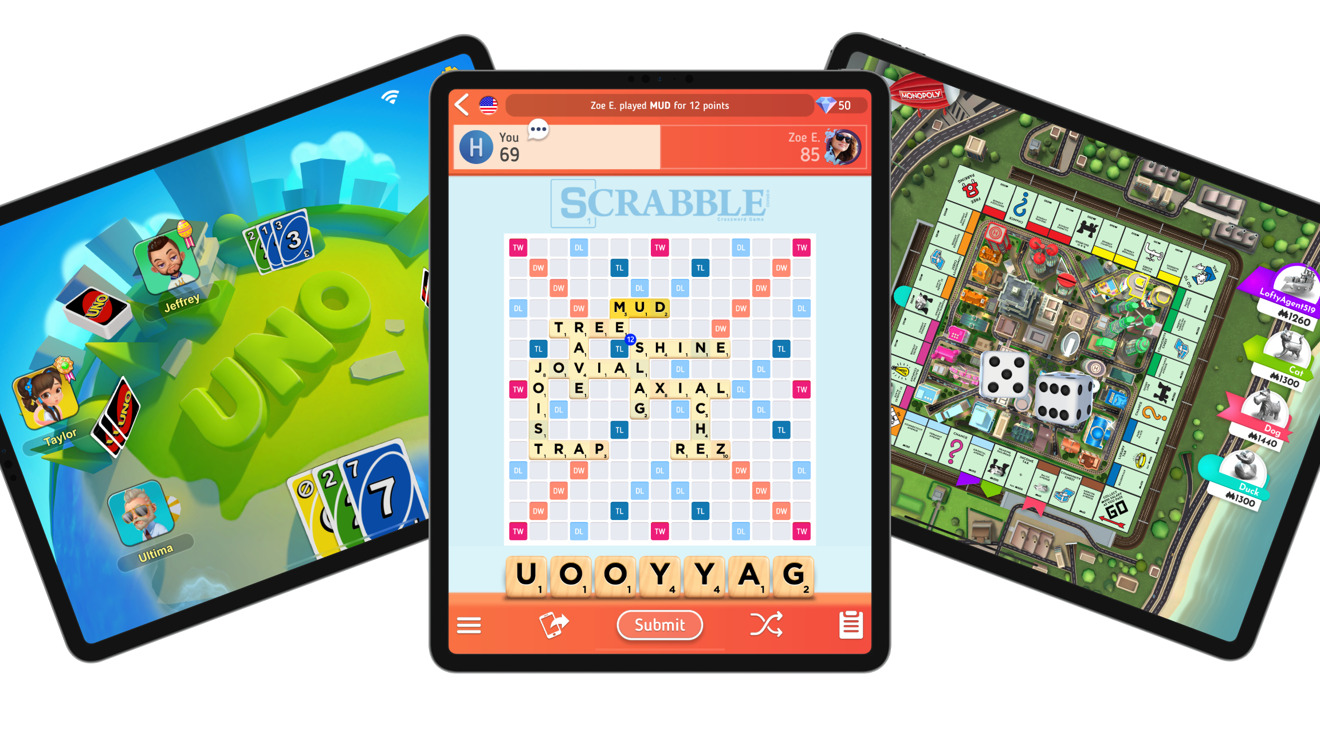 There may be some idle moments coming, if you're put on a coronavirus lockdown — or your kids' schools are closed. There are a ton of board game conversions on iOS and iPadOS, and here are a few of our favorites.
Between working from home or not being able to work at all, many people are stuck at home with the family for the next few weeks with a need for something to occupy the time. Board games have always been a source of fun for families and friends, but dealing with game pieces and paper money might also mean more unmitigated contact.
With digital board games on Apple devices, you can play many of the classic board games, and some new, without having to deal with the mess. These following are some of the best board games and parlor games available today:
Monopoly
You can't mention board games without mentioning "Monopoly." This classic game has been around since 1935 and has seen many iterations through history. The iOS game offers the same classic gameplay with new digital twists.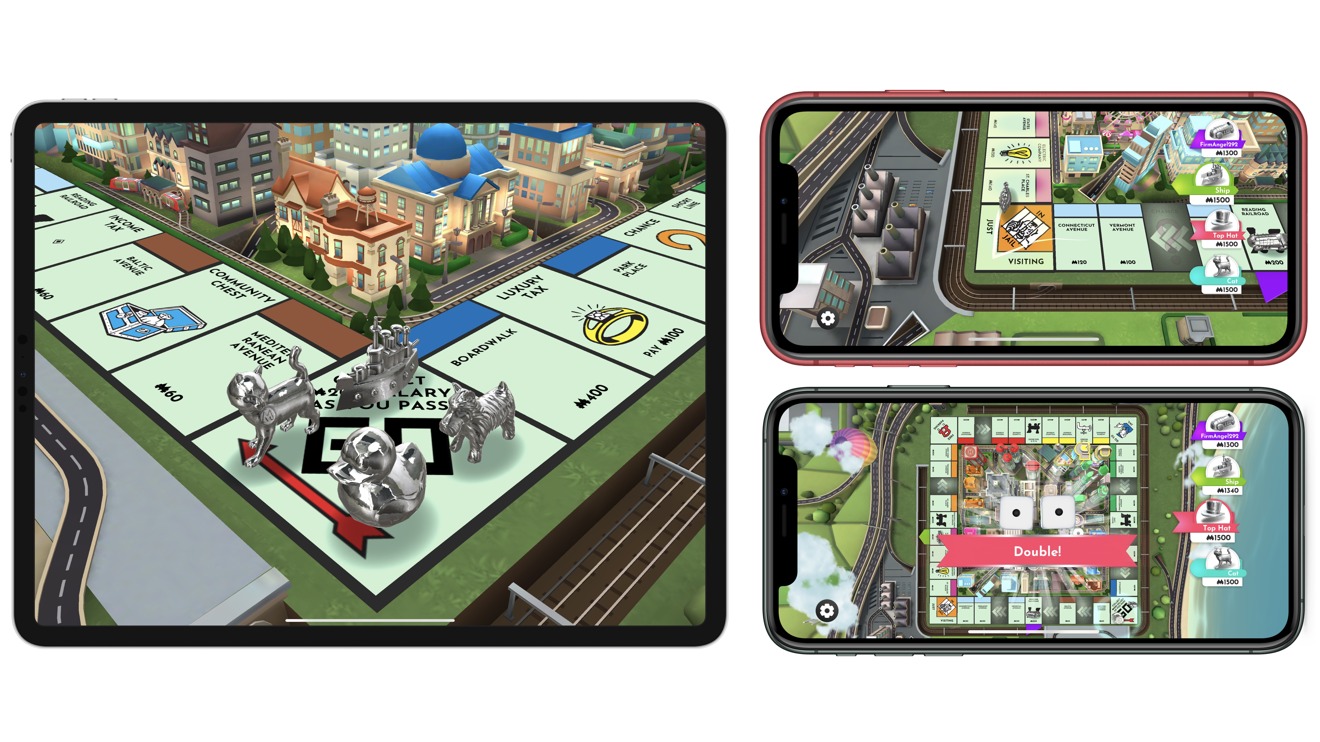 For just $3.99 you get access to the full classic game with local and online games. With most board games on iOS you'll see a feature suggesting "pass and play" which means with multiple people in the room, you take your turn and pass the device to the next person. This works great unless you don't want to be passing a device around during a virus outbreak.
Luckily there are online play features which let you pair up with friends over different devices, or just play against AI bots by yourself if you like. You can play the classic version of the game, a new quick game mode, and play a game with custom house rules.
The company that makes the iOS "Monopoly" game also makes the digital versions of "Clue," "Life," and "Battleship" and these can all be purchased in a bundle for $8.99. Each game works without using the in app purchases, but they do offer cosmetic upgrades and such with additional purchases in each app.
"Monopoly" runs on both iPhone and iPad.
UNO
"UNO" is a colorful card game where players attempt to get their hand to zero while making their friends draw cards. The game plays just as you'd expect with simple tap and swipe gestures, and has some fun animations when playing cards.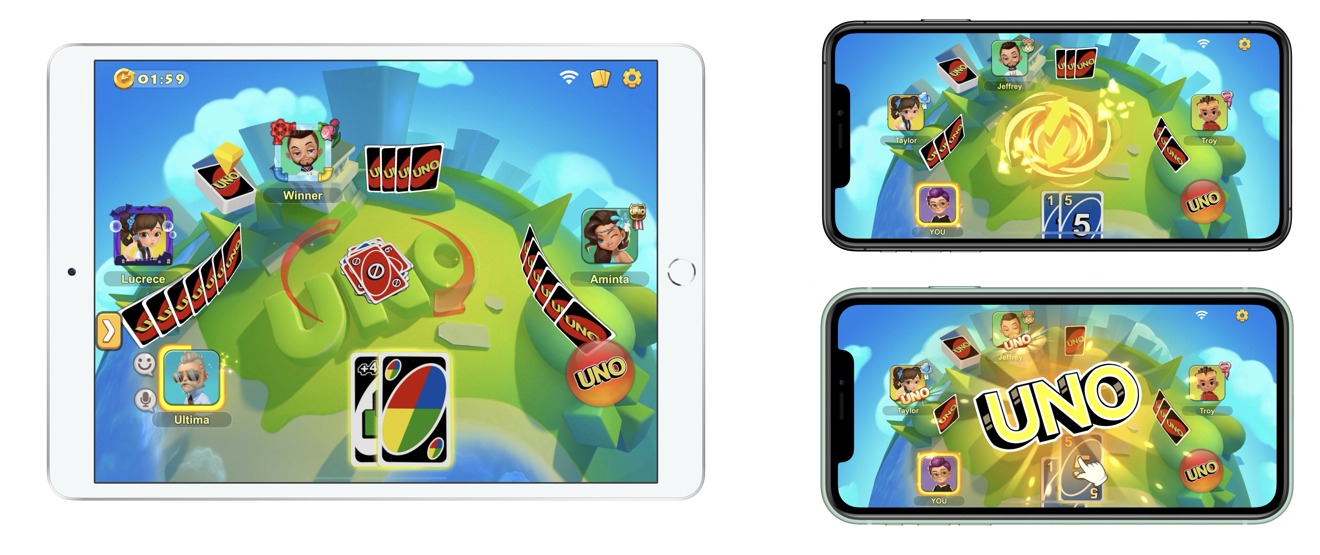 There are multiple game types with online and offline functionality. If you don't already have friends playing with you, a link to your game can be shared via iMessage. Now you can get angry at your friends for making you draw 12 cards without them being in the same room.
"UNO" is a free download on the App Store for both iPhone and iPad.
Scrabble
The classic word game where you and a dictionary fight your friends over spelling words no one has said aloud before. "Scrabble" was very popular as a board game, but "Words with Friends" popularized the genre for the digital age. The difference between the two is negligible, but because the latter is made by Zynga Games, it is filled with ads and requires a Facebook account or email to even play.
"Scrabble" on iOS has plenty of its own bloated menus and coins in the game, but it is all rather avoidable and the central game is easy and matchmaking is simple.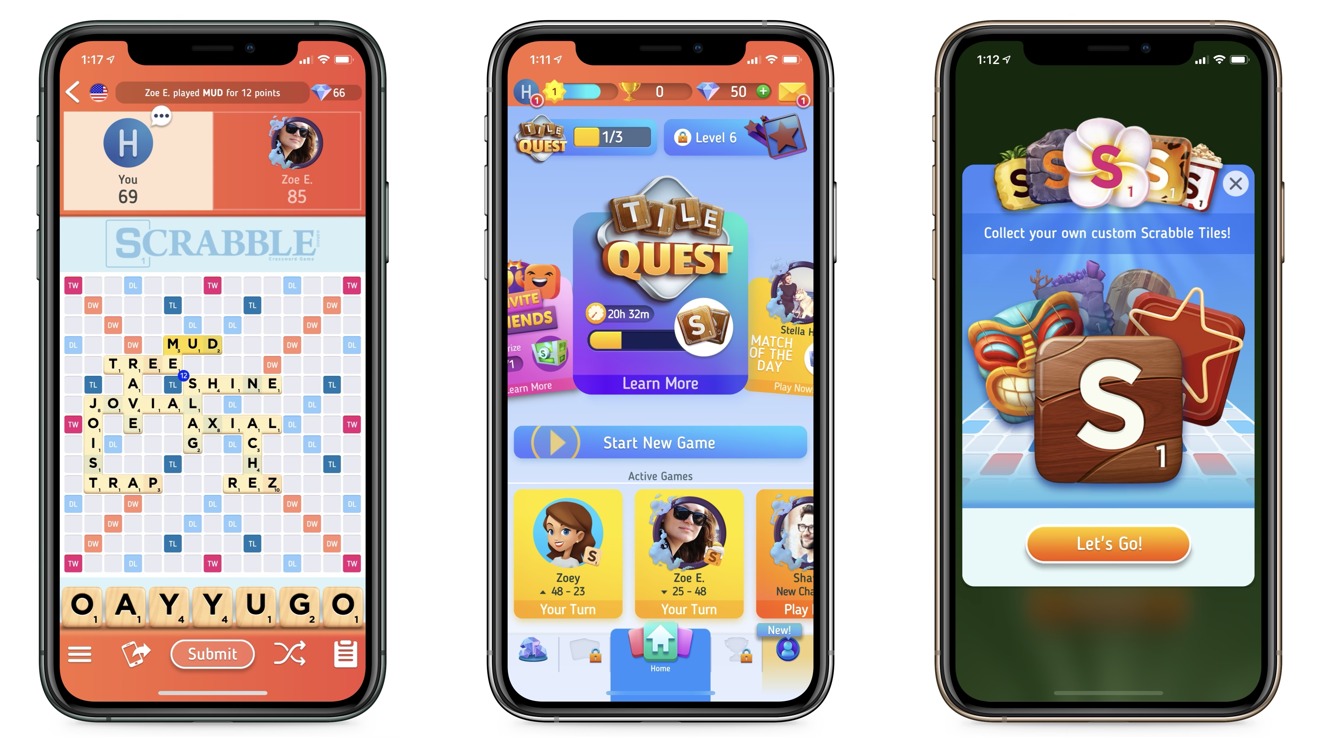 Get a few of your friends and spend hours trading turns back and forth in this asymmetric multiplayer game. Meaning, you can play your turn now or tomorrow, the game has no timers and can be played at your leisure. "Scrabble" is a free download on the App Store for both iPhone and iPad.
Terraforming Mars
Compete with your friends or a computer to terraform Mars and fill the planet with your private company property, and race against other corporations. The digital version of the board game offers beautiful animations and a wide variety of art to bring the game to life.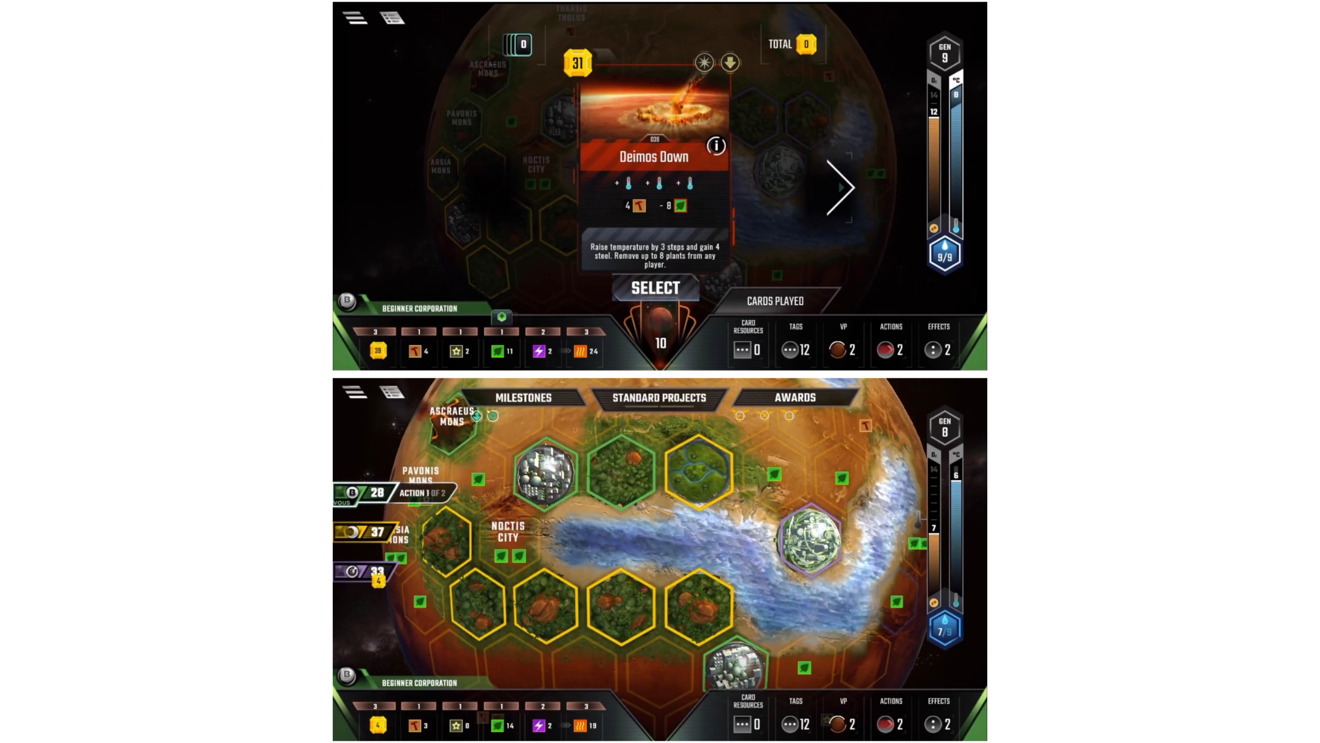 Local and online multiplayer are available. "Terraforming Mars" is available on the App Store for $8.99 on iPhone or iPad.
Ticket to Ride
"Ticket to Ride" is a railway-themed board game published for the tabletop in 2004. The game has a relatively simple non-collectible resource deck mechanism, with players attempting to complete railways connecting one city to the next, also selected randomly from a separate deck.

"Ticket to Ride" retails for $6.99 on the App Store and there are several paid expansions in the game available on iPhone and iPad.
Civilization VI
The "Civilization" series has always been digital, but borrows some of the best ideas of board games and strategy RPGs and blends them into a sprawling campaign oriented game.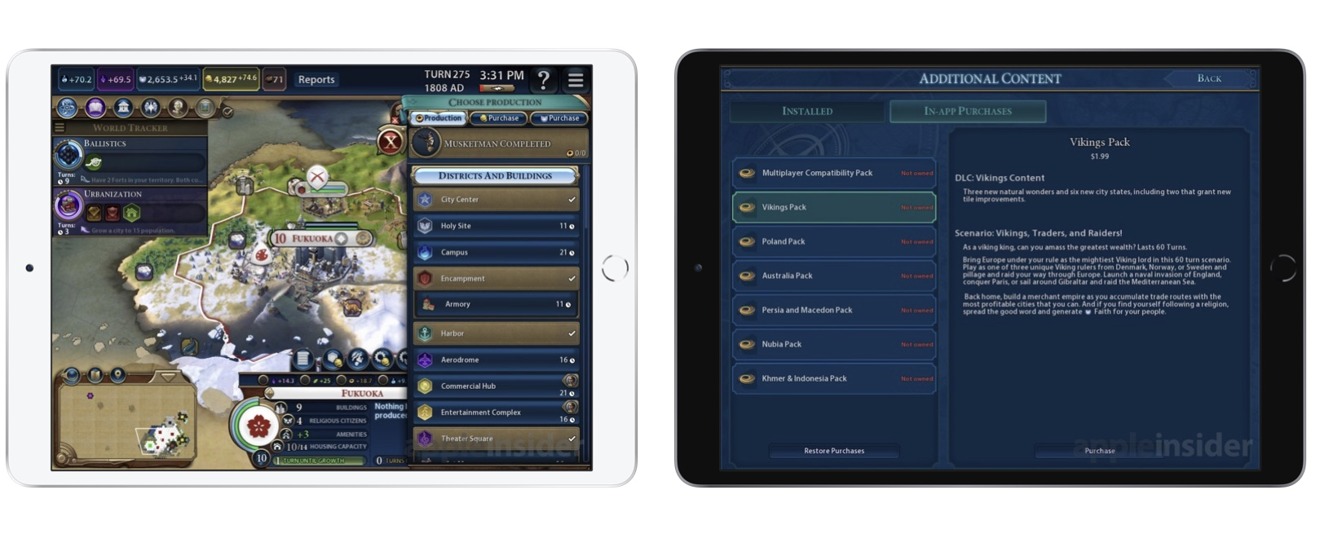 The game has grown since its initial debut on iOS and now has multiple expansions and upgrades. It is a free download and will let you play for 60 turns before asking for a full purchase. The IAP to unlock the game is $19.99 and is available on iPhone and iPad.
Castles of Burgundy
As with other strategy games of its kind, "Castles of Burgundy" makes players take the role of aristocrats buying land in Medieval France. Tiles purchased by players all serve a specific role as you attempt to take control of the board.

The game features online and offline multiplayer with multiple people. You can also assign AI players to play alone. The game works asymmetrically and will let each player take their turn as they want to.
"Castles of Burgundy" is $8.99 on the App Store for iPhone or iPad.
Dice by PCalc
While not a board game, the dice play an important part in many games, and are usually the first thing to go missing. This amazing little app will let you customize presets, attach dice rolls to Siri Shortcuts, and control advance metrics.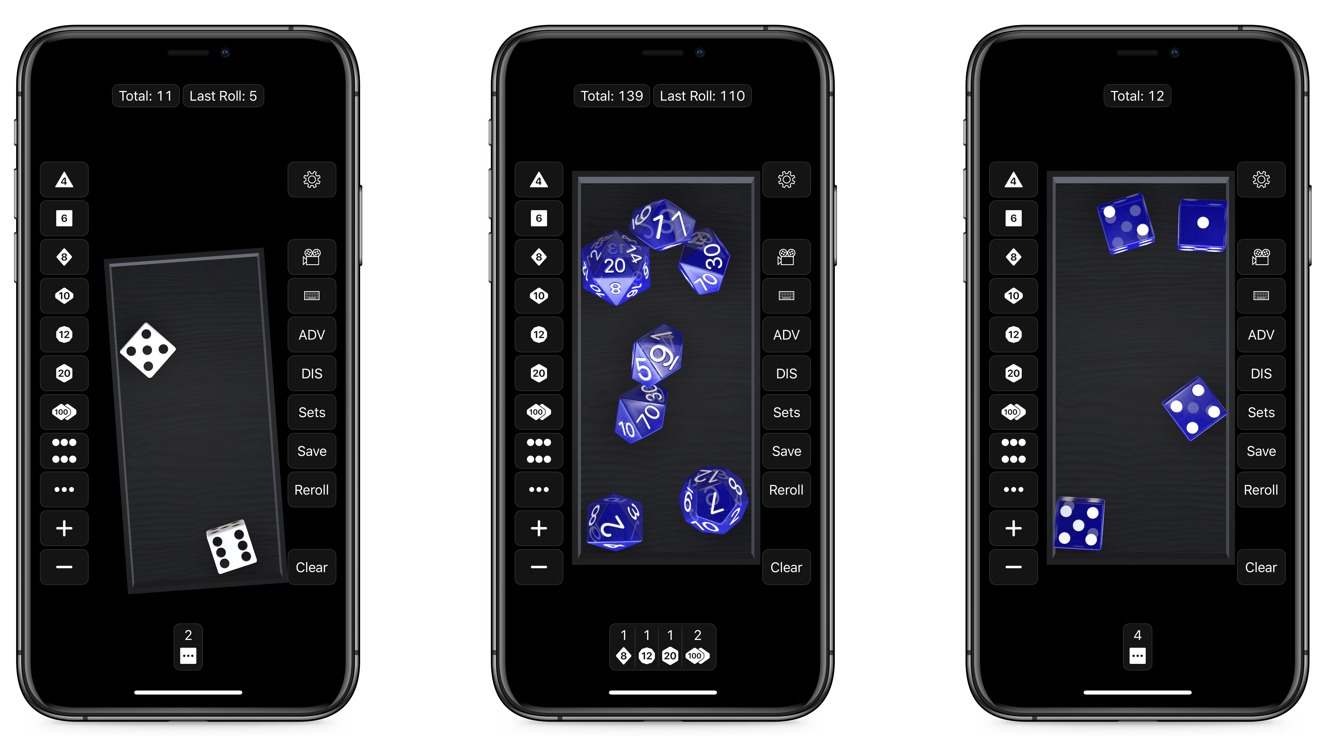 Losing your dice to "Yahtzee" will no longer be an issue if you have this app. And as a bonus, it is great for D&D too. Dice by PCalc is available for iPhone and iPad for just $1.99.
These games all work great to keep you entertained during your stay at home, and will hopefully distract you and your family during the long hours of self isolation. Remember to keep your devices clean, and keep an eye on AppleInsider for more tips on being at home during the coronavirus outbreak.
AppleInsider has affiliate partnerships and may earn commission on products purchased through affiliate links. These partnerships do not influence our editorial content.