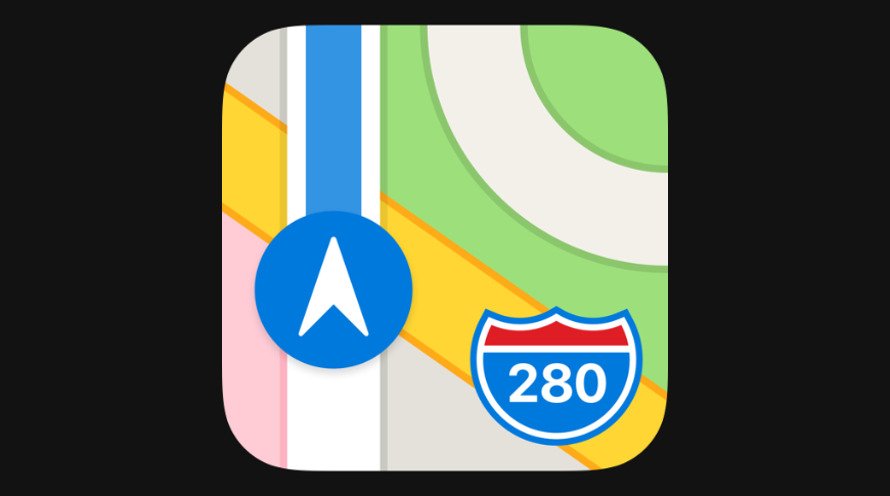 Summary
Apple Maps has a history or failure and irritation prior to its ultimate triumph. A botched launch, fired employees, and years of rework in the public eye make Apple Maps one of the most controversial Apple Product launches in recent history. Now, after driving their radar vans around the country, Apple Maps has dropped Tom Tom and refreshed as a new competitive navigation platform on Apple products.
Features
● Turn by turn navigation
● Siri input
●Traffic overlay
● Look Around mode
● Flyover
● Siri control
● Saved collections
● Shareable ETA
● Stoplight and stop signs on map
● Released September 19, 2012
---
Apple Maps is on every iOS, iPadOS, macOS, and WatchOS device. Utilizing their newly relaunched maps, which were made entirely in house, the new maps app is as capable as ever. Turn by turn navigation, traffic updates, lane guidance, traffic sign additions, and even transit data all shape up to a powerful and private experience. Apple does not collect identifiable user data, share it with third parties, or show users ads based on their searches.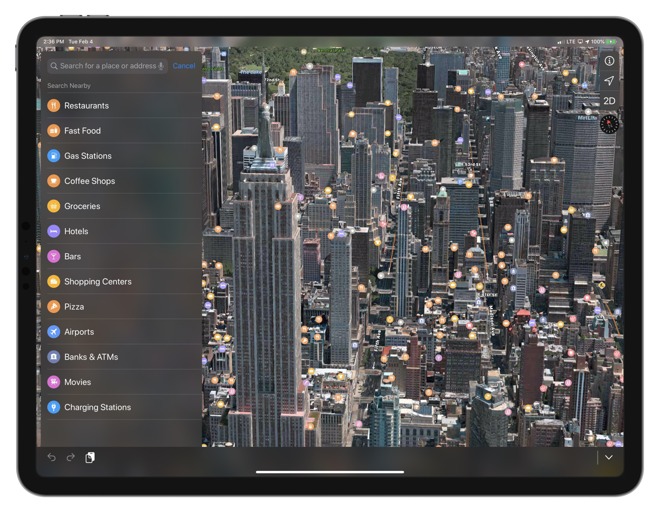 Points of interest show up around your location on a map for easy searching
Apple Maps implementation
By using on device machine learning and differential privacy to teach Siri where you go and when, Apple Maps is able to be a private and secure experience. Often a user can see a notification for their next destination based on usage history, calendar data, imessage data, or reminders. Users can also make maps more intelligent by saving known addresses to contacts, or by creating collections in maps.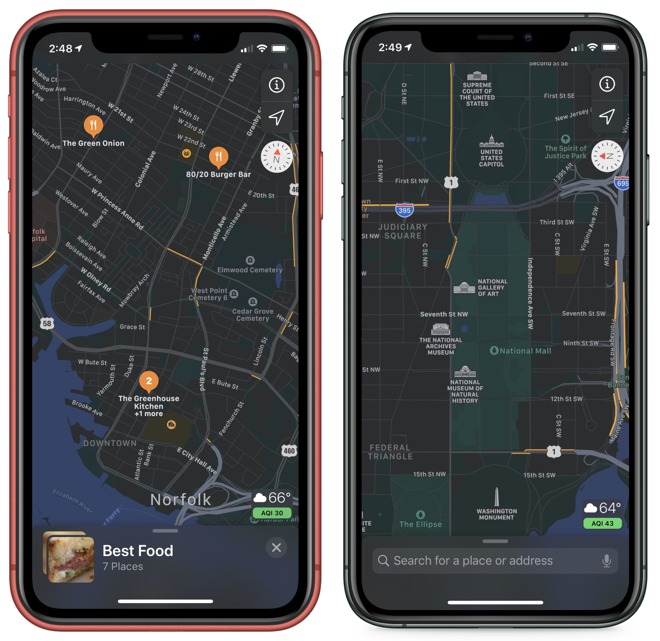 Collections let you save groups of locations for trips or just reminders
Collections offer a way to save and label lists of location data for later referencing. Users can organize these collections by name or distance, which can come in handy for someone running errands who needs to know which errand is closest next. I've used collections when apartment hunting, listing all of the apartments I was interested in and visiting each one based on how close I was. Another handy use is having your friends contacts updated with their home addresses, then adding those to a collection called friends, so you have quick access to your friends addresses for navigation at any time.
Maps will pull your home and work locations from your personal contact and make them favorites in the map app. You can also assign specific locations as favorites, that way your most traveled destinations are always at the top of maps ready to go.
Siri offers a lot of functionality with Apple Maps as well. You can call on Siri for specific directions, closing times, business information, or find a gas station on route. By integrating Siri deeply with maps, users can safely control their navigation while driving by being completely hands free. Siri Intellegence will also alert you when traffic has slowed and you need to take a detour, but unlike other mapping apps, will ask if you want to make the change.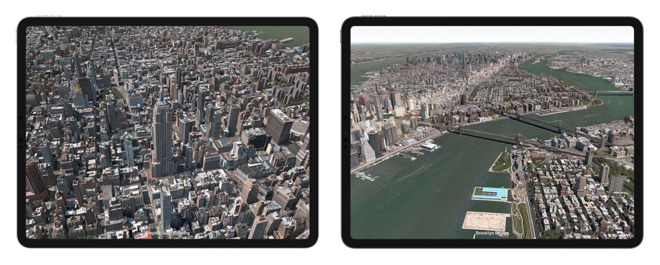 Flyover tours lets you experience a birds eye view of famous landmarks
Apple has made maps a fully functional travel assistant too. Go look up a destination ahead of a trip, take a flyover tour of the city if available, and add landmarks and restaurants to a collection for use while in town. Integrated apps like Yelp and Uber can make the app even smarter. Giving you the ability to learn more about a business, and then call a ride share service right from the Apple Maps UI. Maps will even mark the location of your parked car.
Privacy and security are built in from the ground up. If you get directions to a place, your route isn't uploaded to the server for data analysis. Instead your route is chopped up into pieces with different starting and stopping points along the way, then uploaded with individual identifiers to separate them in the system. There is no conceivable way to attach any trip data in Apple servers to an individual user.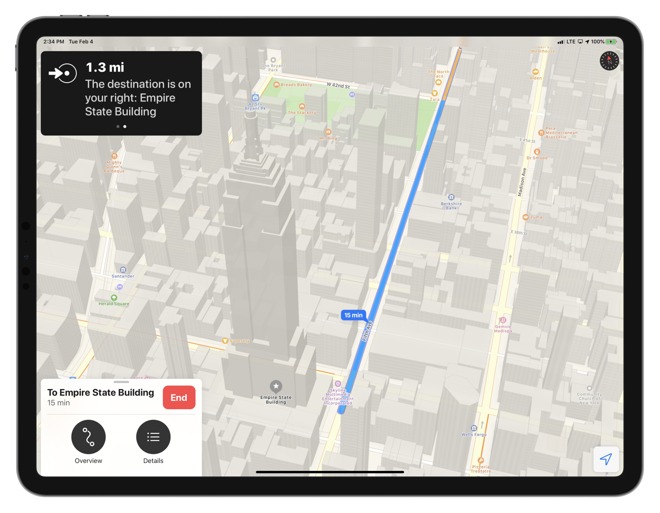 No need to worry about your destinations being sourced for ads, Apple Maps is totally private
Apple Maps History
Apple hasn't always had its own mapping and navigation platform, originally relying on Google Maps for all of its onboard navigation. In 2012 this all changed when Apple announced their own navigation and map platform called Apple Maps. At its inital launch it relied on Tom Tom data and other third parties, and as a result ran into errors in 3D rendering and location data. The app relied on device rendering capabilities, and its included Siri add ins all meant that the new turn by turn navigation was limited to iPhone 4S and up.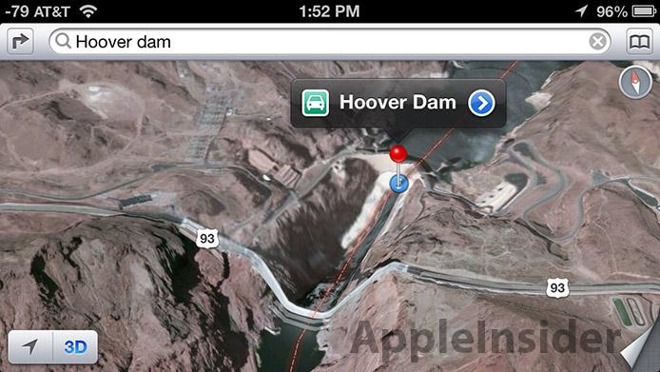 Apple Maps tried to combine too many resources, running into rendering like this
As a result of what was seen as a catastrophic release, Tim Cook publically apologized in a letter, and even went so far as to recommends other maps applications while Apple Maps was fixed. The Waze CEO has since gone on record to say that Apple's botched maps launch lead to their ultimate sucess and aquizition by Google. Scott Forstall, former Senior Vice President of iOS Software, was ousted as a result of the failed launch.
2013
Apple began its exhaustive rebuilding of maps right away, hoping to make up for the lost trust of its customers with a fast re-launch. In 2013 Apple aquired several companies associated with map data which spurred their way into interrrior mapping and transit data. iOS 7 launched in September 2013 with vast improvements across the board like real-time traffic data and walking navigation. Mac OS X also recieved a maps app that year, with calendar and contacts integration.
2014 saw an important update with the addition of CarPlay. Now users could connect their iOS devices and view media and maps on the screen without fumbling with their device or paying for an additional service. CarPlay used Apple Proprietary apps and some third party audio apps to enhance the experience. Apple Maps worked as expected with voice control and touchscreens in the car.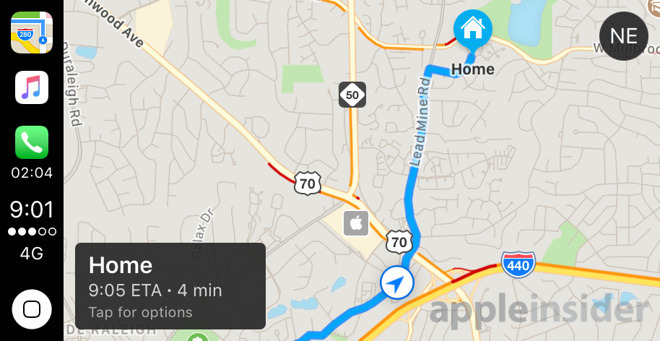 CarPlay lets you navigate and control media while driving
2015
By 2015 Apple Maps had become a fully reliable map platform, as long as you weren't in the middle of nowhere. iOS 9 introduced public transportation to maps, and the Nearby feature, which let users find locations around them. The traffic delay feature also launched, which notified users of faster routes in case of a delay.
2016 saw a full redesign of the app, allowing for a more clean user interface and easier to read details. Siri location suggestions, parked car reminders, and in-route search were all added with iOS 10. By this point Apple Maps had fully recovered from its terrible 2012 launch, and had become the most popular mapping app on iOS. This was obviously due to its default install, but also meant less users were switching away.
2018
2018 reigned in maps, and saw more polish and quality of life additions. This was due to a major change coming down the road, as announced by Apple the maps app was being fully rebuilt using in house mapping data. This initiative was already underway with a fleet of vehicles equipped with mapping radars which traveled around the US to capture accurate data, which were first seen in 2015. Pedestrians were even given gear to walk around streets and mark building entrances for even more precise data.
Look Around mode lets you see things from an eye level perspective
The slow rollout of new maps hit its stride in 2019, as well as new initiatives getting Apple Maps on the web. DuckDuckGo made Apple Maps its integrated map application for search as a choice for user privacy. By the end of January 2020, the new rollout was complete, and Apple Maps was running on completely in house data across all 50 US states.
2020
As Apple continues to release new updates, new features are sure to come to Apple Maps. Code found in iOS 14 leaks suggest that Apple will be vastly improving its business listings, especially for Apple Stores.
Genius Bar appointments, "Today at Apple" events, and product trade in availability could become part of the Apple Store sections to provide users a more detailed overview of a local store. This could also lead to other service providers like Apple authorized resellers or Best Buy gaining more detailed data in their Apple Maps listings as well.
Other business details that could be added to listings include available children discounts, couples seating availability, private room availability, and theater details including IMAX screenings. Such details will add to the Apple Maps experience and further close the information gap between what Apple and Google offer in their apps.
Indoor maps are about to see a big upgrade in terms of data sourcing and usability. A new partner, and only partner so far, for the Indoor Maps Program has joined with Apple to begin mapping indoor spaces with AR features.
The company is called Dent Reality, and wants to map all the public indoor spaces of the world with simple tools. The initiative would allow developers to buiil apps and web experiences using Apple's map API and Dent Reality's AR layer.
Essential Reading