Apple Maps now displays COVID-19 testing sites in your area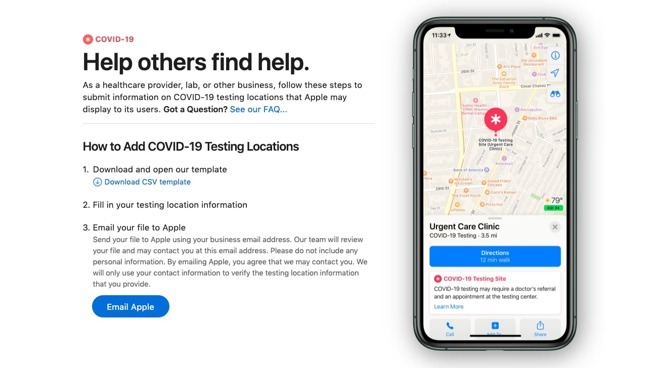 After opening a dedicated Apple Business Register website in early April, Apple Maps now displays local COVID-19 testing sites in the U.S. and Puerto Rico.
On April 11, Apple launched a web portal that allowed health providers and other organizations to register coronavirus testing locations. At the time, the company said it would individually review each Apple Maps submission prior to integrating the information in its mapping service.
It now appears that the first of those sites are surfacing on Apple Maps. When users first open the app and go to conduct a search, "COVID-19 Testing" now appears as the first suggestion under "Nearby" locations.
Tapping on that selection will bring up a list of COVID-19 testing facilities local to the user. In addition to hours, address and contact information for each reviewed facility, the information pane also displays whether a doctor's referral or appointment are required for testing.
This is the second minor update made to Apple Maps in April to help users navigate the coronavirus outbreak. Early in the month, Apple began prioritizing grocery stores, food delivery, pharmacies, hospitals and urgent care when searching for businesses.
In addition to Maps, Apple's Mobility Trends minisite was updated Tuesday with data from more cities and expanded search features. The website launched on April 14 to visualize how COVID-19 impacts travel patterns.