Apple and Stanford Medicine release new first-responder COVID-19 screening app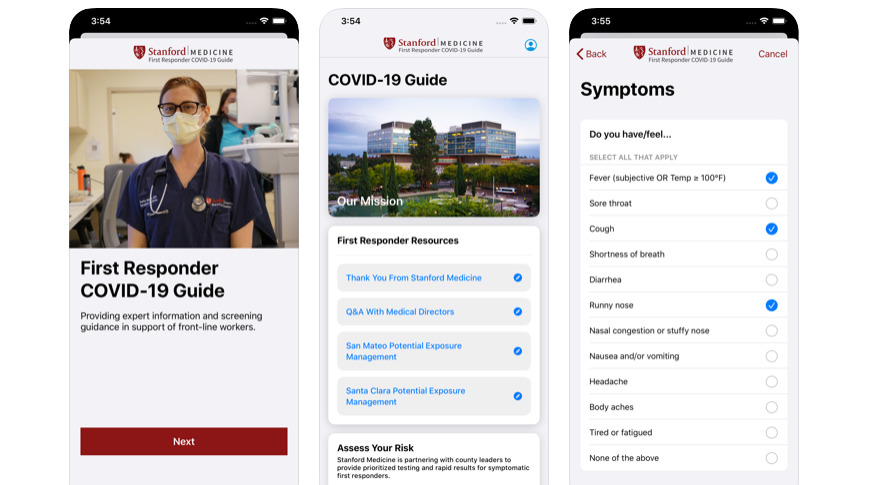 A new iPhone app from Apple and Stanford Health Care is designed to give first-responders the ability to quickly screen for any symptoms of the coronavirus, and schedule testing if needed.
As well as creating a coronavirus guide app for the public, Apple has now worked with Stanford Medicine to provide a COVID-19 testing one for emergency and first-responders.
Stanford Medicine, based in California, says that it is using its own experts plus Apple's ResearchKit and CareKit frameworks, to provide trustworthy and up to date information to frontline workers.
"We're expanding the reach of our expertise to provide answers for people who are busy serving others during this crisis," said Priya Singh, Stanford Medicine's chief strategy officer and senior associate dean, in a statement. "It's our hope that this technology will ease some of the burden for people on the front lines, and will help inform those who seek a reliable source on COVID-19."
The app, freely available in the US App Store, is based on Stanford Medicine's own testing. It asks the first responder a series of questions about symptoms and exposure. If it transpires that the user needs a COVID-19 test, they can then schedule an appointment with Stanford Medicine.
"Our researchers were among the first in the nation to develop and deploy our own COVID-19 test, a rapid response that has equipped Stanford Medicine with a crucial tool for protecting and caring for patients during this pandemic," said Robert Harrington, MD, professor and chair of medicine.
"We are pleased to have the support from Apple to further bolster our shared community by offering testing and a new app," he continued.
The new app follows Stanford's creation of high-priority drive-through COVID-19 testing for emergency services in California's Santa Clara and San Mateo counties. While the app is available for anyone in the US to download, it was designed especially for the approximately 8,000 first-responders in the region.
"By extending high-priority testing to our local first responders, we're ensuring that this important population knows they have our unwavering support," said Megan Mahoney, MD, professor and chief of general primary care.
Stanford Medicine says that, by default, the data collected from the app's questionnaire stays on the user's device, but they can elect to send it to a health provider.