Apple reopening 25 US Apple Stores, 12 in Canada [u]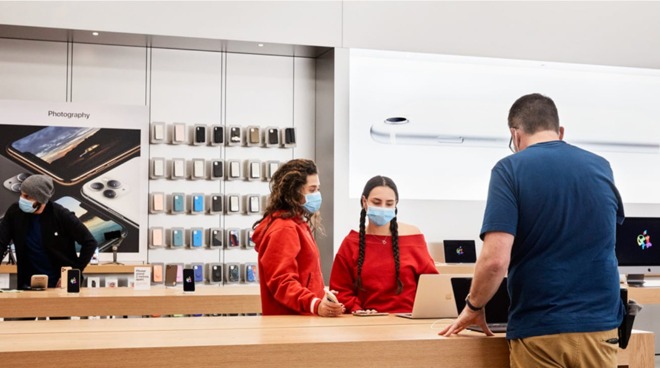 AppleInsider may earn an affiliate commission on purchases made through links on our site.
More Apple Stores closed as a COVID-19 precaution will reopen this week, Apple has confirmed, with 25 locations in the United States and 12 in Canada set to start accepting customers to some extent in the next few days.
Following the opening of a small selection of stores around the world, Apple is increasing the number of stores that will be open for business, as part of a carefully structured approach. The global closures, a precautionary measure to help limit the spread of the coronavirus, is slowly being reversed, with Apple continuing the process this week.
A total of 25 locations in the United States are intended to be reopened across seven states. According to 9to5Mac, the stores are based in Arkansas, California, Colorado, Florida, Hawaii, Oklahoma, and Washington.
Another 12 outlets will be opening in Canada in the same timeframe, and 10 more will do the same in Italy.
In a letter published on Sunday, retail chief Deirdre O'Brien detailed Apple's approach to reopening stores, which has so far opened up nearly 100 of Apple's global total of 510 stores.
O'Brien advises in the letter customers will have to wear face masks for entry and submit themselves to temperature checks at the door, along with being asked questions to determine if they are well enough for entry. Once inside, fewer customers will be allowed in at a time, but Apple hopes to offer a more personalized service compared to normal, along with regular deep cleaning of the stores throughout the day.
Following the lead of some other retailers, Apple will also be offering curb-side pickup and drop-off, to save customers from having to enter the store at all.
A partial list of US Apple Stores reopening this week follows. Not all stores are listed, as Apple's store listings have yet to fully update at the time of publication.
The Promenade at Chenal, Little Rock, AR
Arden Fair, Sacramento, CA (May 18)
Higuera Street, San Louis Obispo, CA (May 18)
Roseville, Roseville, CA (May 18)
Del Monte, Monterey, CA (May 20)
Fashion Fair, Fresno, CA (May 20)
Valley Plaza, Bakersfield, CA (May 20)
Vintage Faire, Modesto, CA (May 20)
Promenade Shops at Briargate, Colorado Springs, CO (May 18)
Altamonte, Altamonte Springs, FL (May 18)
Florida Mall, Orlando, FL (May 18)
Millenia, Orlando, FL (May 18)
St. Johns Town Center, Jacksonville, FL (May 18)
Ala Moana, Honolulu, HI (May 20)
Kahala, Honolulu, HI (May 20)
Royal Hawaiian, Honolulu, HI (May 20)
Penn Square, Oklahoma City, OK (May 20)
Woodland Hills, Tulsa, OK (May 20)
Alderwood Mall, Lynwood, WA (May 18)
Bellevue Square, Bellevue, WA (May 18)
River Park Square, Spokane, WA (May 18)
Southcenter, Tukwila, WA (May 18)
Tacoma Mall, Tacoma, WA (May 18)
University Village, Seattle, WA (May 18)
Update - May 20, 2020: Apple updated its retail website with additional information regarding this week's store openings. The following U.S. stores will open on May 21:
Brandon, Brandon, FL
University Town Center, Sarasota, FL
International Plaza, Tampa, FL
The Promenade at Chenal, Little Rock, AR
In addition to domestic locations, Apple Sydney in Australia is scheduled to reopen "soon."