Today at Apple sessions in US and Canada temporarily 'paused' due to coronavirus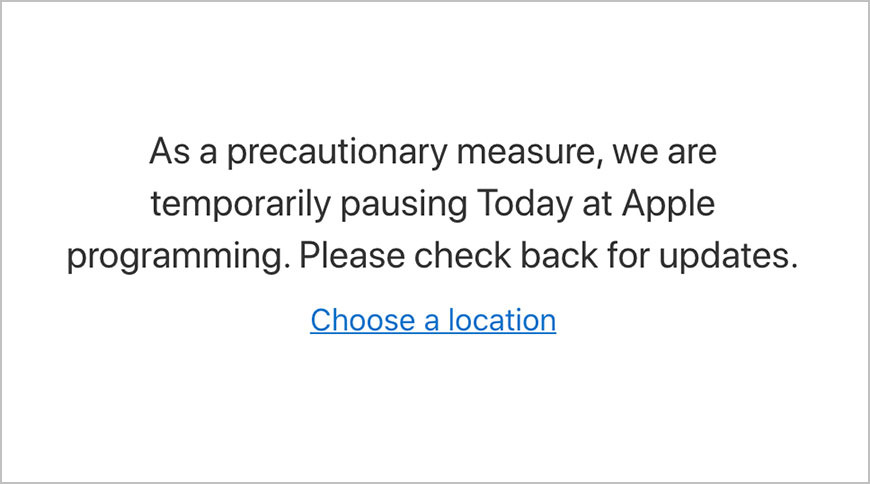 Apple on Thursday announced a temporary suspension to all Today at Apple sessions in the U.S. and Canada, the latest measure in what has become a worldwide effort to prevent the spread of COVID-19.
The change, spotted by AppleInsider reader Christian, was quietly made public in a post to Apple's official Today at Apple webpage. Instead of displaying a selection of local sessions, U.S. pages include a short blurb apprising customers of the situation.
"As a precautionary measure, we are temporarily pausing Today at Apple programming. Please check back for updates," the webpage reads.
An identical message is displayed on Apple's regional Today at Apple page covering Canadian Apple Stores.
The "pause" to Apple's informational in-store programming arrives three days after the company canceled sessions at stores in Washington State and throughout the San Francisco Bay Area to mitigate fallout from the virus. Additional restrictions in the U.S. were expected as governments worldwide scramble to catch up with the fast-moving pandemic.
Beyond the interruption of Today at Apple sessions, Apple this week instituted global in-store policies designed to minimize the spread of the virus. As of Tuesday, employees were instructed to maintain a one-meter buffer from coworkers and customers, remove half of store seating, and cease demonstrations of Apple Watch and AirPods. Potential customers can, however, try on the wearables by request.
Apple is also closing stores in hard-hit countries like Italy. The company earlier today reopened all Chinese outlets after a month-long closure, though stores in the region are operating at reduced capacity with shorter opening hours.