Apple announces WWDC 2020 'online experience' taking place in June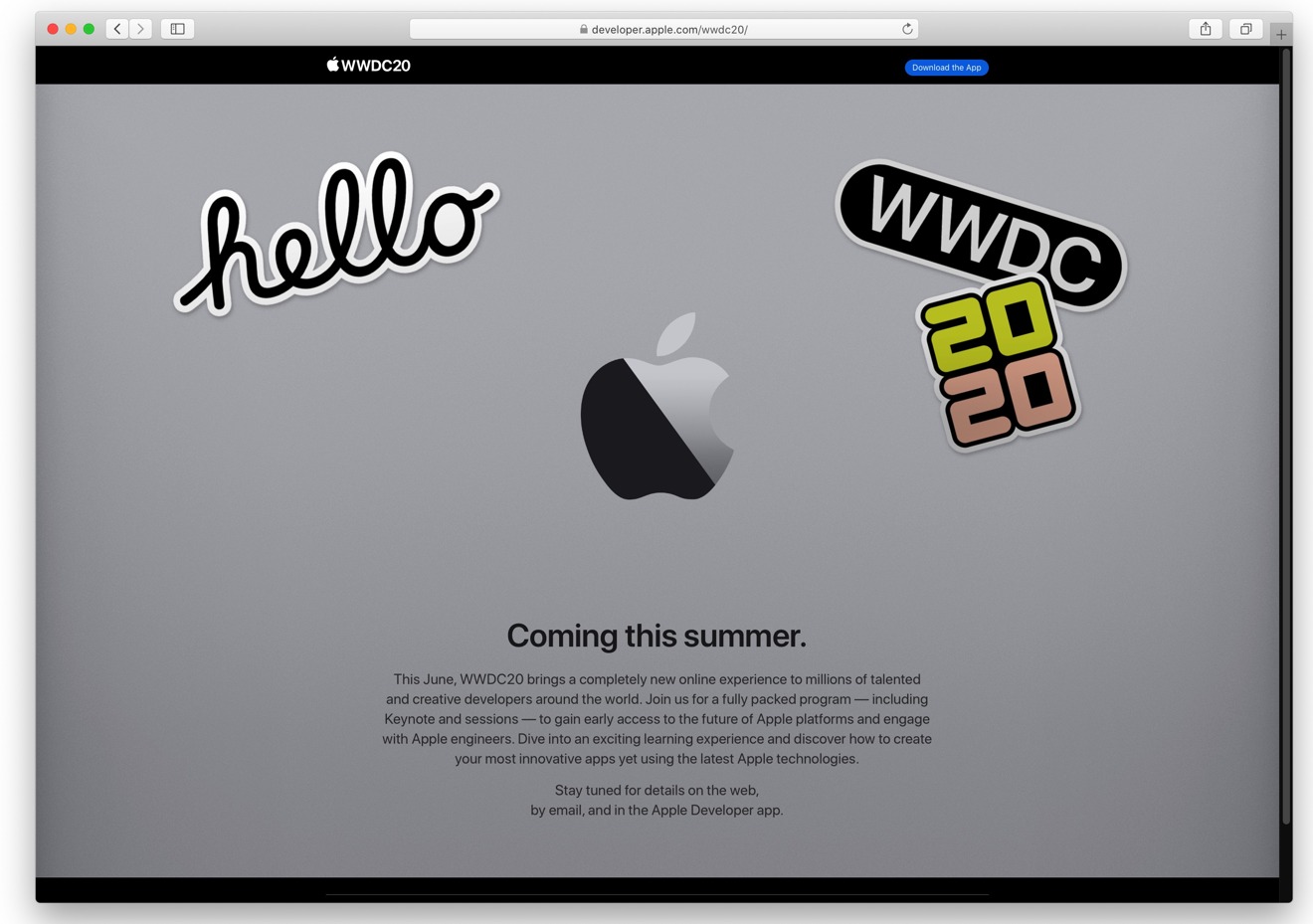 Apple's annual WWDC page has updated, and the company is promising a big program with a completely new online experience.
The webpage went live at noon Eastern Time and is devoid of any real information about the event, including specifically when it starts beyond "June."
"This June, WWDC20 brings a completely new online experience to millions of talented and creative developers around the world. Join us for a fully packed program — including Keynote and sessions — to gain early access to the future of Apple platforms and engage with Apple engineers," the site reads. "Dive into an exciting learning experience and discover how to create your most innovative apps yet using the latest Apple technologies."
The site promises more information coming on the web, by email, and in the Apple Developer app.
"We are delivering WWDC 2020 this June in an innovative way to millions of developers around the world, bringing the entire developer community together with a new experience," said Phil Schiller, Apple's senior vice president of Worldwide Marketing. "The current health situation has required that we create a new WWDC 2020 format that delivers a full program with an online keynote and sessions, offering a great learning experience for our entire developer community, all around the world. We will be sharing all of the details in the weeks ahead."
"With all of the new products and technologies we've been working on, WWDC 2020 is going to be big," said Craig Federighi, Apple's senior vice president of Software Engineering. "I look forward to our developers getting their hands on the new code and interacting in entirely new ways with the Apple engineers building the technologies and frameworks that will shape the future across all Apple platforms."
Apple says that there are more than 23 million registered developers in 155 countries and regions. Additionally, Apple also says that it will provide $1 million to local San Jose organizations to offset revenue loss from the shift to the online-only event.
The shift to the online event is very clearly because of the coronavirus pandemic. On March 9, the County of Santa Clara Public Health Department issued an edict banning mass gatherings for three weeks. While that doesn't encompass the typical June timeframe for the event, it isn't clear when the outbreak will subside.