Apple-Google contact tracing project originated at Apple, developed 'within weeks'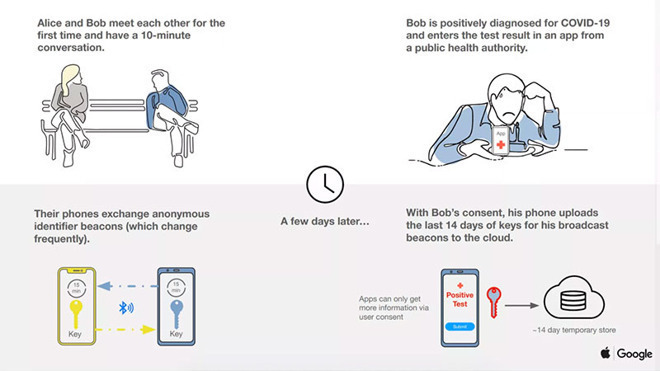 AppleInsider may earn an affiliate commission on purchases made through links on our site.
The Apple and Google contact tracing technology, which will roll out on May 1, was developed and launched by a handful of Apple employees in less than a month, according to a new report.
Contact tracing, a method to track the spread of a disease by monitoring who an infected person may have come into contact with, is typically painstaking. The Apple and Google system, now known by the more accurate "exposure notification" moniker, largely simplifies and automates this process using smartphones.
According to a new report from CNBC, the idea originated in mid-March from a small team at Apple who was brainstorming ways to help curb the coronavirus. At the time, those staffers knew that smartphones could be key to loosening stay-at-home restrictions.
Notably, the speed of the project was "highly unusual" for Apple, the result of team members working to come up with a solution in time to help mitigate the rapid spread of COVID-19. Within a "few weeks," there were dozen of Apple employees working on the tech, codenamed "Bubble," with support from software chief Craig Federighi and chief operating officer Jeff Williams, the de facto head of healthcare.
Some of the early members of the "Bubble" team included employees from Apple's health care division, its location services group and various software experts. Eventually, it expanded to include two of Apple's in-house cryptography experts, as well as other team members who volunteered their time.
Initial solutions developed by that team included a Bluetooth-based system that was strictly opt-in, sent anonymous alerts to nearby devices, and stored information in a decentralized manner. Those are all features of the finished exposure notification system.
Another important factor was getting the automated contact tracing to work in the background on iOS, something that hasn't been possible with current security restrictions. Contact tracing endeavors already existed in places like Singapore but were severely hampered because they required an phone to remain unlocked and an app to be open to work.
Google, which was working on its own system under the codename "Apollo," reportedly got on board by the end of March when Android VP Dave Burke got in touch with Apple about the project.
Since the two companies couldn't publicly announce they were working together without the greenlight from their chief executives, Apple CEO Tim Cook met virtually with Google CEO Sundar Pichai to give their final seal of approval for the project.
The Apple and Google exposure notification system is set to be released on May 1, and the system-level API will support the iPhone 6s and later. Because of Google's involvement, the system will also work across iPhones and Android devices.
While it's ultimately up to public health organizations to develop the apps that will take advantage of the API, some countries have decided to go their own route. The UK, for example, won't use the API and instead will rely on a centralized contact tracing database.