Apple expanding contactless student ID to 100,000 students at 12 more colleges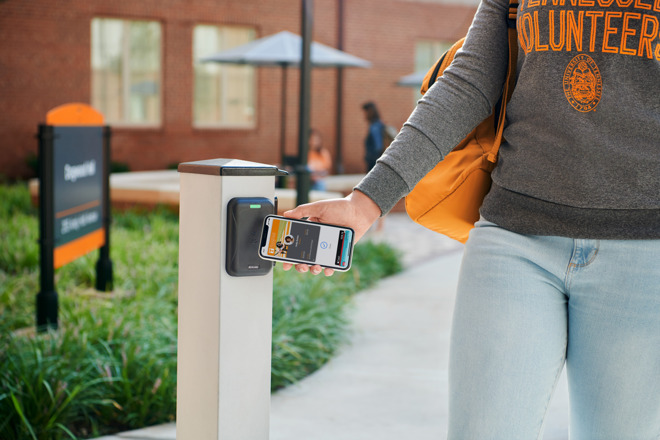 AppleInsider may earn an affiliate commission on purchases made through links on our site.
Apple has grown its contactless student ID program to more colleges, with 12 more colleges deploying the technology.
Once students add their student ID to Apple Wallet, they simply hold their iPhone or Apple Watch near a reader anywhere physical student ID cards are accepted on and off campus. With contactless student IDs in Apple Wallet, students can leave their physical wallets at home and no longer have to worry about misplacing their physical cards.
Students will be able to use their student ID in Apple Wallet on their devices to get into dorms, buy lunch, verify attendance in some cases, and other tasks. School credentials are protected by two-factor authentication.
When a student authenticates, the ID appears on the lock screen. Following the pop-up, it will then have the user verify identity with Face ID or Touch ID, in the same fashion as an Apple Pay transaction. The technology is the same one that Apple used at the 2018 and 2019 WWDC for attendee authentication.
Apple is adding support for campus credentials and mobile access technologies from CBORD, Allegion, and HID to enable more students to add their student IDs to Apple Wallet.
The technology has been newly added to Clemson University, Georgetown University, University of Tennessee, University of Kentucky, University of San Francisco, University of Vermont, Arkansas State University, South Dakota State University, Norfolk State University, Louisburg College, University of North Alabama, and Chowan University campuses.
The deployment is in addition to existing installations at Duke University, University of Oklahoma, University of Alabama, Temple University, Johns Hopkins University, Marshall University, and Mercer University
"We're happy to add to the growing number of schools that are making getting around campus easier than ever with iPhone and Apple Watch," said Jennifer Bailey, Apple's vice president of Internet Services. "We know students love this feature. Our university partners tell us that since launch, students across the country have purchased 1.25 million meals and opened more than 4 million doors across campuses by just tapping their iPhone and Apple Watch."
The launch of iOS 11 brought Core NFC, a framework that lets developers tap into iPhone's onboard NFC chip to scan NFC Data Exchange Format (NDEF) data tags. In the iPhone XS family, Background Tag Reading will automatically read NFC tags, and deliver the data it collects to the appropriate apps — which Apple notes can speed identification process at supporting universities.
The changes to Core NFC are a continuation of Apple's efforts to open up the technology for other uses. In Apple Park, Apple employees are already using iPhones and Apple Watches to unlock doors via NFC, something highlighted in the 2018 iPhone release event's opening skit.