Apple to unlock iPhone's NFC chip capabilities in June, report says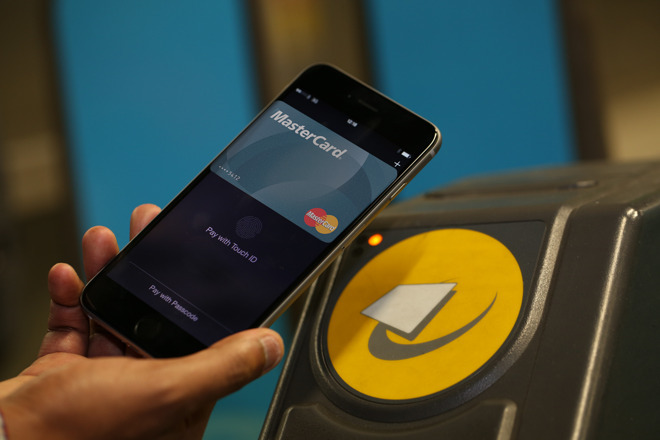 Apple at its Worldwide Developer Conference in June is expected to announce a change in NFC policies that will enable a host of new capabilities for devices with embedded chips, for example opening NFC-enabled doors with an iPhone.
Citing sources familiar with the matter, The Information reports Apple will unlock the potential of near-field communication chips installed in millions of modern iPhones when it releases its next-generation "iOS 12" operating system. The change could also be applied to Apple Watch, which also features the secure communications technology.
Since Apple's first NFC-capable devices launched with iPhone 6 and 6s in 2014, the company's implementation of NFC has been largely restricted to Apple Pay transactions. The decision to wall off access to the chip was in part designed to protect iOS, and later watchOS, device users from unwarranted device access. With the new capabilities, however, iPhones will be able to unlock NFC-enabled doors and potentially transmit data to transit systems, personal authentication devices and more.
According to the publication, Apple employees are already using their iPhones to unlock doors at Apple Park, likely via custom badge readers detailed in Federal Communications Commission filings last year. The access system was designed by Assa Abloy subsidiary HID Global, which markets similar NFC-based solutions compatible with devices running Google's Android operating system.
A previous report claimed Apple was in talks with HID to enable building access technology via NFC in iPhone since at least 2014. That same report said the iPhone maker was also discussing methods of emulating transit cards made by Cubic, hinting at potential mass transit integrations that go beyond current Apple Pay based integrations with Japan's Suica and China's Beijing Transportation Smart Card and Shanghai Public Transportation Card.
Apple has been slow to evolve its NFC policies since adopting the technology nearly four years ago, but the company has made moves to expand its limited feature set over the past year.
In 2017, for example, Apple released watchOS 4 with GymKit, a platform that enables a two-way sync of data between an Apple Watch and a stationary workout machine. The authentication and pairing process is conducted via NFC.
The launch of iOS 11 brought Core NFC, a framework that lets developers tap into iPhone's onboard NFC chip to scan NDEF (NFC Data Exchange Format) data tags. So far, only a few companies have taken advantage of Core NFC, one of the first being glucose reader manufacturer Abbott.
Perhaps more in line with what Apple could announce at WWDC, Yubico this week announced its YubiKey NEO authentication key can be used to unlock iOS apps that integrate the YubiKit SDK.
Details about Apple's enhanced NFC capabilities should be announced alongside "iOS 12" at WWDC on June 4. AppleInsider will be on the scene in San Jose with live coverage of the keynote event and subsequent developer sessions.